Concussion - 'Something is broken in the game of rugby'
Leading authority on brain injuries tells James Harrington about his concern over future of the game if awareness and treatment of brain injuries does not improve soon
Other than being elite-level rugby players, what do Ben Smith, Conor Murray, Bernard Foley, Alexis Palisson, Sekope Kepu, Stuart Hogg, Nic Stirzaker, George North, Charlie Ngatai, Tommy Seymour, Colin Slade, James Parsons, and Ryan Wilson have in common?
They have all suffered recent concussions – and, to be honest, this is hardly a comprehensive list, just ones gathered on a quick trawl of Google.
https://youtu.be/XL7BUsCLC_I
Former All Black Slade was this week stood down by his Top 14 club Pau for the remaining five games of the regular season, after suffering three concussions since the start of the season last August, with the club saying it adopts a 'zero-risk policy' on this type of injury.
But this 'phenomenal brain injury rate' is 'unsustainable', according to one of the world's leading authorities on head injuries in sport.
Read more: Foley had career doubts amid 'scary' concussion
Consultant neuropathologist Dr Willie Stewart, a member of World Rugby's four-strong Independent Concussion Advisory Group, warned: "The reality is we've got a badly damaged game, which is badly damaging players' brains – and if something isn't done, World Rugby may as well give up and call the game boxing.
"We went into the last weekend of the Six Nations with six teams decimated by injury. We did not have a Super Saturday spectacle with three matches of two teams performing at the highest level; we had three matches of whatever those teams had left in the bag.
He questioned the effectiveness of tightened tackle laws. "World Rugby toughened up high tackle laws to say any contact at shoulder-level or above is immediately given a sanction.
"During the Six Nations game against England, Stuart Hogg was grabbed around the neck and got an elbow in the side of the head. He went off a couple of minutes later.
"There was no sanction against the players involved. The game just carried on. In fact, there was all sorts of mischief in that game, neck rolls etc, none of which was penalised. All of which, technically, could have been carded.
"It's all very well World Rugby saying it is a world leader in removing players with concussion, but it's also now a world leader in inflicting brain injuries on players.
"It's time rugby dealt with the problem at heart, which is the phenomenal brain injury rate in the game.
"If you look at the latest Premiership injury review, it suggested there was a brain injury every couple of matches. At the England-Scotland game, there were five.
"Even a brain injury every couple of matches is unsustainable. I think even boxing would challenge that in terms of numbers. Certainly football would. Something is broken in the game of rugby. It needs fixing, quickly."
Read more: Jamie Cudmore – Suspecting a concussion means it's probably a concussion
For all the protocols and procedures, law changes and initiatives to deal with concussion, such as the new blue card system being trialled in Australia, Dr Stewart believes not enough is being done to ensure the protocols are properly applied.
An 'Untoward Incident Review' (UIR) into scrum-half Conor Murray's concussion during Munster's European Champions Cup game against Glasgow in January found that the Irish side had no case to answer over their implementation of the protocols.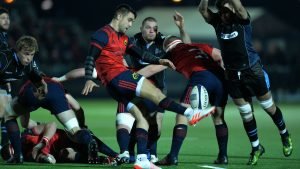 Conor Murray in action for Munster during the European Champions Cup match against Glasgow in which he suffered a head injury
Midway through the second half of that game, Murray went down after attempting to tackle Glasgow's Tim Swinson. Immediately, team-mate Andrew Conway realised something was wrong and waved frantically for attention. Meanwhile, Murray's Glasgow opposite number Ali Price patted the player's face and looked to referee Luke Pearce as if indicating something serious had occurred. Pearce blew his whistle several times, reflecting the urgency of the situation, and immediately signalled for the medics.
Murray was treated on the pitch for three minutes and then allowed to play on. It was another two-and-a-half minutes before he was removed from the game for a formal head injury assessment (HIA).
Yet the review team sought no evidence from these players or the referee. To describe Dr Stewart as unimpressed is to miss the perfect opportunity to use the word seething. "What we had [for the review] was 'three wise men', who were judge and jury. All they did was ask those who may be accused of mishandling the situation to explain themselves.
"The review board didn't bother to gather any other evidence. Where's the referee's viewpoint? Where are the players from both teams who were calling the referee's attention? Where are the other medics? That's all part of the information-gathering, surely."
In their evidence, Munster said: 'After assessing his [Murray's] cervical spine and clearing him of any significant cervical spine injury he was further assessed for any possible head injury. He answered all his Maddocks questions correctly'.
That last sentence was an instant red flag for Dr Stewart: "You only ask Maddocks questions if you're worried that the brain might be injured and the player may be disoriented. By definition, they have then crossed the boundary from concerns about his neck, which they initially treated, to concerns about his brain.
"On that basis he should have gone off to be assessed, not assessed on the park."
Dr Stewart said: "That alone should have been the cue for the review group to say, 'Sorry, you got that wrong. He had to go off. If you're asking those questions, you're asking if he might have a concussion. He should have gone off'.
"But the UIR said, 'that's fine – he passed the questions, so it's fine'.
Murray's UIR was the third in rapid succession, following a review into the well-publicised George North incident, and another involving Sale flanker TJ Ioane. In each case no action was taken against any of the clubs.
Dr Stewart said: "These reviews should look at how the system let players down and address them. Each one has suggested that neither the protocols were at fault, nor the personnel applying those protocols were at fault. That just doesn't add up.
"An incident happened that had people saying, 'hang on, that doesn't look right,' the whole thing has to be something that has gone wrong, otherwise why is it an untoward incident?"
He pointed to another case – that of Toulouse winger Alexis Palisson, who was clearly concussed in a Top 14 game at Stade Ernest Wallon against La Rochelle, yet allowed to play on following an HIA. "That kind of incident beggars belief in 2017, given that we can go back to George North incidents. There, the deficiencies in the application of HIA were revealed in that, on that occasion, it was said that the problem was there was no video available; that the medics on the touchline didn't have a clear sight of what happened; that nobody informed them of what happened out of their sight.
"There are clear indications that there was something wrong with the system that would allow players with worrying symptoms to slip through the net. We should have closed these holes up – these loopholes should not still exist.
"What really disappoints me is that one of the things World Rugby has said is that everybody is responsible for player welfare, not just the team doctor. That player we saw get up, stagger and fall into a match official. Why did the official not act?"
Read more: Toulouse 'to adopt two-doctor approach to HIAs' after Palisson incident
The Palisson incident has yet to go through the notoriously slow French review process. In 2014, it took the Ligue Nationale de Rugby (LNR) nearly four months to rule on a shocking case involving Florian Fritz. 
"In each of the incidents [Murray, North, Ioane], the officials have been arguably a bit weak in their handling of it. In the case of Conor Murray, the match official looked like he was playing the macarena on the whistle, he was so concerned about what happened to the player and yet he allowed him to play on," Dr Stewart said.
"Why didn't he say, 'I'm sorry, you're going off … now' – if he feels it's so important he got to blow the whistle seven or eight times, in his mind there's something not right. He should have said, 'I'm in charge here. This is my match You're going off for an HIA'.
"We've seen it done – Wayne Barnes has done it, and there have been other instances – I don't understand why match officials aren't stepping up."
Rugby laws state that referees have ultimate authority during a match. The blue card system being trialled merely adds official gloss to that authority. It is perhaps unfortunate this initiative is necessary – but it would appear that it is.
Player in Blue scrum cap goes down.
Ref goes to check
Informs medics "there's no HIA." and then…. pic.twitter.com/9z1jlHtqEL

— The Champ Champs (@GifsRugbyNStuff) February 11, 2016
In the incident above, at a schools rugby match in Ireland – where no HIAs are permitted, and players are removed if they suffer a head injury – the medic argued with the referees' decision.
The school later apologised.
Dr Stewart admitted HIAs are an imperfect tool for assessing concussion – but insists they are 'the best of a bad bunch'. "No test for concussion 'works' in the sense that it will detect every single person who is concussed – that is part of the problem. Concussion-testing is very much a subjective assessment. There are no objective validated tests for concussion.
"The problem is I don't see it being applied properly and I do have questions that when it is applied whether it is being used appropriately.
"An HIA is an assessment of brain function. The first part is to ask the Maddocks' questions. They are about orientation – where are you? What half is it? What's the score? – that sort of thing.
"There is a reason this assessment takes place off the park. Previously it was a pitchside assessment. There is well-known case evidence of Brian O'Driscoll being put through the questions at the Aviva, and he looked over the medic's shoulder at the scoreboard and was able to work out where he was, what the score was and which half it was.
"The questions are pretty lame – but the fact you're asking them means you're worried about a player's welfare. Then the HIA goes on to other things: memory tests and number crunching.
"None of these are truly objective ways of detecting concussion. They're always subjective – for instance, if you ask a professional athlete if they have blurred vision, they're going to say 'no', because they know if they say 'yes', they're coming off.
"What the HIA is really for is to remove the player from the game, because once you've got them off the park, it's far easier to keep them off. The reason for taking them off is to give medical staff time to reassess the player and also to look again at any video of the incident."
But there's one over-riding issue that worries Dr Stewart. "Rugby needs to figure out whether it wants to be a heavyweight slugging match where it's down to who has the most fit players left on the pitch at the end of the 80 minutes, as opposed to who has the most skillful rugby players.
"I think, unfortunately, it's evolving into a heavyweight slugging match, where the skills of rugby are regarded as the violence on the pitch, not how you can move the ball and the players around."
Comments
Join free and tell us what you really think!
Join Free