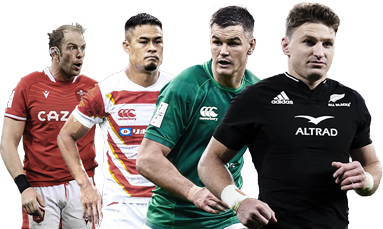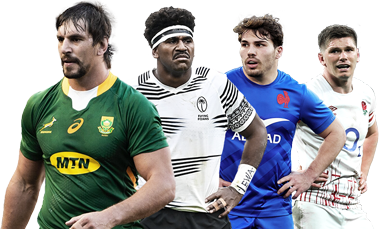 Featured Stories
View all RWC 2023 news

View all RWC 2023 news

Allow RugbyPass to be your guide to Rugby World Cup 2023.
Scheduled to take place across nine venues in France from 8 September to 28 October, the rugby union world cup looks set to be the highlight of 2023's sporting calendar.
From Lille to Marseille, we're right across every phase of play. You'll find all the latest news, results and statistics right here. Discover every try, tackle and conversion of the men's Rugby World Cup 2023 with RugbyPass, your resident rugby gurus.
RWC 2023 Videos
RWC 2023 Videos
Agonising reaction as USA fail to qualify for Rugby World Cup | RugbyPass
The Rugby Network went behind the scenes with USA Rugby in Dubai as they looked to beat Portugal for a place at the 2023 Rugby World Cup
France 2023 | One year to go | Rugby World Cup on RugbyPass
RugbyPass will be on the ground once again during next year's Rugby World Cup in France.
RugbyPass' favourite Rugby World Cup moments | One year to go
A montage of some of the most memorable moments in Rugby World Cup history.
Black Ferns starting to gel under guidance of super coaches | The Breakdown
The Rugby World Cup better watch out with a fresh Black Ferns squad starting to gel nicely ahead of the home tournament kicking off on 8 October 2022.
Schalk Burger on All Blacks back row
Springboks legend Schalk Burger guests on The Breakdown where he shares his expert opinion on the All Blacks current back row.
David Havili highlights what the All Blacks need to fix ahead of Springboks rugby rematch
All Blacks' latest rugby wrecking ball remains humble after barnstorming performance
Mo'unga on All Blacks' skill execution
Richie Mo'unga says the pressure of test match footy can cause even All Blacks to drop their skillset.
Picking a form 15 from the rugby championship | Aotearoa Rugby Pod
The Aotearoa Rugby Pod panel pick their top performers from week one of the rugby championship.
"A man among boys" Kiwi reacts to playing Malcolm Marx
Malcolm Marx made a strong impression on ex super rugby player Joey Wheeler, appearing on the Aotearoa Rugby Pod, Wheeler remarked on just how big of a human the springbok is.
'There's no way we want to be starting Test matches like that' says New Zealand captain Sam Cane
See more RWC videos

Pool A





Pool B




Pool C



Pool D





All Pools
Pool A
Pool B
Pool C
Pool D
At the 10th edition of the Rugby World Cup, the mighty Springboks will aim to retain their crown.They're the current holders of the Webb Ellis Cup, after they defeated England in the 2019 Rugby World Cup final. However, the ever-impressive All Blacks will be aiming for their fourth crown, and a resilient Les Bleus have a strong chance of capturing their first men's Rugby World Cup title on home soil.
Discover more about the teams competing for the men's Rugby World Cup with our handy team-by-team guides. Alternatively, learn more about the stars of the 2023 Rugby World Cup with our player profiles. Then, after you've watched all the latest Rugby World Cup action, vote for your Rugby World Cup Dream Team.
Whether you're looking for Rugby World Cup news, views or statistics, you'll find everything you need right here with RugbyPass.