Back

By Owain Jones
Schalk Brits: 'We love proving people wrong. I know that the guys will want to show that they belong'
It began with a trickle. Just the one in the year 2000. Another came in 2001 before a four year break for the third. Two were added in 2006 with one more in 2010. Then the floodgates opened.
By 2011 there were eight on the list. By 2014 it was 18. In May this year, after La Rochelle beat Leinster in Marseille, 27 South Africans had lifted the European Champions Cup with nine different clubs.
That number could dramatically increase by the end of this season. The Bulls don't have a single non-South African on their roster. Samoa's Alapati Leiua is the only foreigner in the Stormers set-up. The Sharks are cosmopolitan by comparison with a Scot, a New Zealander, a Zimbabwean and a Congolese on their books, but still have 49 South Africans in their wider squad.
Should any of South Africa's top three domestic teams reach the final in Dublin in May next year, they will be 80 minutes away from reorganising the tectonic plates of European rugby. Perhaps their mere presence in the competition means these foundation blocks have already shifted beyond recognition. After all, our very understanding of what constitutes a continent has been altered.
Europe is no longer just a peninsula jutting out of Western Eurasia. It is now a state of mind. It is a time zone that stretches across hemispheres and connects London, Paris and Edinburgh with Durban, Cape Town and Pretoria. In rugby terms at least, the world we once knew has completely been redrawn.
It wasn't always like this. When the Heineken Cup was launched in 1995 it had a more parochial feel. For South Africans only just climbing from the wreckage of apartheid, the tournament might as well have existed on the dark side of the moon.
"I personally knew nothing about it," says Schalk Brits, who played in three Champions Cup finals, winning two of them with Saracens in 2016 and 2017. "We weren't exposed to it. The first time I thought about northern hemisphere rugby was when I watched Jonah Lomu run over the English at Newlands in the 1995 World Cup semi-final. I was there. I remember thinking that southern hemisphere rugby was streets ahead. I think a lot of guys thought that for a long time."
Those assumptions were supported by empirical evidence. That World Cup in South Africa was the third in a row that went the way of a southern hemisphere team. By that point the British and Irish Lions had won just once in five tours. The Super 12 was rapidly building steam as New Zealand and Australian sides played a brand of running rugby from an alternate dimension. Brits, like so many South Africans, dismissed their counterparts in Europe as plodding grafters who battled it out on soggy fields.
"I didn't think much of it before I arrived," says Garry Pagel, the former prop who replaced Balie Swart on the 68th minute during the 1995 World Cup final against New Zealand. "But then I got the offer and I thought, 'ya, why not?' It was the best thing I ever did. It really opened my eyes."
You'll be sure to mention that I was the only player in the history of rugby that won the Heineken Cup three times and Super Rugby three times.

Bakkies Botha
Pagel left Western Province to sign with Northampton in 1997. Three years later he'd become the first South African to claim Europe's most prestigious club prize when the Saints won an arm wrestle with Munster by a score of 9-8. Not that he's overly sentimental. He has the winner's medal somewhere in his home on the east coast of South Africa. He just doesn't know exactly where it is.
The same can't be said of Bakkies Botha, the most successful South African on the list with three winner's medals proudly displayed in his home. The intimidating lock who forged a reputation as one of the most feared players on the planet ensures that his accomplishments are not glossed over in this piece.
"You'll be sure to mention that I was the only player in the history of rugby that won the Heineken Cup three times and Super Rugby three times," he says. I promise to do just that, as well as make a reference to his World Cup win in 2007 and a Lions series victory in 2009.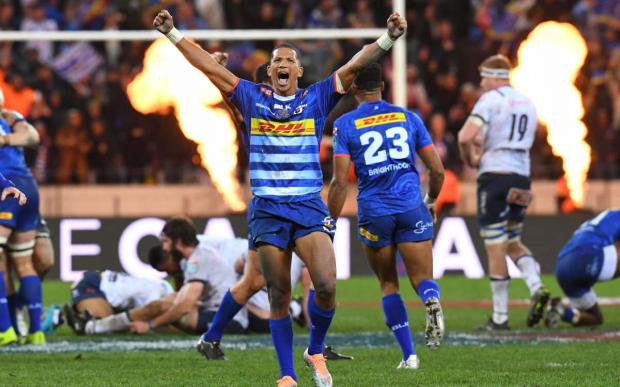 When BT Sport's rugby page asked its 197.5 thousand Twitter followers who they thought was the greatest South African to play in the Heineken Champions Cup, Botha responded with three trophy emojis.
"I think it's the most difficult competition to win," Botha says. "Yes, even more than the World Cup because there are more teams that can win it. How many can win the World Cup? OK, now you have France and Ireland playing well, but when I was playing it was really only four teams.
"In Europe, you had six, seven, eight teams. Plus you also had to put in a shift in your domestic league. The teams that won it had to be incredible. They had to have depth. I'm telling you, it was hard rugby. I loved every minute of it."
Botha was an integral member of a dynastic Toulon team that is as close as rugby has come to replicating the Galácticos, the nickname given to Real Madrid football club in the late 2010s when they emptied their war chest recruiting the world's best players.
He was the most professional and impressive player I ever shared a dressing room with. He made the whole thing work. Without him we wouldn't have been as successful.

Bakkies Botha on Jonny Wilkinson
Toulon's then president, Mourad Boudjellal, had made his fortune publishing comic books and funnelled his wealth into a club that was still languishing in France's second division. The New Zealand centre Tana Umaga joined in 2006. Australia's scrum-half George Gregan signed in 2007 alongside the All Blacks fly-half Andrew Merthens. But the pièce de résistance came in the form of Jonny Wilkinson in 2009.
"He was the most professional and impressive player I ever shared a dressing room with," Botha says of the English pivot . "He made the whole thing work. Without him we wouldn't have been as successful."
By the time Botha joined in 2011, Toulon were a terrifying force. Carl Hayman at prop. Juan Martín Fernández Lobbe in the back row. Matt Giteau in the centre. All coached by Bernard Laporte. They had an air of invincibility as they won an unprecedented hat-trick of Cups between 2013 and 2015.
"They were so good," Brits says, slightly wincing at the memory of the 23-6 defeat he suffered with his Saracens teammates in the 2014 final, going down 23-6 in Cardiff. "That's partly why it was so good when we were able to take their crown from them. They set the bar for everyone else. Then again, they had a lot of cash to play with and built their team with it."
Toulon's horizons were endless. Every international player was on their radar and gettable, for the right price. But all that choice gave Laporte some headaches.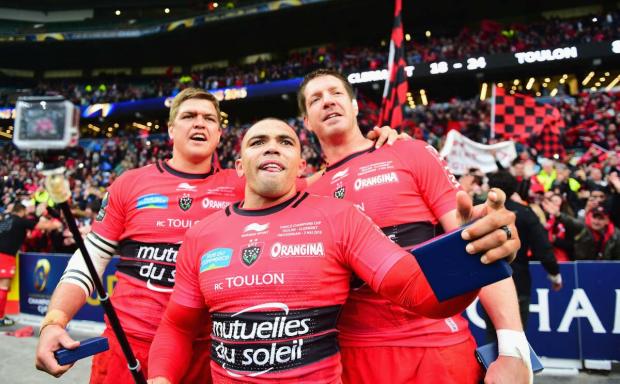 "One day he called me into his office and asked for my thoughts," Botha says before affecting a French accent and recounting his tête-à-tête with his coach:
Laporte: Who do you think I should sign next?
Botha: South Africans.
Laporte: Really, which ones?
Botha: Whoever you can get.
Whether or not this conversation took place exactly how Botha remembers it is immaterial. What matters is that for the start of the 2014 final, six South Africans represented Toulon. Juan Smith rounded off a wonderful team try on the hour mark and Craig Burden, the hooker who never represented his country, was recognised as the player of the match despite only playing for 41 minutes.
World Cup winners Danie Rossouw and Bryan Habana were along for the ride. The South African contingent soon began to have an influence on the rest of the team.
"We showed the Aussies how to braai [Afrikaans for barbecue] and it was nice speaking Afrikaans as well," Botha continues. "It felt like home away from home. I think that's something that not many foreign guys get when they go abroad. We had that. And the people loved us. I still get messages from people in Toulon who thank me for what we did for them."
I'll never forget the reaction when we arrived back with the trophy and saw the fans in the harbour and in the streets. It was wild, man. It was insane.

Raymond Rhule
Raymond Rhule has come to understand the significance of the Champions Cup and what it means to European clubs who have a deep relationship with the competition.
"I'll never forget the reaction when we arrived back with the trophy and saw the fans in the harbour and in the streets," says Rhule, who scored in the ninth minute of the final that saw Arthur Retière dot down at the death to secure a 24-21 win over Leinster. "It was wild, man. It was insane. This wasn't just people celebrating a win. This was a group of people who felt like we had done something for them, for the community. You can't replicate that. I've lost count of how many people I know got the Cup tattooed on their bodies. It's a special thing."
Rhule wonders if fans in Pretoria or Durban will share that same passion for the competition. Antoine Dupont and Joe Marler are two high profile players who have already expressed their skepticism regarding the addition of the South Africans. "It's no longer the European Cup," Dupont said, speaking for many who feel that the grand traditions of this beloved event has been stripped for profits. There is no question that a new market has been opened, and that the rugby loving public in South Africa will send revenue north, but at what cost?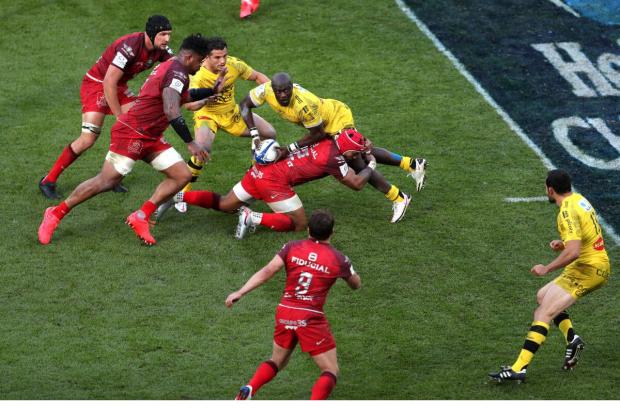 "I think it will take time for people to get it," Rhule adds. "I'm not sure we'll see too many fans travel. It's not just feasible. But they'll be watching. I was speaking to Dillyn [Leyds, his South African teammate at La Rochelle] and we were saying how fresh this feels. I hope the fans get on board. I love the competition. I can't wait to play a South African team and I hope I get to play them in South Africa. That would be really cool."
All four South Africans interviewed here have tempered their expectations regarding the predicted fortunes of the three teams taking part. "They can't expect to just arrive and start turning over clubs who have been doing it for a long time," Botha says. "Rugby doesn't work like that. They'll need to respect the competition and respect that this is as close to Test rugby as you can get without playing a Test."
South Africans love nothing more than being told they can't do something. We love proving people wrong.

Schalk Brits
The Stormers' win in the inaugural United Rugby Championship, along with the Bulls' remarkable victory away to Leinster in the semi-final, will serve as a confidence boost for the three teams embarking on this journey. That, and the fact that most pundits and bookies give them little chance of succeeding at the first attempt, will spur them on when they take the field in hostile conditions.
"South Africans love nothing more than being told they can't do something," says Brits. "We love proving people wrong. I know that the guys will want to show that they belong. I can't wait to see how they get on."
Whatever happens over the next six months the rugby landscape will never be the same again. The South Africans are here, whether the traditionalists like it or not. How many of them will get their hands on the trophy next year?