'The writing was on the wall. It was unsaid, but he knew and I knew'
As English rugby players go, Zack Henry has walked the road less travelled through the professional game.
After showing promise playing for the University of Bath, in 2016 Henry took a leap of faith and threw his lot in with France's Federale 1.
It was a decision that paid off.
After cutting his teeth at Richard Hill's ambitious Rouen, he was picked up by Nevers in the ProD2, where he did enough in two seasons to catch the eye of then Tigers' boss, Geordie Murphy. The Irishman would entice him back to England with the shot at top-flight rugby in 2020, but despite his obvious abilities, Henry struggled to find his place.
The 27-year-old Henry admits to feeling like a square peg in a round hole at Welford Road, where despite earning plenty of game time and the trust of his coaches, both parties would decide to part ways a year earlier than his contract stipulated.
Speaking on Le French Rugby Podcast, Henry opened up about his time at Leicester and it started with a brutal physical wake-up call in the form of a super intense English style pre-season – very much a shock to the system of the Brighton boy who was used to a more laid back approach in the ProD2.
"We had Aled Walters, who had just come off the winning the Rugby World Cup. You've got Leicester who are trying to climb back up the league, you've got Steve Borthwick coming in who wants to impose himself and has done so brilliantly. It was a recipe for disaster for me.
"I came from ProD2 where the training is chill. You do four weeks on, one week off. I thought I was in good shape. Turns out I was not in the slightest!" recalls Henry. "I tore my hamstring actually. I think the training was just too much for me.
"It was Covid as well so we couldn't do too much rugby. We all had our own lane on the pitch, It was like run, hit a tackle shield, get back up; run, run, run. It was savage. Coming into this pre-season [with Pau] was a lot easier.
"I ended up playing 26 games for Leicester and not getting injured during that period. Here the training is so different, I don't think my body could handle it. In France you spend a lot of time on the training pitch. In Leicester it was 'You get out, you train really intense, you get back in'. Out here we can be out on the pitch for two hours, two and half hours. There's was an infamous day when I was on the pitch for three hours straight."
Henry's rise through the ranks came more or less completely outside of the standard English rugby development pathway and as a result it created a player more at home on the fields of France than in his native England.
"I spent my whole career trying to get to the top division, and I did that with Leicester. Although I loved my time there, it wasn't for me, the way they play.
"I signed for Geordie Murphy – a whole different coaching staff, a whole different set of pre-tenses, then Steve came in and it was so different.
"I was happy to be at the top division but I look back on it and it was a battle every week. It was really tough for me personally and the way I play, what I'd come from.
"Most boys who were at Leicester that year, had come through the Prem academy system and they'd been molded in a certain way. I didn't. I went to uni, all my friends off the pitch aren't rugby guys. I went to Fed 1. Fed 1 was three weeks on, one week off. ProD2 was four weeks on, one week off.
"There was no structure whatsoever.  At Nevers there was no structure. It was go out and play. Same at Rouen.
"I get to Leicester and I knew from day one at Leicester that they were going to be successful. The training with him and Aled, I told all my mates, there's no way this club won't get back to where it is."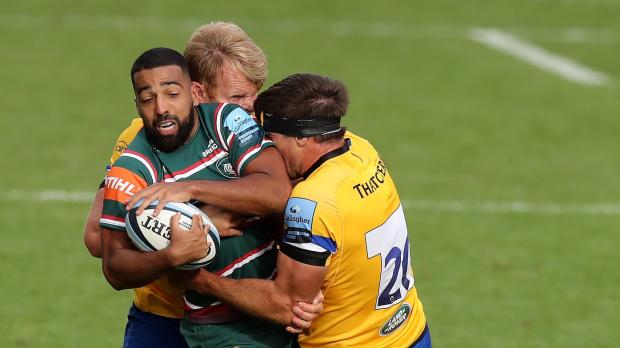 "To try at the age of 25, 26, to learn all of that in one year. In the Premiership and in Leicester, everyone on the pitch knew exactly what they needed to do. The details on rucks, kick chase, box kicks, my kicking, everything was insane.
"I'd come from ProD2, Fed 1 and uni where you're just playing rugby. 'Ah look, there's space, I'll run over there.
"He [Borthwick] had a lot of confidence in me and I played a lot of rugby, and I was buzzing with how it went but I just knew it wasn't going to be sustainable for me to get the best of myself. I'm buzzing for the boys and still mates with a lot of those boys. I'm happy to have been part of the project but I think for my personal career it wouldn't have been best to stay there."
Things would ultimately come to a head when Henry and Borthwick had a frank conversation about his future at the club.
"The writing was on the wall. It was unsaid, but he knew and I knew that things weren't clicking and that I'd probably find it difficult here and that they'd be better off with someone else with someone that suits their style a little more.
"When I had my conversation with him it was quite open and we both knew it was in both interests. I think they wanted to free up the spot for Freddie Burns anyway.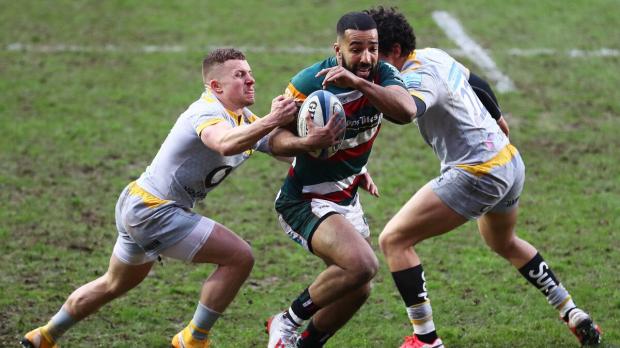 "I spoke to my agent and said 'The Prem has been brilliant this year and I've got nothing against the Prem and I would still play in the Prem, but we both know for now, France suited me better.
"I speak French so coming in as flyhalf not speaking French could be quite different. Knowing that I spoke French, they knew I could slot straight in and talk to the French boys and the English boys.
"It was a relatively easy transition. There was no hostility between me and Leicester."
Now back in France with Pau, Henry is loving his rugby life again.
"To come to Top 14 and play how I wanted to play. I was at the top level but actually really enjoying it and living in the moment in stadiums. I really present, really enjoying it. Those were probably some of the happiest games of my career.
"I felt like the training I had done at Leicester and the intensity, coming into the Top 14 and Pau in training, it was maybe a bit more relaxed.
"It was probably the easiest transition I ever had. It helped that it was a new group. Everyone was trying to work out who was who etc I pretty much slotted straight in. For nine games I went 10, fullback, 10, fullback. It was a really easy transition. The culture are this club is unbelievable. Everyone is so nice."
"There's been no scraps! I've been shocked, honestly. The way I see rugby after coming here from Leicester. Boys are like helping each other off the ground after a rough tackle in training… I think we're trying to move towards a bit of anger, a bit of aggression, whatever, a bit of ruthlessness without losing the culture that we've got."
It seems that Zack Henry has found his home away from home.
Comments
Join free and tell us what you really think!
Join Free