The key to Waikato's miraculous eight day run
Waikato have concluded a dream eight-day run by claiming their third consecutive win and first successful Ranfurly Shield defence of the season, edging Hawke's Bay 42-22 at FMG Stadium Waikato on Thursday night.
Another spirited performance from Fijian flyer Sevu Reece ensured Waikato head into an eight-day break with the Ranfurly Shield in tow as Jono Gibbes' men now sit first on the Mitre 10 Cup Championship table – a miracle turnaround after starting their season with three heartbreaking losses.
First Waikato fended off Premiership contenders Wellington 43-31 at home on Wednesday before toppling Taranaki 33-19 at Yarrow Stadium on Sunday to win the Shield for the 11th time in the union's history.
Back in front of their home fans the Mooloos perhaps saved their best for last, running away victors in a six-tries-to-three onslaught against Hawke's Bay to complete what once seemed an unfathomable task and pass their most grueling test of the season with flying colours.
The home side held the visitors, led by former Mooloo man Brad Weber, to just one try in the second half to keep the famous Shield locked away and avoid the dubious title of shortest Shield tenure after an inspired 80-minute effort.
It was Hawke's Bay who jumped out to an early lead through the aforementioned Weber – hellbent on winning the Shield back for his new province – less than five minutes into the match after the diminutive halfback sliced past three would-be defenders on his way to the line.
It looked like the fatigue stemming from the two previous matches was beginning to show, but Waikato answered shortly after through captain Dwayne Sweeney and never looked back.
Connacht-bound Reece turned the game when he scooped up an overthrown lineout ball and scampered away to score before setting up a Jordan Manihera try to close out the half.
Waikato carried a 21-15 lead into the sheds and turned up the heat once they re-emerged. Reece and 18-year-old midfielder Quinn Tupaea were involved in everything as the home side added three more tries to their tally. New signings Jack Stratton and Fletcher Smith continue to find their feet with their new province as well, with the latter grabbing his first tri-colour try late in the second half to complement a flawless display off the tee.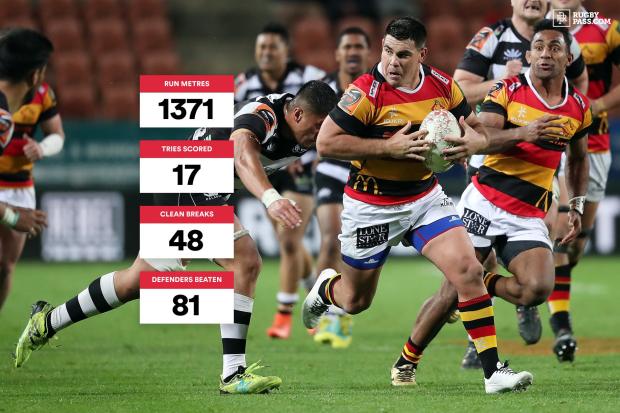 Waikato outclassed Hawkes Bay in almost every statistical category, chalking up 588 metres with ball in hand, making 24 clean breaks and missing 19 tackles over an impressive 80 minutes. Hawke's Bay put up figures of 280, six and 35 in the same respective categories.
The key to Waikato's run has been their emergence as a potent attacking force. Conceding an average of 26 points per game during their winning run meant the attack had to be firing on all cylinders. Over the eight-day span Waikato outscored their opponents 118-72 and put 17 tries on the board, four of which belonged to Duane Monkley Medal leader Reece.
Reece said the Shield – long regarded as one of New Zealand rugby's greatest rewards – has provided Waikato with an extra boost as they continue to turn their fortunes.
"The short turnaround for us, the Shield has been driving us so much because not everyone gets to play Shield games. We're so privileged to be playing," said Reece.
"Trying to fight for the Shield against Naki, we managed to win that, now it's just defending that and that's what we did."
Reece also shrugged off the role fatigue has played during the whirlwind week.
"Everyone's fatigued but it's what we do. We're here to play rugby. It's our job, so get all the recovery done, tick all of those little boxes and we're good to go," Reece said.
"We played Wellington, then Naki. We just set a really good foundation from all that.
"Today we got the result."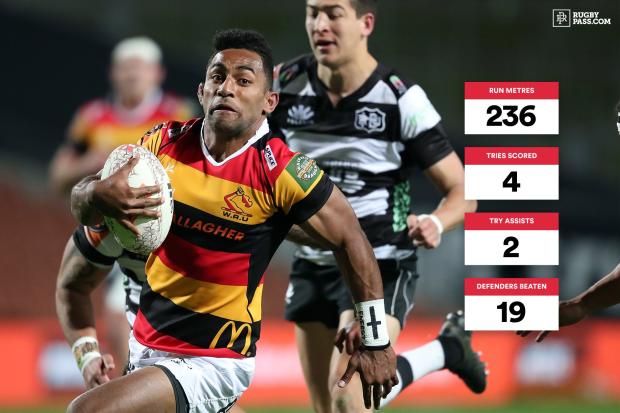 As for personal performance, Reece remains humble. His five total tries currently lead the competition. He picked up three against Wellington and managed a try assist against Taranaki despite limited involvement.
"I just try my best every week to stick to the structure and hopefully get those extra tries coming in. It's a pretty good feeling," Reece said.
Assistant coach, former All Black and Waikato winger Roger Randle expressed his pride in the young side after the match.
"Just really proud of 15 points in three games against some really quality opposition. Just so proud of our young group getting some rewards over preparation and what genuine preparation is," Randle said.
"I think it's been outstanding. Just as a young group it's been a big step forward in their short semi-professional careers. We do have a lot of club players and we're fighting up against a lot of Super guys, but we're punching above our weight consistently. It's just good for them to get some positive outcomes."
Randle also spoke of the expectation that comes with holding the storied Ranfurly Shield.
"It was a different feeling going out and challenging for it [the Shield] and then today there was a definite edge around expectation. I think Hawke's Bay started really well and put us under a lot of pressure and our set-piece didn't function as well as we could but to get six converted tries, hang in there and run over the top of them in the second half with the quality of our bench which was really pleasing."
Waikato will now get a breather as they have an eight-day wait for their next match, a conference clash with Bay of Plenty in Rotorua.
"I think it's important that we've got an eight-day turnaround, and we don't make that a six-day turnaround by letting ourselves down over the next couple of days," Randle said. "It's important we enjoy each other's company tonight with our family and then recover well tomorrow and get a genuine week's preparation."
Waikato will next put up the Shield when they host Southland in two weeks' time. If they can keep up performances like those seen this week, they may not be letting it go anytime soon.
In other news:

Comments
Join free and tell us what you really think!
Join Free