Analysis: Which Premiership side has the highest % of homegrown academy players?
With the 2018/19 Gallagher Premiership season about to start, we thought we would do some digging into the composition of the squads set to contend for English rugby's grandest prize over the next eight months.
Signings from abroad, particularly those from the southern hemisphere, generate a lot of excitement among the majority of Premiership fans, but there will always be those who are sceptical, claiming that it prevents homegrown players from getting the opportunities they need to develop. As with most things, a balanced approach tends to work best.
English youngsters learn a lot from players who have been brought in with Super Rugby experience, whilst the length and attritional nature of the English season means that up and coming players will get opportunities at most clubs. It's rarely recruitment that prevents opportunities, but it can be a handy excuse for coaches who take a more conservative approach to the game.
Continue reading below…
By our reckoning, there will be 711 players available to Premiership rugby clubs this season, ranging from the 47 at Sale Sharks' disposal, to the 66 apiece ready to represent Bath and Exeter Chiefs. The majority of these players are seniors, full-time professionals who are at least a couple of years removed from school, whilst a smaller but still significant portion are members of senior academies. These players, too, are full-time professionals. There are also a handful of part-time players who are first and foremost university students, but who will also represent a club in the Premiership Shield and possibly Premiership Cup.
With English age-grade rugby having been in fine shape over the last six or seven years, we decided to take a look at how many of these 711 players have progressed through the academies of the Premiership.
Below is a graph representing the entries into professional rugby of all 711 players.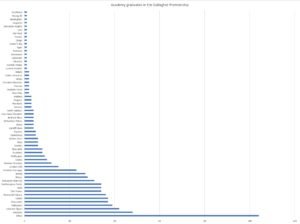 The populous 'Other' category, which accounts for 104 players, is a catch-all term that covers players who have come through university rugby, English rugby below the Championship level, rugby league converts, the armed forces, the Scottish club system or smaller, amateur clubs in countries such as Argentina or any of the Pacific Islands. This is particularly prevalent among older players in the competition, many of whom entered the game during the first decade of professionalism, when rugby was still adapting to an unfamiliar environment.
Of the clubs or franchises based abroad, Western Province leads the way with 12 products, followed closely by their South African rivals the Sharks, who have 10 players. The other major producers of talent in the Premiership include Wellington (9), Auckland (8) and the Blue Bulls (8).
If we remove the 'Others', majority of Championship clubs and the foreign sides, leaving the 12 current Premiership sides and London Irish and Yorkshire Carnegie, who together make up the 14 clubs which run full academy programs and have protected recruited grounds, we get a clearer idea of the most productive academies in the competition.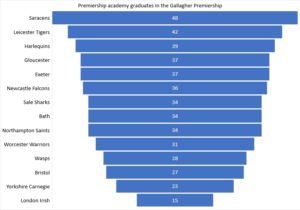 There are a number of players who have spent time in two different academies and preference was given to the junior academy a player represented. If, in a few cases, a player spent time in two junior academies, the side in which he spent his U18 season and would've been eligible to receive a professional contract from his team was the one chosen.
Given that neither Yorkshire nor London Irish are currently competing in the Premiership, their places at the bottom of the table are to be expected, but still worthy of acknowledgement of the good the work that has gone in on their pathways over the years.
Quantity of player produced is not the only thing an academy should be judged on, though, as there are so many mitigating factors which also affect the output.
Some clubs, such as Saracens and Harlequins, are blessed with populous recruiting grounds, whilst a team like Exeter enjoy harvesting an area of the country less touched by professional football and with many standout rugby schools. Having the raw materials in place doesn't automatically equal success and they should be praised for the work they do, but it should also be considered when looking at the outputs of clubs such as Sale Sharks and Northampton Saints.
In addition, a conservative senior coaching staff who opt not to use younger players can make an academy look less productive. If there's no buy-in from above, young players can become disenchanted and the relationship between the senior coaches and the junior and senior academy players can be every bit as important as the interaction between academy coaches and those same players.
The numbers have meaning and can be used to illustrate the success of certain academies, but they are useless without the context of extraneous factors, which we look at it in the individual breakdown of the 12 current Premiership clubs later.
At time of writing, there are 465 products of Premiership academies in the competition, accounting for just over 65% of the players.
Another metric on clubs and their academies that people tend to find interesting is the percentage of homegrown players – players produced in that club's junior academy – in their senior squad. This puts an emphasis on recent production, successful junior to senior transition at the club and an ability to keep players developing and improving once they have left the U18s.
| | | | |
| --- | --- | --- | --- |
| Club | Squad size | Academy graduates | % of squad homegrown |
| Bath | 66 | 27 | 40.9% |
| Bristol Bears | 64 | 16 | 25% |
| Exeter Chiefs | 66 | 31 | 47% |
| Gloucester | 58 | 26 | 44.8% |
| Harlequins | 61 | 33 | 54.1% |
| Leicester Tigers | 57 | 28 | 49.1% |
| Newcastle Falcons | 59 | 28 | 47.5% |
| Northampton Saints | 53 | 25 | 47.2% |
| Sale Sharks | 47 | 27 | 57.4% |
| Saracens | 61 | 35 | 57.4% |
| Wasps | 58 | 17 | 29.3% |
| Worcester Warriors | 61 | 21 | 34.4% |
We breakdown each club individually below.
Bath
Academy graduates in the Premiership: 34 (T-7th)
Percentage of squad homegrown: 40.9% (9th)
Bath are one of the teams in the competition making the most of a link with a local university playing in the BUCS Super Rugby competition, but it remains to be seen how much some of the players in the senior academy who are also studying at the University of Bath will actually play this season.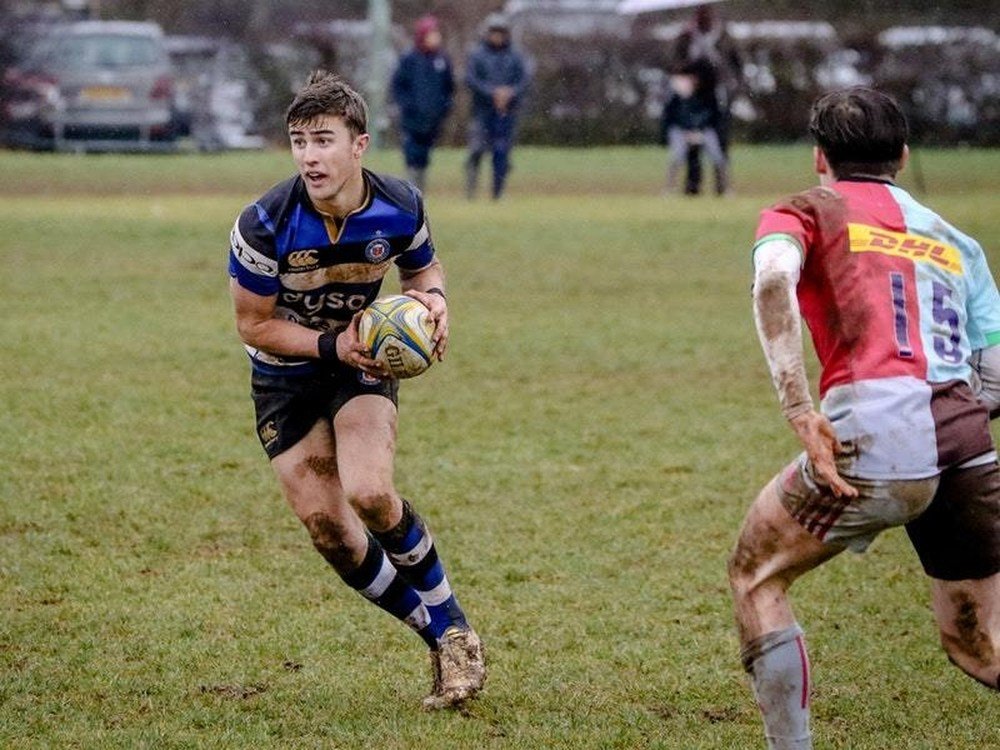 The importance of having a university like this on a club's doorstep is only going to increase in the years to come and Bath are making effective use of it, albeit their recruitment-heavy policy of recent years sees them sitting in the lower half of these rankings.
Bristol Bears
Academy graduates in the Premiership: 27 (12th)
Percentage of squad homegrown: 25% (12th)
Not the best reading for Bristol fans but an understandable situation given their recent stints in the Championship and the desire to put together a team capable of consolidating their place back in the Premiership.
They will rely heavily on players they have recruited this season, just as Exeter did when they were promoted, whilst they are also establishing a senior group of Kiwis to create a culture and mentor younger players, just as Saracens did with South Africans prior to their rise to prominence. If they can avoid the drop this season, they can look to improve their homegrown core in the coming campaigns, just as both those clubs did.
Exeter Chiefs
Academy graduates in the Premiership: 37 (T-4th)
Percentage of squad homegrown: 47% (7th)
They might not have the largest percentage of homegrown players in their squad, but that is mitigated by the fact they have the joint largest squad in the competition. The 31 graduates they have in their current squad is second to only Saracens and Harlequins in volume.
This is just a quantitative analysis, but if you were to look at the quality of player produced, Exeter would be up there with the best of them, especially as the likes of the Simmonds brothers, Maunder brothers and Sam Skinner have grown in importance to the former champions. It's no longer a team centred around the quartet of Henry Slade, Luke Cowan-Dickie, Jack Nowell and Sam Hill.
Gloucester
Academy graduates in the Premiership: 37 (T-4th)
Percentage of squad homegrown: 44.8% (8th)
A surprisingly low figure for the current Gloucester squad, especially as the club promoted nine players to their senior academy this summer, but they have strengthened significantly with additions from Johan Ackermann's former franchise, the Lions, too.
Losing Ross Moriarty and Billy Burns this summer hasn't helped, either, but it should balance out in the years to come as the club continues to profit from a close relationship with Hartpury College and several of the players that took Gloucester U18s to the Premiership final earlier this year step up to prominent roles in the seniors.
Continue reading below…
Harlequins
Academy graduates in the Premiership: 39 (3rd)
Percentage of squad homegrown: 54.1% (3rd)
Harlequins might not get the praise that is afforded to the likes of Saracens, Exeter and even Sale these days, but the numbers they put up are still impressive. Seven players joined the senior academy this year and that number could even be higher next year, with the club sitting on a particularly good group of U18s this season.
For all the issues the club has faced over the last two seasons, a lack of production from their academy is not one of them. They have a good area to recruit from and they definitely don't underdeliver.
Leicester Tigers
Academy graduates in the Premiership: 42 (2nd)
Percentage of squad homegrown: 49.1% (4th)
Leicester have become maybe the greatest exporter of talent in the Premiership over the last five or so years, with a number of players going on to play key roles for other clubs in the competition. The likes of Billy Twelvetrees, Henry Purdy, Calum Green, Alex Lewington and Perry Humphreys are chief among them.
Reigning U18 champions, Leicester promoted conservatively this summer, but a larger intake could well be coming next year, with a number of the side's key contributors last season still U17s at the time.
Newcastle Falcons
Academy graduates in the Premiership: 36 (6th)
Percentage of squad homegrown: 47.5% (5th)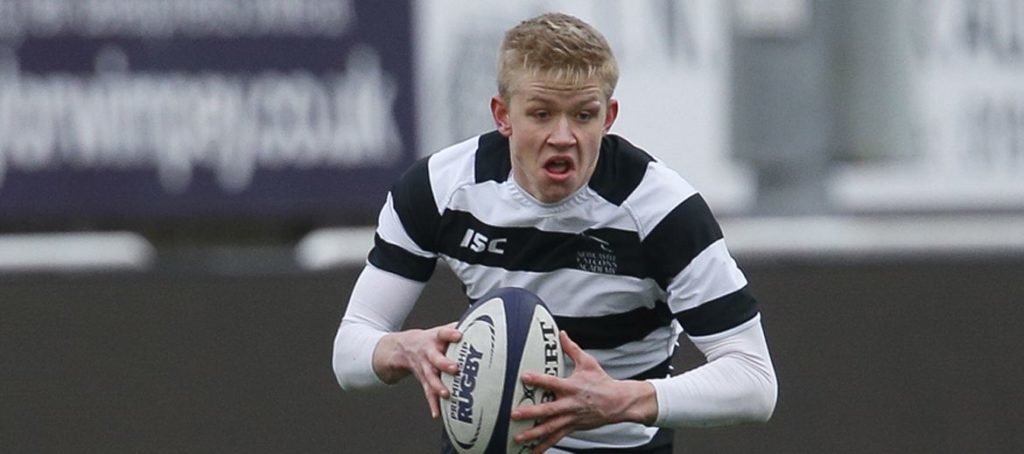 For much of the last decade, Newcastle would have comfortably sat in the bottom half of the table for both of these categories. No 'superstars' have come out of the north-east in recent seasons, but they are quietly building and increasing their reliance on homegrown talent.
Given the small budget they operate on, the strength of rugby league in the north and their previous issues retaining players, you could certainly argue for a 'pound-for-pound' higher rank for Newcastle.
Northampton Saints
Academy graduates in the Premiership: 34 (T-7th)
Percentage of squad homegrown: 47.2% (6th)
Another team that would do better in a 'pound-for-pound' ranking, with limited area to find talent for their junior academy. The former senior coaching team at the club may well have been an example of the lack of synergy with an academy mentioned earlier, too, so to be sitting around the middle of the table is a pretty good effort.
Saints are another club who could rise in the coming seasons if Chris Boyd continues the trends he showed at the Hurricanes and if a solid U18 and U17 class this season is given an opportunity in 2019/20 and 2020/21.
Sale Sharks
Academy graduates in the Premiership: 34 (T-7th)
Percentage of squad homegrown: 57.4% (T-1st)
Sale are being aggressive with their academy. They're offering grants to clubs that help them develop academy graduates and they handed out senior academy deals to 11 players this summer alone, more than any other Premiership club.
That large intake plus a remarkably small senior squad sees them with the top percentage of homegrown players in their squad in the competition. On paper, this should equal plenty of opportunities for Sale's youngsters this season.
Saracens
Academy graduates in the Premiership: 48 (1st)
Percentage of squad homegrown: 57.4% (T-1st)
The Premiership champions stay steady at the top for another season, cleaning up in total graduates in the competition and tying with Sale for percentage of squad that is homegrown. Given that they are carrying 14 more players than Sale, to match that percentage is no mean feat.
Like Quins, Saracens have geographical and population advantages that some other teams would love to plunder, but they still maximise what they have and continue to churn out top talents at an impressive rate.
Wasps
Academy graduates in the Premiership: 28 (11th)
Percentage of squad homegrown: 29.3% (11th)
Probably the most disappointing of all the clubs, although you do have to factor in the issues that the relocation has caused in the pathway. That said, the pathway at Wasps has become overgrown under Dai Young, who has prioritised recruitment of senior players over growth from within, and it is a long way from the club that used to swell with players from RGS High Wycombe and Whitgift, among others.
Hopefully now that the club is settled in Coventry it can turn around this trend and it is no criticism of the three different sets of academy staff that Young has had during his tenure, with plenty of talented players being produced. Ultimately, however, Young is tasked with bringing the club success and trophies and he has to go after that in whatever he way he sees best.
Worcester Warriors
Academy graduates in the Premiership: 31 (10th)
Percentage of squad homegrown: 34.4% (10th)
The biggest losers from Wasps' move to Coventry in the academy stakes – after the former Londoners themselves – are Worcester. They found their recruiting grounds, which they had worked hard to establish and develop, limited by a redrawing of the academy boundaries.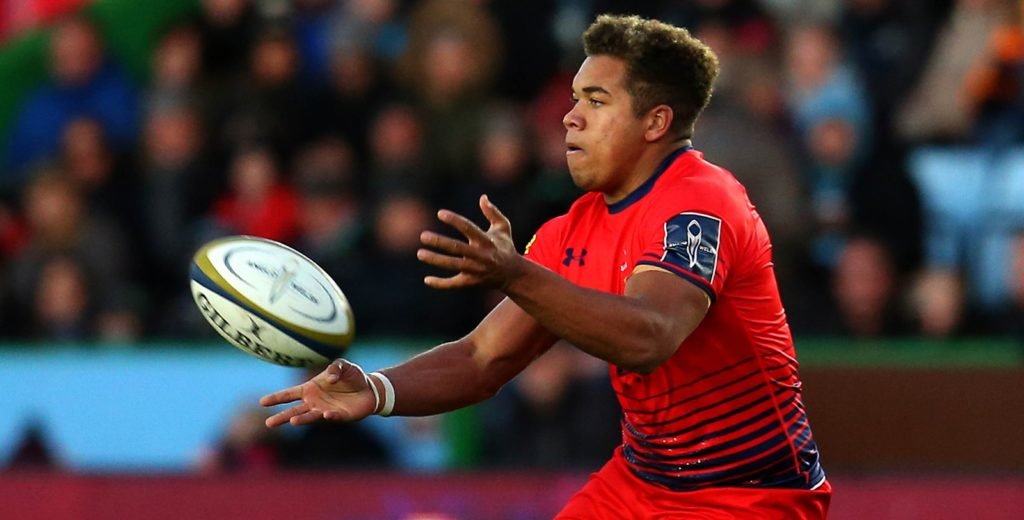 New director of rugby Alan Solomons has bolstered his squad significantly this summer in order to contest with the threat that Bristol pose and that shows in the composition of the squad this season. English rugby can't use fear of relegation as a reason for a lack of skill development or youngsters being pushed through with 12 top tier teams at their disposal, but it is, perhaps, a legitimate reason for two or three of those clubs.

Comments
Join RugbyPass+ now and be apart of the conversation with all-new commenting!
Join Now