English rugby's scrum-half problem and the hope the class of 2019 offers
Ever since Stuart Lancaster was appointed as the Rugby Football Union's (RFU) Head of Elite Player Development in 2008, English rugby has not had a problem producing talented youngsters ready to step up to the rigours and demands of professional rugby.
Lancaster's work then, and the sizeable contributions of former England U18 coaching trio John Fletcher, Peter Walton and Russell Earnshaw, helped pave the way for the success England would go on to have at U20 level in the subsequent years, with many of those age-grade stars proceeding to form the core of the England squad that is about to head out to Japan for the Rugby World Cup.
The Premiership academies have made their own considerable contribution to that and the production level of players coming through the age-grade pathway and being able to offer impact at a senior international level has flourished as a result. If you want to quibble, you could still argue that the level of production falls below what it should be in a nation with England's resources, both financially and in terms of its player pool and school system, although that is influenced by the eagerness to recruit from abroad at the senior level that the Premiership clubs have.
You can go through English rugby position by position and list exciting young talents coming through the system that can provide depth and competition to England's current options. Whether that's at lock, flanker, fly-half or wing, where the options are particularly numerous, or at tighthead, full-back or inside centre, where the stocks are steady, if not overflowing, the pathway has clearly been working.
There has been one position, however, where production has, for a number of reasons, not quite matched up. For all the other successes, the position of scrum-half has seemingly been left behind.
The relationship between Eddie Jones and his options at nine has been well-publicised over this Rugby World Cup cycle, although that is almost circumstantial to the issue. It demonstrates that there may be a problem but is not itself a reason for it or even indisputable proof of its existence.
Had there been a better stock of English scrum-halves for Jones to call on over the last three years, would those players have been given an opportunity? Or is his faith in Ben Youngs so absolute that even if a number of very promising players were knocking on the door over the past few seasons, they would still have been limited to a handful of bench appearances, such as Ben Spencer and Dan Robson have had?
Both players have had their advocates over the last couple of years, as does Danny Care, who played Youngs' deputy initially, but ultimately there has been little planning put in place – in a game environment – for Youngs' replacement, whether that is required in the short-term through injury or in a succession scenario during the next cycle. That has been Jones' prerogative, although it doesn't speak overly well of stocks at the position in England.
If that is not evidence enough, just take a look around the Premiership.
South Africans Faf de Klerk, Cobus Reinach and Francois Hougaard are all starters at their respective clubs, as are Nic White at Exeter Chiefs and Sonatane Takulua at recently relegated Newcastle Falcons. Kahn Fotuali'i dominated the position at Bath for a couple of seasons and Willi Heinz, who is English-qualified but arrived from the Crusaders in 2015, is the man in possession of the jersey at Gloucester.
Only Youngs, Care, Robson and Spencer have been consistent, established starting nines at their clubs in recent years, and who have also come through the English system. Harry Randall is beginning to emerge as the number one option at Bristol Bears and Will Chudley has made the departure of Fotuali'i at Bath possible, but for that number to be at 50% or lower in the Premiership, especially for such a specialist position, is disappointing.
There is still talent out there, such as Alex Mitchell at Northampton Saints and the Maunder brothers at Exeter, but it has found itself buried beneath talented and influential players like Reinach and White on the depth chart. No one wants young English players to be given a free ride, but with a second-tier competition that doesn't match up to the one on offer in France and a less stringent policy on selecting homegrown players than their Celtic rivals, it could prove troublesome for England moving forward.
Of those English nines mentioned, Young and Care will be in their 30's in the next cycle, as will Chudley and Heinz, whilst Mitchell has his work cut out displacing Reinach. The 22-year-old needs games to kick on, but he can't get them for the form and impact of Reinach in the first XV. It's a vicious circle.
With White set to head back to Australia, the path for Jack and Sam Maunder could open up in the south-west, something which the England coaches would be keen to see, as Spencer and Robson look particularly lonely as options moving ahead towards the 2023 Rugby World Cup in France.
The production of talent at the position, coupled with these extraneous variables, has simply meant that the pool of player there for Jones to build around after the upcoming Rugby World Cup is shallow to say the least. It's not just an international issue, it's an issue at the Premiership clubs, too, where the talent, the opportunity or a combination of the two hasn't been there of late.
The good news? The class of 2019 could help buck that trend.
A total of six scrum-halves were contracted across the Premiership this summer and as crops go, it might be the best individual group of scrum-halves for the past decade.
Blake Boyland, Callum Pascoe and Raphael Quirke have been brought in at Bristol, Newcastle and Sale Sharks respectively, all of whom have England U18 experience, whilst Stephen Varney, an Italian U18 international, has also been signed up at Gloucester.
Leicester Tigers, who already boast Youngs, Sam Harrison, Ben White and Harry Simmons on their roster, have taken the rare move of contracting up two players at the position this summer, in the forms of Jonny Law and Jack van Poortvliet.
If the Miami Hurricanes are 'Wide Receiver U' in terms of American football, then Leicester have a strong claim on the title of 'Scrum-Half School' in rugby. To take on two specialists, whilst also having four seniors contracted, is a mark of the potential that both Law and van Poortvliet have.
It's rich pickings at the position, something which has not always been true in recent years. Usually the next season of U20 scrum-halves are fairly easy to predict in England, although there is no end of combinations that could be used in 2020 as things stand.
Sam Maunder has another year of eligibility so should be in the group, unless Exeter opt to retain him for senior club action, but beyond that, it's anyone's guess. Law and Quirke were involved in the England U19 side that played Wales earlier this year, so they may have the advantage at this point, although Boyland, Pascoe and van Poortvliet offer plenty themselves. Varney does, too, though it would seem likely that he keeps on with his Italian affiliation next season or he could switch to Wales, for whom he also qualifies.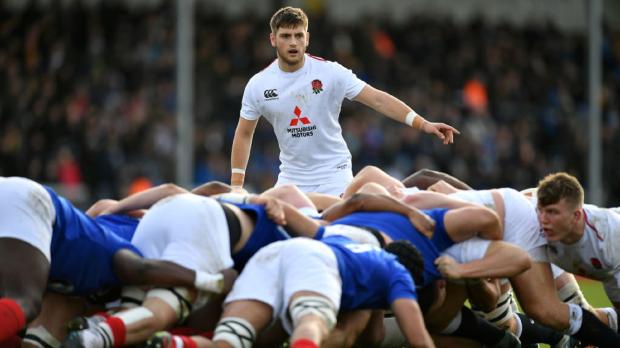 Of course, the talent and potential being there isn't enough to assume this particular problem position will be solved in the coming years.
All six of these new professionals will have to deal with the transition to senior rugby this summer and the responsibilities and rigorous demands of being a professional athlete. It's not a lifestyle that everyone takes to and the odds would say they aren't all going to make it.
Then, should they manage the first part, they will then need to be given opportunities. Some clubs are better at this than others, some have a more impactful pathway through their Shield and Cup sides that better prepares youngsters, and some will recruit from abroad or rival Premiership clubs in order to provide short-term positive change, but in the process they'll overload the depth chart ahead of these rookies.
It's a hard balancing act to manage successfully and no one does it perfectly. However, the talent being there is something which should encourage English rugby fans, at the least.
With the raw materials not necessarily being there at this level or quantity in past seasons, even a low conversion rate in potential to ability at the senior level could see a couple of these players kick on and push for further honours. It's a frustrating attrition rate, but that return would at least be an improvement on recent seasons.
All six have time on their side and there is no need to rush them through and overexpose them, but hopefully there will be an eagerness to get them involved as soon as possible – and as soon as is conducive to their development – as players can quickly stagnate when sitting unutilised.
It is one of the bigger problems in English rugby and that inability to push forward late developers and/or the players who aren't immediately ready for senior action, is to the detriment of England's enviable player pool.
If you begin to solve that, the sky is the limit.
Watch: RugbyPass exclusive – 'The Academy' – Part One
Comments
Join free and tell us what you really think!
Join Free