'There's always a risk in moving anywhere... that stuff (with Saracens) is in the background at the moment'
Stick or twist? That's the question for Jack Singleton to soon answer. The 22-year-old is wanted by Saracens, but still very much coveted by Worcester.
It would be disappointing for Warriors to lose him now after so much nurturing. They were the ones who took a punt on the Harpenden youngster, taking him under their wing five years ago and turning raw talent into a robust Premiership regular that even England's Eddie Jones took a shine to with an eye to the future, bringing the kid along on the 2018 South African tour.
Saracens would undoubtedly be a step up the ladder for Singleton. They are serial trophy winners, a club whose roster is bulging with world-class operators whose habits can be tapped into and learned from.
But here's the rub: if Singleton, an under-20 World Cup winner in 2016, heads back to London following his impressive apprenticeship with an outfit continuously flirting with relegation, there is no guarantee he will enjoy a similar level of exposure to what he has experienced at Worcester.
Just look at the stats. He has revelled in 46 Premiership appearances the last three seasons, 37 of those games as starter after establishing himself as the first-choice hooker, initially under Gary Gold and now under Alan Solomons.
(Continue reading below…) 
But this same frequency of starts could be compromised at Saracens, even though Jamie George is expected to be away at the World Cup in Japan when next season begins. Despite his heavy England schedule, George has started 10 of Saracens' 19 Premiership games this term, along with all seven of their Champions Cup matches.
The availability of the 2017 starting Lion has left the other hookers picking up crumbs. Tom Woolstencroft, signed last summer from London Irish, has started five league games, with Toulon-bound Christopher Tolofua accounting for the other four. Joe Gray, the one-time England cap who signed from Harlequins in 2018, has managed just three league runs off the bench while Scott Spurling has drawn a blank.
Their limited visibility leaves Singleton with a situation mull over: to join a club where he will have to battle hard to come out from under the long shadow of George, or stick by the team that knows him so well.
"There is always a risk in moving anywhere," he told RugbyPass, glad to be the back in the Worcester mix after rupturing an elbow ligament and stepping off the bench in their crucial win last Saturday over Sale which lifted them seven points clear of bottom club Newcastle.
"I mean, that stuff (with Saracens) is in the background at the moment. All I'm trying to concentrate on is giving my best to Worcester for these last games of the season."
Singleton's well aware playing regularly is what the sport is about, not kicking his heels in the stands on matchday. Without taking full advantage following his Challenge Cup debut in October 2016 in Russia, he'd never be the prospect he is now touted as.
"One hundred per cent. You can do as much training as you like, you can do as much gym work as you like, but you are going to pick up that (necessary) experience on the pitch. I was probably a little bit slow when I first started playing but I picked it up pretty quickly and the coaches stuck by me through that sticky patch where I wasn't playing my best rugby and hopefully I repaid them."
He has previously packed his bags in Worcester and left. There has been outings for Loughborough, some Championship runs for Nottingham and even a spell in New Zealand playing for the ironically named Saracens on the outskirts of Christchurch. But potentially leaving now for the Saracens run by Mark McCall would be an entirely different escape, a finality that would be somewhat emotional.
"You learn so much more from playing. Going out on those spells because there wasn't opportunity for game time at Worcester gave me a lot to learn and a lot to work on and I figured out a lot of stuff out during that period which definitely helped me when it came to Premiership rugby.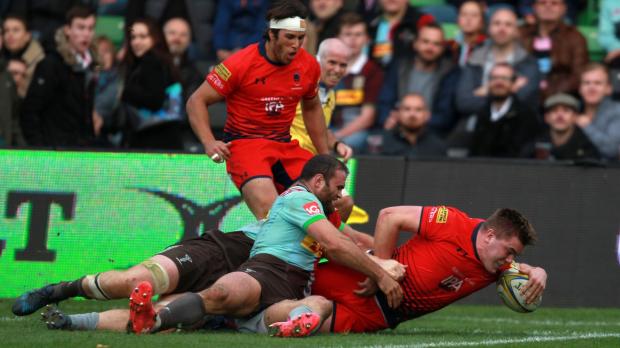 "I came here at 18. I have been here the last four seasons, coming to the end of my fifth season here. I have got some great mates here and the coaches, we have had a couple of changes in coaching staff but the coaches that have been there the whole time I have learned a lot from and it has been fantastic here.
"I wasn't expected to make the breakthrough when I did. It all sort of happened in the space of three weeks. There was an injury and then one of the other hookers was off on international duty, so I got thrown in at the deep end a little bit.
"The coaches stuck by me through that tough time when I was getting adapted to the Premiership, the speed and the level of it, and from there it has been a whirlwind the last two-and-a-half seasons of just non-stop playing bar a couple of injuries. It has been fantastic. There is nothing better than getting out on the pitch. It has been nice to wrack up over 50 appearances.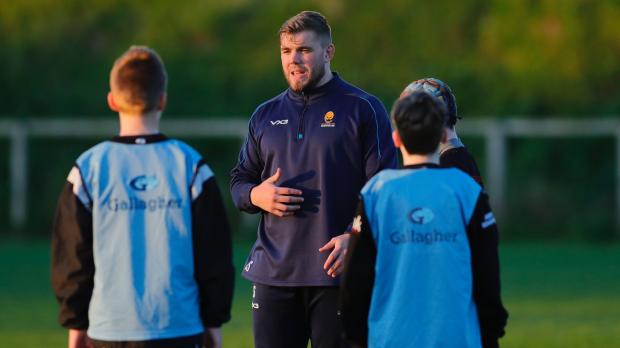 "I have worked closely with Meffin Davies since I came here on my set-piece, and then we also had Sam Vesty as well [he's now at Northampton] and a lot of the coaches were confident (about me). That gave me confidence to go out on the pitch do my best.
"I would say it was the coaching here (that brought me on) but it was also quite nice at the time as a couple of other young lads, Josh Adams, Jamie Shillcock, Perry Humphreys, had all played around that time and gone really well in the Premiership. It was always nice going out with boys who had lived in the academy house and you'd sort of grown up with in the last couple of years."
If Saracens' offer does prove too good to ignore, they will be getting a well-grounded youngster. He doesn't use social media much but when he does it can catch the eye.
For those based in the Midlands, UK, @WorcsWarriors offer a weekly chance to unwind, chat with others and to engage in healthy, informal exercise.

Physical activity and a sense of community both have great positive effects on mental wellbeing. pic.twitter.com/8BL0ICrQUe

— Man_Age (@ManAgeOfficial) February 1, 2019
Take his retweet for Man Age, the group who are encouraging men to candidly discuss mental health and hold a weekly session for the public that is supported by the Warriors Community Foundation.
"It's not something I'm personally involved in but I saw it on Warriors and thought it was a fantastic cause. Rugby has helped me massively socially getting out. I have made some life-long friends through rugby.
"I'm still in contact with friends I played grassroots with. I have made some friends here I'm sure I will be in contact for a long time with. Being by yourself isn't necessarily the best thing all the time and people just going there (to the Man Age session) and taking your mind off your worries, whether it be an hour or so, can help massively. I thought it was a fantastic cause."
Thank you Stan Lee for everything you will be sorely missed. Rest In Peace. pic.twitter.com/gWtPw1n8tK

— Jack Singleton (@JackSingleton14) November 12, 2018
Just like Worcester's end-of-season party perhaps. Singleton is a massive Marvel fan and would jump at the opportunity of wearing the costume of his favourite fictional hero.
"I may have to suggest it [fancy dress] for the end of season social. I quite like that idea. I'm a pretty big Marvel fan. I'd have to pick Captain America. I just like the fact he's just a normal kid from Brooklyn. He just always tries to do the right thing and I love him in the Marvel era."
Take a look at last week's #TrainWithYourHeroes session at @WorcsWarriors. Local winners @WolvesRUFC U12s had a tour of @SixwaysStadium as well as a session led by stars @Ted_Hill26, @JackSingleton14 and @GJvanVelze #GallagherPrem? pic.twitter.com/fCdceiG9Yr

— Gallagher UK (@GallagherUK) April 16, 2019
Comments
Join free and tell us what you really think!
Join Free