The tale of two Irish hookers... one in contractual limbo and a rival ready to make his Test debut
Crazy how it all works out. Thirty-three months ago, Tadgh McElroy declared he was off, turning his back on a Connacht academy contract in favour of trying his luck in London at Saracens. 
The wrath of the IRFU was instant, the youngster being immediately dropped for the under-20s World Cup in Georgia where he would have been Ireland's first-choice hooker. Up stepped Ronan Kelleher to start a number of those games and the rest, as they always say, is history. 
Nearly three years later, Kelleher is primed to make his Test debut off the bench at the age of just 22 in the Six Nations. McElroy, meanwhile, is back at home in Dundalk, without a contract and trying to pick up the pieces after two years in England didn't produce the satisfactory outcome he would have hoped for. 
There are no grudges regarding the very different way it has panned out, that an old pal he was ahead of in the underage queue has now broken through where it really matters. "I'm happy for him," enthused McElroy to RugbyPass. "He's a great guy, a good player who has worked hard for it. I hope he goes well this weekend."
While Kelleher is living the dream as part of Andy Farrell's new broom after stylishly accelerating through the ranks this season at Leinster, McElroy is busy trying to put himself back in the shop window. 
(Continue reading below…)
The new global tournament that World Rugby hopes will come to fruition
The perception at large is he must be trouble given the abrupt manner he upped sticks, turning his back on an age-grade World Cup with his country in preference of seeing if the rugby streets of London were really paved with gold. 
Chat to him, though, and the opposite is very much the case. "Anyone who knows me, I'm pretty soft off the field but when I'm on it I'm different. It's just the thing with the 20s, I feel like it's hanging over me. Everyone knew me from that and they were like, 'there is Tadgh, blah, blah, blah, he's a bit of mad man, a bit of a header'. But I'm not that. I'm a nice lad if you get to know me.
"I just want to get that hangover over. I have spoken to people in the IRFU and it was like 'that was forgotten about as soon as you landed over in England'. That was all forgotten about and I was like of course, but obviously there is social media. You do notice it and you do rate the online comments."
News ?? | @IrishRugby U20 hooker Tadgh McElroy joins @Saracens senior academy

??https://t.co/HJB2WnMy5u pic.twitter.com/AhVHNeABGY

— Saracens Rugby Club (@Saracens) June 2, 2017
Getting stuck in contractual limbo was rotten luck more than anything machiavellian. McElroy and Saracens had amicably agreed to go their separate ways in 2019 – he'd grown tired of the A-League circuit and being loaned out – and talks were still ongoing regarding his next step when his hamstring gave way at completely the wrong time. 
"I was doing a fitness run on my own and whatever way I fell awkwardly, it just went. It was a bit of a shock. At the time I was in talks with the likes of Northampton, Jersey, Bedford, talks with a few teams like that. Then whenever this happened, it was off the table."
What followed was hellish. "At one stage I felt like I could never come back from it. I felt like I would never be able to play the way I used to be able to play and I was just overthinking everything. I was letting the overthinking get the better of me.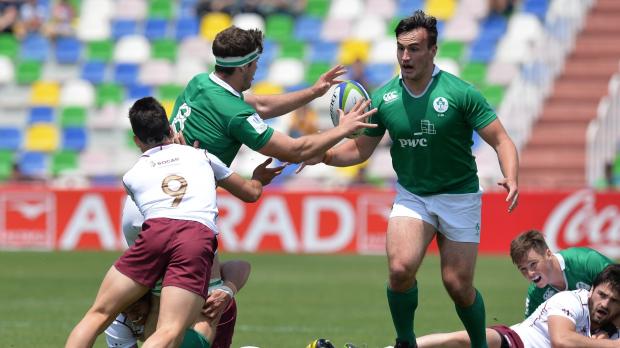 "That was the hard part, thinking the worst. I let the demons get in too easy. It was my own fault. I went through a few personal problems and it was more about getting the head right, fighting the demons and getting the love back for rugby again.
"My dad helped. He always just kept asking me, 'Are you happy?' It was never about getting back playing rugby, it was like once you're happy that is the main thing. It was just confidence. He was always telling me, 'Look, it is going to get better, this is your first injury. Just think about it, there is a lot worse out there. This is just your first injury, don't look at it bad'.
"He said when you get over it in a few weeks and months time you will be laughing about this. I look back at it now and it has only been a few months and he was right."
It's not ment to be this time around ?just wanted to wish everyone involved with the Irish clubs good luck tommrow ?? pic.twitter.com/GM7kCV275L

— TADGH MC ELROY (@tadghmcelroy) January 30, 2020
The mood is sweetness and light despite yet another setback a few weeks ago. Dividing his time between playing for Clontarf in the All-Ireland club league and working part-time in personal gym training, McElroy's rejuvenation led to a call-up to the Ireland amateur clubs squad for their annual two-match series versus Scotland.
However, a concussion in training ruled him out of selection for last Friday night's opener and the second meeting on February 7. Given what he has been through, though, it's a mere bump on the road towards his ultimate goal – securing a full-time rugby contract for next season. 
"It's not ideal but that is the way it is," he said reflecting on the ill-timed concussion. "It was actually great going back into camp. It was like I was rebooted, seeing all the old faces. It was very, very welcoming. Everybody came up and shook my hand, said it's great to see you back. It gave me mountains of confidence. I couldn't doubt the welcome I was given. I'm very grateful for that.
Been a difficult few months off the field with injury but really Excited for the season ahead ??? https://t.co/70xhOORfYm

— TADGH MC ELROY (@tadghmcelroy) October 7, 2019
"When I had the injury and went through a bad time in the off-season, I matured in a way and learned this [injury] is all part of the game so you have to deal with it in a positive way and not leave yourself get down. 
"It's about sticking to the gym and keeping little goals. Every few weeks you have a goal to try and hit and you hit it. That keeps your focus on yourself, on the actual situation you're in. I have my mind set on rugby and the main goal is to get a pro deal. My agent is working hard and I feel great, feel like my old self. I'm itching to get back. My first choice is a province and if not I'll have to look elsewhere. I'm willing to go with any province if given the opportunity.
"It would be fantastic because at one stage I thought I can't come back from this. Nobody wants me, nobody needs me to play for them. I had my time, it's finished. I will never be the player I was. I said I'm not playing. But if I do come back and get a pro deal it's going to be all those times when I thought to myself there is no point doing this, it's not going to work, it's going to make it all worth it."
Thanks to your fab support we have been able to sponsor 2 young players on your behalf. Welcome @joel_kpoku @tadghmcelroy #sarriesfamily ??? pic.twitter.com/ZN4gvJbaa0

— Saracens Supporters (@sarriessupport) July 13, 2017
Looking back at the whole journey from there to here, all the way back to his 2017 decision to flee the Irish nest and hook up with Saracens, he has no regrets. "I wouldn't change it because at the time for me it was the best decision for Tadgh McElroy to grow up, mature and become a better player," he reckoned.
"I matured as a player and as a person on and off the field and the best thing about it was I met some amazing people, met some boys I will be friends for life with. I lived with Joel Kpoku for two years, great guy. They all were. Saracens are known for everyone being close together and it's just a group of good people. There were no individuals I'd bad vibes with.
"It was different. I had to live away from home, cook for myself, but you adapt quickly. I liked it because it was a different challenge outside the field and I knew I'd to mature quick. I'd be cooking, cleaning for myself, doing my bills, little things like that."
— TADGH MC ELROY (@tadghmcelroy) November 27, 2017
Good habits have rubbed off. "My first year I was always asking questions. I was never nervous asking questions. The great thing about the club was regardless of how big a profile player you are, they always had time for you. Regardless of whether it was your first week in the club or your tenth year, everyone had time for everyone.
"What I would have seen is patience, working hard so when your time comes be ready. It was a massive belief that a club like that was interested in me, a massive confidence builder. When I was throwing I would always speak to likes of Jamie George, Christopher Tolofua or Schalk Brits at the time, they were always supportive and more than happy to help me out, give tips.
"It wasn't that they thought they were better than anyone, they would come over and ask do you think your right hand is coming in a bit too much when you throw or whatever. I was just overwhelmed by how nice they were. Like these were Lions and international players coming over to help the young lads. I was blown away by how nice and humble the whole club was.
Ireland U20 hooker Tadgh McElroy joins @Saracens senior academy #AvivaPremhttps://t.co/m5LEJCTKR1 pic.twitter.com/UmvQkZ6rES

— Premiership Rugby (@premrugby) June 2, 2017
"I have seen what it takes now. I have seen what it takes in the mornings, getting up early, getting your gym and getting everything done. I have seen what the likes of the Lions and the England players do. I know the hard work it takes, I have seen it done and at the minute I'm going to have to do it all over again.
"Those two years of experience, watching those guys how they approach training, how they approach the game, every meeting, it was always with 100 per cent focus. I don't think I could have learned at any other club. 
"It's a great club with good people involved. It's hard to see such a good club go down (to the Championship) but from being there and knowing the kind of people that are involved, it is a very tough time but the club will bounce back."
Just like McElroy.
WATCH: In the latest episode of Don't Mess With Jim, ex-Scotland player Jim Hamilton chooses his all-time Six Nations XV that he played against
Comments
Join free and tell us what you really think!
Join Free