'It's so outrageous how things have gone' - Jake Woolmore's journey from teaching kids with learning difficulties to playing in the Premiership
Gallagher Insurance couldn't have had a better ambassador at their Project Rugby event in Bristol than Jake Woolmore.
The aim at Ashton Gate was to offer a morning of rugby to those who might not have regular access to the game in England, youngsters from low socio-economic backgrounds, Black, Asian and ethnic minority (BAME) individuals and those with disabilities.
This was a template right up Woolmore's street. Not only was rugby something he wasn't able to dabble in properly while growing up, he was teaching children with learning difficulties before an offer from Exeter in 2014 gave him a late developer shot at professional rugby at the age of 23.
That dalliance didn't work out and only after carving out a loosehead niche for himself at Championship outfit Jersey was he snapped up last summer by Bristol for a Premiership debut just months before his 28th birthday.
He took to it like a duck to water and the rest is history, 20 appearances in the league and recents starts in the wins over champions Saracens and fallen giants Leicester at Welford Road. No wonder he was the perfect role model for the wide-eyed kids getting their first taste of the sport the other day.
(Continue reading below…)

"It's just great getting more people involved in the sport,' he told RugbyPass. "This is what you like you like to see, people enjoying themselves, enjoying a game they don't normally get an opportunity to play and participate in and make the most of it.
"When I was younger I got into rugby a bit late. It did so much for me growing up, things I could take away from the sport, not just physically but the ethics of the game. I didn't have many opportunities to play the game, a little bit of schools stuff. It was just 'we're going to cover it for a few weeks here', but that was it.
"Everything growing up was very much football-based, which I was terrible at. I didn't go too well at that but once I got an opportunity to play rugby, I realised how much I enjoyed the game and the camaraderie it brings among team-mates.
Fantastic to see some of the great work done by #ProjectRugby. It's so good to see young people getting a chance to enjoy rugby and show their talents. Well done to everyone involved ?@GallagherUK @BristolBears @BristolBearsCF https://t.co/6Gpp3vbN5H

— Jake Woolmore (@JakeChunkz) May 1, 2019
"I was feeling sort of socially accepted and found I absolutely loved it, started taking it quite seriously and here we are today," he explained, before revealing he could still be teaching were it not for his unexpected rugby adventure.
"I'm currently training as a barber alongside the rugby, but had I not fallen into rugby I could still be working in care… I was working at a college for students with learning difficulties. It was something I always enjoyed doing.
"Doing something that made me feel worthwhile, doing something to help others and support others in benefitting their lives. I always enjoy that and I got opportunity to work at a college and coach students with learning difficulties. It was something I enjoyed. It was challenging, but it rewarding."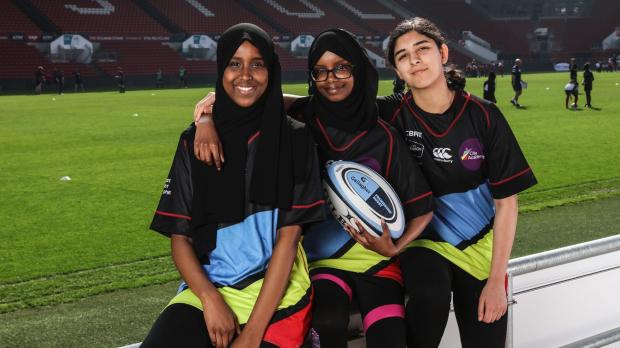 Just like his rugby is now nearing the end of his first full season the English top flight, a campaign where he has thrived and has so many experiences to bring forward into the second season of his two-year Bristol deal.
"It's surreal. I was at the age of 22, 23 and was just playing for the craic, playing just to be with my mates and have a bit of a social thing on the weekend. Then all of a sudden you started getting a bit of wind and fell into becoming a professional rugby player," he continued, reflecting on a career that innocently began at Yeovil College before switching to Taunton.
"That first year (at Exeter) was surreal and with the way things have gone, here we are now in my first year in the Premiership and I have been lucky enough to get some game time. You get caught up in the season but when you stop and actually think back, you do realise it is so outrageous how things have gone for me and how much game time I have had.
"It might seem a little bit stupid with some of the big games we played in and some of the results we have had, but for me it [my favourite memory] was always when the team got selected for the first game of the Premiership season and I was named in that 23."
Those 17 minutes at home to Bath meant the world to Woolmore. "That was such a big thing. I felt like I'd been working hard. Over the past few years since I left Exeter (in 2015), my aim was to always get back into a Premiership side and play in the Premiership and to see my name up in that 23, I just had a moment of reflection, 'Here you go, you have got to where you wanted'. Then it was like, 'Alright, stay there'. It has been a whirlwind of the season and great fun."
He owes so much to Jersey for moulding him. Owes much, too, to Pat Lam for spotting his potential in the lower league and providing the opportunity to try-out higher up the chain. "It [Championship] is a great level to be playing well in, week out, a great opportunity to get some real competitive rugby at senior level and really learn your trade.
"Jersey were a forwards-based club and it really opened my eyes as to what I needed to do to become that better player and work hard which then put me in the shop window to be able to progress to the Premiership.
"I remember the phone call and having a chat with Pat – it was very much, 'I can see something in you that you can offer to our squad and the way that we play'. There were progressions to make, especially coming from a club that was very set-piece based going to the way Pat likes to play. He's a lot more expansive.
"He said the opportunity will be there for me to work hard and to put my hand up to play in the Premiership under him. He put it out there that he could see something in the way he had seen me playing in the Championship, he has seen something that could fit with what he wants from me in the team.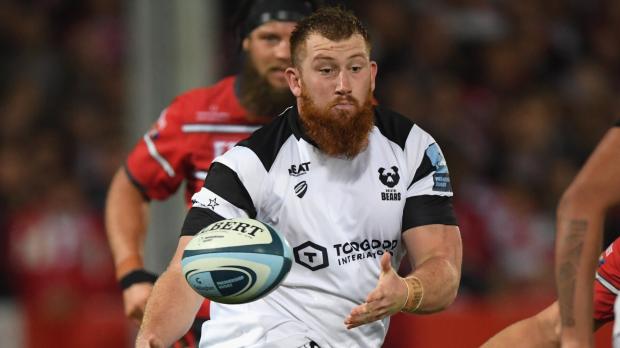 "He explained his vision, the culture he likes to drive in a team, and said if I felt that matches up with my visions and my aspirations, then we can put pen to paper and get an opportunity to play for Bristol in the Premiership."
Not that it was a straightforward transition. Lam likes all of his players to be ball players. Even his props. There was nowhere for Woolmore to hide. "A lot of people tell you you don't need to worry about that, you just need to hit rucks and push. Coming to the game late, I was probably a little bit behind on some of those skills that Pat wanted, but there is a lot of opportunity to improve and focus on skills and being able to pass the ball with both hands.
"It doesn't matter what position you're in, if you need to step up in the backs and be a bit of a playmaker you need to be able to do that. You have the likes of John Afoa, who leads this by example, but there are lots of opportunities to improve and I believe I have improved massively.
We would like much more of the same next season please.

Thank you to every lovely supporter ?#togetherwerise #upthebears pic.twitter.com/QqlDFdriU6

— Jake Woolmore (@JakeChunkz) May 2, 2019
"I'm constantly working on it and that is a good thing with Pat. He has put that goal out there and said, 'This is what I want'. He gives you the opportunity to become that and likes to give everyone opportunities to get better.
"There was nerves. You have come to the club to play and want to perform the way you feel can put you in the best light for your coach to select you. I just put my head down, worked hard and showed I had the ability to play at this level.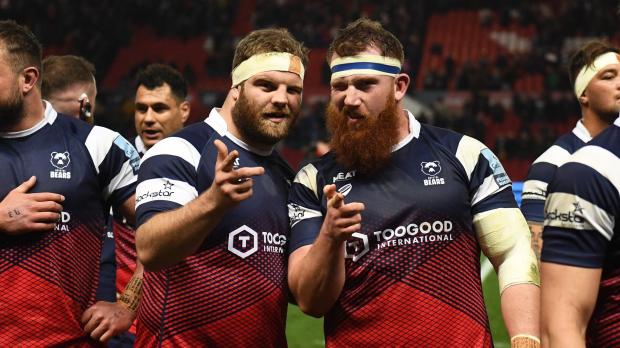 "Physically there wasn't necessarily too many changes, it was more training at this level. The Premiership is a more open game than the Championship so just being able to move around the park a little bit better, that just came in training in the environment we're in.
"I didn't necessarily feel like I had to lose or gain any weight but as I transitioned some of my weight changed slightly. I'm probably as heavy as I was (120kgs), but leaner. There wasn't any real pressure for me to change too much, but I always had my own goals. I always wanted to be a little bit fitter, a little bit leaner. They helped me to do that."
Bristol sure have.
WATCH: The RugbyPass documentary on the Bristol Bears
Comments
Join free and tell us what you really think!
Join Free