'Bath is a massive club and rugby is in the fabric of the city... I love it here'
If Girvan Dempsey didn't take the plunge in summer 2018 he would be in Italy this weekend, helping to supervise Leinster as their latest Guinness PRO14 season gets underway at Treviso. Instead, there are no trips on the agenda this Saturday, the Rec being just a short spin from home into town for Bath's latest Premiership Cup fixture versus Worcester.
His day won't be fully consumed by all things English. There is the small matter of Ireland's World Cup clash versus Japan which the former Test full-back will be keeping his eye on some hours earlier.
A veteran himself of two World Cup campaigns, the fortunes of an Irish squad with a large Leinster contingent was always going to be of interest even though Dempsey is just as clued into how Bath's players are faring with the two-from-two England in the Far East. 
His one big hope, though, is that Johnny Sexton is only temporarily off his feet and will be back in harness later in the tournament after sitting out this weekend's showdown with the host nation. 
"Ireland are genuinely in a strong position," he told RugbyPass. "They have openly made it known they want to achieve a semi-final position which is massively within their potential. The squad depth has grown but there are still positions where you look at key personnel who are going to be imperative to the squad succeeding. 
Ireland promised after 2015 they would not be caught winging it at the 2019 RWC with an inexperienced out-half starting at No10 in a big match in place of Johnny Sexton, but they have not delivered on that aim https://t.co/Y2QThUAiJW

— RugbyPass (@RugbyPass) September 27, 2019
"Having worked with Johnny Sexton and knowing him as a player and how competitive he is and how driven he is, he will want to succeed, he will want to be successful and he will want to have a successful World Cup campaign by ultimately putting them into position to get to semi-finals and final. He is a big driver for them.
"They have the potential, they have the players that have won on big occasions, won trophies and they know what it takes to beat the All Blacks. I have no doubt that Joe Schmidt and the coaches will have them well prepared and I'm massively excited.
"I have very much a massive interest in the England team as well in terms of the five Bath guys who are in their squad. I'm hoping they will go well but if they cross paths at any stage it will be fairly obvious which direction I will be cheering."
Dempsey is loving his decision to trade places, swopping the all-conquering giant that is Leinster for a club trying to rekindle the dominance on the English scene it once used to enjoy. He could have stayed in Dublin, could have watched the trophies keep on rolling in, but there was something about Stuart Hooper's pitch in 2018 that proved irresistible at a time when the coach's Irish province were wallowing in the warm glow of a European and PRO14 double.
"Bath is a massive club and rugby is in the fabric of the city, where the ground is, the fans, everything. It's incredible. On match day the city just comes alive and it is such an amazing buzz around the place. The ambition is to roll it back to the highs, back to being competitive and ultimately trying to win trophies.
"Stuart Hooper is a Bath man through and through. He played and captained the club and just his passion for the club is massive. I see huge similarities between Stuart and Leo Cullen in terms of their journey through the system of a club, playing and captaining and having that love for the club.
"Stuart is no different in that he is really passionate about bringing this club forward, bringing it back to the successful days and striving to achieve with the club. That is the big thing. From my initial first meeting with him, I could see that and I saw this was something I wanted to be part of because you could see his plan, his vision for where the club wanted to go.  
"Being with Leinster for so long, it's a well-oiled machine from the age-grade right through to the senior team. Structures are in place and you are quite sure of how the whole thing works, culturally and rugby wise. It's all pretty much set whereas in another club you deal with different players from different backgrounds, different environments, different set-ups, different club competitions. It's challenging in different ways. 
A couple of Irishmen who were winning trophies for their provinces 13 years ago held centrestage at Wednesday's Gallagher Premiership 2019/20 season launch
https://t.co/Bff6NOlNXx

— RugbyPass (@RugbyPass) September 12, 2019
"That is what I wanted to do. I wanted to grow as a coach because I am committed to coaching. I love what I do and I am very fortunate and privileged to do what I do, but I wanted to challenge myself and in order to develop and grow as a coach I needed to step outside the bubble and to go and look at other opportunities.
"Opportunities were presented to me and this, for us as a family, was the best fit in terms of what we were looking for. You worry about our two boys but they adapted pretty quickly, settled in, made a new circle of friends and absolutely love it. It's a change of environment, change of scenery living away from Ireland, which is unique for both myself and Anne-Marie. We never lived away from Dublin before. It's a real experience for both of us but we actually love it here. It has been brilliant.
"Having listened to the ambition of the club and where it wanted to go in the future, it was a no-brainer (to come over). Really good systems in place, a good club with a strong history of rugby but it just hasn't hit the highs of years gone by. They really want to grow and achieve, and we feel we have made huge steps and strides along that way in the last year."
The Gallagher Premiership doesn't swing into action until Bath take the short hop to Bristol on October 18. It's typical of the English league – nearly all the away grounds are within touching distance and while Dempsey won't knock the constant air travel involved in the PRO14 as he believes airports and hotels have their uses in building close-knit squad bonds, the challenge of doing well with Bath has him invigorated.
"As a competition, it is highly, highly competitive. I was aware of what it was before, but it is pretty relentless in terms of there is a big match every week and that is what it is, the next week is another big match and then another big match.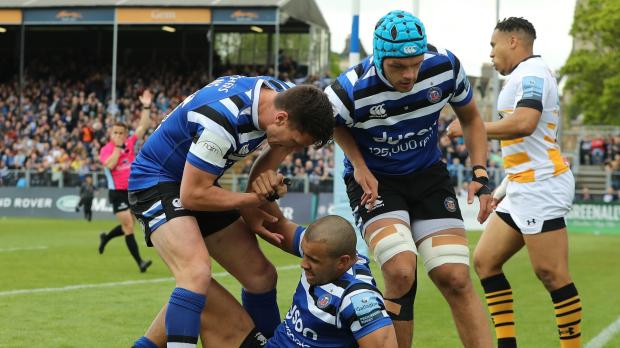 "It showed last year in terms of the season and the league standings. You saw from position one to position ten it's competitive. You had Exeter and Sarries who were the outliers, who were the high performers that everyone was striving to chase, but outside of that when you looked at third position right down to 10th or 11th, one win and you could be up in the top four and one loss and you were back down in seventh or eighth. 
"There was this see-saw effect because teams were so competitive that they were taking points off each other. Within the league, it is a big match every week and it is very much relentless in that. With the way the international set-up is in Ireland and the structure in the provinces, the squad rotation is not the same in the competition over here."
With a young family, there are certainly easier ways to earn a living away from an intense results-based industry. But Dempsey is a new breed of coach who has stepped from the playing field and fitted seamlessly into a tracksuit. He just can't escape that match day buzz.
"It's that competitive edge, that innate competitiveness in me and within the group, within working with close knit squads," he explained. "You know that you are always chasing that high, that big day, that big game atmosphere. Look at the first round this year and we have got Bristol away on Friday night and again it is going to be big, a 30,000 crowd. It's a huge game and then we have them back to Twickenham for The Clash which is an incredible atmosphere, incredible occasion. 
"You live for those big days, you live for those big moments, those big in-game moments and those wins. That is what drives me. There is always that player development within me that always loves to see players succeed and see players grow and develop. We have got a young squad and to see the growth within some of those guys, the leadership that they have taken on board in the last 12 months, is massively exciting and encouraging and the potential within the squad is huge and it is up to us to drive that forward.
"Ultimately that is what it is, that two prongs of desire to see people and players achieve their potential but also my competitiveness, I'm looking for those big days and the highs of that big win."
Comments
Join free and tell us what you really think!
Join Free