An irreverent and microscopic look at Leinster's secret to success
Terming anything 'the best' is usually subjective. It's a matter of opinion, to be debated and discussed. And yet, the phrase 'Leinster are the best team in Europe' is just an indisputable fact.
On their journey to a record-equalling fourth European Cup, Leinster smashed out of the way the English champions, the Pro14 champions, the defending European champions, the Pro14 leaders, the Top14 leaders, and, in the final, a massive bag of money masquerading as a rugby team. Leinster have taken on every challenge presented to them, and passed them all with an array of flying colours that would make Israel Folau dizzy.
On the surface, Leinster should not be as successful as they are. Their captain, Isa Nacewa, is so old even his hair has wrinkles and these days he runs like he has a permanent erection. They're coached by a team comprising of the man behind the most high-profile coaching failure in rugby history, and a guy with about as much experience being a coach as a bus making its first long-haul journey.
Their squad is mostly made up of boys from the local area, promoted rather than recruited, the same strategy used by the Dragons, which, it goes without saying, is perhaps not the best model to follow.
Except none of these things are actually negatives, because Leinster have always gone with what works, rather than what should work. Nacewa is still putting in man of the match performances between crosswords, the squad just won the Champion's Cup, and the coaching team was a stroke of low-level genius.
When club legend Leo Cullen, a man with a fish-face that could have saved Guillermo del Toro a fortune in special effects, was appointed head coach of Leinster it stunk of jobs for the boys. However, Cullen's career paid off: As a player and captain, Leo Cullen was never the star. He was a guy who worked hard and got the best out of those around him, and he's become the same as a coach.
Somewhere in the step to professionalism, rugby has apparently adopted the auteur theory from French cinema, credit for a side usually goes solely to the head coach. But with Leinster, the thing Cullen deserves most kudos for is building a team who can do their jobs exceptionally well.
In 2016, Cullen appointed Stuart Lancaster. Lancaster is best remembered as the England coach who got them dumped out of their own World Cup in the pool stages. However, people forget everything that happened in the four years prior to that. Lancaster established a team culture and playing style with England that has very much formed the foundations for everything Eddie Jones has since done, and hauled the team back to being respectable from the borderline calamity left behind by Martin Johnson.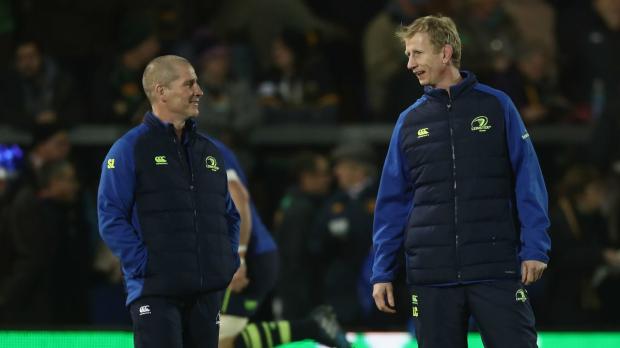 The coaching team split responsibilities between them, taking two jobs each: Cullen takes care of the forwards and man-management, Lancaster structures attack and defence. Girvan Dempsey works with the backs, and gets forgotten by the press.
The gameplan is essentially a huge, brutal game of Bop-It, forcing defenders to make decisions quicker and quicker, knowing eventually they're going to slip up and miss the 'SLAP IT' cue. Opposition allowing, Leinster like to play at a faster and faster pace as phases go on, until eventually a defence can't keep up. Even if they're reading their pattern play, this doesn't give them opportunity to get a defensive line set up in time.
Speaking of pattern play, Leinster use dummy runners better than any other club side out there. On any strike move, they invariably have three or four players running off Sexton, who are all able and likely to get the ball, meaning a defence has to watch all the runners, not knowing which are the dummies. You'd wonder how Leinster always seem to have so many, but I figure it must be because Rob Kearney has bought so many dummies down the years they probably have plenty lying around in reserve.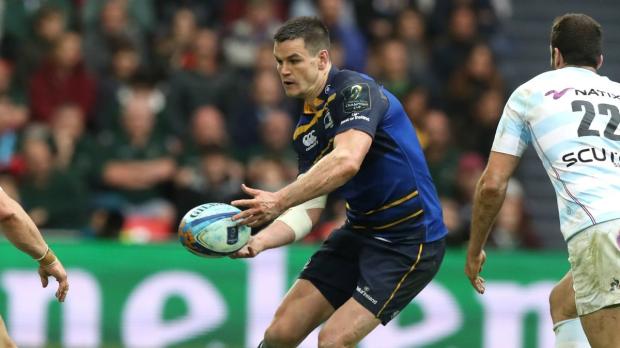 Leinster's dummy lines are about confusing a defender, putting doubt in their mind. There's never a right or wrong way to play rugby, no matter what Quade Cooper's career might suggest, but most teams approach dummy runners incorrectly. Sides such as England and Wales use dummy runners to distract a defence. To prevent them seeing what they're cooking up on attack.
However, if the runner doesn't stand a realistic chance of receiving the ball, the whole move is pointless; it's just someone flapping about in the defender's peripheral vision. The to-be tackler is already ignoring plenty of them in the crowd. You might as well just put your loosehead in a silly hat and tell them to do the Macarena. An international-standard defence is going to see right through what you're doing either way.
Leinster's attack, on the other hand, is built around options. Each player runs lines off the next, meaning even if a defence does read their planned play, Sexton can just select another runner and start a different move. It's likely the dummy runners are coached to expect the ball just the same as they would if they were part of the plan. If they don't think they're a dummy runner themselves, the defence is all the less likely to think so too. In fact, we probably need another name for dummy runners who don't know they're dummy runners. I quite like Buzz Lightyear runners.
These Buzz runners continue to occur in every phase, too, not killed after the initial strike move as per most teams. There's an immaculate attention to detail in all of Leinster's play, not just the flashy first-phase work you'll see over and over in slow motion, including in my own videos.
11 – @jameslowenz averaged 87 metres gained per match this season, no player averaged more (Blair Kinghorn also 87); the Kiwi was involved in a try every 61 minutes, the best rate of anyone eligible for this team. Impact. pic.twitter.com/SyGG4dUAul

— OptaJonny (@OptaJonny) June 1, 2018
Every phase is approached as either first-phase, or a chance to set up a new first-phase. Forward drives and carries are varied and pitch-wide, and allow them to generate quick ball and attack off a new position.
Instead of carrying by the guard of the ruck, you'll often see Leinster spread their pods out. Where possible, they'll look to carry into players who are not renowned jacklers. Dan Leavy's break against Saracens (As seen at 7:15 in the video) was a product of him shuffling out wider, to avoid a clump of jackle-happy Sarries. He happened to find space in the process, so when the ball found him, it was straight through the middle.
They're always good at generating quick ball, but in the European semi-final against the Scarlets, Leinster went through phases faster than Marvel Studios will when they hit full cash-cow mode. The Scarlets normally play a very effective rush defence, charging in on an opposition to reduce their time on the ball. However, as Leinster's ball was so quick, they couldn't get into position, never mind actually blast their faces.
On one level, Leinster are just very smart and very good at the basics, but there's also some fascinating innovation going on. In order to explain this most effectively, I'm first going to go back to those basics, and explain what a breakdown is.
Upon completion of the tackle, the ball carrier has to release the ball and in order to do so, may place it once in any direction, at which point the opposition may try to steal it, prompting the ball carrier's teammates to go in and protect it. This creates a ruck.
When talking about ball retention, most teams focus on the players clearing out, looking for new techniques to smash. But, to go full secondary school English lesson for a second, let's look at that ruck description, and ask ourselves: What was the subject of that sentence? It wasn't the players protecting. It was the ball carrier. So Leinster's technique for retaining the ball focuses on the ball carrier.
The tactic is very simple. The problem at any breakdown for the team in possession is always a threat nearing the ball. Rather than looking to move the threat, Leinster started to move the ball.
In the example detailed in the video at 5:55, Isa Nacewa is tackled close to the tryline. As he hits the ground, he begins to present the ball as per normal, on the side where he fell. However, the first to the breakdown isn't one of Nacewa's nursing home carers, but my personal player of the season, athletic auto-locking octopus, Taigdh Beirne.
Beirne gets into a great body position, and initiates the octo-grapple. However, Nacewa uses his authorised one movement to roll his entire body round and place it on his left, just as Beirne goes for the ball. Beirne's octopus targeting system is looking left, but because of Nacewa's roll, he now has to shift his bodyweight to the right side, in which time support has arrived to remove the two of his eight limbs he shows in public.
There's an argument that this is double movement and therefore illegal, but no referee is going to risk ruining the flow of the game by penalising it. By exploiting this technicality, Leinster have found a way to deny a player like Beirne or James Davies the half-second they need to steal the ball.
They have continued to deploy this tactic throughout the close-season. Whilst they will use it in tight, it's used primarily out wide, by Leinster's outside backs. It allows them to buy an extra second, even if they jackling threat is only a winger, when the player feels they are on their own. It's possible other teams do this too, but Leinster are the first I've noticed employ it as a deliberate and identifiable tactic.
Ball retention is at the heart of Leinster's attack. This season, Saracens, Scarlets and at times Munster all struggled to deal with the way Leinster shift the point of focus at such speed. If you can retain your ball at the pace Leinster do, it gives you complete control of the game. They can continue to move at a million miles an hour, or they can use the fact the ball is already secured and slow things right down.
Their ability to attack with dummy runners phase after phase is born from the belief they have that they'll keep hold of the ball. You can run the most complex backs pattern in the world, but it's a fat lot of good if you lose the ball the next phase because nobody was there to clear out. Their team have a rugby articulacy that allows them to use their skills to their full potential.
This allows, in turn, them to use the incredibly accurate kicking games of halfbacks Luke McGrath and Jonathan Sexton. When in the opposition half, Leinster are happy to keep hold of the ball until something opens itself up. However, except for in desperate, own-tryline circumstances, Leinster tend to make sure each kick is contestable. The old adage goes 'The kick is only as good as the chase', and the collective members of Leinster's back three tend to make sure the kick looks pretty bloody excellent. This allows them to either shut down any counter attack (Especially useful against a side such as the Scarlets who thrive on it), or win the ball back.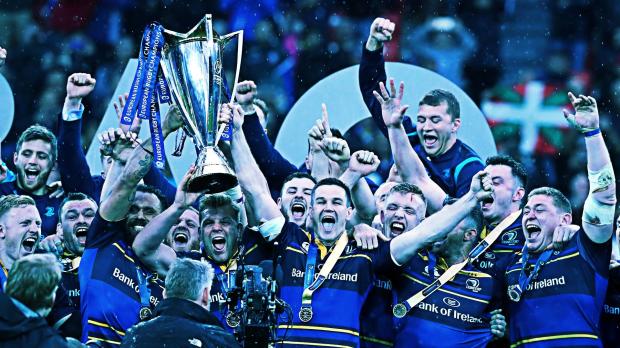 Leinster have as close to a complete game as you'll find in Europe, and it's all built on the speed of their ruck ball. They've played two finals in the last month, and they've won two finals in the last month. And yet, they won both in very different manners: One a tight game thanks to territorial control late on, and one a free-flowing encounter where they scored five tries. However, their ability to win in different ways all comes back to their proficiency at the breakdown. Their ability not just to win their own ball, but to win it quickly, quicker than anyone else.
If, like Racing, you're up against a solid defence you can't break down no matter what, you've given yourself all the tools to beat it regardless. It takes a lot to be the best team in Europe, but Leinster have managed to build a game involving a lot around not a great deal at all.
Comments
Join free and tell us what you really think!
Join Free