How Adam Radwan's speed compares to England's fastest players
When Adam Radwan first broke into England camp last year, training ground stories soon emerged of the blistering pace the Newcastle Falcons winger possessed.
While his athleticism has been the talk of Tyneside rugby union circles since he first signed for the Falcons in 2016, getting capped by England has brought the 23-year-old to a whole new level of public attention.
The hype around the youngster has grown exponentially, even leading some to liken him to cross-code legend, Jason Robinson. "With less room on the pitch, the old adage that there is no answer to pace is even more relevant and Adam is a supremely gifted athlete. He is a very special rugby player with that X-factor," Nick Easter told RugbyPass recently. "Jason Robinson was very similar and while he didn't have that [Radwan's] out-and-out pace, his ability over the first five or ten metres was electric and even against suffocating defences he would suddenly be away, skipping past tacklers."
Unsurprisingly, the question on many lips is how does rapid "Radders" stack up against England's fastest. Eddie Jones' back division are no slouches; Jonny May, Anthony Watson and newcomer Louis Lynagh can boast excellent top-end speed.
Yet surprisingly, the rapid Radwan is yet to clock himself over that traditional yardstick – the 100 metres –  although, as he tells RugbyPass, he intends to.
"I get asked that a lot [his 100 metre time] but I've never done it, because when I was younger I wasn't that fast. I was quick, but there was always someone in my school that was a little bit quicker.
"It wasn't until I started going to the gym that I started getting a lot quicker.
"I've never done it, so I have no idea. My plan was to do it [a timed 100m] in my offseason but I went and did the summer tour so my pre-season was a little different, so I didn't get the chance to do it but I am going to do it at some point on a track, just to see where I'm at. "
Radwan wasn't timed in England camp this time around but he did get GPS stats back which make him one of the fastest England players of all time.
"In the summer we didn't do any testing stuff. Obviously, we got GPS data so the top speed I hit in a session was 10.85 metres a second.
"You'll only hit that for like a split second. That was my max speed. That was without the ball, doing top ups.
"Everyone's GPS is different, so I would know how that would compare to anyone else."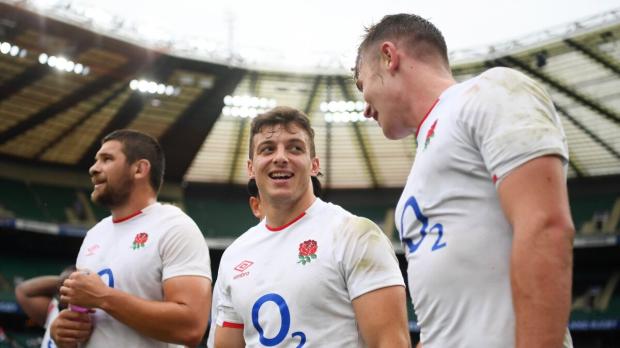 In fact 10.85 mps puts him ahead of England teammates Jonny May, who clocked 10.49, and Bath's giant winger, Joe Cokanasiga who has also clocked over 10 metres a second. It is however behind former Wasps winger Christian Wade, who went over 11 metres a second [11.1 to be exact]."
But which fellow speedsters does Radwan admire?
"Obviously [Louis Rees] Zammit is ridiculously quick as well. Every team in the league has someone who is rapid.
"I quite like a chase back," said Radwan, when asked what the dream scenario is for him a rugby union speed merchant. "Is that better than scoring a try? Probably skinning someone [is the best] to be fair."
Is Adam Radwan one of the fastest rugby players in the world right now? ? pic.twitter.com/YI7uTtJdli

— RugbyPass (@RugbyPass) October 10, 2021
Yet it wasn't a global superstar that Radwan watched growing up, but a hot stepping Samoan international that terrorised Gallagher Premiership defences for several seasons at Newcastle Falcons.
"When I was very young I wasn't that interested in rugby. But when I started watching it, it was Sinoti [Sinoti Sinoti]. Just because he was a freak.
"I remember when I first went to Newcastle, you'd see him in training. He would just be the most chilled, relaxed man.
"I remember my first year we had a pre-season game, an internal game, and he got the ball and had a one on one with the fullback and he tried to chip it and it just went straight into the fullback's stomach, and it was like 'what is this guy doing?' But when it came to game time, on his day, when we finished in the top 4, he and Niki [Goneva] were the best wingers in Europe. They were undefendable."
Who are the fastest men in rugby?

A breakdown of the sport's flyers and the times they've clocked ??https://t.co/hr2q7pnmo1

— RugbyPass (@RugbyPass) May 17, 2020
"Sinoti was so small and he had such good feet, he'd either rinse you or bump you. He was so unbelievably strong. I was lucky as I got to train with those two quite often and you got to watch them in awe and try to learn as much as you could from them."
"When I was at primary school I was dead fast. It made me think, why don't slow people just run faster? Obviously, I know that's not right now, as there's much more to it.
Adam Radwan. TAKE A BOW ???#ENGvCAN @Channel4 pic.twitter.com/jVkaX7F7h6

— England Rugby (@EnglandRugby) July 10, 2021
"With speed mechanics you can go into so much. When I first got to Newcastle, Kev, our S&C said 'you've probably got the worst running technique I've ever seen', from a back.'
"But he didn't want to change too much because it was working. I looked at that [running mechanics], did a few little tweaks here and there. Did some gym stuff – as if the legs are stronger you can push more through them.
"There is quite a lot to it. If you're going to get faster, it's not going to just happen overnight. It takes time.
"I don't squat. I very rarely squat. It's all about cleans. A lot of jump based stuff. My best clean is 140[kg] off the floor.
"I do reactive stuff like jumping over hurdles, a lot of lateral jumps. The forwards come in and they're deadlifting and squatting and I'm basically jumping around the gym. I get a lot of stick for that but they're like carthorses."
Comments
Join free and tell us what you really think!
Join Free