Premiership U18 exit rankings: Top three players per position
The U18 club season in England was brought to an end on Sunday, as Leicester Tigers triumphed over Gloucester in a nail-biting 34-31 victory, retaining the title they won a year before.
Bath and Harlequins both brought relief for the southern conference, defeating Wasps and Sale Sharks respectively in the other playoffs.
The attention now moves to contracting, with most clubs currently in the process of deciding who to offer professional terms to, before the international season comes into focus, with the U18 Six Nations festival set to be hosted at Hartpury College and then the annual tour to South Africa in the summer.
Having watched these players for a couple of years at the club and international U18 levels, these are RugbyPass' 'exit rankings' at each position for those players bidding farewell to school and stepping up into senior rugby.
Full-back
1st Freddie Steward (Leicester Tigers)
2nd Louis Lynagh (Harlequins)
3rd Joe Carpenter (Yorkshire Carnegie)
A trio that you could argue in any order, truthfully.
Steward's height and ability in the air, as well as a cannon of a boot that has frequently been on show for Leicester, just make him feel like a player with a smoother transition to the seniors looming. He showed that full package of abilities again on Finals Day and launched a number of successful counter-attacks for Leicester, offloading to keep the phases alive and stretch defences in the process. His communication from the back was also pivotal and he does not look like he lacks the confidence to make that leap to the seniors.
Lynagh and Carpenter are arguably more 'electric' than Steward, with short-area speed and footwork that the Leicester man doesn't have, but equally, they don't boast his size or booming territorial kicking ability. Lynagh has scored some sublime tries for Quins over the last couple of seasons and his ability to slalom through potential tacklers is hard to coach. He has that natural balance and agility that, again, should translate to the seniors. Carpenter has it in abundance, too, and both players have the vision to find and exploit space on the pitch.
Wing
1st Louis Rees-Zammit (Gloucester)
2nd Tom Roebuck (Sale Sharks)
3rd Josh Gillespie (Northampton Saints)
4th Gabriel Hamer-Webb (Bath)
5th Jack Bates (Bristol Bears)
It would not be surprising to see Rees-Zammit get an early call to the Wales U20 side this summer for the World Rugby U20 Championship. He has speed, footwork and the ability to change direction with very little momentum lost. He's not undersized, he is a good ball-handler and he reads the game well in both attack and defence. Wales usually aren't afraid to fast-track a player into the U20s if they think they have long-term potential and Rees-Zammit fits that bill.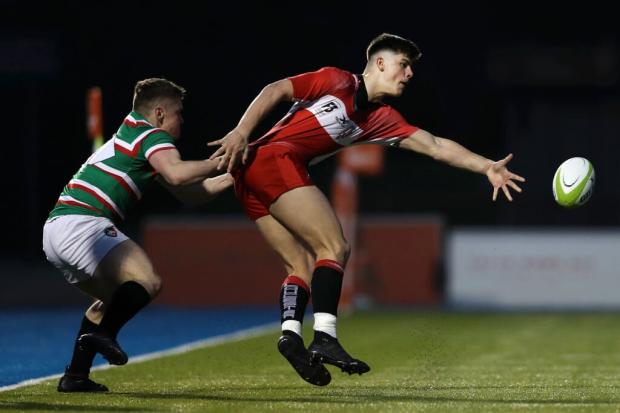 Roebuck is in the mix for the top spot, there's no doubt about that. This might be observer bias, having seen Rees-Zammit score a world class try at Finals Day, but Roebuck had himself a very solid 70 minutes in Sale's loss to Harlequins. He was owning the aerial contest and when you look at the size of him, that comes as no surprise. Combine that physical presence with the speed on the outside and he's a dangerous prospect, especially as a good ball-handler capable of finding support-runners on the inside.
I've spun it out to a top five here, to make up for the fact I've not separated into left and right wings and the remaining three are all very interesting players. Gillespie is a Premiership player in the waiting, although it remains to be seen whether that's on the wing, at full-back or at outside centre, and it will be intriguing to see how Chris Boyd uses him moving forward. Hamer-Webb is one of the players already contracted and has shown instinctive finishing on the outside for Bath this season, whilst Bates is one of the brightest talents at Bristol, whose limited recruiting grounds mean they really do have to make the most of every prospect they have, so his development will be enjoyable to watch moving forward.
Outside Centre
1st Hayden Hyde (Harlequins)
2nd Chidera Obonna (Newcastle Falcons)
3rd Isaac Marsh (Gloucester)
A converted back rower, Hyde is a player drawing interest from a number of areas. He has already played for Ireland's U19 side and has since been called into the England U18 squad, prompting a potential future international battle for his services. He offers something quite different to Quins' incumbent outside centre Joe Marchant, with a bit more of physical edge at this stage of his career and not quite the game-breaking speed of Marchant. He's no slouch, though, and countless times this season he's stepped back inside against the grain and broken the line, leaving the scramble defence for dead. Given that he's still learning his craft in the midfield, he's certainly one to watch moving forward.
Obonna and Marsh sort of tick the same boxes that Hyde does. They are physical centres and though they don't lack for speed, either, they are players that often plant a foot and straighten the line to impressive effect. It's a bit of a theme of the U18s this year, where English rugby had been producing these super-fast, outside arc sort of runners, and now there's a real run on the more robust ball-carriers. Marsh is versatile enough to play 12 or 13 at the next level, whilst Obonna could well see opportunities on the wing, having spent time there earlier in the age-grades. Distribution after the line-break and at speed is an area all three of these players are adept at but will certainly look to improve in the seniors.
Continue reading below…
Watch: Philippe Saint-André speaks to The Rugby Pod about France's woes
Inside Centre
1st Max Ojomoh (Bath)
2nd Phil Cokanasiga (London Irish)
3rd Lennox Anyanwu (Harlequins)
It's a good year for inside centres, with the likes of Saracens' Josh Hallett and Yorkshire's Jack Metcalf just outside the top three, but promising players in their own right.
Ojomoh has made that leap this season from a talented U17 to an all-round U18 who's ready to start making an impact in the Premiership Cup and Shield competitions next season. He plays a lot like Ollie Lawrence, with that low centre of gravity and acceleration making him a nightmare for defenders to track, and if they are able to track him, they often struggle to live with the power he generates. The offloading has improved, the defensive communication is more noticeable and the distribution, particularly after line-breaks, is effective off of both hands.
Cokansiga will draw a lot of comparisons to his older brother Joe, but they are quite different players. Phil is arguably a technically better player than Joe was at this age, but he doesn't have the same monstrous size and power that Joe has repeatedly showcased on the wing. One of the noticeable things this season was just how comfortable he was as a ball-handler, even in terrible conditions.
As for Anyanwu, he offers a lot of promise in attack, with the ability to make defenders miss and in the footwork rankings, he'd be up there with the very best this season. There's probably an interesting conversation to be had over whether he's a better 12 or a better 13 at the next level and Quins' back line is stacked with young talent at the senior level at the moment, but these are the nice sorts of dilemmas to have.
N.b. A mention, too, for Exeter Chiefs' Kian Atkinson. He's a talented backline player who featured for them last season on the wing, but who may be a centre in the long-term at the Premiership level. He unfortunately injured his ACL coming into the U18 season, so there's been no opportunity to see where Exeter would have used him this campaign.
Fly-half
T-1st George Barton (Gloucester)
T-1st Sam Costelow (Leicester Tigers)
T-1st Tom Curtis (Sale Sharks)
Yes, a total cop out here, with all three players tied for first overall because I genuinely cannot separate them in terms of ability, just on playing style. A word for Dan Lancaster as well, who has been contracted by Yorkshire and is a fine player, as well as London Irish's Will Sinfield. English rugby's production line of fly-halves coming out of the U18s is not slowing up.
Having said this trio all differ in playing style, what they share is an understanding of the game and great vision for space. Costelow actually played at 12 in the final for Leicester and looked impressive there, including with his support running for line-breaks by the half-backs and forwards. Barton guided Gloucester back from a 24-0 deficit to a narrow 34-31 loss and showed all the playmaking ability that has seen him step up early to train with the U20s. As for Curtis, he was effective against Harlequins, despite Sale being outplayed for a sizable portion of the game, and looks the part of a senior player this season, having filled out and added that physicality to his game.
Costelow is with the Wales U20 side, Barton could be involved with England now that Marcus Smith has been called back by Quins and Curtis has been unlucky not to feature for Sale's senior side, with registration issues having been the only thing to deny him. Of the group, Barton is a pure 10, Costelow could make a career for himself at 12, whilst Curtis could plug in at a number of spots, but I think full-back would be a particularly comfortable fit for his skill set.
Scrum-half
1st Raphael Quirke (Sale Sharks)
2nd Callum Pascoe (Newcastle Falcons)
3rd Stephen Varney (Gloucester)
Arguably, scrum-half is another of the stronger position groups this year, with recent England U18 call ups and Leicester pair Jonny Law and Jack van Poortvliet not quite making the cut, despite being very good players.
In terms of the nuts and bolts of being a scrum-half, it's hard to look beyond Quirke, who has perhaps the crispest pass from the base of the ruck or scrum from this year's group. From the moment he arrives at the ball to whipping it away off either hand, it's just one swift, fluid motion. For me, that's the basic skill that is required at nine and then you complement it with a box-kicking game, an ability to test the fringes and good scramble defence. Quirke has those, too, it's just the precision of his passing game which edges him out in front.
Pascoe is a nine with experience at 10 and there is a little bit of 'le petit general' about his play. That French approach to the position can often have positive impact on the pitch and it'll be interesting to watch Pascoe develop in the north-east and, if he can breakthrough into the senior side, whether they'll play a little more off of nine and take some of the burden off of the fly-half. Varney is incisive around the fringes and maintains that tradition of sniping Gloucester nines, following in the footsteps of Dan Robson, Ben Vellacott, Harry Randall and Charlie Chapman. Another good organiser of the players around him, Varney looks like someone with the self-confidence to do well in the senior side and continue to communicate well.
Loosehead Prop
1st James Whitcombe (Leicester Tigers)
2nd Zac Nearchou (Wasps)
3rd Harry Fry (Gloucester)
An interesting group this year, with Whitcombe leading the way as the spearhead of an impressive Leicester scrum. He complemented Rob Hardwick, who is still an U17, well in the final and helped Tigers exert set-piece dominance on Gloucester in that area. He is the standout loosehead in the country this year in terms of senior potential.
Where this group gets interesting, in my opinion, is with Nearchou. He has been excellent as a loosehead this season and brings real energy and power as a ball-carrier, but the question at the next level will be is he tall enough to do well at the position as a professional? He's a tighthead at school level – see below – and probably projects best as a hooker, but is kept out of that position by a certain Alfie Barbeary at Wasps. It would be surprising if they contracted both as hookers in the same intake, which means either they can take a shot on him as a loosehead or he could – and should – find a spot as a developmental hooker project at a different Premiership club if they don't opt to offer him professional terms.
Fry is the latest out of the apparent Gloucester prop production line, that has recently offered up Alex Seville, Ollie Adkins, Ciaran Knight and Jack Bartlett. He had a tough game in the final against that aforementioned dominant Leicester scrum, but his overall season with Gloucester and Hartpury College in the AASE League has been impressive.
Hooker
1st Alfie Barbeary (Wasps)
2nd Sam Riley (Harlequins)
3rd Theo Dan (Saracens)
There's a danger of saying too many complimentary things about a player and it leading to complacency in the individual, but it looks as if though that will not be the case with Barbeary, whose praises are being sung left, right and centre, but who continues to improve at a remarkable rate. The only player I can compare him to in my time watching players at this level is Maro Itoje. He dominates physically, he leads his team by example and technically he has a wonderful array of skills already under his belt. There is a lot of work to come at the senior level, but he could not have given himself a better foundation for building that senior career on that what he's done so far in the age-grades.
In other years, Riley would comfortably be the best hooker at this age in the country. You can call it misfortune to come along at the same time as Barbeary, but the ability to go quietly along under the radar is not a bad one. The gap between Riley and Barbeary is not massive and though he doesn't quite have the same power on the pick and go or in the tight exchanges that Barbeary does, in terms of his play in the loose, he's every bit a match for the Wasp. Some of the offloading that this pair do can only really be described as Dane Coles-esque, and if they can get to the point where they are comfortable enough at senior level to keep pulling those skills off, then English rugby will be in a very good place moving forward.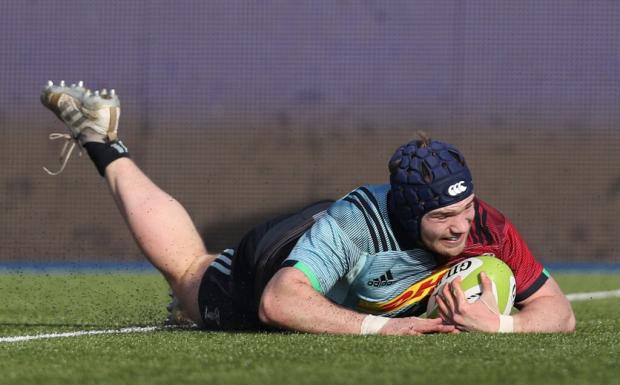 And then you get to Dan who, like Riley, could have been in the mix for top hooker in the country in a different year. He's slightly smaller than Riley and Barbeary and coming through at Saracens, it's hard not to see the Schalk Brits influence, with his mobility and footwork in the loose so prominent. I'm not saying he'll be the next Brits, which is an awful burden to put on anyone, but in terms of playing style, it's hard not to see the similarities. If he can offer that same kind of change of pace to Saracens in two or three years' time that Brits once did, he could swiftly become a fan favourite.
Tighthead Prop
1st Harvey Beaton (Saracens)
2nd Jack Hughes (Northampton Saints)
3rd Luke Green (London Irish)
It's looking a lot like the year of the tighthead in the Premiership U18 league, with the likes of James Harper, Archie Griffin and Jack Bertinet all just missing out here, but offering significant senior potential.
It's been a down year in general for Saracens at this level, but if they can turn Beaton into a contributor with their senior side, that will more than make up for it. They have produced starters at every position bar tighthead, many of whom have gone on to international honours, but the three jersey has been the elusive success story they've been searching for. Beaton scrummages excellently and already seems to have the kind of motor that will allow him to play Saracens' high-intensity defensive press.
Hughes and Green are both intriguing prospects in that they've jumped from tighthead to loosehead this season and it'll be interesting to see where both of their clubs see them playing long-term. Hughes is the more technical of the two at this point, with Green still looking a little raw, but offering really impressive physicality and a high ceiling at the next level. Staying at tighthead would be good for their bank balances, but if their coaches see more potential in them as looseheads, then they'd both rank among the top loosehead props this year. With the emphasis on props' ability to be mobile, as well, that just helps separate these three from the chasing pack, although Bertinet is also impressive in that area.
Lock
1st Chunya Munga (London Irish)
2nd George Martin (Leicester Tigers)
3rd Anjo Ademuwagun (Wasps)
4th Joe Howard (Gloucester)
5th Morgan French (Worcester Warriors)
This could be the perfect example of observer bias, with Munga and Martin hard to separate as prospects. I've gone with Munga because of his ability to read the lineout and be a major player in that area of the pitch, as in my opinion it's the more influential set-piece and if you can disrupt opposition throws, you give yourself a great chance of winning a game. Munga has that quickness off the floor and vertical ability to challenge the throws, as well as an awareness of what opposition throwers and jumpers are doing.
The argument for putting Martin in top spot would revolve around his physicality. Even as an U17 last season, he was physically-dominant in U18 rugby and he has only added to that this year. He'll be able to generate front-foot ball on the pick and go and as a one-out runner at the next level in a way in which Munga might not be able to quite match. They're both good ball-handlers in their own ways and vocal defensive communicators, which is a skill not praised enough, at least in media circles.
Ademuwagun and Howard have been good all-round second rows for Wasps and Gloucester respectively and both should be in line for contracts this summer. You could argue that second row is a position that both clubs have struggled to produce impactful Premiership players at over the last few years and both Ademuwagun and Howard look like Premiership players in the years to come. French has fallen a little off the radar this season with Worcester's struggles, but he was involved with the England U17s and Wales U18s last season and showed then the makings of a professional player.
Blindside Flankers
1st Jack Clement (Gloucester)
2nd Ethan Benson (Saracens)
3rd Alfred Mawdsley (Wasps)
Clement is a player who has spent most of his time this season at number eight, but he shifted over to blindside for the final against Leicester and it may well be his position long-term in the seniors, with Premiership clubs, for the most part, loving to bulk up at number eight. With a role on the flank in the mind, Clement wouldn't have to add the amount of weight to his frame that would prevent him from using the mobility that he currently has and that plays such a large part in his success. He carries very well, has a significant impact at the contact area and is a very adept third lineout option, and potentially a primary option for defensive lineouts.
Benson and Mawdsley both continue that trend of blindsides who can contribute significantly at the lineout, with both offering the height and length to make impacts. Mawdsley has spent a lot of time in the row with Wasps, but probably translates primarily as a back rower in the seniors, whilst Benson has a similar frame that probably makes him a taller six in the seniors, rather than anything else. That lack of versatility can hurt in the back row these days, but I think both can craft out good Premiership careers if they can find the right fit and maximise the abilities they do bring to the mix.
Continue reading below…
Watch: Prince Harry meets past and present England internationals
Openside Flankers
1st Fin Rossiter (London Irish)
2nd Sam Eveleigh (Leicester Tigers)
3rd Archie Smeaton (Yorkshire Carnegie)
It was really unfortunate that Rossiter went down with injury just before the beginning of the U18 season, as the London Irish openside looked primed to build on his impressive U17 season. If you're looking for the archetypal traits of an openside, as someone who can impact the contact area on both sides of the ball and play as a link man with ball in hand, then Rossiter is the guy from this year's group.
Eveleigh captained Leicester to the successful defence of their U18 title and Smeaton has already made his debut for Yorkshire's senior side in the Championship Cup. Two more traditional sevens, the pathway to senior involvement for Smeaton in Yorkshire looks good, whilst it will be interesting to see how Leicester manage Eveleigh. They contracted up their entire back row from last year, so if they hand Eveleigh a contract, there will be plenty of competition for him in his bid for playing time. That said, if Leicester don't, there will be plenty of interest in the flanker, so expect to see them bring him on board and find a way to manage his development.
Number Eights
1st Nahum Merigan (Bath)
2nd Emmanuel Iyogun (Northampton Saints)
3rd Oliver Stonham (Saracens)
It's been a good year for Merigan, who has impressed with both Bath in the U18s and Beechen Cliff in the AASE League. He is powerful, quick and is always keen to keep a phase alive with a well-placed offload. He'll now face the testing challenge that many previous U18 number eights have had to combat and that's how he transitions into the seniors and goes into an arena where he will no longer be physically-dominant. He's a well-rounded player, though, and his game is not just built on winning the collision as a ball-carrier, so that should help him.
Iyogun and Stonham are captains of Northampton and Saracens respectively and that tells you a fair amount about both of these players, often highlighting attributes which can't be objectively or subjectively measured as a third-party watching these games from the sidelines. That both coaching staffs have put their faith in them, coupled with their abilities as ball-carriers, means that these two should both get a good crack at breaking into the professional game over the coming years.
Watch: Julian Savea sensationally released by Toulon
Comments
Join free and tell us what you really think!
Join Free