'One thing certain is having been away, to get back into it has reignited that spark and love for the game'
Next Saturday will be an all-round strange affair at Twickenham. England are playing with no fans at home for the first time, Georgia are unfamiliar visitors and an additional novelty is the presence of recently ousted Gloucester boss David Humphreys on the backroom staff of the Eastern European minnows.
It's a scenario not even Nostradamus could have predicted earlier in 2020. At that time, England were hosting capacity crowds for Six Nations wins over Ireland and Wales, Georgia had a low-key fixtures list in keeping with their tier two status, while Humphreys was fully immersed in the director of rugby role he had held at Kingsholm since 2014.
One pandemic later and all is utterly changed, though. We've known for a while England would have to keep Twickenham's entrances shuttered to fans, known since September that Georgia would replace drop-outs Japan in this newfangled Nations Cup filler concept, but seeing Humphreys involved in Test rugby? Now that genuinely jumped out of the blue in recent weeks.
One phone call soon led to couple more and Humphreys went from merely innocently checking the lie of the consultancy land with World Rugby to swiftly pitching in as a temporary high performance director with Georgia who have a daunting – yet very exciting – schedule ahead.
Fixtures in London, Llanelli, Dublin and Edinburgh against England, Wales, Ireland and a final tier one country is the stuff of dreams for the minnow rugby nation who fleetingly pop up on the radar every World Cup and then quickly disappear into anonymity for another four years.
? #8nations Episode 1 | Final training week in Tbilisi ?

? Levan Maisashvili (Head Coach), Merab Sharikadze (Captain), Irakli Tchkonia (S&C) and Nika Pinaishvili (GPS) take us behind the scene of #TheLelos preparations for @autumnnations Cup 2020 https://t.co/mIgKCU6qLL

— Georgian Rugby (@GeorgianRugby) November 6, 2020
Not this cycle, though. Thirteen months after they signed off at the last finals versus Australia in Shizuoka, the glare of the limelight is intriguingly back on them. More of this fabulous development anon. First, though, let's tackle Humphreys' dramatic June exit from Kingsholm just 18 days after Johan Ackermann's troubling departure.
Director of rugby and head coach both gone in less than three weeks from a club that had reached the Premiership semi-finals in May 2019. It didn't stack up but Humphreys isn't here to rock the boat, preferring instead to look back with fondness on a six-year chapter of his life that began when he was tempted to give up his native Ulster and try something different in England.
"I look back on that six years now with a lot of very good memories," he told RugbyPass. "I thoroughly enjoyed the time there. It was a big decision at the time to leave Ulster but I believe it was a great decision and from a rugby point of view, it gave a very different perspective from what life is like in the provincial system in Ireland.
"I feel very strongly that Gloucester made some real progress during that time. Not as quick as any of us would have liked but to get to the playoffs last year, third in the league, showed the progress that we made on the field and off the field the club, despite the challenges that have come with Covid, will come back. Over the next few years I hope to see they will continue to compete and establish themselves as one of the top teams in England.
"I always believe in professional sport when the time is right to move on the time is right. The circumstances around Johan's departure and from other changes behind the scenes it was the right time for me and for Gloucester to move onto something new.
"What you hope is while we didn't achieve what we ultimately would have like to, the club is definitely improved and with the challenges that exist due to Covid at the minute it's going to be a time for a number of clubs to sit back, wait until the main part of Covid is gone and then start to rebuild again.
"It's professional sport, there's cycles for every club and Gloucester will undoubtedly go through another cycle over the next few years. But it's a wonderful club. It has got some very good people behind the scenes and it has got wonderful supporters. With those raw ingredients, I have no doubt they will come back stronger as rugby returns."
Stepping away has reinvigorated Humphreys, the now 49-year-old former Ireland out-half who retired from playing in 2008 and went on to carve out an alternative career rugby rather than putting to use his legal qualifications and forging ahead in that sphere.
Another seismic departure from Kingsholm https://t.co/7vvicrne4I

— RugbyPass (@RugbyPass) June 2, 2020
"I thoroughly enjoyed the last four, five months, being able to sit back, being able to reflect on what happened, get refreshed," he continued about his sudden leaving of Gloucester. "One thing certain is having been away from rugby for a fair period of time, to get back into it has reignited that spark and love for the game.
"This is very much a short-term consultancy role. I'm looking forward to the next four weeks getting back into the day to day, the match preparation, but who knows what the future holds for any of us. I'll enjoy the next few weeks, then sit back and see what happens after that."
It was the second week in October when Humphreys got down to hands-on business with Georgia, himself and temporary backs/attack Neil Doak working at the ten-day camp in France that led into the October 23 defeat to Scotland at Murrayfield.
The 7-48 display wasn't what was hoped for from Levan Maisashvili's team but the ambition is that they more time the squad spends together in the coming weeks, the more effective they will become in an important month where they want to show they really do have the potential to step into the Six Nations should they ever be invited.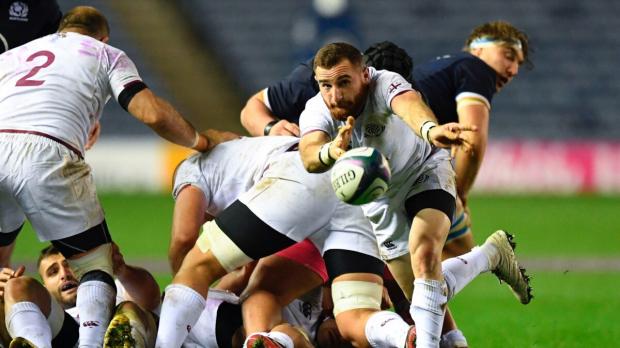 "The Scotland performance was disappointing around a number of elements of the game that Georgia have built a reputation on, around set-piece and being hugely physical," reflected Humphreys. "But when you sit back and look at their preparation, it comes as no surprise that they didn't perform at the level the team would have like to. It's not about a case of winning and losing, it's about doing certain things and doing them well.
"When you consider a significant number of the squad hadn't played rugby since last February, March, even those players who are based in France haven't had much game time with their club. Plus there is the fact that some players Georgia have built their team around the last couple of World Cup have retired and moved on.
"So it has almost been like the perfect storm for Georgia in terms of their preparation for this Autumn Nations competition. They have players that haven't played much rugby, they have some very young players who haven't played much in their club system, so this is now an opportunity for them to get that over the next month.
"Don't forget that the French-based players left the short camp prior to Scotland (it fell outside the regulation nine window), so we really only had a couple of sessions building into that. Really over the next month it's now an opportunity for the coaches to establish a game plan that suits the players, get to know the players well and give these young players an opportunity to perform at a level a lot of them won't have experienced before.
Fixtures: @GeorgianRugby

Georgia are in Group A of the @autumnnations, with games against England, Wales and Ireland before the Finals Weekend in December. #AutumnNationsCup pic.twitter.com/n5a2WpVpvH

— Autumn Nations Cup ? (@autumnnations) September 26, 2020
"It's a very, very short period to be able to make any change. But it is also important to understand why this competition is a huge opportunity for Georgia. It's really a start for them and this next few weeks can't just be about results. Being involved in high level competition and understanding what needs to be developed, what needs to change to allow them to compete at this level on a much more regular basis, that's the thing for me, trying to get that overview.
"As soon as the opportunity presented itself with Japan dropping out, the players and staff knew how important getting involved at this level was going to be for Georgia. There is a nervousness around how the team is going to deal with the demands of playing with a small squad, with a squad that is not yet match-hardened because they haven't played much rugby, and how they are going to deal with the physical nature, the challenge of playing four big games in a short period.
"That is what we have got to manage but from a players' point of view this is why you play rugby. Speak to any of the Georgian players, this opportunity to play against England, Wales, Ireland and then a play-off at the end is something every player has aspirations to perform well in.
"They speak very good English, so communication hasn't been a problem at all," he added. "I'm not a coach so it hasn't been so much an issue from a technical side of things. Neil is the one who over the course of the next month will try and build that attacking element into their game but it's very much a case of taking it slowly, understanding international rugby is very different to what they have experienced.
Young & uncapped, Georgia U20 graduates, Mikheil Alania (SH) and Luka Matkava (FH) were added to the team along with experienced Mikheil Gachechiladze (3dR) and Mirian Modebadze (W). Kote Mikautadze (2dR) to join the team from 2nd round

Read more here: https://t.co/kIsQAZJc3c pic.twitter.com/hMEgKXjDEE

— Georgian Rugby (@GeorgianRugby) October 30, 2020
"It's about doing the simple things well. The most successful teams in international rugby do the basics very, very well and that's an area where Georgia didn't manage to do against Scotland, so that is going to be the starting point for any planning for the next few weeks."
Last weekend's cancellation of the rescheduled Six Nations B derby versus Russia denied Humphreys the chance to get out to Tbilisi and see first-hand the infrastructure backing up the dedicated Georgia high performance centre, but he is confident that what he experienced at last month's training camp in France bodes well for an encuraging adventure.
"There is always worries in the current Covid restrictions, they are always going to be concerns but what we saw with the ten-day camp in France, it went well and the players fully understand the responsibility that comes with going into this bubble.
"Look, we have seen some difficulties over the last few weeks for different reasons but like everybody involved in the competition we will all be doing everything we can to ensure the players are protected, the staff are protected and ensure the competition goes ahead as planned.
STAFF UPDATE | Happy to announce Sebastien Bruno (Forwards), David Humphreys (HP Consultant), Neil Dock (A & B) & Calvin Morriss (HP Advisor, @WorldRugby) joining #TheLelos Staff for the duration of inaugural @autumnnations ?

Read More here: https://t.co/i4Ya0MNcCO pic.twitter.com/FoEudsNVWK

— Georgian Rugby (@GeorgianRugby) October 10, 2020
"Having never been involved in Test rugby at a management level it has given me a fascinating insight into tier two, how they prepare, what their preparations look like and how that compares with how clubs prepare on a week to week basis. It's a huge challenge but Georgia are very ambitious.
"When you see 50,000 people watching games against Russia in normal circumstances, they is a huge demand and a huge interest in Georgian rugby. Nobody involved in this from a Georgian perspective can worry about results. It's all about ensuring over the course of the next four weeks that the team with time together, with some match time, with getting that game time they have lacked for the last six months, that they get better and better each week."
With their global rugby sensation, Mamuka Gorgodze, no more following his retirement, the Georgia baton is available and Humphreys is hopeful some new household names will soon emerge. "Some of them have X-factor but it's about giving them the opportunity to show what they are capable of doing in a team.
"In international rugby, especially in a team like Georgia, it's not about individual stars, it's making sure that everybody understands what is required from each of them, that they each know their role in a game plan that will be pretty simple but which hopefully will allow them to compete… I'm excited to see how they will progress."
????? ????????! FInally… Rugby's coming back!

????????? vs ?????????? | Scotland vs Georgia | 23/10/20 | 22:30 (Geo.Time)

? ? @JSCTBC pic.twitter.com/IjRq2xjLYq

— Georgian Rugby (@GeorgianRugby) October 22, 2020
Comments
Join free and tell us what you really think!
Join Free