'I've proven I can cope at this level... at Leicester, I let one or two people's opinions have a huge impact on my mental state'
Harry Thacker enjoyed the latest week in the Bristol evolution under Pat Lam, the fireworks of shredding Northampton on Tuesday interspersed by the rumble that was the coach unsuccessfully going to war to get Siale Piutau off his three-game ban.
It sure created noise on both fronts. Thacker has been speculated as a possible England call-up next month when Eddie Jones' crew finally gets back to work, while there has been much commentary on the passionate defence mounted by the Bristol coach regarding veteran midfielder Siale who was red-carded for punching last Friday week at Worcester.
Thacker was in the vicinity when that late-game Sixways bust-up erupted, coming off the bench before the midweek start versus Saints became his fifth appearance in a half-dozen post-lockdown matches. Ignoring the precise minutiae of who did what to whom and all the rest, Thacker's takeaway from the heated row was that Lam is an advocate that Bristol can bank on no matter the difficult circumstances.
He could have kept schtum, could have bitten his lip regarding the perceived injustice. Instead, he gave it socks in a public manner that resonated in the dressing room. "It gives us confidence as a playing group that our DoR is backing our corner," enthused Thacker to RugbyPass ahead of his Sunday breather from the relentless action, a rare day with the feet up as Bristol visit Wasps.
"Sometimes something that gets forgotten about is players' health. It [rugby] is a business but to have your head man trying to look after you and do what is best for the individual and speaking out about it, it would be quite easy to fly under the radar.
"But to have someone that places importance upon that, definitely as a player within the group it just makes you want to give that little bit more for the boss because he is looking out for you and your best interests so you don't mind putting your body on the line or doing what is best for the team in that sort of respect.
"It's bigger than the game for him, there is more to it. What he wants is when you leave the Bears programme is you leave as better players but also as better people. He puts a strong emphasis on that and it's just nice to know that at the top that is part of their concern.
"They are not looking at it from the worst perspective as just a business, that we're just cattle led to the slaughter sort of thing, which in this day and age when we're playing midweek games things like player welfare is huge. To have someone backing your corner and looking out for the best interests of the individual as well as the team is pretty cool."
It was summer 2018 when Thacker joined the Bristol sloth, his ambition piqued by the vision sold to him by Lam after he struggled for acceptance at Leicester, the club his father Troy and brother Charlie played for.
The fear in the English Midlands was that Thacker's size – he's a mere 5ft 8ins in height, 93kgs on the scales – wouldn't survive the brutish landscape of the bruising Premiership, but Lam's perspective was opposite, that the dazzling dynamo would be a valuable piece in a jigsaw where deft hands and fleet-footedness among forwards is just as important as top drawer wizardry from the likes of Semi Radradra and Charles Piutau.
"It [Bristol] has far outweighed my expectations," said the 26-year-old Thacker, whose six seasons at Leicester included Championship detours at Nottingham and Doncaster. "When I spoke to Pat he spoke about this new training ground. I didn't see the plans but we finally walked into the new training ground post-lockdown and it's just incredible.
"Most football clubs would be envious of it. That's pretty epic, and even just living in the city of Bristol, I've absolutely loved it because there is so much to do and it's close to the coast. It's far outweighed expectations. I'm really loving life down here.
"The culture we drive at the club isn't one I'd experienced before. New lads coming say exactly the same. It's pretty good to hear what we're building is pretty sweet. We're heading in the right direction and playing week in, week out you get in the flow of it and the style of play suits how I want to play.
Incredible few days away to Iceland. Shame the weather stopped us getting the cameras out more but had a blast anyway!! @ThackerCharlie pic.twitter.com/levcDG2bJ0

— Harry Thacker (@harry_thacker) February 2, 2017
"It has built my confidence up a lot. I have proven to myself and a few other people that I can cope at this level because at Leicester there would have been a bit of chat, a bit of worry about my size and stuff. That was something I was always having to battle against.
"At Leicester, I was trying to prove a point and looking back now, I play my best rugby when I'm just out there enjoying myself. I let one or two people's opinions have a huge impact on my mental state and how I viewed the game. All it takes is just one person to believe in you and see you for what you can bring instead of maybe (giving out about) a couple of inches. Just keep going.
"I definitely believe I wouldn't be the player I am if I hadn't been told from a young age I was too small. I fought as hard as I tried and I look at it in a positive way. It has definitely shaped the way I play and the person I am."
It was last year when Lam bullishly suggested how Thacker's whirling dervish style of play was the type the All Blacks adore in their hookers. "It's nice to have a coach that backs you. Don't get me wrong, he drives us very hard in training but it's just my style of play and how I grew up playing just fits into his game plan quite well. He likes the forwards to be able to play ball and I love getting touches.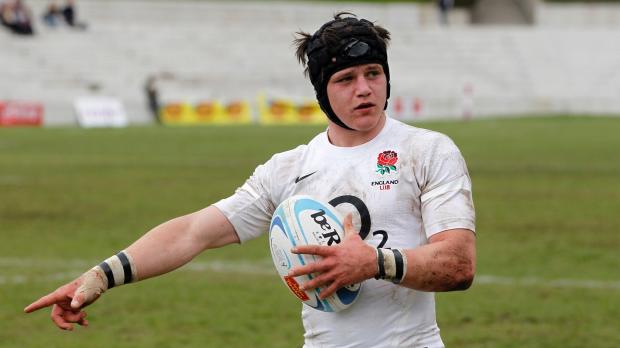 "I do believe the game is starting to change now. A lot of teams are buying into it and it's a very different game to four or five years ago. It's becoming a more open, expansive game and players have to adapt and that includes all the forwards.
"A lot of the young lads coming through now the skill sets are unbelievable compared to five, ten years ago. It's something that needs to get emphasised quite a lot at grassroots level because the way the game is being played, second rows, props all need to be able to catch and pass now as opposed to ten years ago it was just scrummage and push.
"From the bottom up an emphasis needs to be put on that and rugby will be in a good place as a spectacle to watch because of it. It [the gym bunny approach] will never be over because it's a very high, collision-dominant game but to be able to do both and get the balance right is very important."
Now about that England speculation: it would be quite something for Thacker to make the grade in the same year he had a neck operation, but he claims his Bristol form isn't where it needs to be yet. "I wouldn't say I've been playing particularly well. I felt a bit more myself last Tuesday but it has taken me a while to get back into it. I hadn't played since January. I'd a neck operation and lockdown came, so it has been a long time without rugby.
— Matty Reay (@MattyReay) September 9, 2020
"England is something I always wanted to play, but I have no doubt I'm not in the best form I've ever been and I have got a long way to go. I have got to improve but that [England] will always be the top goal for me. I'm striving towards that but I have got a lot to work on before that even comes into my head.
"It was a fairly simple op," he added, reflecting on the January health scare. "I just had a bit of a bulging disc in the neck that got cut away. I was doing well in recovery and was going to be back significantly earlier than I should and then Covid struck, but when it comes to your neck you can't really complain."
Away from rugby at Bristol, lockdown life had downs and ups for Thacker. His surfing suffered but a young family home life more than made up for it. "Surfing took a bit of a hit, and I'd my neck operation as well, but The Wave in Bristol has opened again. That blows the cobwebs out and keeps me paddle fit, but I hoping to get back in the water properly this winter with the big swells coming.
"I enjoyed a lot of time with the family, made a few little projects for my son, building a mud gate churn and a bit of a climbing frame with my old man, the sort of stuff we used to do growing up. I used to spend a lot of time with him doing DIY, so it was nice to get back involved."
Rugby's return also brought some differences. From a trivial perspective, lack of barber access didn't affect Thacker, whose habit is to let it grow a bit wild and only get a lot taken off every six months. However, colleagues who favoured the high and tight look struggled.
"A lot resorted to just the bald head because it was easier to maintain than the high and tight which they couldn't keep themselves," jested Thacker, whose own long mane makes him readily identifiable on the pitch with Bristol. "Dan Thomas came in pretty short, Piers O'Conor shaved his head, there was a few drastic measures taken by a few boys. Harry Randall's beard got pretty long. A few boys came back looking pretty rugged."
More seriously, though, the collective Bristol complexion was hugely enhanced for the restart, their title push emboldened by the arrival of Kyle Sinckler and Radradra. "To sign two players like that is pretty epic, a real statement of intent from the club.
"There are often rumours but we probably read them like you do on social media. It's not something that gets announced to the players beforehand. We find out when you guys find out," continued Thacker, remembering how he particularly reacted to the signing of new front row teammate Sinckler.
"It was like, 'that's class'. Just to add someone like Kyle when you have got the likes of John Afoa, that depth and rotation will only boost players around them… Kyle has been with England, has played with the Lions – he is a good representation of the standards that need to be upheld to function at those levels. That trickles down into the team and it's only going to bring people up and get them to make the most of the game."
Beautiful, simply beautiful ? https://t.co/3uB2mcGAAV

— RugbyPass (@RugbyPass) September 9, 2020
Comments
Join free and tell us what you really think!
Join Free