'Having played the game for a few years doesn't make you a good coach' - Brock James on resharpening Ospreys' attacking talons
It wasn't until Brock James boarded his connecting flight from Singapore to Paris that the magnitude of what he had signed up for hit him harder than a freight train. The French announcements crackled over the tannoy, but they might as well have been in Swahili.
Buckled up in the cabin, James realised how alien his new world would be, how he had plunged himself and his wife-to-be into the unknown with a one-year contract at Clermont in the industrial centre of France.
Nearly fifteen seasons later, James left France this summer, bringing down the curtain on a sparkling playing career to join Toby Booth's revamped Ospreys coaching staff. He departed as one of the most iconic and skilled pivots to grace the Top 14. He will forever be linked inextricably to Clermont, the swaggering play-maker with the fingerless mitts propelling his team to the summit of European rugby.
"My first year, in 2006-07, we made the Top 14 final and we should have won it," James tells RugbyPass. "From that first year, very quickly it just became about winning. I didn't want to move on. There was always just that drive.
"It took four years to win the Top 14, another few to get to the Champions Cup final, and then another few more to get back there. It was that drive of winning, to get so close and not quite get there.
"It was frustrating each time we fell short but each time we learned something new and grew from it. I think that helped drive us. It is tough obviously to get so far and not come away with victories but we believed it was controllable and we did move forward from them."
For ten years, James served the braying masses of the Marcel-Michelin. Their road to the Top 14 crown was fraught and arduous – three losing finals on the bounce, before glory in 2010. Their route to a Champions Cup triumph was more brutal still and ultimately impassable. Semi-final defeat followed final despair. It was to be their white whale.
James was one of Vern Cotter's first signings as the gruff Kiwi took charge in 2006. The fly-half needed a move, John Mitchell having made it blindingly clear that he would seldom feature for the Wester Force back home in Australia. He and Cotter grew together, moulding a continental powerhouse.
"When I look at Clermont now, I see the infrastructure that Vern put in place still exists today," James says. "He was a hard taskmaster and he really expected a lot from boys. I don't think he changed too much from the beginning to the end but we went through a lot and we learned along the way.
"His detail around every part of the game, he was across everything, defence, attack, backs, forwards. He was 100% buy-in, so if he expected something of the players, he expected it of himself and his coaching group as well."
The challenge for James, whose final season at La Rochelle was curtailed by the spreading pandemic, is to extract the great wealth of rugby data from his mental hard drives and deliver them to his squad.
Great players do not necessarily make great coaches. James is a cerebral, free-thinking customer, but he is a baby in coaching terms. Reinvigorating the Ospreys will take all of his nous.
"I want to be someone who encourages players to express themselves, help them discover situations and be comfortable in making choices," he says. "I want to build up skill levels so that guys in different situations can make their own decisions but technically be able to execute.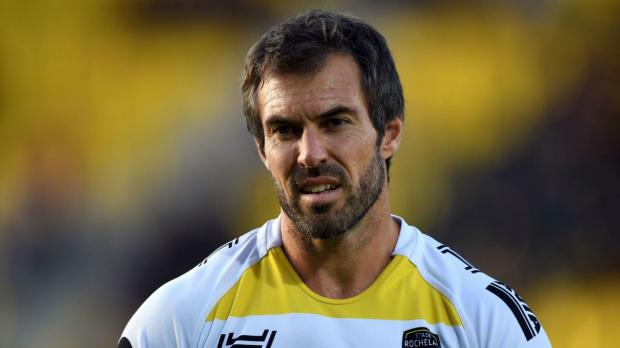 "I like to tap into my experience and how I see things, but know that individuals don't all feel and see things the same way. That's something that I can transfer into coaching, you need to be open and listen and as a coach some of the best teachings you can give is being open to them and learning from the players themselves.
"Having played the game for a few years doesn't make you a good coach. Learning from a guy like Toby, who has been around for a while, done pretty much all the coaching jobs, it was a perfect opportunity to join the Ospreys. And I want to figure out how I'm going to get all my rugby knowledge across to players as a coach, which is not easy."
In an era where collision is king and defensive bludgeon reigns, this task is all the more difficult. At times, the game resembles a chess match with 120KG pieces. The role of the attack coach is vital.
"You need a team that's adaptable," James says. "During the game you need to be able to change the way that you want to play. That is a very hard thing to do, to get to a point where you're capable of changing your style of play mid-game.
Breathe Ospreys fans… #AlunWynJones #WalesRugby pic.twitter.com/2UWQ6cPFQ7

— RugbyPass (@RugbyPass) July 9, 2019
"You want to be in a position where you can dictate the play more with ball in hand than the defence dictating the attack. Everybody is stronger and faster, so there is a massive importance on game managers.
"And recognising momentum is one of the biggest things. When you lose your go-forward, you need to find a way to get it back. That comes back to what I want to encourage, decision-making in players, to equip them with the skills they need to find those decisions.
"I want to put them in as many situations as possible so that they see an opportunity and execute a skill instead of seeing opportunities and letting them go by because they are a bit risky. I want my players to be brave. That bravery is already starting to pay off for us this season, but the execution needs to be there."
The Ospreys of the here and now are a pale shadow of the galacticos James faced back in the region's glory days, the teams of Jerry Collins, Justin Marshall, Tommy Bowe, James Hook and Shane Williams. The teams of trophies and glamour and wealth.
Last season, the Ospreys finished bottom of PRO14 Conference A. They mustered two wins from 15 games and their points difference was -170. How the mighty have fallen.
Already, the improvement is stark. The Ospreys still have such colossal luminaries as Alun Wyn Jones, Dan Lydiate, George North and Justin Tipuric; they have brought back Rhys Webb from France and Mat Protheroe from Bristol. They have a new wave of fearless young backs vying for selection.
"Proths just goes 100% the whole time; he's been great for us and so has Keiran Williams," James says. "Keelan Giles is coming back from injury. Joe Hawkins has just turned 18 and he's played a couple of games for us and is pushing as well. It's good to have guys with all the experience around him to learn from.
New Attack Coach Brock James casting a watchful eye over training today ???

ICYMI – you can catch Brock's first interview with Ospreys TV here ?
? https://t.co/eDASjPrkLr#OurBloodIsBlack pic.twitter.com/oT1eLQFwh5

— Ospreys (@ospreys) July 31, 2020
"Josh Thomas at 10 has played when Stevie Myler's needed a break. We've got nines in Harri Morgan and Reuben Morgan-Williams who have done a good job for us while Rhys Webb has been away. There is plenty of talent here and they are all really keen to learn and work hard."
The coaching voyage has barely begun. James signed a three-year deal in Swansea and with all of his knowledge, leadership and street-smarts, he could prove a fabulous acquisition.
It seems almost destiny, though, that one day, someday, he should be back at the Marcel-Michelin, where he and Clermont came of age, patrolling the touchline he found for so many years with the raking sweep of his instep.
"I've come here with Toby for three years, that's what I'm worried about at the moment, and developing myself as a coach," he says. "We want to create an environment here where we can be successful and bring on some of these young kids. Beyond that, it's a bit tough to project, but it would be nice story, wouldn't it?"
Comments
Join free and tell us what you really think!
Join Free