'We've a quirky handshake that is only for us Bristol players... it's special'
Steven Luatua is convinced Pat Lam is firmly on track to repeat at Bristol what he achieved when overhauling unfashionable Connacht. 
The Irish province were only making up the numbers in the PRO12 when the Samoan first arrived in Galway in April 2013. Three years later, they were incredibly league champions and it made rugby more popular than it had ever been in an area of Ireland where the sports landscape was dominated by Gaelic games. 
Lam is now up to his old tricks in England, trying to replicate the winning Connacht formula on and off the pitch in the football-dominated city of Bristol on the banks of the Avon river.
It has been a slow build. When Luatua initially agreed to leave behind life in New Zealand, the English club were still in the Premiership. When he arrived they had been demoted to the Championship. Quite the fall from grace.
They are re-establishing their status, though. They are back in the Premiership and while wins have proven scarce (just five in 15 outings), Luatua had no hesitation telling RugbyPass that Bristol's potential to do better convinced him to extend his stay and see through the Lam project to its completion. 
(Continue reading below…)

"The way we play and the way the game plan has been designed, it definitely suits me," enthused Luatua, the former All Black who agreed in December to extend his contract and stay at the club until 2021.
"Trying to inspire our community through our rugby is something that has always been big in the clubs that I used to play for. It's not only about rugby, it's about everyone else involved in it.
"The game plan was definitely something on paper that looked different but I was all in to learn. At first it was a bit challenging but I came up here with an open mind and with the expectation to learn. I have done that and our team is slowly understanding the concepts, the maps of the game plan we're trying to implement.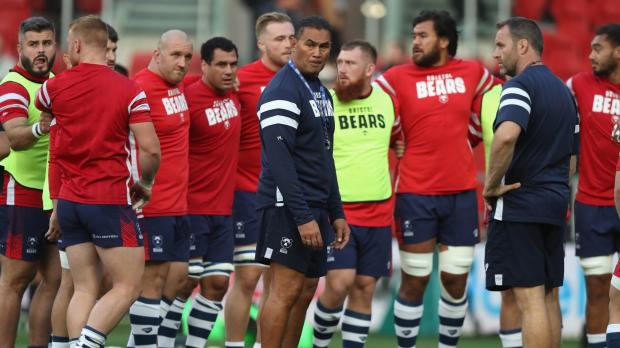 "It has taken time but we're now putting little touches on it. For example that pass on the edge on the weekend (Luatua's one-handed off-load was critical in setting up a try versus Gloucester) shows we're still able to express ourselves in the system and we're slowly starting to click as a team.
"What inspires me about Pat is that he has got a game plan that he believes in. It is very exciting and that keeps me pretty young. It's very positive for us in this environment knowing there is more than one way to play rugby and if we execute it well we can expose teams."
Along the way, Lam has used successful team bonding ploys from his Connacht days to cultivate a more united team spirit at Bristol, who attracted a bumper attendance of nearly 17,000 to their Friday night game last week.
? "It's just an unbelievable story!" ?

Ahead of Glasgow's visit to the Sportsground on Saturday here's a throwback to one of our most unforgettable days, the semi-final victory en route to the 2015/16 title.#MonthOfChampions ? ?? https://t.co/2tx27pjSMh pic.twitter.com/SShXMcDQeT

— Connacht Rugby (@connachtrugby) August 29, 2018
"He made us carry a ball around last year for the most part of the season (when we were off duty) and this season we have got a quirky handshake that is only for us Bristol players and it is how we greet each other. 
"We know in the morning it's part of our culture to get around and acknowledge everyone in the team, to say hello and be connecting. We have kept it pretty simple. It's the sort of handshake that is special to us, but it's not as complex as the Connacht one," explained Luatua, who was taken in by the buzz generated by last weekend's rare derby win over Gloucester.
"It was great. We got to sing our team song, which we hadn't got to sing in quite a while. That is always uplifting, and it was good to see (club owner) Steve Lansdown in the changing room afterwards enjoying the moment with the team.
My guys ?? Thanks everyone for the support, the Gate was something special. Appreciate y'all pic.twitter.com/ahGvrJiEd1

— Steven Luatua (@StevenLuatua) March 2, 2019
"Our support has been fantastic, but to really reward them for being so faithful and for being through the tough times was great. Hopefully that gets more bums on seats for the next games and they keep coming back hoping they can experience what they experienced last week."
This weekend presents a massive test of Bristol's growth – the challenge of putting together back-to-back wins in the league. Their previous successes this season were following by losing sequences of two, two, one and three losses before they managed to register their next W. Saturday's trip to Northampton can rectify this annoying habit. 
"If we get on a good run and get a few back-to-back wins we can definitely push into the top six and hopefully higher up, but we will just take it a week at a time. Our next goal is to get back-to-back.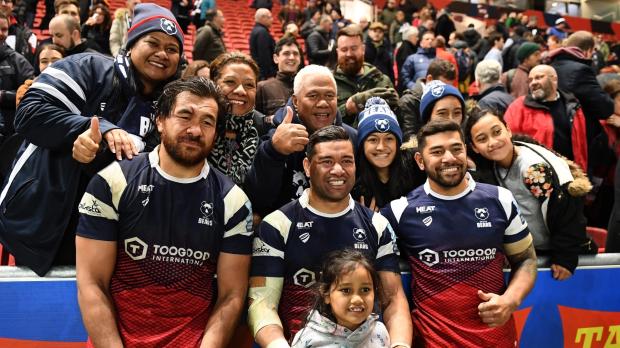 "That is one thing we haven't managed to do yet. We win and then lose a couple before having another win. It's definitely one of our goals, to be consistent and repetitive in what we do."
New Zealand is still close to Luatua's heart. For instance, he didn't personally know Blues prop Mike Tamoaieta who tragically passed away, but was shaken all the same by last week's events.
"It's one of those things you can't control. I didn't know him. By the time I had left the Blues he hadn't made the team at that stage. But it's pretty sad. Once a Blues member, always a Blues member. The whole club is feeling it."
We are deeply saddened by the news of Mikey's passing. Our thoughts are with his family, friends and all those lucky enough to have known him.

We love you Mikey T ?

Blues Brother #276 pic.twitter.com/Od7J1Gv5j7

— The Blues (@BluesRugbyTeam) March 1, 2019
A move back to New Zealand in June at the end of his initial contract could have put Luatua in the frame for World Cup selection, but life in England was too enjoyable to up sticks and leave. American football at Wembley? Check. Soccer over at Barcelona? Check. To put it mildly, he has been making great use of his little breaks in the season here and there.  
"I have no regrets coming over here and my decision to stay longer is because we have enjoyed it. My partner is very happy here. Before I even mentioned it she was wondering if we were going to stay on and I was like, 'That's a good point.' It worked out well. The club wanted me to stay on and so did my partner so why move?
"One of the things I love about Bristol is walking around and enjoying a cup of coffee, enjoying being in among the public. Football is No1 which is great for us. We just flit in around that and get about our business," said Luatua, whose has kept an eye on the unfolding Six Nations and been taken in by how physical some collisions have been. 
Massive day at Wembley. So massive my phone died ? Glad to have seen Carson Wentz go at it. #FutureHallOfFamer @nfluk pic.twitter.com/6hHt4XD6kq

— Steven Luatua (@StevenLuatua) October 28, 2018
"The beauty in being on this side of the world is that Barcelona, for example, is on your doorstep and for me and my partner coming from down under, we're just trying to make the most of the getting around to see what the UK and Europe has to offer.
"It's a work/life balance. All the times I have been away, as weird as it sounds it has made me miss rugby, miss touching a ball and getting out there with your mates. Having that feeling after a break is definitely refreshing. It gives me that bit of an energy burst to get cracking into the next block."
Comments
Join free and tell us what you really think!
Join Free