'You look at that 2003 picture and I'm the only black player... it's so nice now to see things are moving on'
Jason Robinson hasn't been too inconvenienced by Saturday's dramatic typhoon-enforced cancellation of England's World Cup tussle with France. Due to present the man of the match award after the Super League grand final in Manchester between Salford and St Helens, this was the only weekend across the entire competition in Japan that he was due to watch the action at home rather that being the go-to expert at a fans event somewhere either in England or abroad. 
He has been revelling in the role, mingling with supporters in recent weeks in London, Leeds and Manchester before planning on taking up a residency role for the knockout stages at the Soneva Fushi resort in the Maldives. 
It's a side to the game he was immune to as a player, the emotions which people watching on television experience over the course of an 80-minute period. The elation, the despair and every pit stop in between. It's something he now willingly embraces. 
"When you're involved in playing you don't realise how good it is for the fans and the rollercoaster ride that they go on," he told RugbyPass. "Now I'm going on that same ride, getting up early in the morning and seeing why people are obsessed with what happens. 
"The excitement is building nicely. England are in a really good position, but we all know things can turn for the worse at any moment. There is a lot of confidence there, but we also know that England have a tough journey ahead to get through Australia and New Zealand. That's no easy task. 
"There is a whole mixture of emotions that everyone is feeling at the moment, but the great thing about all of it is that people are coming together. We have been seeing players from all the different countries we wouldn't normally see, which is brilliant.
"You get used to seeing the Six Nations teams, the teams that you play in the autumn internationals. But when you see Uruguay beating Fiji and see how much it means, this is what it is all about. Rugby is great at bringing supporters together. You have fans sitting next to you from all over the world and you can have a laugh, a bit of banter. You shake hands at the end of a game and go for a beer – that is one of the reasons why I just love the sport."
Robinson particularly loves the current England team and what it represents. He was a solo act back in 2003, the only black player when Clive Woodward's squad conquered the world in Australia. The make-up of Eddie Jones' squad 16 years later, though, enjoys way more of an ethic spread far more reflective of society in England.
"It's how it should be," he insisted, delighted that this more diverse representation is potentially capable of drawing in far more support for the English national team than back when he was the only non-white in a 30-strong squad.
"It's how every team should be. I know as a young lad watching teams you can't help but notice if there are players that come from the same background as you no matter what it is, whether you're Asian, whether you're Indian, whether you're Jamaican, whatever it is, you do look at those players, you do want to emulate them and you just think maybe this [rugby] is something for me.
"You look at that picture in 2003 and I'm the only black player there. It's so nice now just to see things are moving on. I go into schools a lot and those kids need to be able to look up and identify with it. Rugby union has sort of a middle class (appeal).
"I never played rugby union at my school. I came from a council estate and everything else, so there is a lot of people who would never get the opportunity. When I look at my own story, I say, 'Well I never played rugby union (growing up), didn't know what it was, didn't even know it existed'.
"If I came from a really deprived area and then went on to do it, exceed in both sports (league and union) and played a sport (union) I just never knew about, how many more kids potentially could there be in those environments that are not getting the opportunities to do it?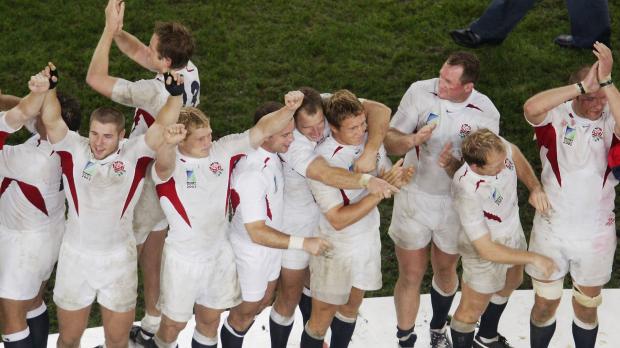 "It is so key. Not just for England but for every union to go into those areas, to go into those deprived areas, to go into the schools and unearth talent, to give people opportunity. Then we would potentially see more and more people of diverse backgrounds coming into rugby which can only be good for the game."
Robinson beat the odds in his era, transforming himself from an unruly teenager and a self-destructive young adult into someone who achieved superhero status with a try in a World Cup final which marked the high-point of an extraordinary rags-to-riches story.
Armed with his medal and a picture of the council house where he was reared in Leeds, he is constantly on the story-telling treadmill, hoping his warts-and-all account can strike a chord with children today whose lives are bulging with struggles similar to what he endured growing up.
ICYMI | Here's your England team to take on Argentina in Tokyo on Saturday at the #RWC2019

?Kick-off 9am BST live on @ITV

?Read more: https://t.co/VKwGUGKeye#CarryThemHome?#ENGvARG pic.twitter.com/kkLfFjxk0m

— England Rugby (@EnglandRugby) October 3, 2019
"You have a responsibility to do it [tell your story]," he stressed, explaining his enthusiasm to get out and talk about hardship in the hope of inspiring youngsters rather than hide away and behave like an entitled so-and-so just because he is a World Cup winner.
"As someone who has come through it, we have a responsibly to do it, to give people an opportunity, to let people know actually you can do this. My message is just to be the best you can be. It's not just that we are looking for the next Jason Robinson or the next Jonny Wilkinson – sometimes it's just about giving people an opportunity just to do something, to get out into the fresh air, to be involved in a sport that can be very inclusive.
"It doesn't matter what size, shape, background you are, there is a place for you in rugby and when you join a rugby club it is like an extended family. People do look after you and there are opportunities not just on the field, there is a lot of opportunities within clubs.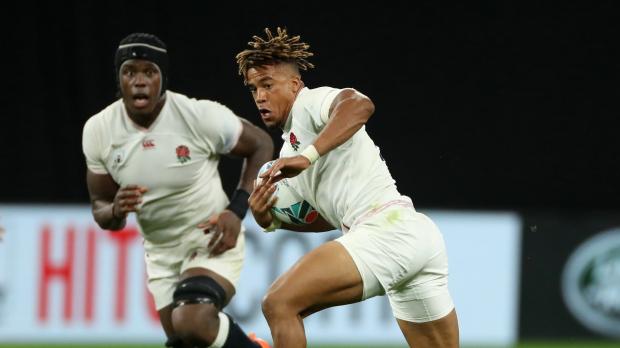 "Go into amateur clubs and you have got people there who are going out of there way just to give people hope, just something to do. There are people like that within every club. It might be a job that you get. Rugby has taken me into a different platform.
"I left school with no qualifications and through rugby now it has given me the confidence to go into any organisation in the world. I'm doing this (interview) now for Land Rover – who would have dreamt in a million years I would be an ambassador for Land Rover, that I'd be driving brand new cars, especially when you come from deprived areas?
"It's so important that people see there is a pathway, there is hope, that you potentially can do something with your life. It might not be rugby. It might be that there is another gift in you. It might be art, it might be music, it might be just an opportunity, it might be just telling somebody well done.
Appreciate @EllisGenge giving some time to talk @LeicesterTigers, @EnglandRugby, @HITZRugby and how proud he is to come from Bristol
https://t.co/uPjmx3vgY9

— liam heagney (@heagneyl) June 2, 2019
"Sometimes that is all that it takes and confidence can come from there so it's not just me, every player that plays the game has a responsibility to try and encourage the kids. Especially some of those that aren't from rugby playing backgrounds, or don't have opportunities, don't even have the equipment to play sport.
"The company I have got is trying to identify some of those who are struggling, who may have a bit of a gift but are struggling and if they need a pair of boots or need a bit of equipment, let's see where we can help them just so that isn't the barrier between getting into sport and not being able to do the sport because some parents just can't afford it. We need to go and help support the kids when we can."
Robinson's efforts might just be made easier by England having a new wave of heroes to celebrate. He'd love nothing more than to see the class of 2019 emulate the pioneering winners of 2003. Not for a fleeting second would he begrudge them getting over the line and eclipsing the ground-breaking triumph from Australia all those years ago.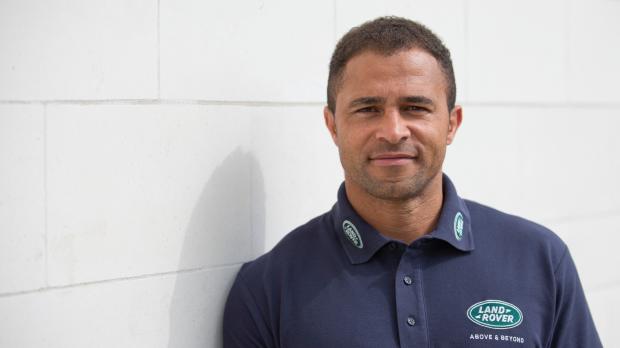 "You know something, I hope they do it. I've had my time, have had my moment to enjoy it. I have been dining out on it now for 16 years. That win can't be taken away from us. I know what I have experienced since we won it and you now want them to win. 
"I'm an England fan now, not an England player, and I want my team to do the best. I don't want them to get to a final and lose. I want them to get to a final and experience what we were able to do in 2003 and I want as many people to experience that as possible. 
"But I also know what it takes. I played in three World Cups and in each of those three (two union and one league) I got to the final. I know the demands of it so if you get to a final and win it, I know that they must have worked exceptionally hard to do that. 
"You can't sit back as an ex-player who has done it and say I hope they don't do it because it would be selfish. It is a win-win situation for me because if England win then we all win, it's as simple as that. It would be great for the game, great for English rugby, great for the grassroots, great for the players, great for sponsors and for people who invest. If England don't win, you still are that guy that won it in 2003, so it is a win-win for me and I really hope that England are successful and we crown some new boys who can have all the stuff that comes with that."
Robinson has suggested this weekend's match versus France was the opportunity for England to build on their early tournament momentum, but there is an upside to the typhoon-enforced cancellation. It will leave the likes of the all-important Billy Vunipola to get on with the business of getting himself fully fit for the quarter-final without the nagging feeling of missing a match before it.
Being injured at finals is no easy hurdle to mentally overcome. Robinson knows from experience, having suffered a hamstring problem in a pool stage loss to South Africa in 2007 and going to an extreme to work his way back into a campaign that ended with defeat in the final in a rematch with the Springboks.
Worrying times for England as Billy Vunipola is pictured in a foot brace. #RWC2019

Credit/u/orfyba Reddit @r_Rugbyunion pic.twitter.com/1LfLsnPP1T

— RugbyPass (@RugbyPass) October 8, 2019
"It is tough. As a player you want to play in all the games. There is competition for places and you just want to keep that momentum going, you want to keep that form going as well. It [Vunipola] is a bit of a blow. He is one of England's go-to players. When you look at getting the team on the front foot he is England's best ball carrier, no doubt about it, but they will be doing, as I did back then, everything they can just to make sure he has got the best of attention. 
"They will want to make sure that they get him right, that he is not rushed and everything is done that they possibly can to get him back up to 100 per cent. The good thing for England when you look at the northern hemisphere teams is we have probably got the most strength in depth and that is where it [the injury] fits well. 
"I don't think there will be major panic, just a case of 'let's just get him sorted out, let's get him back fit and raring to go'. What you don't want to do is rush back too quickly and then turn something that potentially is a week off into two or three weeks. When I got my hamstring injury I shouldn't have played again in that tournament because I should have been out for five weeks, but as soon as I came off (the pitch) my rehab started. I was up every two hours icing and all through the night I was doing something until I went back just over two weeks later. 
HIGHLIGHTS: @englandrugby v @lospumas at Rugby World Cup 2019 #ENGvARG #RWC2019 pic.twitter.com/PfZEMkOpY5

— Rugby World Cup (@rugbyworldcup) October 5, 2019
"The problem for me was because there was a fight to get me fit, I wasn't fully fit and every time I played I re-tore my hamstring. I just spent most of my time after coming off in that pool stage game against South Africa probably on the treatment table or doing recovery and just trying to get back to as best a shape I could get to. It was a real struggle, but this is not quite the same for Billy. Hopefully he can get sorted and be back in that team.
"But we have got a strong bench, which is key. When you make a substitution at this World Cup what you don't want to be seeing is a gulf between the guy that is coming off, who has started, and the guy who is coming on. 
"England have real strength in depth and they will need it. If they are going to go all they way in this tournament you have got to have a strong squad, you have got to have guys who are playing well week in week out pushing each other and who are going to be delivering. From here on in it is going to take a massive effort and if England are going to win this World Cup, they will have certainly deserved it with the route they have to potentially get there."
Land Rover is an official worldwide partner of Rugby World Cup 2019.  With over 20 years of heritage supporting rugby at all levels, Land Rover is celebrating what makes rugby, rugby. #LandRoverRugby
Comments
Join free and tell us what you really think!
Join Free