This is the best schoolboy rugby XV in the World in 2020 - NextGenXV
A team featuring some of the best schoolboy rugby players on the planet has been created by NextGenXV. The much-debated team features a selection of young rugby players from around the globe.
NextGenXV are specialists in schoolboy rugby content, and after many hours of deliberation and discussion, they have picked this team as their schoolboy XV for 2020.
15) Ajay Faleafaga (St Peters/New Zealand)
Many would be surprised about our selection of Faleafaga at fullback due to him mainly playing as a 10 but what makes Ajay a standout in this position is his ability in open play. When viewing footage one can see that Faleafaga drops back in the St Peters defence and can prove decisive on the counter-attack. His vision, running lines and kicking ability truly stand out and one feels that he could go on to achieve great things as a player in this position.
14) Curwin Gertse (Paarl Gim/South Africa)
Curwin is an unbelievable talent and no doubt would have walked into the SA Schools team this year. Paarl Gim had an exciting backline with quality everywhere but few would argue that Gertse was to be their key player for 2020.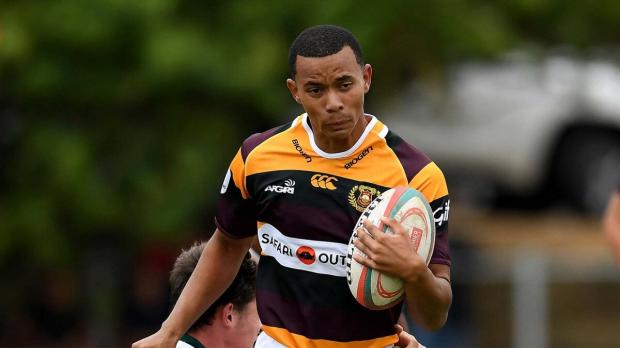 The young flyer stood out in his Grade 11 year with some extraordinary tries scored including a brace against Paarl Boys in the world's biggest school derby showing he is a player who can rise to the occasion. He has recently signed a contract with the Sharks with rumours that he will be the highest paid youth player in the country doing the rounds, whatever the price in our opinion the Sharks got themselves a serious talent for the future.
13) Jack Howarth (Brisbane Boys/Australia)
This year's Brisbane Boys team were a once in a generation outfit, the first team from the school to win a GPS title since 1954. A once in a generation team needed a once in a generation player and Jack Howarth was that player.
A hard running and powerful centre Howarth terrified opposition defences in the GPS this year and was one of the leading lights in the competition. After being part of the Brisbane Boys 1st team since Grade 10 it was poetic that he would lift the GPS title having come so close in 2019.
Howarth was the star player for Brisbane Boys College, who featured prominently in the RugbyPass series on the school in 2019.
The youngster however will unfortunately be lost to union having signed with rugby league club the Melbourne Storm. One can only hope that Rugby Australia get their house in order and retain talents like Howarth as losses to the game of this magnitude are gut-wrenching to say the least.
12) Mambo Mkhize (Westville/South Africa)
The Westville rugby program felt as if its best days were behind it but in the latter part of this decade things have certainly changed with the team now having some of the most exciting prospects in the country.
Mambo is a Springbok in the making. The youngster just oozes natural talent which comes with humility, maturity and a work rate that stand him in good stead for the future. His ability to carve open opposition defenses and his size have seen the school rugby community take notice but perhaps the most impressive aspect of his game is his distribution. Mambo's offloading ability is something to behold and his unselfish style of play often sees him put flyers like teammates Larry Nkonki and Bayanda Ngubande in strong positions to finish off team moves.
Mambo has signed for the Sharks who have a real gem on their hands, and we cannot wait to see how his career progresses in the future.
11) Joseph Suaalii (Kings Parramatta/Australia)
There could be an argument that Suaalii is the most talented prospect on this list, and if you listen to the hype coming from Australia you could argue that he may be the most talented school rugby prospect seen in the game.
Suaalii has been a first-team rugby player since the age of 14, which is unheard of and especially unheard of at one of the world's leading rugby schools. At age 15 he was already the same height as his idol Israel Folau and was at the center of a tug of war between Rugby Australia and various Rugby League clubs with salary offerings in the millions of dollars.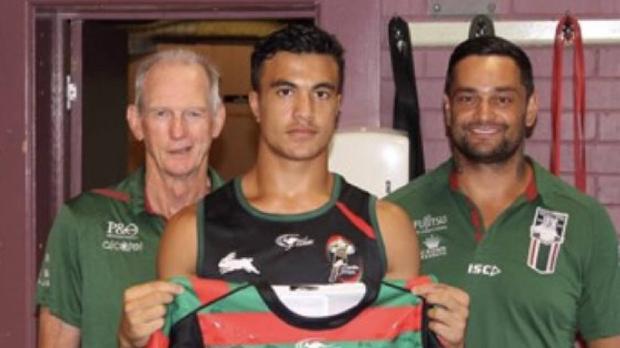 A truly exceptional talent who was simply born to play the sport and one who we truly hope will choose union as his future career path.
10) Sacha Mngomezulu (Bishops/South Africa)
Sacha exploded onto the school rugby scene in 2019 with some truly outstanding performances that led many to believe that a new star was on the horizon. His distribution, kicking technique and pinpoint accuracy were at a level not seen at Bishops since the great Herschelle Gibbs graced the fields of the Cape Town school.
With a British passport, there was talk of the youngster continuing his career in England but Western Province finally offered him a contract and he will stay in South Africa for the foreseeable future.
Sacha has every quality it takes to become an international superstar, he plays with a fluidity rarely seen and is an extremely hard worker often spending hours working on his kicking.
Remember his name because the kid will be a star!
9) Noah Hotham (Hamilton Boys/New Zealand)
A player who needs little introduction to those in New Zealand is Hamilton Boys stalwart Noah Hotham. Having been a part of the first team for a few years now Noah has just gone from strength to strength and was a standout player in a team that we named our number 1 school in the world for 2020.
His speed and work rate is truly a sight to behold and along with crisp passing, intelligent link-up play and tactical kicking he is, without doubt, a leader amongst the young scrumhalves of today. There are various teams in New Zealand chasing the young Hotham's signature and whichever team is fortunate enough to sign him will be getting one of the shining lights of the youth game.
8) Carwyn Tuipulotu (Sedbergh/Wales)
 Tuipulotu has been tearing up on the English school scene with Sedbergh and, in his first season as a professional, he has already turned out for the Scarlets. Tuipulotu is the son of former Tonga international Katilimoni, and is a cousin of the Vunipolas and Faletaus, and those genetics have certainly rubbed off, not only in talent but in size too. Tuipulotu already weighs in at a staggering 125kg on a 6'1 frame. Often used in the second row at school for his sheer ballast, Tuipulotu is at his most comfortable in the back row, and in both positions he excelled for Sedbergh as one of the shining lights in some of their most talented sides all-time in recent years.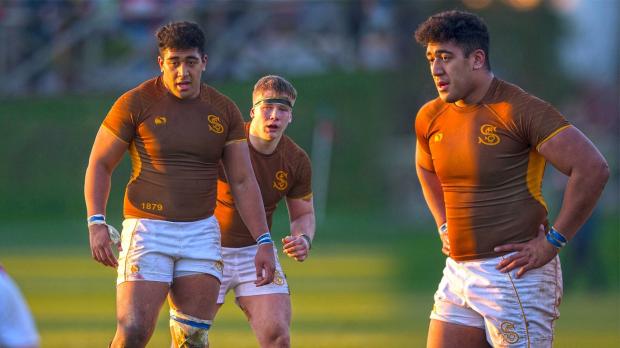 He turned out for Wales U18 ahead of time and will surely be a part of the U20 setup his year, assuming U20 internationals take place, and beyond that perhaps an eye will turn towards becoming the long-term successor to his cousin Taulupe Faletau in the Welsh number 8 shirt.
7) Emeka Ilione – (Rugby School/England)
Ilione was one of two players in this side to captain England U18 during their tour of South Africa in August 2019, Fin Baxter being the other. In an outstanding year group, that showed just what a prospect the young flanker is seen as. He contributed hugely to a Rugby School side that enjoyed one of their finest seasons in years, although sadly injury robbed him of the chance to play in the Champions Trophy final against the almighty Wellington College 1st XV. His strong ball carrying and pace in the wide channels being strengths that cause the very best all sorts of problems.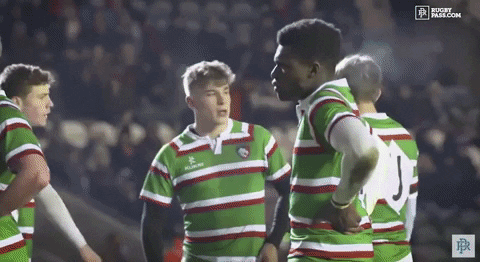 Ilione is a leader on and off the pitch and certainly has more than one string to his bow. Not only did he captain England U18, but he was also Head Boy at Rugby School and alongside signing professional terms with Leicester Tigers for the 2020/21 season he is also studying medicine at university. If things keep progressing for him as expected, Ilione's is a name that we will all be hearing plenty about over the next decade.
6) Zac Hough (Brisbane Boys/Australia)
Anyone that has watched Zac Hough play will tell you that this is a player that wears his heart on his sleeve, a player that plays every match with a frightening intensity and was a key part of Brisbane Boys' first-ever outright GPS title win.
Hough may not be the biggest loose forward you will see at this level but don't let that for a second fool you, the youngster is willing to take on all comers and size is of little importance to him. Watch his footage and you will see a player that relishes the physical confrontation and will fight for every inch. His ability to break the line is way beyond his years and to give you some perspective about the youngster's talent and how much we rate him, he still has another year of schooling left and is the only Grade 11 player on this list.
5) Allen Craig (St Kents/New Zealand)
The Northland born youngster moved to St Kents in 2019 after some outstanding performances while still at Whangarei Boys and the move paid dividends with the giant lock representing New Zealand Schools as a Grade 11.
Rated the number one prospect in New Zealand by Herschlle Fruean of HS Top 200 the tough as nails youngster has shown not only an ability to stand out at the highest level but is renowned for leading from the front playing the game with a controlled aggression and being a key tight forward for his school.
His leadership ability has been evident at a young age having captained Northland Under 15's as well as their Under 18 team while still in Grade 10. Whichever Union in New Zealand lands his signature have a player that is almost certain to become an All Black in the future.
4) Connor Evans (Bishops/South Africa)
From a New Zealand number 1 prospect to our South African number 1 prospect, Connor Evans the Bishops lock forward will be devastated to have missed out on what promised to be a legendary 2020 season for the Bishops team and no doubt Evans would have been leading from the front.
A lock who is capable of playing in the loose forward Evans wowed opponents in his rookie year with some truly stand out performances for the Southern Suburbs giants as well as a Craven Week where he was arguably the best lock at the tournament and this as a Grade 11 player. He was rewarded with SA Schools colours and in our opinion Western Province have pulled off a masterstroke by securing the youngster's signature against a whole host of other teams.
3) Fin Baxter (Wellington/England)
 The entire Wellington College front row from the 2019/20 season have signed professional terms at various clubs, but it is their captain that gets the place in this side. Baxter skippered the team to one of the great seasons in schools rugby history and also led England U18 in their August 2019 tour of South Africa, alongside Emeka Ilione. The young prop was a standout player for them, not just for his set-piece and ball-carrying, but also for his all-round skills that make him every inch the modern prop.
Harlequins let England tighthead Kyle Sinckler go to Bristol Bears over the summer in part because they felt they could make his wages stretch further elsewhere, however Baxter turning pro that same summer was surely a background factor too, for it will surely not be too long before the academy man becomes a permanent feature in their matchday 23s.
2) Archie Vanes ( Brooksby Melton College/England)
Hooker was one of the most competitive positions in this team, in England alone Vanes was up against stiff competition in the form of Joe Vajner and John Stewart. A key player for Brooksby Melton College in the AASE League (now ACE), Vanes' crowning glory has been in the Leicester Tigers academy shirt where he captained them to a share of last year's Academy League title and was a part of the side that won it outright the year before.
A converted back-rower, Vanes has a strong game in the loose and over the ball and has one of the top set-piece specialists in the world as his head coach now at Leicester Tigers, Steve Borthwick, while in club captain and former England and British and Irish Lions hooker Tom Youngs he has the perfect mentor. Exciting times ahead for Leicester Tigers and, most importantly, Vanes.
1) Jack Boyle (St Michaels/Ireland)
Boyle was an absolute star en route to St Michael's College's 2019 Leinster Schools Senior Cup triumph, their first since 2012. His powerful carrying was a key feature throughout that campaign and in 2020, and it was his two tries in the final that helped to deliver that 2019 title. Alongside his work for his school, he was also vice-captain for Leinster U18 Schools a year young and represented Ireland U18 in the U18 Six Nations Festival in 2019, and would have done again in 2020 were it not for Covid to intervene, and the young loosehead would undoubtedly have been one of the senior leaders, too.
He now joins Leinster as a professional for the 2020/21 season, where he will likely see action in the All-Ireland League for his club, and will benefit hugely from front row legends such as Cian Healy in the Leinster set-up. Boyle is unquestionably a player to keep an eye on in this highly praised Leinster Academy.
16) Finau Halafihi (Auckland Grammar/New Zealand)
An absolutely lethal ball carrier and a player who tears into his opposition the Tongan born youngster looks to be the real deal.
Initially a robust loose forward he converted to hooker and never looked back having been named in the New Zealand schools team as a Grade 11 in 2019.
At 104kg and 1.74m the youngster still has room to grow and that is a scary prospect, no doubt everyone in the game across in New Zealand will be watching his career carefully.
17) Phil Brantingham (RGS Newcastle/England)
Brantingham is another star young English front rower, whose partnership at U18 international level with Fin Baxter has already proven devastating in just a handful of games. The young loosehead has been a dominant figure on the schools rugby scene for a while now, and in 2018 as a lower 6th pupil he starred on RGS Newcastle's run to lift the prestigious St Joseph's Festival.
A year later Brantingham was back at it but with a year's worth of growth and experience behind him. The team impressed but did not get quite as far as 2018, but Brantingham impressed even more as he took home the player of the tournament award, previously won by the likes of Jonathan Joseph, Lewis Ludlam, and Marcus Smith. Since then Brantingham has gone on to sign pro terms with Newcastle Falcons and with his balance of outstanding set piece work and excellent work in the loose, is surely a star of the future.
18) Seb Lombard (Paarl Boys/South Africa)
Paarl Boys enjoyed an outstanding 2019 season with numerous SA Schools players and Craven Week players produced, the team had 14 Grade 12 players and only one Grade 11 and that player was powerful prop Seb Lombard.
Paarl Boys were only able to play one fixture in 2020 and that against a Monument team which had a brutal forward back which Lombard and his front row partners managed to dominate, a feat few schools would have achieved.
His scrummaging is perhaps the best in the country and his ball-carrying ability as well as link-up play and leadership would have no doubt resulted in Seb receiving his national colours in 2020. He has signed with the Bulls where he will no doubt he will make a massive impact.
19) Christ Tshizuna (Whitchurch/Wales)
Exeter Chiefs do not make many bad signings, and they certainly do not make rash signings, so when Tshizuna signed a four-year contract with them with a year left still at school, it put the rugby world on notice – this was a young player to watch. Watch they did as he tore up for his school, Whitchurch High School, and also in the U18 Academy League for his new club side, Exeter Chiefs.
What makes Tshizuna's rise all the more remarkable is that he only took up the game aged 14, he was born in Congo but age 7 his parents decided that life was too risky in the war-torn nation and moved to the UK, and at first it appeared that athletics might be his calling. Athletics' loss is certainly rugby's gain though, and now in the first year of that contract with Exeter, it surely will not be long before we see the young second row on our screens in the colours of the European and Premiership champions.
20) Ben Muncaster (Rugby School/Scotland)
As if to underline his quality, Muncaster has been selected by both England U18 and Scotland U18. It was unsurprising given the quality of his performances, Muncaster was part of an all-star Rugby School back row that also included the openside in this team, Emeka Ilione, and led them in the Champions Trophy final against Wellington College. The dynamic back rower also starred for Leicester Tigers as they took the 2019 Academy League title and a share of the 2020 title.
In March 2019 he competed for Scotland U18 in the U18 Six Nations Festival, a year young, but by October England had named him in their squad, Muncaster was, and is, a man in demand. At the end of the 2019/20 season though, the "proud Scot" signed with Edinburgh Rugby and a Scotland U20 cap will surely be coming up on the horizon before too long.
21) Nico Steyn (Glenwood/South Africa)
The first time we saw Nico Steyn play was at the Carinat Sports Marketing World Schools Festival at Paul Roos in 2019, from the first few moments of the game we knew that the youngster was a player with a bright future in the game.
Hardly a weakness exists in the Glenwood youngsters game, his passing and distribution is exceptional and his reading of the game is something that simply cannot be trained, you are either born with it or not and Nico certainly was.
His leadership is there to be seen, his teammates have nothing but positive things to say about him and most would go to war for him. It was heartbreaking not to see him pull on the SA Schools jersey in 2020 but with the Lions having secured his signature and with the talent we know he is blessed with it won't be long before we see him breaking into senior men's rugby.
22 Charlie Atkinson (Abingdon/England)
Atkinson is one of the fastest rising young stars in the UK, and possibly beyond. He made headlines over the summer upon signing terms with Wasps after an outstanding few years with Abingdon School as he was promoted straight to the first team. He was in the headlines not long after, too, as England captain Owen Farrell was sent off for a nasty high tackle on the young outside half. The point that was missed among all the headlines though was that he was a young man only six weeks out of school being trusted in a Premiership game against the reigning champions by the side that would go on to reach the final.
To those that had seen him in action for Abingdon, Wasps U18, and England U18 in the last few years, that really should not have been a surprise, Atkinson has been playing beyond his years for a long time. In you wanted two words to describe his game they would be 'class' and 'time', he oozes class in his style of play and always seems to have time on the ball, as all the very best players do.
23) Dan John (Millfield/Wales)
Fleet-footed fullbacks are a bit of a speciality of Millfield's, the likes of Ollie Lindsay-Hague, Tom Whiteley, and Darren Atkins have all excelled there for the famous Somerset School in the last decade or so. John is absolutely in that level of company as exceptional schoolboy talents, the first major sign at school 1st XV level came in 2018 when he picked up the St Joseph's Festival player of the tournament award as Millfield reached the final.
 The strong performances for Millfield and Bath U18 continued and in 2019 he earned a callup to the Wales U18 side. It was the start of 2020, though, when John's talent was showcased to a much wider audience when, while still a pupil at Millfield, he was twice picked to start for the Wales U20 side in the U20 Six Nations. Covid cut that campaign short, but the crafty Exeter Chiefs were not about to let such a player be lost in the ether due to the pandemic and quickly snapped up the son of former Wales scrumhalf Paul John in the autumn.
Comments
Join free and tell us what you really think!
Join Free