The All Blacks' lost competitive advantage that they must find again
The All Blacks' attacking ability has slowly faded in the age of super powered defences and the widely trumpeted 'rush defence' that has supposedly flummoxed the running game.
Steve Hansen and Ian Foster, the two head coaches in charge of the All Blacks over this era, have been asked about the Northern rush defence for years and a definitive solution has not yet been found by their teams.
One solution is very straight forward in nature despite being more difficult to implement and hone to perfection.
It is simply the execution of basic fundamentals: passing and line running, along with timing and anticipation, at the defensive line.
Whether the line has come forward, or the attack is pressing and dictating terms, does not matter. The way to break the line is through manipulation at the moment the defence is committed to contact, with readily available options around the carrier.
This has become harder and harder as modern defences take away decision-making time, but what the attack needs to do is still the same as before, just faster.
When you watch this All Black side attack, they lack this ability to construct play at the coalface of the line, dying with predictable carries with no support.
Conservatism has slowly eroded what was the most dangerous aspect of New Zealand Rugby, exquisite draw and pass skills, the creative play toying with defenders, drawing the contact while getting the ball away with an offload or deft passes, in favour of more structured attack with little flat ball-playing and more low-risk one pass carries.
Structures may create windows of opportunity to create line breaks, but the shape itself will rarely ever create a line break.
The shape or structure must put a player with the creative skills in a position to create and take on risk. Otherwise with no risk, there is no reward.
For the All Blacks, there are many distributors and many ball runners, but few ball-playing creators right now.
They can shift the ball quickly to a runner who has blinkers on and he will crash it up, sometimes for a net loss. This is often the outcome for most of the All Blacks' wide raids in phase play with passing that is too deep.
The transition plays used to be an opportunity for an All Black side to showcase their collective skills.
In the first test an opportunity in transition in the first half highlighted some of these attacking issues.
Ardie Savea collected the loose ball from an All Black high ball kick and as per policy, they tried to hit the opposite side of the field while the Irish defence was still in retreat. However, they ended up losing massive ground and then turned the ball over.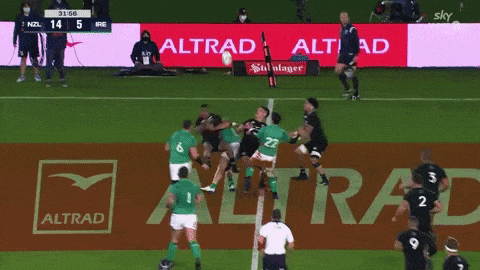 Three All Blacks cleaned out at the breakdown but the presentation of the ball was still messy, which resulted in slow ball for Aaron Smith and allowed Ireland extra time to get set.
Smith went out the back with a loopy pass and found Beauden Barrett, but the depth of each pass from there to more static receivers complicated the play.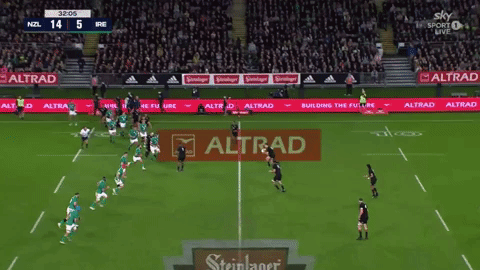 Rieko Ioane was standing still waiting for Barrett's pass to arrive, while Jordie Barrett is the same outside him. It was shovel-ball rugby with no initiative and no directness.
It resulted in way too much depth, little go forward, and few options for the defence to cover. The oncoming Irish line continued to eat space and follow the ball, before swallowing up Jordie Barrett in a two-man tackle and flooding the ruck.
When the All Black fullback met the defensive line way behind the advantage line, he had no supporting options and simply decided to die with the ball for a net loss.
The last man outside him, Leicester Fainga'anuku, was stationed way out left but in front of him.
The All Blacks locking pair, Sam Whitelock and Brodie Retallick, were also never viable options, both front running the inside man instead of forming part of the attack.
Once upon a time an All Black side would rip apart teams in transition moments like this, but right now they are not functioning with speed and precision to take advantage of those windows.
The same issues persisted in the third test within their phase play shape with new combinations as second five-eighth David Havili was elevated to the starting line up.
On this occasion the clunky attack pushes static ball to Havili who has nowhere to go but down as his pod of forwards stand in front of him.
His lack of chemistry with Rieko Ioane is demonstrated below as the All Blacks try another wide shift behind their pod systems late in the first half.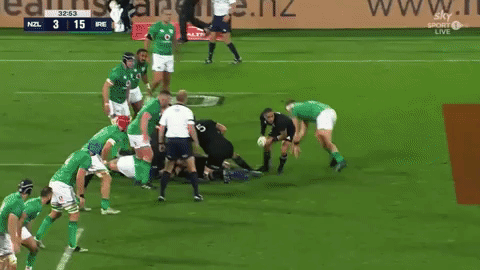 The Crusaders midfielder tried to take on the line and be the creator the All Blacks sorely needed but Ioane had no anticipation or understanding for what Havili was looking to do.
He was hesitant in running a line outside Robbie Henshaw and was stutter stepping expecting early ball from his second five-eighth.
There was an opportunity for Ioane to hit a gap outside Havili if he had timed a run from deep.
Henshaw turned in, leaving a wide hole, but the understanding and chemistry between Ioane and Havili was not there. The All Blacks centre has yet to really offer much in his support line running at the position.
Later it was Richie Mo'unga and David Havili playing static, lateral and adding depth while the forwards weren't able to draw any contact from Ireland.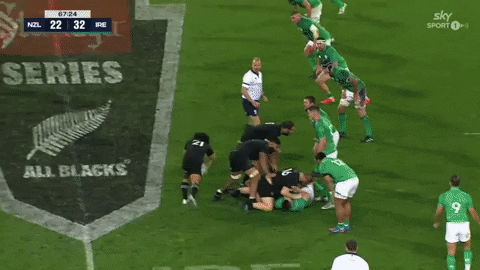 The positioning of Havili in the structure, behind and inside the two-man pod, only played into the hands of Henshaw making his read straightforward.
The forwards are in front of Havili, which made Beauden Barrett the only possible target for him. Henshaw rushed up on Barrett and shut him down.
Over the entire sequence the only player to draw contact from the Irish defence was Beauden Barrett, who was promptly brought down with the ball, indicative of how easy it was to defend.
Taking nothing away from the great play by Henshaw, if you are not getting commit decisions from the defence, you are not doing enough at the line to interest them and keep them honest.
If you watch Ireland's attack, it is far more direct, far more organised and most certainly draws contact after the pass from multiple players.
Almost all of Ireland's constructed tries through ball movement in the series had multiple All Blacks tackling players after the ball had gone.
When the All Blacks played a little more direct, such as in this passage early in proceedings in Dunedin, they created opportunities.
There were still issues with the shape setup outside Beauden Barrett, with front running forwards that seem lost, but Jordie Barrett found Codie Taylor who straightened up and punched through to create some go-forward momentum.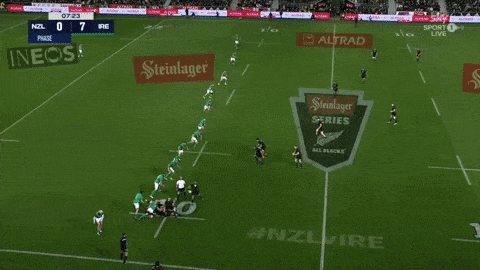 On the next phase after a quick recycle, Jordie Barrett flattened up and took on the line, first shaping to pass before pulling it back and dancing through two defenders.
Quinn Tupaea ran a great anticipatory support line outside Barrett from deep, which was perfectly on time.
He was in position to take an offload at full pace, only for Ireland's wing James Lowe to hold him back and tackle him without the ball.
It was one of the rare occasions in the series that an All Black playmaker looked to play direct and create at the defensive line while another player gave him an option by trusting that a pass might eventuate.
Too often the carry decision has been made early while there are generally no support options.
It would have been a line break for Tupaea if not for Lowe's obstruction, showing that when they play direct and probe in numbers, opportunities can open up.
On a third phase strike play from a set-piece in the first test, all three passes from Whitelock, Ioane and Tupaea drew contact as they moved in motion at the line.
When the All Blacks engaged the defensive line and drew contact after the pass, their patterns worked.
The young All Black second five's pass to Leicester Fainga'anuku was the money ball that set the left wing away for a clean break. It was a sublime piece of handling from Tupaea.
Fainga'anuku went close to scoring but the All Blacks score on the next phase through Jordie Barrett running a hard line off halfback Aaron Smith.
The line breaks for the All Blacks against Ireland in the second and third tests dried up as their attack fell into bad habits with sloppy execution, but it is the lack of line break assists that highlight the creativity problem.
There were four line breaks for the All Blacks in Wellington, two of them individual efforts by Akira Ioane and Beauden Barrett.
Only two had an assist, and it was Ardie Savea both times setting up Will Jordan.
Clayton McMillan talked of wanting to play with  'flair' with his Maori All Blacks, letting the shackles off and allowing them to create.
That's all well and good but the question should be asked, where has the All Blacks' flair and enterprise gone?
This was bread and butter for New Zealand Rugby's premier team and it was their significant competitive advantage, the catch-pass skills and line running.
Like the generations before them, Dan Carter, Aaron Cruden, Ben Smith, Israel Dagg, Sonny Bill Williams, Ma'a Nonu, Conrad Smith, were all great attacking backline players who had the inate ability to take a hit milliseconds after offering up a pass to keep the play alive and knew the timing required to be off someone's hip in support.
The forwards were equally skilful in the 2010s, the likes of Kieran Read and Dane Coles out wide in the tramlines running at smaller backs with the ability to free up centres, fullbacks and wings with an array of offloads.
They didn't often need space because they would create it, often times for someone else.
They knew if the ball shifted wide, someone had to be the creator and others had to be willing in support.
They had built shared understanding and combinations that elevated the play of them all.
There is no denying that defences are far more disciplined and conditioned now, particularly Northern Hemisphere teams, so the attacking play has to go up a notch to be able to crack them.
But that is not what the All Blacks have done.
The attacking play has slowly regressed as the next generation has come through, their willingness to play at the line has disappeared almost entirely, and the identity of the side has morphed into a collision-heavy team that tries to carry over the opposition. When they go wide they lose metres at a rapid rate and become isolated.
Instead of rising their attacking game with sharper detail, they have resorted to a one-dimensional game foreign to New Zealand and in the process have lost the competitive advantage they possessed for a long time.
In this current side's search for answers they must first re-find their past identity. If they are to return to the top of the global rugby standings, it has to be rediscovered.
Comments
Join free and tell us what you really think!
Join Free