Pool noodles, rituals and special forces - meet rugby's lineout king
"Right," said the coach, eyeing teenage Jamie George up and down. "I'm going to break you. We're going to do a whole load of drills and I'm going to break you."
This man knows talent when he sees it. He knows what a serious prospect he has on his hands, one of the best kids he's seen in many years at the coalface. But he knows too that the burgeoning hooker's excellence must hold when the stakes have soared, his lungs are shot, and he is staring down the gauntlet of a line-out five metres from his own line with 50,000 cacophonous hostiles baying for a slip-up.
Simon Hardy is one of the most influential rugby people you've probably never heard of. And he likes it that way – quietly analysing, plotting and honing some of the finest front-rows in the world. A former hooker from Welwyn Garden City, Hardy has carved out a fascinating niche as a throwing coach. You will not see his name appear in many press clippings, nor his work touted on social media, but speak to almost anyone in rugby circles and the respect he commands is obvious.
It is why after nearly three decades stalking training paddocks and brandishing pool noodles – more of which later – Hardy remains a hugely sought-after tutor. He has been hired by most of Europe's top clubs and several international sides. He was a trusted lieutenant to Sir Clive Woodward when England roared to World Cup glory in 2003. He has coached close to fifty international hookers on a one-to-one basis, from Olivier Azam and Steve Thompson to Tatafu Polota-Nau, Stuart McInally and Luke Cowan-Dickie. He still works with Jamie George fifteen years after those first sessions in a school gym.
"Technically I should have retired, but people keep ringing me up," Hardy tells RugbyPass. "Jamie was local and recommended to me. All I dealt with initially was his technique. I sorted his hands, then we used a lot of Swiss ball drills for stability, then I added some physicality to it. And then, really simply, I told him I was going to break him.
"At the end of the sessions, we have what we call consequences. They could be positive – you can't leave until you hit 10 throws in a row – or negative – if you miss two, the session is over. You make players very robust.
"The biggest impact for Jamie was negative consequences. He shot at the basketball hoop, and if he didn't hit it twice, he was finished. When he missed his first two shots, you had to sacrifice that session and tell him he'd better practice for the same drill next week. But next week, you're talking to him about his processes, his technique, the most important parts.
"I told Jamie, 'if I can break you, you are not going to play at Twickenham in front of 80,000 because you're not mentally tough enough'. But obviously, I helped him through that process. I didn't just go, 'oh, you're shit, you're out'. He learned a lot from that."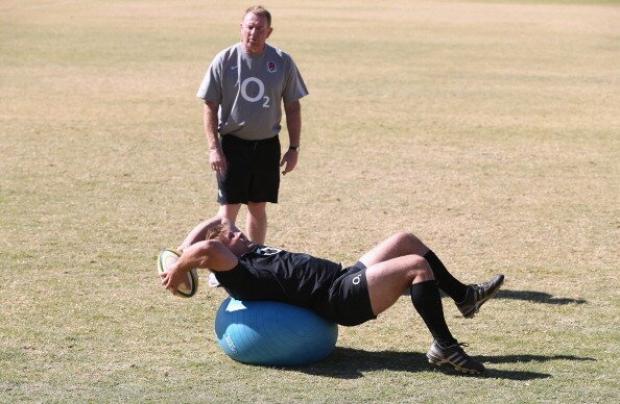 Broadly speaking, this is a process Hardy applies to each of his players, though their abilities, motivation and goals may vary greatly. Some are bristling specimens who, like McInally, converted from the back-row. Others are technically sound but require work on the physical aspects of their game. More still have an impressive skillset but are vulnerable beneath the immense pressure exerted by an elite set-piece opposition.
He records all of his sessions and has them transcribed so he can use terminology preferred by each player. "I need to wang it" is one hooker's particular phrase of choice for a swooping parabola to the tail.
Hardy has held training atop twenty-story buildings, by the banks of the Yarra River, in Cape Town car parks, on Auckland streets, and up a variety of hotel halls, lobbies and passageways. During the early 2000s, he taught Steve Thompson to throw on the big fella's front drive, and paid so many visits that Thompson installed a special coffee machine to brew the coach his beverage of choice.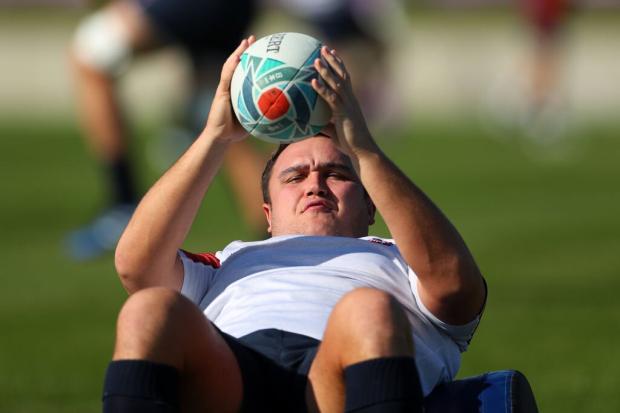 Over cups of foaming caffeine, he spends an age talking to players about absolutely anything besides rugby. He has to learn exactly what revs their engine to wring out every drop of potential.
But the work doesn't begin with a bag of balls and a target. Instead, it starts with a list of household chores.
"I get them to make commitments. Initially, they could be really simple – making your bed every day, washing up, making sure the milk is fresh. I don't need to know what they are. They have to text me to say they're done each week.
"We turn them into throwing commitments – making 250 throws this week, 50 a day – and the player has to tell me they've completed that. Once they've done 250 a week, now they're getting better, and they have to do 90 good throws a week. That might take them 500 throws initially to get 90 good ones.
"I have a 95% rule. A player has to do 95% of his throws in practice as opposed to in a game. There are about 15 lineouts a game, so he has got to do 285 throws.
"You reinforce that with pieces of film. At this time of the season, we sync up clips from October-November with clips from last week and compare the throws."
Practice in a sterile environment is of limited value when the real thing is so joltingly different. Fatigue, nerves and disruption are sense-scrambling threats to the hooker. Picture George lining up a throw in the Aviva Stadium, with England trailing by a score and two minutes left on the clock. Almost everyone inside the ground will be doing their utmost to destroy his rhythm. And that's where those pool noodles come in.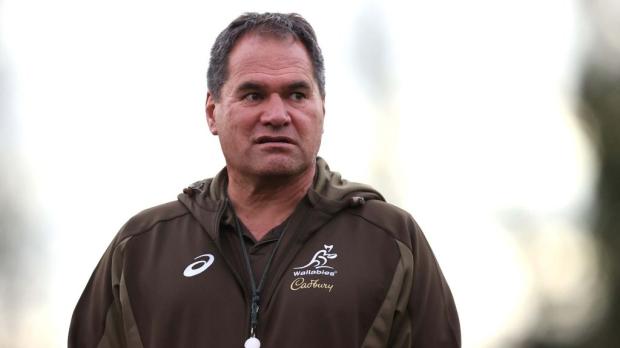 "You make practice harder than the game. You can put them under fatigue. You can make the size of targets really small. Then we use opposition or pressure," says Hardy.
"That pressure might be verbal – you can talk in their ear. It might be hitting people with pool noodles, smashing them with those to upset and distract them. Or you hold the stick they are throwing at, and then step away – what are they going to do now? They have to step away and start their whole process again. But you give them a very clear process they can keep returning to. We spend a lot of time creating confidence.
"I give players rituals. How do you calm down? How do you control your breathing? What key phrase or physical activity do you use to get you into that process? Some will squeeze their glutes together. Others will stretch their neck. Others will just say, 'high hands'.
"If there's a mistake somewhere, chuck it in the bin, snap your fingers or smash your hands together, and then tell me what you're supposed to do right. There is always a physical activity to help remove some of those mistakes. You're always giving them a focal point to come to."
Pool noodles aside, Hardy can select any number of weapons from his psychological arsenal. The synaesthesia phenomenon, experiencing one sense through another, is among his favourites.
"Some players put their favourite music over clips of their best throws," he explains. "Every time that music comes up, they picture themselves throwing well. It's a bit geeky. You're always looking for that half a percent."
And in his quest for miniscule gains, he has borrowed extensively from American sports, the New York police, fire department and even elite military units.
"I went into the fire academy in New York and talked to them about communications in stressful situations. Those skills have got to be really concise in a fire. I talked to them about equipment. You don't want to use fine muscle groups; you want to use big muscle groups because they're easier to control.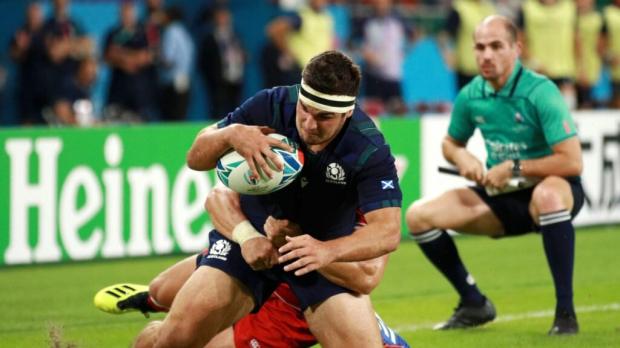 "In the police academy in Queens, we spoke about fitness, and how your cognitive abilities drop dramatically as your heart rate rises. Going back a number of years, the NYPD were shooting a lot of people. If you're in a difficult situation, you're not desperately fit, and all of a sudden your heart rate jumps to 210bpm, your cognitive ability reduces to about 15%.
"That's very similar to a game of rugby – you have just played 10 minutes in and out of possession, you've had a whole lot of scrums, you've just come out of a ruck, then all of a sudden you've got to go and perform a very fine skill or call a line-out.
"I went to see a guy who ran a number of US special forces teams, and he told me which were his best teams and why. Every team had an hour block every day where they could choose what they did – all the best teams did the basics. The shooter shot long-distance. The radio operator dismantled his radio and put it back together. The door-to-door fighters went to the dojo. All the cowboy teams wanted to go and shoot."
All of this wisdom is hoovered up and distilled to players in little rugby-specific parcels. But sometimes, it's the old-school methods that yield the best results.
"With Jamie George, we might shoot things off towers now," says Hardy. "We don't carry on the session until he's knocked the object off the tower.
"He might tell me the drill is really difficult. I'll say, 'I don't care, you're an international thrower – if you don't knock that target off, we don't move on'."
George is no longer a raw pupil, but a British and Irish Lion, World Cup finalist and serial trophy winner. Still, he gets the kind of treatment that probably yanks his mind back to the gym and the hoops and the sessions cut short, under the gaze of his trusted mentor.
Comments
Join free and tell us what you really think!
Join Free