'Non-selection was the hardest...He just said, 'You're in a competitive position''
Alex Dunbar doesn't enjoy looking back – not after the year he's had, not after the hardship he's endured. Nor does he dare gaze too far ahead, knowing how quickly those at the top can be walloped off their perch in the savage world of professional rugby.
His last of 10 seasons at Glasgow Warriors was brutal. Out of the team, dogged by injuries, contract expiring. The beefy specimen who had once been among Scotland's premier backs had become a seldom-seen squad player as a host of burgeoning centres elbowed him aside.
Light years away from the Test scene as the World Cup loomed, Dunbar went on loan to Newcastle Falcons, where he injured a groin and briefly feared he might have to pack it in altogether. In those grim days, he would torture himself with doubt, dread running into rugby fans on the long country walks that became his escape route.
"The hardest thing was that everyone kept asking me the same questions over and over," Dunbar says. "When you're away from rugby, if you take the dog away wandering, the last thing you want to talk about is more rugby.
"You're over-thinking, everything runs through your head – what am I doing wrong? Is there anything that's me? What do I need to change? You start doubting yourself.
"If you're in for one game, you sometimes feel like you need to overplay. You were making silly mistakes because you felt like you needed to get into the game more. You were running around looking for opportunities to get into the game."
On Glasgow duty last season, eight appearances and 314 minutes were Dunbar's lot. He'd be starting one week, jettisoned the next. He was involved in three autumn Tests but as his appeal to Dave Rennie, the Warriors coach, waned, so his international prospects plummeted.
"I sat there on the phone crying"@rtagive 's road to @GlasgowWarriors was uniquely troubled, as @JLyall93 found out. A truly remarkable origin story: https://t.co/05fnjO2dq2

— RugbyPass (@RugbyPass) November 21, 2019
"The non-selection thing was the hardest to take because when I did play, I didn't think I played badly," he says. "Every time we [Rennie and Dunbar] had conversations, I said I needed more game time. Two or three games, you start to get that sharpness again.
"If I could string two or three games together, I felt I'd be where I wanted to be. You get a chance, you're back out, you get a chance, you're back out, so I never really got going.
"He just said, 'You're in a competitive position', but the whole squad is competitive. You'd just get a bit disheartened sometimes when you feel you'd played well and you deserved a crack the next week and obviously as things go on you've not got much left on your contract."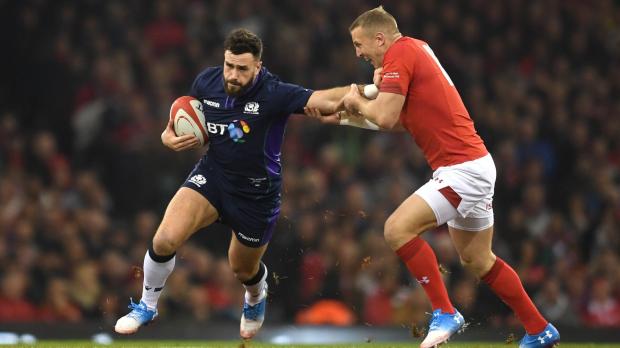 This lame exit was all the harder to take because of what Dunbar had given to Glasgow. He was part of a young, talented and ravenous Scottish core that grew with the club and helped drive it to the lofty status it now enjoys, winning the Pro12 title, its first major silverware, along the way four years ago.
Finn Russell, Stuart Hogg, Duncan Weir, Mark Bennett, Ryan Wilson, Pete Horne, Chris Fusaro, Jonny Gray and a heap more besides were part of the crop that took Warriors to next level. It is hard to dispute Glasgow's decision to move on a high-earning player who their coach clearly did not fancy, but to leave as Dunbar did stung.
"Coming up through age-grades and playing for the best part of nine-and-a-half years, it was quite disappointing," he says.
"I don't know if it left a bit of a sour taste the way it worked out – it's just the way it is. It's done now. There's no point in dwelling on the last six months-a year. I'd rather remember the good times, playing regularly, some great wins with some great people."
There is anxiety among Glasgow fans that Dunbar was allowed to depart, that Rennie was too quick to do without him and that the same fate might befall Huw Jones, another wonderfully talented centre who has endured a similarly chastening year.
Although a brilliant player, Jones has barely raised a gallop in two seasons at Glasgow and has scarcely been seen this term in a backline that, on recent form, is sorely lacking in sparkle. The word is that Jones is keen to get out on loan, but that Glasgow want to keep hold of him.
"He's a good player, and I suppose similar to myself he's struggled to get regular, consistent game time," Dunbar says.
"The couple of games I've watched this season when he's played, he's played well. But he never really gets the chance to back it up. It's tough for him because if you're not playing, confidence, everything… he's a good player and I fully expect him to get back up to that level where he should be."
In June, with his future uncertain, Brive offered Dunbar a lifeline, a one-year deal and a much-needed change of scene.
He is only 29 and playing regularly for the Top 14's promoted side. For the first time in an age, he feels settled and content. There's still a gnawing, though, an itch to get back to where he was, back in Gregor Townsend's Scotland team.
After the awful Six Nations and even more heinous World Cup, there is a mountain of pressure on the coach this season. For all that he can call upon a dazzling array of centres, few are as effective as Dunbar at smashing through shoulders and not even Duncan Taylor is as formidable when wedged limpet-like over ball on the jackal.
"We've got some very good players, strong ball-carriers," Dunbar says. "I certainly offer a different dimension with the way I play. A lot of my game's based on physicality, defensive work, getting over the ball at the breakdown. It's something I pride myself on. Not a lot of Scottish centres do that.
"It's the good thing about the squad depth – if we want to play a certain way, we've got players that can do that, but we've also got players who can play a different way.
"Like I say, I think I can still contribute well and if I get the chance, I'd love to do it."
WATCH: The Season 5 – Episode 4
A must-win fixture against neighbouring Tauranga Boys High School puts the team's success in the firing line.
Comments
Join free and tell us what you really think!
Join Free