Johnnie Beattie: 'Toothless, blunt, brittle' - Eddie Jones was completely outcoached
Watching Murrayfield boil as Scotland outboxed the English heavyweight on Saturday, the question that kept leaping out at me was why.
Why did England keep kicking the ball away? Why was poor Luke Cowan-Dickie left defending a cross-kick, one-on-one with a winger? Why did England turn down three points and a kick to level the scores near the end? Why was Joe Marler throwing in to a line-out? Why didn't they put eight men in to defend a scrum in their own 22 instead of packing down with seven and conceding the match-deciding penalty? Why take off Marcus Smith when the game hung in the balance?
England committed a catalogue of schoolboy errors stemming from coaching, personnel and a chronic lack of confidence. Remove Owen Farrell, Courtney Lawes and Manu Tuilagi from their team, and they looked physically and mentally fragile. It was astonishingly un-England-like. They loaded up the gun, pointed it at their foot, and emptied both barrels.
Scotland had the ball in England's half three times in the opening forty minutes (yes, I said half, not 22) and came away with 10 points. Their red-zone possession totalled seven seconds in that period, an incredible strike rate. England had roughly two-thirds of possession and three-quarters of the territory but Scotland led 10-6 at the break.
That England could not transfer their overwhelming statistical dominance into points and victory will be deeply concerning for Eddie Jones. The decision-making, in particular, left you scratching your head. Every time England worked the ball to the edges of the Scottish defence, they looked panicked. Every time they created an overlap, they chose to kick in behind rather than exploit the mismatch they'd set up. Why? Was this a pre-determined tactic? Were they scared of Chris Harris and his defensive prowess?
They'd done the hard work by getting in to Scotland's third and then took the pressure right back off again. Scotland exited cleanly over and over. The thought process behind what England's backline was trying to do, I did not understand. They were totally toothless.
Compare that with the level of Gregor Townend's cunning and his players' execution. Compare the English strategy with how Scotland schemed and innovated to make their tries happen. George Turner, the hooker, was often lurking way behind the defence by the touchline when Ben Youngs was box-kicking out of England's 22. That meant he could carry if the ball stayed in, or be quickly in place for a line-out throw. Schalk Brits used to play that role for Saracens and on Saturday, it was a masterstroke.
Townsend does not have a massive pack who can bludgeon a team to death. He never will. Scotland don't make many players in that mould. He does have a team who can shift the point of contact, be creative, and have now found the precious ability to hang in games when they need to dog it out, striking from nothing when they get a sniff.
Turner's quick line-out to Jamie Ritchie caught England on the hop. They weren't allowed to set their line-out or defensive line. That's what rugby is all about: being smart enough to stress opposition. One good ball-carry, and a phase later, on a premeditated short-side return play Maro Itoje shoots out of the line, disconnecting himself from those beside him, and Darcy Graham carves England open.
That is off-field, pre-match intelligence from Townsend. His players implemented it brilliantly.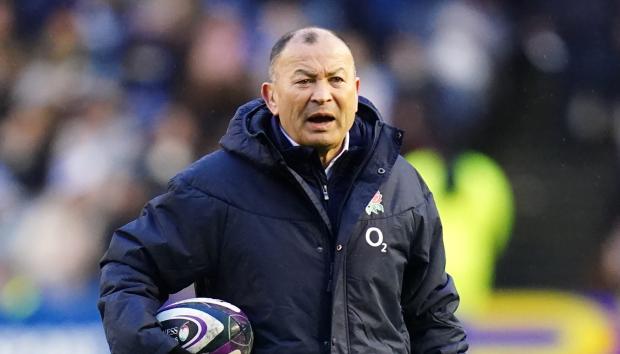 Where England's kicking was limited, Finn Russell's was outstanding. Every time he went long, he found grass or the touchline. He turned England's back three again and again.
Before the match, Scottish Rugby sponsors Tennents had branding up across the city, encouraging Scotland to 'get Finntae' England. The play-maker and mischief-maker duly delivered.
Finn is one of the few players on the planet with the vision and nous to make Scotland's second try happen. Most – I'd say 99.9 per cent – would not even consider back-to-back cross-kicks an option, let alone be skilled enough to pull them off.
His first kick, from right to left, drew in so many defenders as Duhan van der Merwe thundered away. Cowan-Dickie was left defending the opposite flank. In a sweeper system which England operate, that should never happen. It is not right. Russell cruelly exposed him. A piece of carefully created and curated chaos.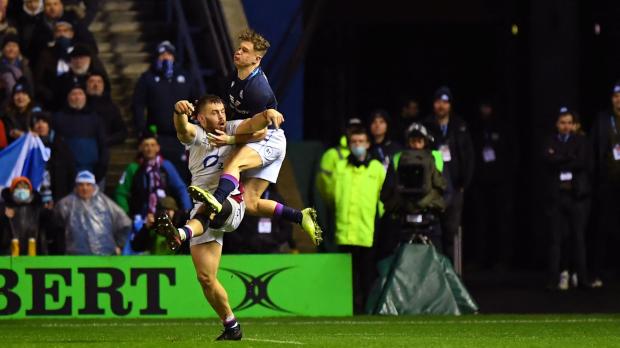 In the aftermath, Cowan-Dickie apologised on social media having batted the ball deliberately into touch, earning himself a yellow card and Scotland a penalty try. He has no need to say sorry. There are few more committed, dynamic and full-blooded competitors in the game. He was a fish out of water, trying to perform a skill he has never been coached to perform, to save his team in a Calcutta Cup match. He tried to do the right thing.
The Cowan-Dickie incident raised more questions about what England were up to in the heat of battle. With no hooker, Marler threw in to a line-out that looked it had been dreamed up on the fly. In that situation, if you choose not to bring on a hooker, or cannot get one on, you let the scrum-half throw over the top and get the hell out of there. At Bayonne, we called that play Tom Brady.
England didn't seem to have that level of detail. What was their Plan B? They couldn't problem-solve on the field. They went from Cowan-Dickie's error, to Marler's illegal throw, to defending the scrum with seven men. You have to commit or sacrifice a back there. You have to have eight men in that shove. It is just fundamental. Their scrum was squeezed, they conceded a penalty, and Russell put over the decisive three points.
With every error and every infringement, you also got the sense the Scottish players and crowd grew in belief, a crescendo built at least half by England's failings.
Even at the frenetic, anxiety-laden end with several minutes of reset scrums, England were so concentrated on the double-shove that not one of their pack got out to clear the first phase. Neither did the backline. The ball-carrier was completely isolated, so much so that the smallest man on the pitch, Darcy Graham, was able to turn him over. England were just not at the races in the moments that mattered.
In amongst it all, Jones made the huge decision to replace Marcus Smith with George Ford. As terrific as Ford has been for Leicester, and as first-class as his tactical kicking is, it looked like the wrong call. Smith played very well – it was what happened outside him that went wrong. Removing him for the final throes reeked of a lingering lack of trust from the head coach.
I don't want to heap more pressure on Jones, who is one of the game's shrewdest and most successful operators. But after finishing fifth in last year's Six Nations, after losing to Scotland again and potentially facing another championship in the bottom half of the table, does the RFU have to consider making a change? That is their biggest question as the 2023 World Cup looms.
Townsend completely outcoached Jones and not for the first time. England looked completely blunt and brittle despite their vastly superior resources. That is why questions should and will be asked.
For Scotland, Wales await. They have not won in Cardiff since 2002 and believe me, winning in Llanelli in front of nobody in 2020 is not the same as going to the Principality with 80,000. It is a fiendishly difficult place to conquer.
Scotland have to start extremely well, quieten that crowd, and be hugely physical. They have to be better than they were in round one, for they cannot give teams as much possession and territory as they did England and expect to win consistently. They have to control the game. But it is a massive opportunity against a Wales side thumped by Ireland and missing shedloads of experience.
Working with Lawrence Dallaglio on Saturday, he said he'd played Scotland nine times and won all but two. This Scottish team have shifted the dial in a way that was hard to imagine even five years ago. Now is their time to make momentum count.
Comments
Join free and tell us what you really think!
Join Free