How a catalogue of red flags are mounting against van Graan despite thrashing of Ulster
Munster supporters exited Thomond Park on Saturday night on cloud nine following their record PRO14 derby destruction of hapless Irish rivals Ulster.
However, even this nine-tries-to-one victory couldn't mask how the honeymoon is over for head coach Johann van Graan. The next few months on the road will make or break his fledgling reign.
Nearly a year to the day since he was confirmed to succeed Rassie Erasmus, the South African is clued into using the supportive crowds in Limerick and Cork as a 16th man to help get the job comfortably done at those venues.
His 85.7 percent home win record (12 wins in 14 matches) is not that far off the 90.4 percent (19 wins in 21) benchmark Erasmus set during his short-lived stint at the Irish province. But making home a fortress is only one part of a twin-pronged challenge.
Continue reading below…
Van Gran's figures away from home are terrible and need swift improvement. Daunting trips to Leinster and Exeter are next on their itinerary.
How bad are his away day numbers? Of the four coaches who have held the Munster reins since Tony McGahan delivered the province's last trophy in 2011, van Graan ranks worst.
HOW MUNSTER'S COACHES COMPARE
RASSIE ERASMUS
Home – W19 L2 (90.4%)
Away – W13 D1 L7 (61.9%)
Overall – W32 D1 L9 (76.1%)

ROB PENNEY
Home – W23 D1 L5 (79.3%)
Away – W15 L17 (46.8%)
Overall – W38 D1 L22 (62.2%)

JOHANN VAN GRAAN
Home – W12 D1 L1 (85.7%)
Away – W4 L8 (33.3%),
Overall – W16 D1 L9 (61.5%)

ANTHONY FOLEY
Home – W22 L7 (75.8%)
Away – W13 D2 L14 (44.8%)
Overall – W36 D2 L21 (61.0%)
Just four of a dozen matches have been won so far, his 33.3 per cent success rate placing him below the late Anthony Foley on 44.8 percent (13 wins in 29 trips), Rob Penney on 46.8 per cent (15 wins in 32 trips) and Erasmus on 61.9 percent (13 wins in 21 trips).
Already hammered at Glasgow and Cardiff this September, it's a rot that can't be allowed continue if Munster are to genuinely possess realistic hopes of ending their trophy drought this season.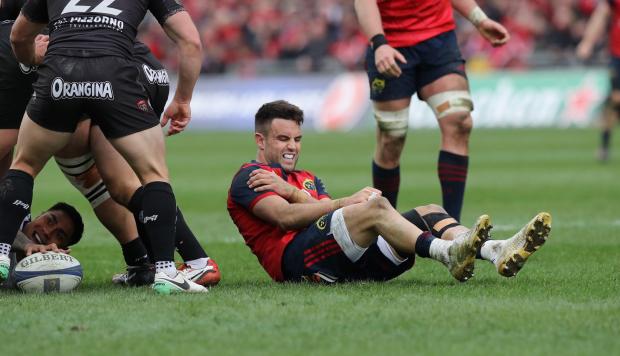 Unproven van Graan was always a risky appointment. The province was crippled by timing when forced to dip into the global coaching market in summer 2017, Erasmus leaving them vulnerable when only confirming in late June he was quitting.
Van Graan was eventually anointed ahead of fellow South African David Wessels, who opted instead for Super Rugby's Melbourne Rebels, but there was no great fanfare accompanying his appointment.
Whereas the way more experienced Eramsus ran the entire shooting match at Munster under the title of director of rugby, van Gran's inexperience was highlighted by his responsibilities being limited to a head coach remit.
Further compounding the difference between what Munster had and what they were getting was the fact that the incoming 38-year-old rookie hadn't been a head coach of any team since bossing his old schools team in Pretoria in 2002.
There was fleeting hope a director would still be recruited to fill the experience void. 'All secure coaches would feel even securer if they had a really, really experienced figure over them, giving them direction,' suggested Ronan O'Gara at the time. However, cash-strapped Munster opted against sourcing a director.
Who knows the exact extent this thinking is having on Munster. It was curious last week, though, how assistant coach Jerry Flannery, in an in-depth Irish Sunday newspaper interview, repeatedly sung Erasmus' praise without making a single mention of van Graan, his current boss.
Assistants want to constantly learn but what is van Graan, who only ever worked in the shadows at the Springboks and the Bulls, really offering the likes of forwards specialist Flannery and Felix Jones, the highly rated attack coach, as he learns on the go?
It's said Munster's players appreciate van Graan's arm-around-the-shoulder style of management. Look at how he frequently plays down media speculation about contracts and even steadfastly defended Gerbrandt Grobler when his shady doping past became a heated talking point last January.
But a catalogue of red flags is starting to build regarding the decision-making of an inexperienced head coach who is struggling for winning ideas on the road.
He often mentions in post-match media conferences how he needs to review the action on the video before properly commenting, a kick-for-touch philosophy that leaves you wondering how impulsive an operator he is in reacting to the ebb and flow of a game as it unfolds before his eyes.
Take the recent 24-point shellacking at Cardiff. Despite his tiring team being under-the-pump, van Graan waited until the 75th minute to change three of his energy-sapped pack's front five. Replacement half-backs were also left on the bench unused in a contest where fresh legs were needed.
Dithering on the road isn't new, van Graan's most expensive error occurring when he started inexperienced Alex Wootton in place of Simon Zebo in last April's European semi-final.
Hopes of reaching the decider were swiftly shredded by Teddy Thomas, Wootton's direct opponent, who scored twice and gave an assist in a devastating opening quarter. What left the sourest taste was the sight of replacement Zebo instigating a last-quarter fightback.
If he was fit enough to do that as a sub, then he was surely fit enough to start rather than van Graan gamble on selecting a rookie for the biggest match of his career? The punt backfired spectacularly.
Defence is the area where Munster are suffering most on their travels, issues at the breakdown leaving their line exposed.
While they have conceded just 18 tries and kept two clean sheets in van Graan's 14 home games, they have leaked 32 tries in 12 away matches without managing a single clean sheet. That's quite a difference.
Especially undermining them is porous first-half defending, far too many opposition tries arriving in twos and threes in short periods of time. This season alone, Cardiff struck for two in a 10-minute first-half spell just 13 days after Glasgow grabbed three tries in a jolting 14-minute opening half burst.
Under the spotlight is JP Ferreira, the unknown South African recruited by van Graan last December to replace the much-liked Jacques Nienaber who followed Erasmus to the Springboks.
The Ferreira era began disastrously. Three tries were conceded in a 14-minute first-half spell in a home loss to Leinster, flakiness followed by a four-try leakage in the closing 22 minutes of a madcap loss at Ulster.
This defensive attrition has continued on their travels and it's why salivating Leinster and Exeter are licking their lips with Munster respectively due at Aviva Stadium and Sandy Park in the coming weekends.
Those league defeats were evidence the soft away-day underbelly which existed last season hasn't yet been remedied despite a full summer of planning. It needs solving by van Graan or he could fall prey to an IRFU intervention next summer.
Contracts mean nothing these days in Irish rugby. Look at how Matt O'Connor was ousted at Leinster, Les Kiss booted out of Ulster and Kieran Keane handed his P45 at Connacht. Those sackings illustrate how the supposed safety net of a contract through to summer 2020 is not much security for van Graan.
It's high time then he started delivering much better away results to convince everyone he actually does have what it takes to be a successful Munster head coach.
Comments
Join free and tell us what you really think!
Join Free