'Your family suffer because they can see you're distraught after a game... Sunday morning comes around and you're still grumpy, still edgy'
Tom Youngs isn't in the business of telling white lies about Leicester's ugly Premiership campaign. Eleven defeats in 17 matches have them dangling in 10th spot, just five points clear of relegation. Unthinkable. 
So bad is their form, the loss of four of their last five games resulted in Mike Ford being parachuted in this week as an emergency coach ahead of Saturday's showdown with table-topping Exeter. 
Youngs refuses to sugar-coat the stark reality of Tigers' dramatic fall. They have gone from a trophy-winning club to one perilously looking over its shoulder, spooked by fears of a first-ever drop into the Championship wilderness. 
"We haven't performed well enough this season, haven't got enough wins and we probably do deserve to be where we have been. There are reasons around that, but we fully deserve to be where we are at," said the non-nonsense hooker to RugbyPass.
"We have to accept that, realise where we are and understand how a club of this nature is not used to being down there but we are. We have to deal with it. 
Here's how we're looking as we head into a European weekend ?@ExeterChiefs seal a semi-final spot ?@gloucesterrugby and @Harlequins swap places ?@SaintsRugby up ?? spots to fifth

And it's getting TENSE at the bottom ? Can @FalconsRugby escape the drop? pic.twitter.com/i7Dh2qLc99

— Premiership Rugby (@premrugby) March 24, 2019
"This club expects to win trophies. We expect to be up there at the top and we're not and we know this is not good enough. We know that everyone suffers around us, the fanbase, the coaches, everyone. Your family suffer because they can see you're distraught after a game, you're not quite yourself and the Sunday morning comes around and you're still a bit grumpy, still a bit edgy. You are dealt these cards sometimes.
"We all want to win because that is why we play sport. You don't play it to lose. We want to win because there is no other feeling like it and it's frustrating when you're not getting that. There is a lot of straight-talking, a lot of coming together, a lot of the sort of 'c'mon lads, let's try and stay positive on things'.
"You can into a very negative cycle very quickly and that doesn't help anyone. There's not much we can hang our hat on at the minute, but we have to keep on trying to deliver.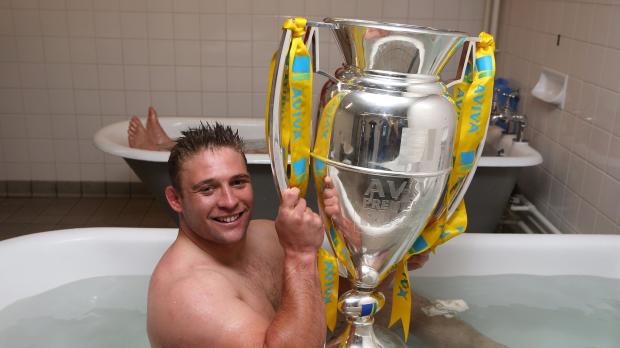 "The atmosphere is a frustrated one, especially when it isn't going well," he continued about the current mood at Welford Road, the ground that will host three of their five matches on the crucial run-in which also features an April 12 game away at bottom club Newcastle. "But at the same time when it's going well it's a hell of an atmosphere.
"It's down to us players and staff to produce a performance which gets the crowd on its feet. We haven't done that. Last time we were off and got punished by a Northampton side who were very good. It frustrates me, it pains me to say, but that is the reality. We have to be better than that."
It might sound strange to hear Youngs getting so worked up about his rugby and so disappointed with how poorly Leicester are doing. Having gone through the ordeal where his wife Tiffany was diagnosed with incurable cancer in April 2017 before she inspiringly bounced back to beat it, it's fair to suggest there are far more important things in life than sport.
I have had lots of people asking to donate for what I have been through in the last 4 years so I have setup an Justgiving page so please donate. Thank you ? xxxx https://t.co/ScsJOaZxz4

— Tiffany Youngs (@SandsTiffany) August 4, 2018
But having emerged the other side from this difficult family situation, Youngs is putting that traumatic experience to use in handling the duress of Leicester's underwhelming season.
"I have learned a lot of life lessons in a very short amount of time regarding that so yes, it definitely does help with trying to keep people's heads and stuff like that. Yes, I'm a firm believer in that lesson has taught me a lot and helps me in regards to pressure situations like we are going through.
"Rugby is very important to my family. Yes, it's a game but it's probably a little bit more than that. Everyone in the family wants to see you succeed and stuff like that.
One thing I know is having gone through the stuff with Tiff, you have to keep battling on and I'll tell you it's a funny old wheel which doesn't turn for the good, it really is. You have got to keep working hard at things and you keep pushing, pushing and pushing and it will turn. Hopefully we will get somewhere near that on Saturday."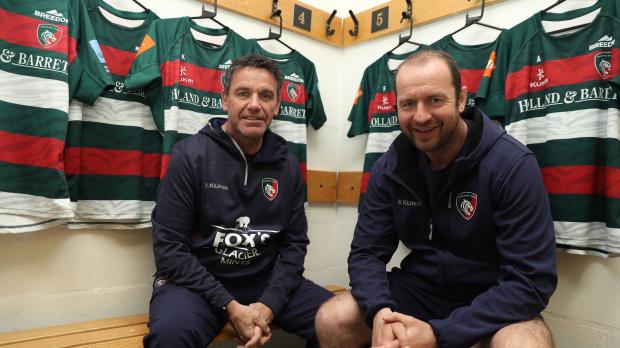 Leicester's 6-40 trouncing at Sandy Park on the opening weekend of the season was the first step towards the relegation crisis that has now enveloped the club. Matt O'Connor was sacked two days after that humiliating loss at Exeter and his successor Geordan Murphy has endured a baptism of fire in his debut head coaching role. 
Seven months later, Tigers are cornered and need to come out fighting if their disastrous season isn't to have a disastrous denouement. "You have to deal with this and front up. That is what we have to do as a group and we will be ready for a good battle with Exeter," continued Youngs.
"Things haven't quite gone our way but that is life in some regards and sometimes you have to really bite in and dig your way out of it which we will do. The big thing is we can't let it effect how we want to play, we can't let it tie us up and we can't let us be scared to do stuff. That is the big thing.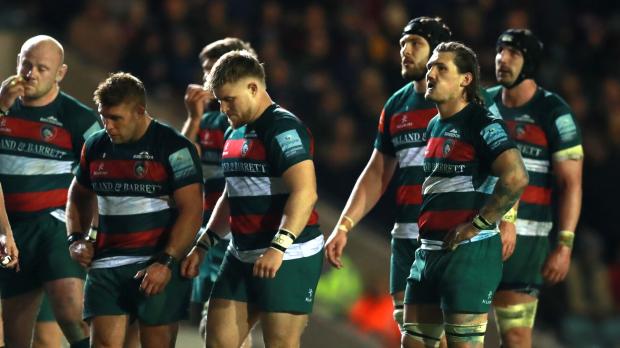 "Pressure is a funny thing, it can make you narrow minded. Also, pressure can make a group really come out of its shell, really take the bull by the horn. We have got a lot of experienced players in our team who have played a lot of rugby, a lot of pressured rugby. Those guys will be fully tuned in. Those England boys will be rested up and it will be good for us as a team.
"Exeter are a quality side. I don't think I will say they are Leicester of old because personally they don't want to be tarnished with that. Leicester of old is the Leicester of old. Exeter are a very good side. They grind wins out. They have got a good forward pack and they have got a good DNA where it works for them and they deserve to be at the top of the table. 
"They have won plenty of games on the road, have won home games comfortably at times and they are a quality side. It's a huge challenge for us. But this sport is a funny thing and things can turn on its head very quickly."
We were with @IlkestonRugby U10s last week, the local winners of our #TrainWithYourHeroes competition for @LeicesterTigers, led by club legends @TomYoungs87, Mathew Tait and Matt Smith. Take a look at the video here… #GallagherPrem pic.twitter.com/YFrYLIN82m

— Gallagher UK (@GallagherUK) April 3, 2019
Away from rugby, Youngs is hoping the ongoing Brexit saga can finally be resolved. Having grown up on the family farm in Norfolk that is run by his father Nick, the hooker hopes to retire to the countryside once his rugby career is over. "I haven't got a clue (what will happen with Brexit). It's one of those things, it has got to the point where everyone is frustrated and wants someone to make a decision.
"Until we know exactly where we are we can't make plans to try and forecast the future. At the moment the future is looking very narrow because we don't know what we're doing. Until we know exactly what the plan is, it's something a little out of our control.
"We have stuff definitely going to Europe (for sale from the farm), but in farming sometimes you have got to change and go with the flow. In times like this you have to deal with things and find the best way out.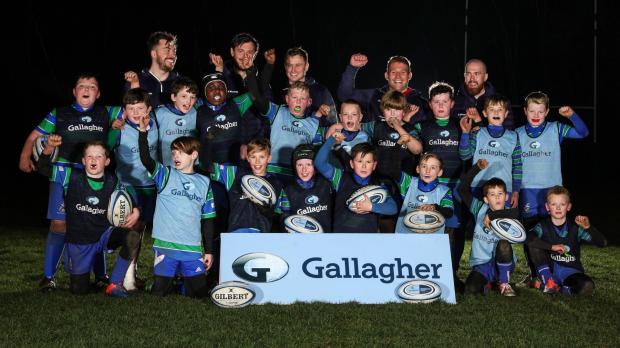 Going home is something he now struggles to do. Rugby and school runs take precedence, but there will come a time when farming is again at the epicentre of Youngs' routine. "I love coming back to your roots. It's always a good laugh to get on a tractor again and do some work. Going back to your grassroots goes back to your memories when you were a young boy. Life was very different then to now, but it's something I really look forward to doing when I retire, going home to the farm. I'm very excited about that."
Having just attended a Gallagher Premiership Train with your Heroes session on Leicester's behalf with the Ilkeston under-10s, he has been having flashbacks to his own earthy start in rugby in Norfolk. "It's nice to come down to Ilkeston. It makes you remember how it all starts, reminds me of my rugby club Holt where it all started for me. I have never forgotten where I have come from. I go back to visit the club a lot. They are a big part of my rugby journey and got me first running with the rugby ball and enjoying the sport."
Comments
Join free and tell us what you really think!
Join Free