The unheralded Welsh prop that left Mako Vunipola in a heap
Harri O'Connor is relaxing in sunny Lanzarote after a long hard season when his phone rings unexpectedly.
On the other end of the line is Scarlets general manager of rugby Jon Daniels who informs him he has been called into the Wales squad for their tour of South Africa. To say O'Connor was shocked would be an understatement, he has after all only started one game of senior professional rugby for the Scarlets up to this point in time with eight further appearances from the bench.
"I was on holiday in Lanzarote relaxing in the swimming pool when I got the call," he recalls. "It was a big shock when I got told the news by Jon Daniels.
"I didn't really know what to say but I suppose it was a mixture of excitement and nerves, and it was obviously a proud moment for myself and my family.
"I'd never thought about being in the squad, it hadn't even crossed my mind. But once the shock wore off I took it in my stride because at the end of the day you've got a job to do.
"I then spoke to a member of the Wales management team, and they got me on a flight back to Wales on the Sunday so I could join up with the squad before flying out with the boys to South Africa for the tour."
O'Connor joined up with the Wales squad at their Vale of Glamorgan training base on the Monday before flying with the squad to South Africa. He admits being starstruck by the quality of player he was training with, and even though he didn't get any game time during Wales' heroic 2-1 series defeat to the Springboks he's put it down as a great learning experience.
Croeso Harri O'Connor who has been called up to the ??????? squad.

3?4? players will now travel to ?? pic.twitter.com/p6PTsA7V8M

— Welsh Rugby Union ? (@WelshRugbyUnion) June 21, 2022
"It was a bit mad just walking into a room seeing these guys who you'd grown up watching on television like Alun Wyn Jones, and then seeing them train," he said.
"A few days before I never thought I'd be anywhere near this level yet. It was really surreal.
"Obviously, I would have loved to have got on the field, but it was still a great learning experience. I picked up a lot of tips about scrummaging while I was in the Wales squad.
"The intensity that they train at is unreal as is the physicality. I fared well in the scrummaging sessions, that was totally fine. I pride myself on my scrummaging, but I want to be an allrounder.
"I don't just want to be a good scrummager who offers nothing else because the way the game is evolving now you could see games where there's six scrums or there could be 15.
"Scrummaging needs to come first but I can offer a lot around the field as well." The surname O'Connor might not be instantly recognisable in Welsh rugby at this present moment in time but that is likely to change over the next few years.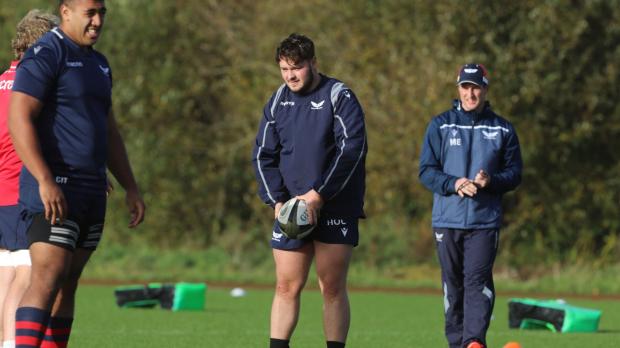 Harri and his younger brother Sam, who is a loosehead and has just been promoted to the senior Scarlets squad, are considered two of the best prospects in Welsh rugby. With a dearth of quality scrummaging tightheads in Wales the elder O'Connor is seen by many within the game as a candidate to become the long-term successor to Tomas Francis in the Wales number three shirt.
One professional coach within Welsh rugby, who declined to be named, told this writer: "Harri and Sam are two of the best young prospects in Welsh rugby.
"Harri has the potential to be a very powerful and destructive scrummager at the highest level. He'll have knocks along the way, but he has all the ability, and he's also a good carrier.
"Sam is also a good scrummager but he is very good around the park and produces a lot of x-factor moments. It wasn't uncommon to see him make 50 metre breaks at age grade level which is obviously rare for a prop.
"Wales were very keen to get the pair of them into the Exiles programme because there was interest from England at age grade level along with a few Gallagher Premiership clubs. You can never be certain about anything because players get injured and unexpected events can occur, but I'd be very surprised if Sam and Harri didn't go on to win a lot of caps for Wales in the future provided they keep working hard and stay fit."
? URC debut
? Derby win

Hear what Harri O'Connor had to say after a night to remember

Am noson i Harri gael ei ymddangosiad cyntaf! #SCAvOSP pic.twitter.com/MUBIiAPcGf

— Scarlets Rugby (@scarlets_rugby) January 1, 2022
One senior international who has already felt the full force of O'Connor's scrummaging is England and British & Irish Lions prop Mako Vunipola. O'Connor spent a few months on loan at Nottingham in the Championship when he came up against Saracens as a second-half replacement. While Saracens won the game at a canter O'Connor gave the experienced England prop a torrid time at the set-piece, with footage circulating afterwards of the Scarlets man shoving him backwards at a rate of knots in one scrum.
"Coming up against Mako Vunipola and being able to scrummage against him was a really good experience for me," he said.
"You've just got to put your head down and fly into it. My loan move to Nottingham was a really good experience for me.
"I've played a lot of Welsh Premiership and learnt a lot playing for Llandovery, but the English Championship is different. It's a lot quicker and more physical.
"I was learning off a great scrummaging coach up in Nottingham in Neil Fowkes who is at Wasps now, so it was good to have another input on my scrummaging."
O'Connor may have been born in Northallerton and brought up in Dorchester but there's no doubt whatsoever where his allegiances lie with both his parents hailing from Swansea. He found his way to the Scarlets via the Welsh Exiles programme who identified him while he was in the Bath Academy, and promptly moved him to the prestigious Llandovery College where he was brought into the then Cardiff Blues system before pledging his long-term future to the Scarlets.
As an infant O'Connor moved around various countries due to his father's career in the army. His dad, David, was a sergeant major in the British Army and saw serious action serving four times in Iraq, Bosnia, Kosovo, and Northern Ireland. It comes as no surprise then to see him identify his father as the biggest influence on his career.
"My dad was in the tank regiment where he served for 27 years," he said. "He was basically in charge of a group of tanks, and he got posted around the world.
"He did a lot of tours of Afghanistan and Iraq and saw quite a bit of action. He was away quite a bit when me and my brother were little.
"My older sister and brother were born in Wales. Just at the time my dad was in army we were based in England, and that's when me and my brother were born.
"As soon as my younger brother was born, we moved to Germany for a year, and then Saudi Arabia for 18 months but I was brought up in Dorchester on the south coast."
While O'Connor evidently figures in the long-term planning of Wayne Pivac and his Wales coaching team his main priority is breaking into the Scarlets side for the upcoming season. He has a lot of competition on his hands with Scotland tighthead Javan Sebastian, and Wales internationals WillGriff John and Samson Lee vying for the Scarlets number three shirt but O'Connor is confident he is up to the challenge.
"I back myself 100 per cent," he said. "There's good competition down there but it will only make us better but I back myself against anyone as a scrummager.
"I'm just going to put my head down, work hard, and hopefully I can get more gametime. Scrummaging against Wyn Jones throughout the week is so beneficial.
"In my first Scarlets training session I scrummaged against Wyn and Rob Evans who are two of the best scrummagers in the business so you can't really ask for harder sessions that that.
"They are brilliant at giving pointers, and Samson Lee has also been a big help to me as well."
Scrummaging is a family affair for the O'Connor's with Harri packing down against his younger brother Sam on a weekly basis. They are also housemates but there is no love lost when it comes to scrummaging against each other. The pair are also extremely fortunate to have an experienced mentor in former All Blacks World Cup winning prop Ben Franks who is forwards coach at the Scarlets.
"Ben Franks is having a massive influence on me," he said. "He's always looking for that extra one percenter, and he's looking at every way you can get better.
"The older boys in the group are also driving standards. You look at the way they train as a young player and take inspiration from that.
"Ben is good at giving little tips to props because he spent so many years scrummaging at international level, so he knows what it takes. If you are struggling with certain aspects of your scrum, he is good to talk to and he'll work hard with you to find a solution.
"My brother Sam is also my best mate. He always gives me honest feedback and we scrummage against each other in training on a daily basis.
"There's no love lost when we scrummage against each other, we go full pelt. But it's good because he'll pop up and tell me what I've done well and what I've done wrong while I'll say the same to him.
"It's an open channel. Some props won't want to give away any secrets because then you can unlock them any time.
"One of my biggest goals in the game is to pack down in the same scrum as Sam for the Scarlets. That would be a dream come true."
Professional rugby can be a bumpy ride at times with a player's future never certain, but you get the feeling it's worth keeping an eye on the O'Connor brothers over the coming years.
Comments
Join free and tell us what you really think!
Join Free