Schoolboy sprint sensation Edward Osei-Nketia named in NZ sevens talent identification camp
New Zealand sprint star Edward Osei-Nketia has taken a step closer to a potential career in rugby after being named to attend a sevens talent identification camp next month.
The 18-year-old will be present at the Red Bull Ignite programme – designed by New Zealand Rugby to uncover young rugby and non-rugby playing athletes with potential in the sevens format of the game – in a non-playing capacity as he looks to keep his future rugby options open.
He will join 95 other athletes, including members of the New Zealand Schools rugby side, nationally-ranked surf life savers, representative netballers, New Zealand age grade water polo stars and internationally decorated rowers, at the event in Auckland.
Continue reading below…
Osei-Nketia recently returned to New Zealand from the World Athletics Championships in Doha, where he was just 0.01 seconds shy of qualifying for a berth in the semi-finals.
By competing at the event, he followed the footsteps of his Ghanian-born father Gus Nketia, who competed at the world championships, Commonwealth Games and Olympic Games, and holds the New Zealand 100m record with a time of 10.11 seconds.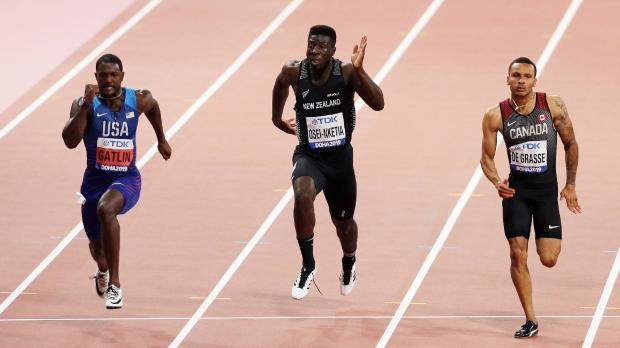 Earlier this year, Osei-Nketia dominated headlines after claiming the New Zealand 100m title in convincing fashion as a 17-year-old in March.
He followed that up by winning the Australian national title in Sydney a month later, setting a blistering personal best time of 10.19 seconds in the semi-finals, making him the fourth-fastest New Zealand sprinter in history.
So promising is Osei-Nketia, who also won gold at the Oceania Athletics Championships in Townsville in June, that former Olympic sprinter Chris Donaldson has tipped him to become the first New Zealander to break the 10-second barrier.
Departing Wallabies great David Pocock has confirmed he won't be coming out of retirement to add to his 83 test caps. #RWC2019 https://t.co/zT1nr1JjZW

— RugbyPass (@RugbyPass) October 23, 2019
"If he's running those times there's no doubt he has potential. Whether that happens or takes place is a different story but at the moment, with the times he's running and with his progressions, and even the way he is physically, there's no reason why he shouldn't," Donaldson said to Stuff.
Osei-Nketia is aiming to qualify for next year's Olympics in Tokyo as a sprinter, but has also expressed his intentions of representing the All Blacks in the future.
The Auckland-born youngster spent some time growing up in Canberra, and was a schoolboy rugby star during his time at St Edmunds College, telling Stuff earlier this year that he averaged "three to four" tries per game.
That spurred a trans-Tasman, cross-code war between New Zealand's and Australia's rugby and athletics organisations for Osei-Nketia's services, while six-figure offers were reportedly thrown his way by NRL and AFL clubs, despite the teenager having never played rugby league or Australian football.
For the time being, Athletics New Zealand have come out as victors, but – with the blessings from athletics officials – New Zealand Rugby met with the teenager earlier in the year, and he has now been given the opportunity to build on his interest in rugby with an introduction into an elite sevens environment.
"Really it was his interest and we've all collaborated together around what's best for him," NZR high performance sevens development manager Chad Tuoro told Stuff.
"He's firmly focused on qualifying for the Tokyo Olympics with athletics… how exciting is that? So it was then going well, when can we get some touch points in rugby that doesn't compromise his preparation."
With dimensions of 1.90m and 95kg, it's easy to understand why Osei-Nketia has become an athlete in demand and why NZR are desperate to secure his future.
Now attending Scots College in Wellington, Osei-Nketia was initially set to represent the school in both rugby and athletics this year, but his 1st XV ambitions were halted as a result of the booming success he garnered in track and field.
Wales' Ross Moriarty relives the moment in the quarter-final versus France when he feared being red-carded https://t.co/MYDMDk4Q2y

— RugbyPass (@RugbyPass) October 22, 2019
However, he may be faced with a difficult decision following Tokyo 2020, as Tuoro told Stuff that he would likely need to focus solely on rugby from 2021 if he is to excel at an elite level.
Sources close to Osei-Nketia, though, suggested to RugbyPass following the World Athletics Championships that a cross-code switch is still very much on the table in a couple of years' time.
"[His] main sport is athletics so this is a chance to connect with him really, and then after the Olympics see what happens from there," Tuoro said to Stuff.
"Rugby's generally a late-developer sport but to try and crack it into the professional space and his age right now, probably after the Olympics is a logical time to switch. And, being biased, sevens would probably be a good entry point into rugby."
Six of the 96 athletes attending the Red Bull Ignite event will be handed spots in the All Blacks Sevens and Black Ferns Sevens development camps ahead of their upcoming seasons.
The Black Ferns Sevens kicked off their 2019/20 campaign last month with a third-place finish at the Glendale Sevens in the United States.
They will continue their season at next month's Dubai Sevens, where the All Blacks Sevens will kick-off their World Series campaign as both teams build towards the Tokyo Olympics next August.
In other news:
Comments
Join free and tell us what you really think!
Join Free