Schmidt's full circle, the estranged Aki/Henshaw combo, a bad Toner omen and more as Ireland put qualification on the line
Stuttering Ireland have it all to do in Fukuoka on Saturday to guarantee they make the quarter-finals at a World Cup for the seventh time in nine tournaments.
Their surprise defeat to Japan has left them playing catch-up in Pool A behind the table-topping hosts and they need a result against the Samoans to ensure they reach the knockout stages without having to rely on the outcome of the typhoon-threatened Japanese-Scotland fixture on Sunday.
Here, RugbyPass highlights some of the issues surrounding their showdown against an already-eliminated opposition at a Japanese stadium that is a ringer for Limerick's Thomond Park.
Samoan game sees Schmidt tenure go full circle
Funny how it all works out. The Joe Schmidt era at the helm in Ireland started with a 40-9 November 2013 win over Samoa and while the New Zealander long ago confirmed the 2019 World Cup is his last hurrah in the job, the Irish hope will be that this circle on his reign doesn't fully close with defeat in this Samoan rematch 9,500 kilometres away from where his 75-match tenure first started. 
Ireland are heavily backed to secure the win that will enable them to move onto the quarter-finals and give Schmidt at least one further outing, but after what happened to them in Shizuoka versus the Japanese, there can be no guarantees surrounding their current fortunes. 
(Continue reading below…)
Unlike throughout 2018 when you sat down expecting a high level of consistent performance in their dozen matches which featured 11 wins, Ireland's dozen outings so far in 2019 have been accompanied by the sense that no one knows quite what to expect from a team struggling for accuracy in a run that has featured four defeats. 
Forget the victory over the Russians in their most recent outing. That was a scratchy, energy-less effort with a largely second-string XV that did nothing to dilute the sour taste of the shock loss to Japan. 
Amends still very much need to be made and much focus will fall on the starting Irish pack containing seven of the eight players who underperformed from the start versus the Japanese, Tadhg Beirne for Peter O'Mahony being the only alteration. 
An England 2003 hero issues demand that Ireland to finally deliver at the 2019 World Cup https://t.co/QbPc1Eggar

— RugbyPass (@RugbyPass) October 10, 2019
Ireland's major weakness in their loss to Japan was how ineffectual their pack were carrying when carrying the ball, making just 70 metres off a collective carry of 47 runs. There will be solace that they haven't been the only side curtailed by the Japanese. Samoa's starting pack managed just 59 metres off 46 carries last Saturday in Toyota, a number that would have fallen off the cliff but for the immense contribution of Kane Le'aupepe. 
Off a dozen carries the Hurricanes Super Rugby lock carried for 33 metres, more than half of what his entire pack managed, and he is surely the main danger for Ireland to watch. 
Henshaw and Aki are strangers as a Test level midfield duo
Robbie Henshaw is in the habit of being a late-comer to World Cups due to hamstring injuries. He missed the opening two matches at the 2015 tournament, only arriving in to help Ireland squeeze past Italy to qualify for the quarter-finals. Now he returns having missed three matches to try and achieve the same feat – help Ireland through to the last-eight once more.    
It will be a rare enough run for him, though, in tandem with Bundee Aki in the midfield. When New Zealander Aki became eligible in November 2017 under residency, it was felt Henshaw could go on and reprise his previous Connacht partnership with Aki at Test level. 
This situation regarding Robbie Henshaw is not what Joe Schmidt's Ireland need with the countdown on towards the World Cup opener versus Scotland
https://t.co/luepjYc3n0

— RugbyPass (@RugbyPass) September 14, 2019
However, that hasn't been the case. Aki has started at No12 in 22 of Ireland's past 27 matches but he has only been partnered by Henshaw on a mere six occasions, a mixture of injury, lack of form and a run at full-back all part of the picture. 
They have especially been strangers of late. Just once since the June 2018 series win over Australia in Sydney – last month's warm-up success against Wales in Dublin – have they been Schmidt's preferred pick at No12/No13. The pressure is now on them to make up for lost time. 
Blasts from the past following Ireland around Japan
There has been no escaping Ireland's past at this World Cup as so much of the promotional material around stadiums and at transport hubs in Japan features action shots from the 2015 tournament. 
For instance, just outside the main entrance to Ecopa Stadium is a huge picture of Devin Toner advertising the Japan-Ireland fixture at the ground. How badly missed was the axed Toner that afternoon when the Irish were ambushed by the World Cup hosts?
Similarly, shots from the tournament four years ago are much in evidence around Fukuoka with Sean O'Brien especially prominent. The absence of the injured back row in Japan has hindered Ireland's potency in the collisions and the wish must be that his billboard visibility in Fukuoka isn't the bad omen which the sight of Toner in Shizuoka was.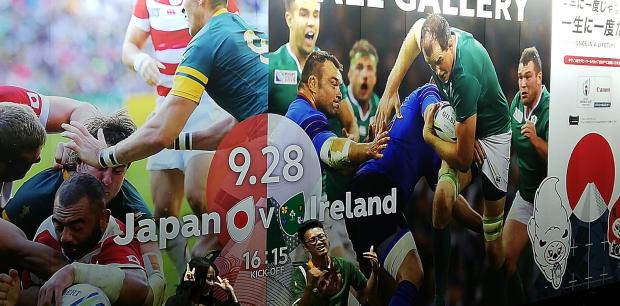 Points slow in arriving for Irish
Scores have been difficult for Ireland to come at the World Cup. Heading into their Pool A decider, they currently are just the tournament's 12th best scorers with 74 points. 
Admittedly, four of the teams above them – tournament-best South Africa on 185, third-place Australia on 136, fifth-place Fiji on 110 and sixth-place Argentina on 106 – have all played one match more, but it is curious all the same how pool rivals Scotland have managed 98 points and Japan have 87, a respective 24 and 13 points more than Joe Schmidt's squad. 
Even more curious is how Ireland have successfully kicked just one penalty in their 240 minutes so far, a figure that ranks them 18th best compared to chart-topping Japan who have kicked 10 penalties in their three matches.
Ireland promised after 2015 they would not be caught winging it at the 2019 RWC with an inexperienced out-half starting at No10 in a big match in place of Johnny Sexton, but they have not delivered on that aim https://t.co/Y2QThUAiJW

— RugbyPass (@RugbyPass) September 27, 2019
Putting Samoans back on the naughty step 
One area where Ireland will be hoping they can prosper is Samoan indiscipline. The Islanders' penalty count has been poor, 33 penalties being conceded in three outings that featured five yellow cards along with a red against Scotland for two of those yellows. Ireland, in contrast, have conceded 23 penalties and shipped just a single yellow card. 
A contrast in a different way, though, is how Ireland have been more prone to kicking the ball from the hands at the tournament than the Samoans. Ireland have given it air from the boot on 83 occasions, way more than Samoa who have done so 66 times, the lowest in a pool where Russia have kicked 112, Scotland 81 and Japan 79. 
WATCH: Scotland head coach Gregor Townsend reiterates his belief their game with Japan will go ahead despite the typhoon warning  
Comments
Join free and tell us what you really think!
Join Free