Post-Six Nations - Which 31 players make Ireland's plane to the Rugby World Cup in Japan?
If you take Joe Schmidt at his word, then Ireland's third place Six Nations finish was an acceptable outcome. Every year the New Zealander has pitched up at the pre-tournament media launch in London and said the same thing – that securing a top-half finish is his aim. 
He got that wish in 2019, but there was no shouting from the rooftops about this successfully completed job. Instead, this was abjectly the year – the first in Schmidt's six-season championship reign – that Ireland didn't click at all to an acceptably consistent level.
Their opening round hijacking by England in Dublin burgled them of the swagger and poise that had been their calling card all through 2018 and they never recovered, the chest puffing surrounding their round four rout of France proving a fleeting mirage in the reality that Ireland had become an operation that had misplaced its confidence.   
They had felt they had this year all sussed, that Schmidt's late November announcement that he will quit his role at the end of the World Cup and that assistant Andy Farrell would succeed him would help drive the squad on to achieve at the finals like never before after yet another encouraging Six Nations.
However, they have now paused for thought concerned that their game plan has been sussed by the opposition and surely anxious that Schmidt's "I'm off" clarification has subconsciously left players dropping off in performance as they are no longer living in fear of him, knowing he will soon be gone. 
(Continue reading below…)
Allowing the players go on the beer in Belfast following a pre-round four training camp was an old school ploy never usually resorted to by the meticulous Schmidt, and it was evidence that the all-conquering vibe that existed during 2018 has been well and truly pierced.
Schmidt's no-nonsense schoolmaster ways had usually delivered the desired on-pitch performances, but this was a campaign where the coach was on the back foot as soon as RugbyPass revealed five days before the England opener that he was planning on gambling with starting Robbie Henshaw at full-back. 
That Monday morning revelation, which gave England advance heads-up on what he was planning, would have fiercely annoyed the Kiwi as he hates his team selections being leaked to the public before their usual official Thursday afternoon announcement. 
Henshaw could make shock positional switch for England match https://t.co/Pz5t60iNE9

— liam heagney (@heagneyl) January 29, 2019
It was a theme that book-ended Ireland's championship as Schmidt finished up last Saturday in Cardiff taking umbrage that his XV to face Wales, which included a first Six Nations start for Tadhg Beirne, had again became public knowledge before it was due to be announced. 
As smokescreens go, it was pretty decent as the fuss he kicked up meant he avoided going into detail about the real story of last weekend – just why had Ireland yet again failed to fire to an acceptable level in a campaign where they were accused of using caveman tactics.  
All talk of potentially winning the World Cup, expectation that spread like a virus last November when the All Blacks were beaten in Dublin, has been rapidly watered down.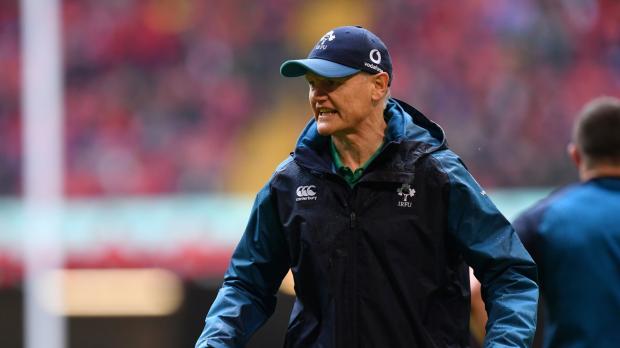 The heat will now be on Schmidt to have his forensic standard of planning back up to scratch by the time the warm-up friendlies against Italy, England and Wales (twice) arrive. Key players must be ready to peak for the finals opener versus Scotland in Yokohama on September 22, but the coach must better choose his squad after it was left far too understrength to cope with a stressful quarter-final versus Argentina four years ago. 
That 31-strong 2015 squad, which again became advance public knowledge and even forced Schmidt into embarrassingly bringing forward the date of its official announcement, had a high-profile casualty in the exclusion of the venerated Gordon D'Arcy.
The split was 17 forwards and 14 backs and if the coach opts for the same divide in six months' time, it will be forwards where there will be most disappointment as the split in the 36 players he used in the 2019 Six Nations was 21 forwards and 15 backs.
Here, RugbyPass sifts through the positional debate, assessing who should keep their passport handy and who Schmidt might be saying sayonara to before Ireland's departure date to Japan from Dublin airport.
3 Looseheads 2019 6N – Healy 4 starts, Kilcoyne 1 start + 4 as sub, McGrath +1 as sub;
2 Looseheads 2015 WC – Healy, McGrath;
You would never have imagined during the 2017 Lions that Jack McGrath, who appeared in seven of the 10 matches and played in all three Tests off the bench, would be in a position where all he merited in this Six Nations was a limited run as a sub in the horrible team performance away to Italy. Cian Healy has turned the clock back to his prime years and has made himself clear first choice for country and club and McGrath's frustrations, which see him considering a possible switch to Ulster from Leinster, have become all the greater with Dave Kilcoyne's energetic emergence. First capped in 2012, he had never started a Six Nations game before February. Both Healy and Kilcoyne have spoken in recent times about individual improvements in their training and this has left McGrath playing catch-up and fearing he could lose out for Japan. 
3 Hookers 2019 6N – Best 4 starts, Cronin 1 start + 2 as sub, Scannell +3 starts;
3 Hookers 2015 WC – Best, Cronin, Strauss.
Being a specialist position, Schmidt won't cut corners and will bring three hookers to Japan. However, he is currently in a bind. There was much talk in 2018 about supposed Ireland strength in depth but so inaccurate was Sean Cronin's throwing in Rome when given a rare Test start, it only reinforced veteran Rory Best's position as first-choice. There was no soft landing either for Cronin as he was mercilessly excluded from the 37-strong squad that assembled to face France in round four, Rob Herring getting a training call-up. Niall Scannell, who featured off the bench in the last two games, did start the series last summer in Australia when Best was rested, but can these back-ups really put enough pressure on Best to ensure the skipper's form is a good as it can be? The warm-up matches will further tell that tale.   
(Continue reading below…)

3 Tightheads 2019 6N – Furlong 5 starts, Porter +3 as sub, Jn Ryan +2 as sub;
3 Tightheads 2015 WC – Furlong, Ross, White.
Furlong had what can be kindly described as a busman's holiday at the 2015 finals, lapping it all up as if he was the kid that had grasped the last golden ticket to the Wonka factory. He has since gone from tackle bag holder to one of Ireland's most important players, a fact underlined by how he was one of seven players to start all five matches in 2019's championship. It's obvious Andrew Porter and John Ryan are considered inferior players, but both will travel to Japan as there is a dearth of competition demanding a look-in.  
6 Second rows 2019 6N – Js Ryan 4 starts, Roux 2 starts + 2 as sub, Dillane 1 start + 2 as sub, Henderson 1 start + 1 as sub, Beirne 1 start, Toner 1 start;
4 Second rows 2015 WC – Henderson, O'Connell, D Ryan, Toner.
It says a lot about how unsettled this position was during Six Nations when you realise that Quinn Roux, who started twice and ran twice more from the bench, didn't make the originally chosen 38-man squad in mid-January that featured five locks. As was the case throughout 2018, the engine room selection is effectively James Ryan plus one. Iain Henderson and Devin Toner will battle for that vote, but the identity of the fourth lock to travel isn't obvious. Tadhg Beirne's breakdown ability at provincial level is immense, but he failed to wield influence as a starter versus Wales and needs a hurry-up at Test level to guarantee he makes the cut.  
6 Back rows 2019 6N – O'Mahony 5 starts, Stander 3 starts, O'Brien 3 starts + 1 as sub, van der Flier 2 starts + 2 as sub, Conan 1 start + 2 as sub, Murphy 1 start;
5 Back rows 2015 WC – Heaslip, Henry, Murphy, O'Brien, O'Mahony.
Pythagoras theorem will likely be required to provide definitive answers here. Schmidt only took five back rows in 2015, but he used six in the recent Six Nations and also has the injured Rhys Ruddock, his usual captain against second-string opposition, and Dan Leavy to factor into the equation. Peter O'Mahony, who started all five in the Six Nations, and CJ Stander are the two stand-out certs to travel, but the picture muddies for there. Sean O'Brien, the subject of an early tournament transfer exclusive revealed by RugbyPass, was allowed sufficient time to play his way into form, but he signed off still looking a shadow of the great player he most recently was on the 2017 Lions. Like McGrath at loosehead, he could be a D'Arcy-type exclusion in 2019 if he doesn't sort out this massive drop-off in standard. 
RugbyPass can reveal that Ireland and Leinster backrow Sean O'Brien is on the move ?? https://t.co/XwpcQABC40

— RugbyPass (@RugbyPass) February 7, 2019
3 Scrum-halves 2019 6N – Murray 5 starts, Cooney +4 as sub, Marmion +1 as sub;
2 Scrum-halves 2015 WC – Murray, Reddan;
This was the position Schmidt most gambled on at the last World Cup. Convention usually is that in the specialist positions a coach will include three of each and make a sacrifice somewhere else. But Ireland travelled with just two No9s to England 2015, the Kiwi taking a punt that out-half Ian Madigan could fill in in an emergency. That crisis didn't materialise, even if Schmidt did use the loss of injured Jared Payne mid-tournament to call in Isaac Boss as quarter-final week cover (Mike McCarthy for Paul O'Connell and Ruddock for O'Mahony were the two other in-tournament serious injury switches). Despite Murray's recent dip in form creating speculation his long-term neck injury might perhaps have restricted his range in some obscure way, he is still streets ahead of the alternatives heading to Japan even though Marmion did step up brilliantly in the win over the All Blacks. Cooney's ability to cover both half-back positions could get him on the plane ahead of a specialist third out-half.
3 Out-halves 2019 6N – Sexton 5 starts, Carbery +2 as sub, Carty +3 as sub;
3 Out-halves 2015 WC – Jackson, Madigan, Sexton; 
A lack of experience among the reserves was one of the conclusions of the 2015 review. Performance chief David Nucifora was perturbed that Madigan, who started the quarter-final loss, had little time the season before in the 10 role at Leinster. Carbery's switch to Munster last summer was a step towards ensuring Ireland wouldn't be caught this short again. That transfer, though, had the consequence of Ian Keatley, a match-winner versus Fiji in November 2017 and the third out-half in the Grand Slam campaign, falling out of favour provincially and leaving for Treviso via London Irish. That left Schmidt suddenly trialling newcomer Jack Carty, whose arrival further underlined the massive chasm in experience between Johnny Sexton and the rest. Sexton was a ghost in 2019 of the 2018 World Player of the Year and he must be managed exquisitely to get his all-important half-back pairing with Murray back in synch. So much is dependant on them.  
'I gave quarter of my life to Munster Rugby and just to leave so quickly.' @iankeatley on the 3 days that changed his rugby life – in conversation with @heagneyl ??? https://t.co/Hfz6OzK5pp

— RugbyPass (@RugbyPass) March 3, 2019
3 centres 2019 6N – Aki 5 starts, Ringrose 3 starts, Farrell 2 starts;
4 Centres 2015 WC – Cave, Fitzgerald, Henshaw, Payne; 
The numbers here suggest Schmidt had a bit of wriggle room, his use of three centres in 2019 one less than at the 2015 World Cup. It can't be neglected, though, that Henshaw was due to be picked at centre versus Scotland following his unpleasant runaround at full-back against England. Midfield is the sector where the coach constantly has had to use different partnerships since taking charge in 2013. His current selection pattern is Aki plus one other, but it continues to be injury rather than form informing that choice. Bases need to be fully covered here as Schmidt wound up winging it at the last World Cup, switching Keith Earls in after Payne pulled up lame rather than show faith in Luke Fitzgerald or Darren Cave.  
6 Back threes 2019 6N – Stockdale 5 starts, Earls 5 starts, R Kearney 3 starts, Larmour 2 starts + 2 as sub, Henshaw 1 start, Conway +2 as sub.
5 Back threes 2015 WC – Bowe, Earls, D Kearney, R Kearney, Zebo.
In Jacob Stockdale and Keith Earls, Ireland posses two excellent finishers who chipped in five of their team's 14 Six Nations tries. If there is a concern with the World Cup approaching, though, it's that Ireland's 2015 exit owed much to the defence becoming too narrow and the recent championship saw the rearguard exposed too much in the wider channels. The concession of four tries against England was illustrative of how Ireland continue to have bad days where they leak far too many tries for a system as highly regarded as Farrell's. Rob Kearney's brittleness is also a worry as he needs to be fully fit and fully capable of shutting the type of door he was unable to close when a chip kick undid Ireland only a minute into the defeat by Wales. The exiled Simon Zebo's experience as a back-up option is still being missed despite the determination of rookies Jordan Larmour and Andrew Conway. 
Comments
Join free and tell us what you really think!
Join Free