Laidlaw's colossal scrap to retain Scotland No.9 jersey and the 4 players plotting his downfall
Only a few months ago, Greig Laidlaw was being written off and dumped on the Test rugby scrapheap in so many quarters.
He was too old. Too slow. He offered no threat to the fringe defence and thus didn't keep them honest. His passing wasn't slick enough. He was a momentum-killer. He was only good for kicking.
Ali Price was Scotland's coming scrum-half and George Horne was in hot pursuit. Together, they would usher the aging maestro off the stage.
Gregor Townsend wants his teams to play fast – faster than anybody else in the world game. Laidlaw was seen as an outdated, ultra-pragmatic speedbump.
It took one week, one catastrophic Six Nations humiliation for opinions to be rapidly revised and the Emergency Laidlaw Klaxon to be sounded at full blast.
Scotland were smithereened in Cardiff on the opening day of this year's championship. Talk of their dazzling outside backs, the off-loading, high-tempo brilliance that might propel them within shouting distance of the title was emphatically silenced. Price, starting at nine, had probably his worst game as a professional and outside him, Finn Russell careered wildly off the rails.
Scotland were rudderless. Townsend sent for Laidlaw, the nation's crisis manager-in-chief.
So many times, Scotland have relied on the indomitable little Borderer to steer them clear of adversity with his leadership, guile and at times sheer truculence.
Flirting with a World Cup exit? Send for Laidlaw. Losing a Test in Japan? Send for Laidlaw. Need a match-winning goal struck with the clock red? Send for Laidlaw. Begin your Six Nations campaign in catastrophe? Send for Laidlaw.
He scored 22 points and sent Huw Jones fizzing in for a try the following week as Scotland beat France, finishing the game at fly-half after Russell succumbed to another wayward turn.
He was a commanding figure in their first Calcutta Cup win for a decade and kicked the winning goal in a bonkers Rome try-fest while the Stadio Olimpico tannoy blared all around him.
This is what Laidlaw does and why Vern Cotter, Townsend's predecessor, valued him so dearly. His portrayal as Captain Killjoy, ponderous slayer of Scottish verve, was grossly unfair. Laidlaw can pass. Laidlaw can play. Laidlaw is an exceptionally clever footballer. You might not see double-somersault-triple-backflip stardust but if the line breaks come and the tries follow, what does it matter?
More importantly, Laidlaw's team-mates trust him. Nobody has captained Scotland in more Tests. Whether it be managing a game, chirping a referee or herding his pack, Laidlaw has savvy that his more callow rivals have not yet attained.
Scotland's backline these days is packed with all manner of game-breaking thoroughbreds but it looks that bit more assured when he is in the saddle.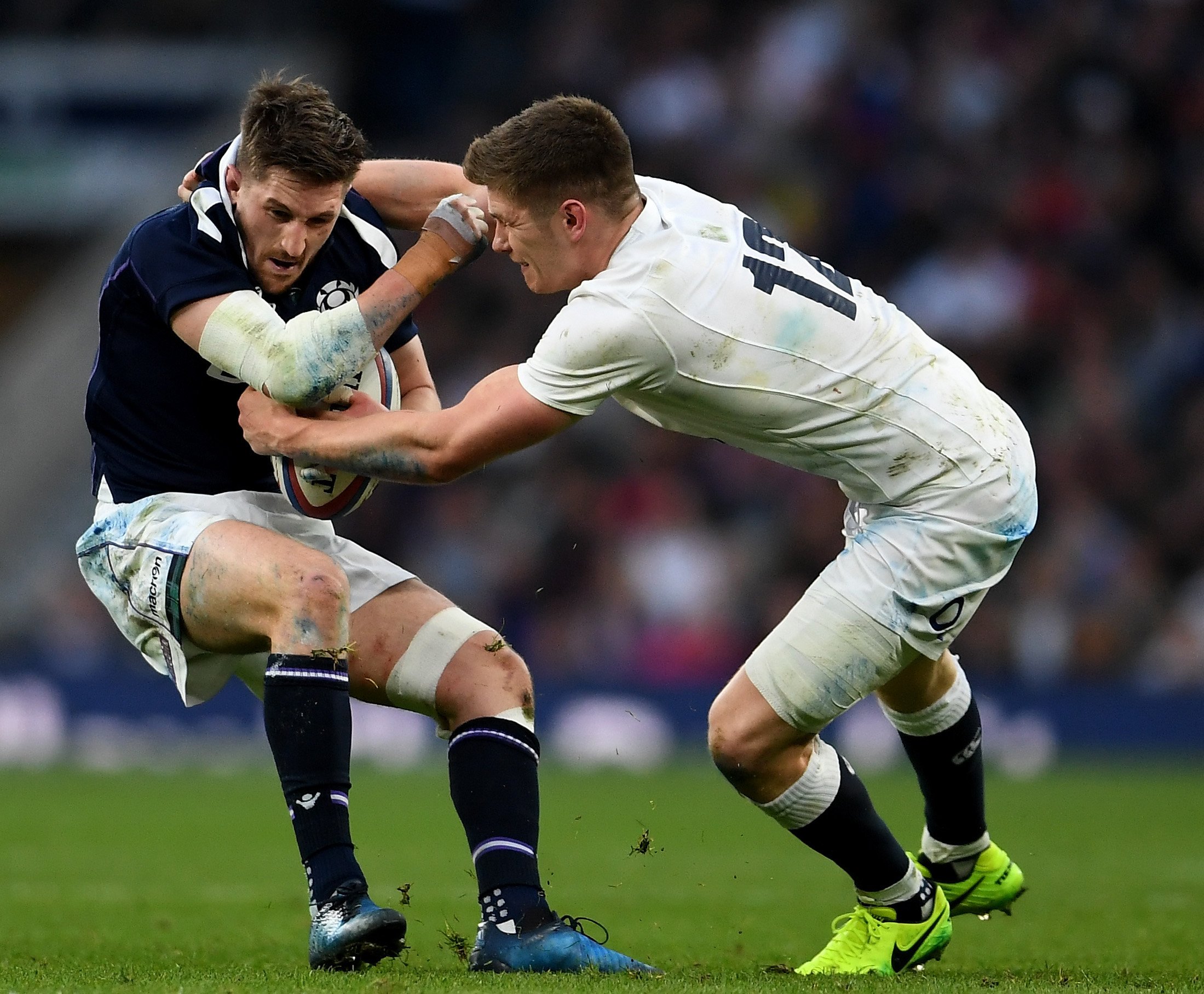 You can build a speedboat and cram the engine with all the horsepower you like – you still need someone to steer it in the right direction.
Nonetheless, Laidlaw has a colossal scrap on his hands heading into the autumn, Six Nations and World Cup beyond.
Price has overcome the mortifying experience in Cardiff, alleged poor fitness and form and found his mojo. Prior to the Welsh debacle, he had been excellent for Glasgow and Scotland, and Dave Rennie has him firing again at Warriors.
Then there's the prolific young Horne. What an exhilarating prospect this guy is. If there's a gap, he'll go through it. If a pass – any pass – is on, he's good enough to make it. You could bind his legs with chains and fill his boots with cement and he'd still be able to sidestep you.
He runs what in modern rugby parlance they call "optimistic" support lines, searing up the inside, often ahead of the ball-carrier, in anticipation of a line break, and gobbled up nine tries in the Pro14 alone last season.
Horne is still raw, but the Glasgow man has the lot, and will probably be given a chance in November to continue outlining his credentials for the more ruthless internationals coming in 2019.
At Edinburgh, Henry Pyrgos is motoring along very nicely indeed under Richard Cockerill. He is a fine tempo-setter, a canny attacker and one of the most underrated players in Scottish rugby. Aged 29, these should be his best years, but his game-time at Glasgow last season was meagre and fleeting. Townsend rates Pyrgos, though, and his beautiful distribution and Laidlaw-esque capacity to run the show might be an important fillip.
There's a forgotten man in this scrum-half battle royale too. Sam Hidalgo-Clyne, still just 25, was Laidlaw's heir apparent as recently as 2015, when he was named the Pro12's young player of the year.
He fell away as Edinburgh toiled, but finished last season strongly and with his speed and panache, should flourish in a Scarlets squad that play some barnstorming stuff.
Townsend is flush with options here, from the belligerent little general to the edge-of-your-seat Glasgow pair. Laidlaw will be 33 after the World Cup and might well decide to call it quits. Hidalgo-Clyne, Horne and Price are the future, no doubt, but in the present, there's an almighty skirmish brewing for the number nine jersey.
Comments
Join RugbyPass+ now and be apart of the conversation with all-new commenting!
Join Now