'He's a bit mad but he's brilliant' - Paul Gustard on Quins, recruitment, pre-season and leaving England behind
Seasons can swing on the smallest of moments and for no club was that as true as it was for Harlequins this year. In Paul Gustard's debut season as head of rugby, a missed kick in the last minute of their final game away at Wasps was all that denied Quins a shot at unseating English rugby's established powerhouses, Saracens and Exeter Chiefs, in the Gallagher Premiership play-offs.
Of course, it's a 22-game season and there were far more factors at play than that last-minute penalty when it came to deciding whether or not Quins would be in the play-offs, but there are few more agonising ways of bidding farewell to a campaign.
Three months on, with time the greatest healer, Gustard can reflect on that first season in charge. "The first thing is I really enjoyed it," he told RugbyPass. "You know, there were trials and tribulations, but I learnt a lot about myself, I learnt a lot about the team and I learnt a lot about the support staff. For the most part as a group, we did really well.
"But I also know there were things that we made mistakes in, mistakes that could have been dealt with better or things that I could have coached or handled better. I was frustrated and it's taken me a long time to try and balance that out. It didn't really go until the first day of pre-season. It was a long six weeks away, a lot of soul searching.
"I don't want to be fifth. I don't want to be sitting mid-table. I want to be pushing towards the top and trying to win things. Until we are in that kind of situation, I'll forever feel disappointed that we didn't get in the top four and give ourselves a fighting chance."
(Continue reading below…)
Although they did ultimately fall short, there is no doubting the improvements that the club made last season with their fifth-place finish the best since that aforementioned 2013/14 campaign. The club went from conceding the third most tries in 2017/18 to conceding the fourth-least, and they managed to amass nine losing bonus points over the season, further highlighting just how competitive they were.
Quins' arguable soft underbelly in years gone by – their defence, set-piece and form away from home – looks to be hardening. "We were tough to beat. No one put us away. We scored the most league points against Exeter, we got six points in the two fixtures. If we'd made it [fourth], we weren't going to go down to Sandy Park fearful of a semi-final against them.
"It wasn't to be. We had two kicks at goal in the last four games, one against Exeter and one against Wasps. One fell short, one went wide. It was frustrating but I was pleased with the defensive improvements up to Christmas – we had conceded the second-fewest (tries) in the league.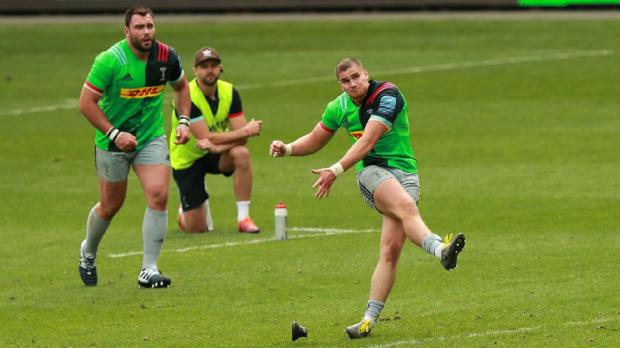 "Then we had four games where we started beating teams quite comfortably. We had four or five bonus-point wins in a row but conceded two late tries almost in each of three games, which blew it out and we were like nine or 10 tries behind Sarries in the end.
"It was frustrating because, again, we have got higher standards than that. We have focused earlier on our rugby in pre-season, which we didn't do last year as one of the main things was to get the team fitter. This year, we are making sure the fitness is very heavily linked to rugby and we condition the boys in a way that we think will help our rugby game."
Under Gustard, Quins' approach to training is fairly different to the ways a number of the other Premiership clubs choose to operate. It's not a slog, it's short and sharp, with replicating the intensity of a game at the heart of the approach.
"If you look at ball-in-play time in a Premiership game, it's around 40 minutes. We predicted last year, almost within two seconds, the actual ball-in-play time over the course of the season, possession time and all the rest of it. Everyone looks at this and there is no great secret, but we then tried to replicate our training around it.
"Give or take, you have got 40 seconds ball-in-play in an average possession, which means you have also got some that may last two and a half minutes and some that are shorter. You then try and balance your training how you see most appropriate.
"We make sure training is well organised, very relevant to what we are trying to achieve and based around the game plan. And then pre-season likewise, we don't want them out there for a long time. We need them to train at a level where you are operating at match speed as much as possible.
"Then the rugby sessions are more learning, so they are a little bit longer and get capped at around an hour. But again, the concept is the same. The boys are going to be here for a considerable period of time over the next 10, 11 months and I want them to feel stimulated, motivated, excited and engaged to learn.
"We believe that sometimes less is more if we train intensely. I'm a firm believer that you can't have both – you can't have intensity and density, you want to choose the one you think is most appropriate. I choose intensity and effort and then density is kind of separate to that."
Coupled with that approach to training, Quins have also had a reshuffle of their coaching staff this summer, with Rugby League legend Sean Long arriving as an assistant coach and Mark Mapletoft moving into the academy set-up. It is one of the ways which Quins and Gustard believe can help them close to the gap on Saracens and Exeter at the top.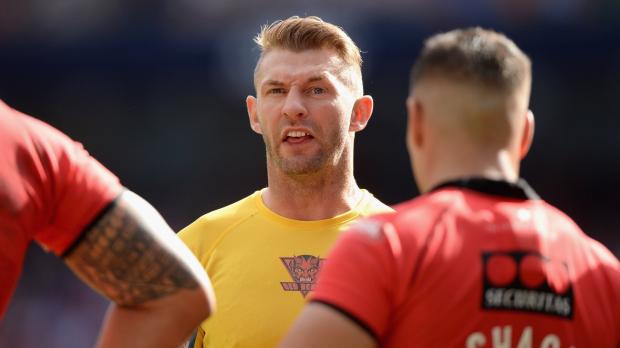 "The first thing is, looking at the team last year, Harlequins' DNA is to attack. The club has a heritage about playing attacking rugby and probably my history of the last 10 years, or certainly seven years prior to England, would have been more defensive focused.
"Even though Saracens score the most points, they have always got the best defence and a lot of that thinking goes back to when Brendan Venter came in. The defence was going to be the bedrock of the club, as well as work-rate and a strong set-piece.
"I came to Harlequins and it's different. We have got different types of players that can do different kinds of things to what the Saracens boys can do. We want to focus on our strengths, and we want to make sure that our attack is our key point of difference and why we have got the opportunity to win the league.
? Not long to go…

? Come and join us for our opening game.

? Get your tickets now: https://t.co/1l1kUA6wcX pic.twitter.com/ZOz8igvseX

— Harlequins ? (@Harlequins) August 17, 2019
"Looking at things last year, I thought we lacked a bit of detail and clarity around certain aspects of the play. I was looking to try and bring somebody else in just to bring a bit more finer detail about running lines, how you preserve space, how you create space, which side of the defender do you attack, how do you chop off the line, etc. In rugby league, they have done that all their lives.
"Rugby union probably goes into structure and shape quite early on when you start coaching. It certainly was for me in my coaching education, whereas rugby league folks do skill acquisition more. All those players catch and pass, all those players tackle, all those players have an urgency off the line. I thought a rugby league guy would be perfect to supplement what we have.
"As it happened through the summer, we had a great chat with Mark and he fancied a bit of a change and to do something different. It's brilliant that he wants to work with us in the academy and that is as big a boost for the club as Sean coming into the first team is.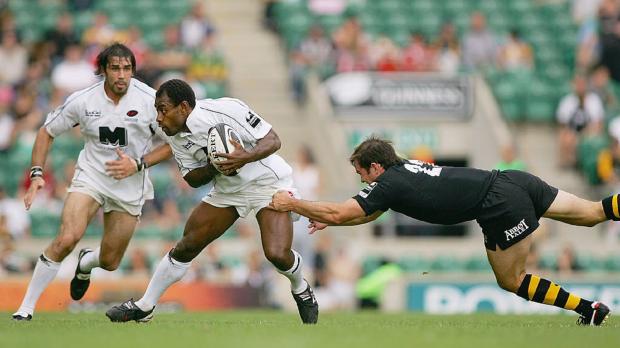 "The more rugby union has developed, the more league-style defences have been adopted. Go back 15 or 20 years, you would have a classic drift defence where you use the touchline as an extra defender or an up-and-out defence. Then you started seeing London Irish and Wasps, in particular, bringing in a blitz-style defence.
"Gloucester tried it for a while, then dropped out of it, Quins tried it and then dropped out of it. Exeter brought it in post-2013 England tour to Argentina when Rob Baxter came with me. Now you see five or six clubs have a proper square press defence, which is reflective of a league-style defence. The best people to break down league-style defences are probably league attack coaches."
It's not just in the coaching staff where Quins have freshened up ahead of the 2019/20 season, as their 32 playing personnel changes this summer are second only to Leicester Tigers' total of 41. There may not be a Stuart Hogg, Jordan Taufua or Elliot Daly among the incomings at the Stoop, but there is a clear plan and strategy behind the recruitment.
"One of the reasons why I chose this club and not any of the other offers that I had was the fact that I believed in the players that were here. Even some of the players that have left, you know, it's one of those unfortunate things, that contracts are a fixed time and we had decisions to make to balance the squad.
"You have got to try and re-budget because you have got players that are coming out of the club that are asking for more money. You have got players leaving the club who want more money than you can give and you have got players that perhaps aren't on the level of performance that you feel can take the club forward.
"We had to manage the salary cap, as there were some players that we had to give a bit more money to. We had some pretty expensive players go out, compared to what we brought in because we had to uplift those people in contract.
"We then tried to get a balance. We identified positions early on where we felt that we needed to add strength and to bring in a 34-cap international in Scott Baldwin is just outstanding to add to Rob Buchanan, Max Crumpton and Elia Elia.
"We have now got four very strong hookers after we got through last year with only three. Rob was injured until late in the piece, unfortunately, but he's Quins through and through and a great player. Now we have got real competition at hooker.
"We have recruited two lineout calling locks. We have Glenn Young, who has been one of our best in pre-season. Stephan (Lewies) has arrived with a bit of an injury, unfortunately, but he's now coming through. Both of them just love the lineout.
Have a vision. Believe in it ? #represent pic.twitter.com/jifHKMWR9t

— Kyle Sinckler (@KyleSinckler) August 14, 2019
"On top of that we recruited two more locks, as almost the entire stable of our locks left. Only one, Matt Symons, probably one of our players of the season last year, has remained. We looked at the lineout as a big area to improve.
"I think we did. Alex (Codling) came in and did a great job last year. The players certainly responded to Alex. You can see technically we are better, but the stats necessarily wouldn't say we have improved significantly. Although the last nine games, if you looked at our stats, we would be a top-three team.
"It took a while to get there, but we actually got where we needed to get to and I'm hoping now with, well I'm not hoping, I know now with the retention that we have had and the recruitment that we have got that we will make a big stride again in that area.
"Will Evans is a fantastic player, lovely skills but a real hard on the ball seven. Punches way above his weight for a smaller guy. He's a bit mad but he's brilliant.
"Tom Lawday, outstanding. One of the games I saw last year, Exeter away at Castres, he was probably the best player on the pitch. Glenn Young, again, young kid. We kind of targeted certain things that we wanted, such as energy and enthusiasm."
All the right noises are coming out of Harlequins' training base in Guildford and there is palpable energy around the place after the strides the side made last season. With the World Cup warm-up games in full swing and the tournament in Japan looming, are there any regrets for the 43-year-old having left the England programme as defence coach just a year out from the sport's showpiece tournament?
"I'm unbelievable happy with Harlequins and what I'm doing. What I'm seeing at the moment, of course, is those (England) guys are playing rugby and we're not, so you miss that kind of buzz of getting ready for the game. It is what it is, I made a choice.
"I made a choice for family reasons, fundamentally. I made a choice for the ambition of being a head coach. I made a choice because I missed coaching every day. I wanted to do things the way I wanted to do things or the way I feel they should be done. I had the opportunity to do that with an unbelievable club like Harlequins.
"So, I miss it because we're not playing at the moment, but once it [the World Cup] starts, I'll be like any England fan – I'll want England to win. I gave three years of my life to that and I worked my balls off. I gave a lot more than just being a defence coach, I did a lot of other things for that organisation.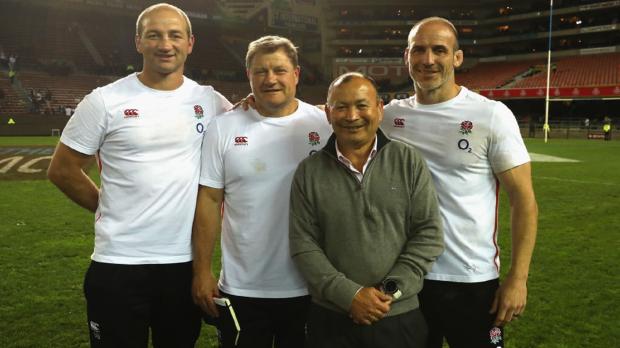 "I'm a proud Englishman, I want us to win because the knock-on effects for us as a rugby fraternity are huge. I'm pumped and we have got a great chance. I hope the boys do well."
England's fortunes may no longer be in Gustard's hands, but it would take a brave man to bet against Harlequins' upward trajectory slowing down anytime soon.
There is always a risk of second season syndrome in any sport, but the former Saracens and England coach is already showing his value as a forward-thinking head coach and why the move back into club rugby was a positive one for him, Harlequins and the stock of English coaches in general.
WATCH: The Rugby Pod reacts to the recently announced England World Cup squad

Comments
Join free and tell us what you really think!
Join Free