'No one has died from the virus yet. But the worry is we will not have the medical resources to fight it'
The backdrop is tropical. Palm trees, a sun lounger and a large veranda. Even Fiji's notorious WiFi connection is playing ball during our conversation, but any pretensions life is normal in one of rugby's most loved outposts are wide of the mark for Gareth Baber, who until a matter of days ago, was planning to guide Fiji to back-to-back Olympic gold medals before Covid-19 brought the sporting world to a halt with an unceremonious bump.
Decked out in a t-shirt, with an idyllic backdrop, Baber, head coach of Fiji's Sevens team since 2016, explained that coronavirus has only infected five people on the island to date, partly because they've been able to isolate the island quicker – it is 2000km Northeast of New Zealand's North Island – but the primary concern is that they simply don't have the medical facilities to cope if an outbreak takes hold in a place.
WATCH: Fiji and the contractual dilemmas caused by the postponed Tokyo Games.
"No one has died from the virus yet, but the worry is that vulnerable groups will not have the medical resources to fight it. We have curfews at night, and while not as tight as Britain, it's heading that way."
The knock-on effect for Baber, of course, is that it has curtailed any group activity or any chance to train. Social distancing has impacted on day-to-day life in many ways, which means Baber is now having live conversations about how to map out the next 18 months."
How the crisis affects the former Dragons scrum-half, personally, is as yet unclear, given his contract runs through to January 2021 but Baber is pragmatic. "I'm in the results business and the FRU (Fiji Rugby Union) have to work out what they want. Those talks haven't really taken place but I was always envisaging coming back to the UK. I've got teenage kids, and a daughter about to go to university. I know in rugby, things can change very quickly."
Aiding Baber's cause is the fact Fiji are reigning HSBC Sevens World Series champions. He has won 11 outright tournaments in just over three seasons, this compared with Ben Ryan's nine, in a wildly successful stint for his predecessor.
He's not one to blow his own trumpet, but more than getting by and happy keeping his head down and grafting.
Given the tectonic plates of rugby's finances are shifting, one downside, in his view is the shifting of four tournaments, cancelled for the 2019-20 season, onto the Autumn.
"One of my biggest concerns is the decision of World Rugby to move the tournaments. If the season starts then and goes on until end of July, that's 15 rounds and an Olympic Games. With that workload, the worry is the quality on show at the Olympics is going to be hindered, this at a time when there's going to be massive constraint on budgets. We've already seen USA rugby filing for a form of bankruptcy, wage cuts in the Premiership and Australian Rugby hit upon really tough times. We have to be realistic."
Talks of the financial abyss rugby seems to be careering into, leaves Baber, who played in the amateur and professional era, unmoved. "If you look at it economically, we're not far off from where we started. We're a fairly new professional sport and if you look at football, with all its wealth, struggling, you can appreciate why we're under strain. For Fiji, Tonga and Samoa, quite frankly, there are bigger priorities than rugby right now.
"Fiji Airways has had to close down all their flights and that brings in tourism, which is the mainstay of the economy here. I remember working at the Cardiff Blues nearly a decade ago and things were pretty tight then. Not much has changed."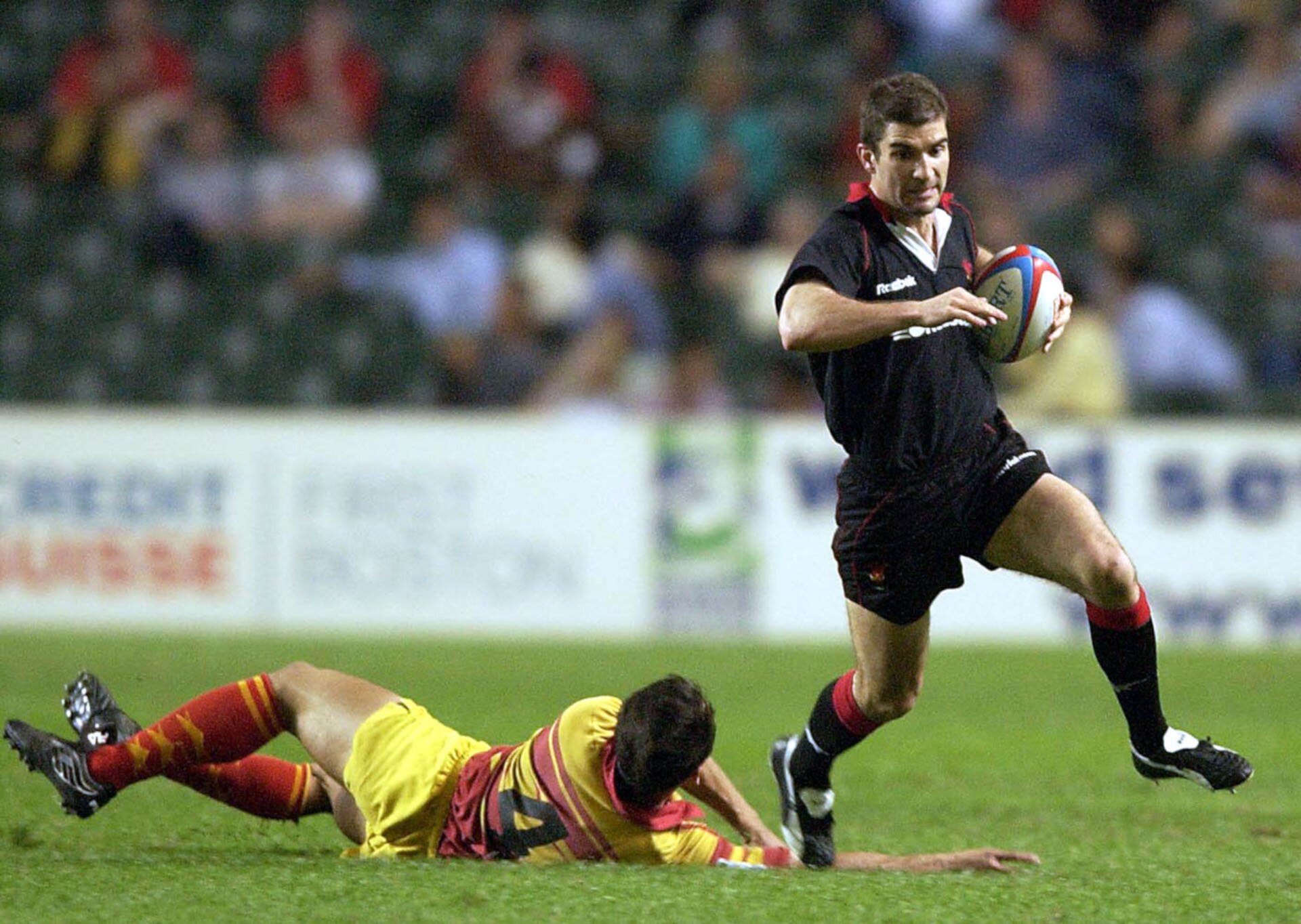 When it comes to reflecting, the forced lockdown has given Baber time to assess his three and a half-year spell 10,000 miles from home, and the people he has met. "What I've found is that the players completely lack entitlement. You can't believe how little they've come from. In the UK, when you work hard, you expect something for your efforts. It's very different here.
"Take Jerry Tuwai, current World Player of the Year and Olympic Gold medal winner. He simply doesn't have a view of himself as an individual who can command huge sums of money or sponsorship deals. He's actually embarrassed by it because of the way he's been brought up.
In Fiji, you grow up in a community, and when you come of age, if you're fortunate, you get handed down land by a Chief. If not, you get a settlement which is just a piece land where you plonk your dwelling, basically. He lives in Suva in the same house he grew up in. I was speaking to him on Zoom only yesterday."
That lack of entitlement has been striking for Baber having been used to the creature comforts afforded in the UK. His time in Fiji has left an impression. "Fijians have a strong faith. It ensures that everything they get directly corresponds to their faith in the Lord. It's the background to everything they do. I'm a Christian, with a Christian faith, but seeing it in practice is very powerful. They don't see themselves as professionals, which is refreshing, but also frustrating because it's not the be all and end all of their lives. In Britain we can get a little bit lost. There is this bubble of entitlement and expectation where you expect support, money and insurance."
Baber said knew about the Fijian's love of rugby but said it was not until he completely immersed himself in everyday life that he realised just how much it meant to the locals. "When the rugby is on, the whole country shuts down. I've never had had people stopping me in the street before, congratulating me, shaking my hands just for doing my job. If we haven't won a tournament, I feel I haven't done right by the country. I feel that's down to me, yet when I fly back, I'm still get people thanking me for 'the game', as they call it here. It's that human element I hope is never lost in Fiji. It's is quite romantic but is part of who they are and the importance they place on the game."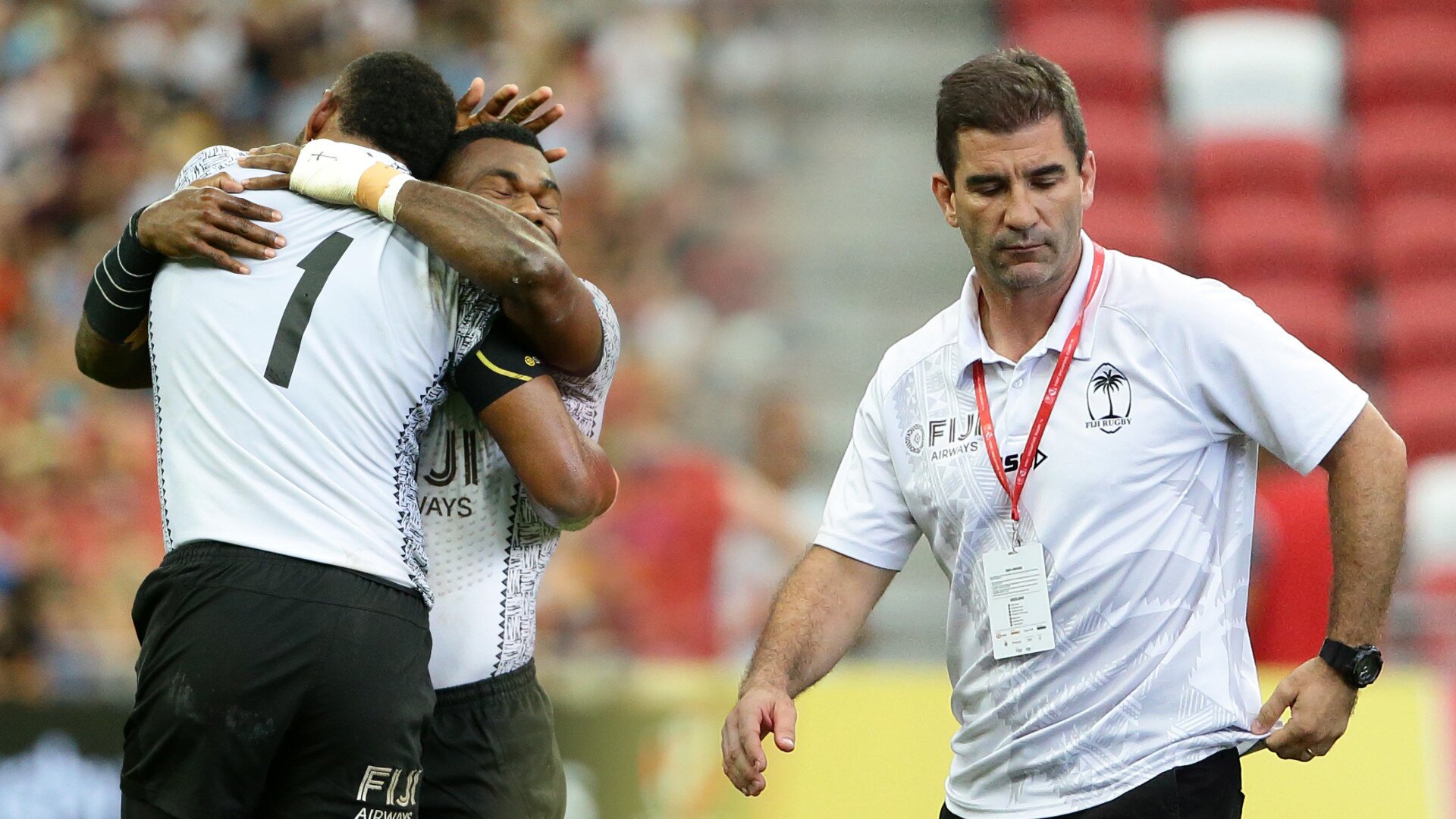 At 47, Baber says he didn't take on the role expecting to be a paternal figure but given the way society works in Fiji, he can see how he's come to be viewed in that way. "That can be positive and negative in international competition because you're not their father, you're their coach. That challenges your relationship with them. They have to drive and motivate themselves. They can't expect me to be shouting and screaming at them, because that goes against my coaching ethos. Of course, there are times I have to stamp my feet but the reality is when you're operating at that level, it's more about building a culture, ensuring they go out on the pitch and achieving what they're capable of."
Nevertheless, as part of his wide-ranging remit, Baber says he has been touched by the challenging and remote backgrounds of some of his players. "Take Ratu Napolioni Bolaca. 'Ratu' means he come from Chiefly blood but he left home as a kid after his mother and father broke up and spent his childhood with the Salvation Army in Nadi. The centre is run by a lovely couple whose calling in life is not to see kids left on the street.
"He's 22 and in the last year has developed into an international standard Sevens player. I'm convinced that given the right guidance, he would be a sensation in the 15-a-side game. He's such a gifted player, but he doesn't even realise it. All he cares about is making enough money to look after his 'brothers' who helped him along the way."
Indeed, growing up in suburban Cardiff, Baber says he's had to pinch himself at some of the situations he's found himself in, with one trip to visit the family of former Narbonne wing, Joeli Lutumailagi, particularly standing out. The village he lived in was an hour and a half off the main road. It was accessible only by tractor on a farmer's track.
"When we arrived was clearing with 12 huts built out of breeze block and corrugated iron. My manager was translating and as I'm sitting there cross-legged, a pack of village dogs moseyed on straight through the middle of us and no one batted an eyelid. We carried on talking and a minute later, six chickens clucked around the room, trundled past us before disappearing out of the door. It was just incredible but that's how players live. What gets missed is that's how they want to live. It's where they feel safe. 'Village time' is built into their schedules because it's so important to them. My balance is giving them time to be Fijians but also getting them in a training environment, to give them discipline and understanding to a control what their future looks like."
One stellar moment in the HSBC Sevens Series came in Los Angeles, with Fiji playing Australia. Sevuloni Mocenacagi, the rangy Fijian forward threw a no-look offload out of the backdoor for Tuwai to score. It was barely believable piece of skill that saw thousands of shares on social media and hundreds of thousands of views. So was Mocenacagi thrilled to have gone viral? "He's not even aware of it. He doesn't even see it as something special, which is fantastic in itself. Sevu lives with his two brothers on a farm and plays for a side called Yamacia, supported by a local gentleman who now lives in Australia. The side have a patch of grass on and a few weights. All of his team-mates would be throwing passes like that for fun."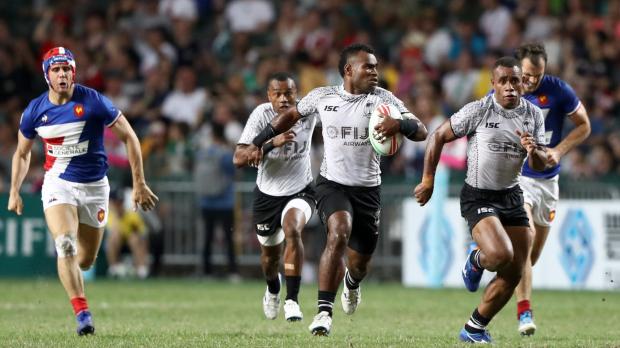 The issue for Baber, is that with all their God-given ability, playing percentages rugby doesn't come naturally. "In some training sessions everything has gone wrong. The challenge is providing them with the opportunity to do it but making them accountable. That's hard because you're addressing the whole error thing which can paralyse individuals.
"As a coach, that's horrendous because you're always on edge. When we're at our best, we are absolutely brilliant, I've never seen a team play how we play, but we can be flippin' ordinary too. It's finding that happy medium where they can understand that it's okay not to be perfect but still win games. It's a coaching challenge I face on a daily basis!"
As for the continual flip-flopping between codes, Baber believes some countries manage it better than others. In New Zealand players regularly move back into the Mitre Cup, while in Australia, he noted with interest that Andy Friend, the former Wallaby Sevens coach, recruited John Porch at Connacht, but on the whole, he believes a more collaborative approach needs to be installed.
"There can be a bit of laziness and ignorance over the management of players. I think the way Ruaridh McConnochie was managed between the two environments was actually very mature. In Fiji, it's more the norm. Eroni Sau has done well up at Edinburgh, along with Bill Mata and then you have the superstars like Leone Nakarawa, Semi Radradra and Josua Tuisova, who have all played Sevens for us."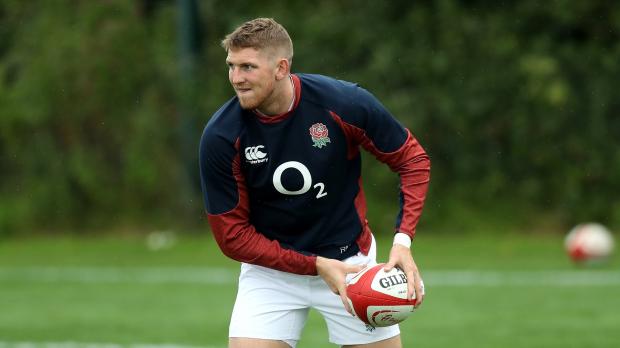 As for Wales, Baber, who had several years on the circuit, say the system hasn't changed much since he stopped playing. "I still believe there's a huge opportunity for Sevens to be used as a development tool. At the top end, it was good to see Justin Tipuric playing in the Commonwealth Games. He was exceptional when Fiji played them, the standout player. Maybe it could work for those regional players who are 22 or 23 and it hasn't quite happened for them at a region. Jordan Williams had a stint with the Sevens. At the moment, young Tomi Lewis has that X-Factor. It will be interesting to see if he settles at the Scarlets."
With new High Performance Manager Simon Raiwalui available on the island to bounce off ideas off, and Vern Cotter incoming, Baber has watched with interest as former England Sevens coach Simon Amor was appointed by England. "I'm sure Eddie (Jones) spotted something in Simon that was slightly different. I know Eddie likes to recruit people who can challenge the environment and the obvious learning is continuity.
"The 15-a-side game is dominated by target-orientated breakdowns which decide how you attack on subsequent plays. In Fiji we do that naturally with our offloading skills, innate ability to support each other and not go to ground. In the last decade we've seen the Leinsters and Toulons use continuity as the bedrock of their game. Staying on feet rather than going from ruck to ruck, which allows the opposition an opportunity to hunt for the ball and stop you playing."
One big difference between Fiji and the Northern Hemisphere is what Baber would call the 'bread and butter stuff'.
"They've all grown up throwing the ball out of the back of their hand or over their heads but the standard catch and pass that we've grown up with in the northern hemisphere is lacking in Fiji. It's a total reverse. My philosophy has always been not to let the opposition settle. Super Rugby have always been good exponents of continuity. I spent time with Tony Brown down at the Highlanders, who is the best I've ever seen at creating variation and understanding around start plays; scrums, lineouts, kick-offs, and combining it with an understanding of how to get to the point of freeplays; counter-attack, turnover ball, quick taps or a throw-in and knowing what to do when space suddenly opens up. We still work on non-negotiable foundation skills, like the contact area, individual defence, catch and pass, ball running and support but it's the ultimate aim is to technical information that turns it into instinctive behaviours."
With some finer points of his next 12-18 months still to be ironed out, thoughts will soon turn to home for Baber, especially in these uncertain times. "I grew up in Cardiff in a Welsh speaking family, and my wife, although she's from Hong-Kong, learnt Welsh and sent our kids to a Welsh-speaking school. My mum and my brother and sister are still there, along with my wife's family. We have a very strong connection. When we leave Fiji, that sense of hiraeth means we'll hopefully return to Wales."
Comments
Join free and tell us what you really think!
Join Free