Analysis: Premiership squads and homegrown percentages for 2019/20
Whilst all focus is currently on the upcoming Rugby World Cup in Japan, the 2019/20 Gallagher Premiership season is fast approaching and the 12 clubs have finalised their squads for the new campaign.
This is the third year that we have tracked the number of homegrown players at each of the Premiership clubs and although there are variables at play which the numbers alone don't account for, it is a useful indicator of how productive each club's academy has been over the last decade.
The 2018/19 season analysis can be found here.
For the past two years, Saracens have boasted both the highest number of academy graduates in the Premiership and the highest percentage of squad that has come through their own pathway. Rugby fans who have become fatigued by Saracens' dominance will be pleased to know they have lost one of those two accolades this season.
By our count, there are 706 players contracted in the Premiership this season, dropping down slightly from the 711 that were on the books during the 2018/19 season. Despite this small dip, the number of those players to have come through current Premiership academies – excluding Newcastle Falcons and Yorkshire Carnegie – sits at 489, which is up from the 465 involved last season.
Squad sizes range from 51 at newly promoted London Irish to 64 at Wasps, with senior academy players, as full-time professionals, counted among that number. It is the first time Sale Sharks will not have the smallest squad since this analysis was started in 2017, with Sale's summer spending spree seeing them boast a squad of 54 this season.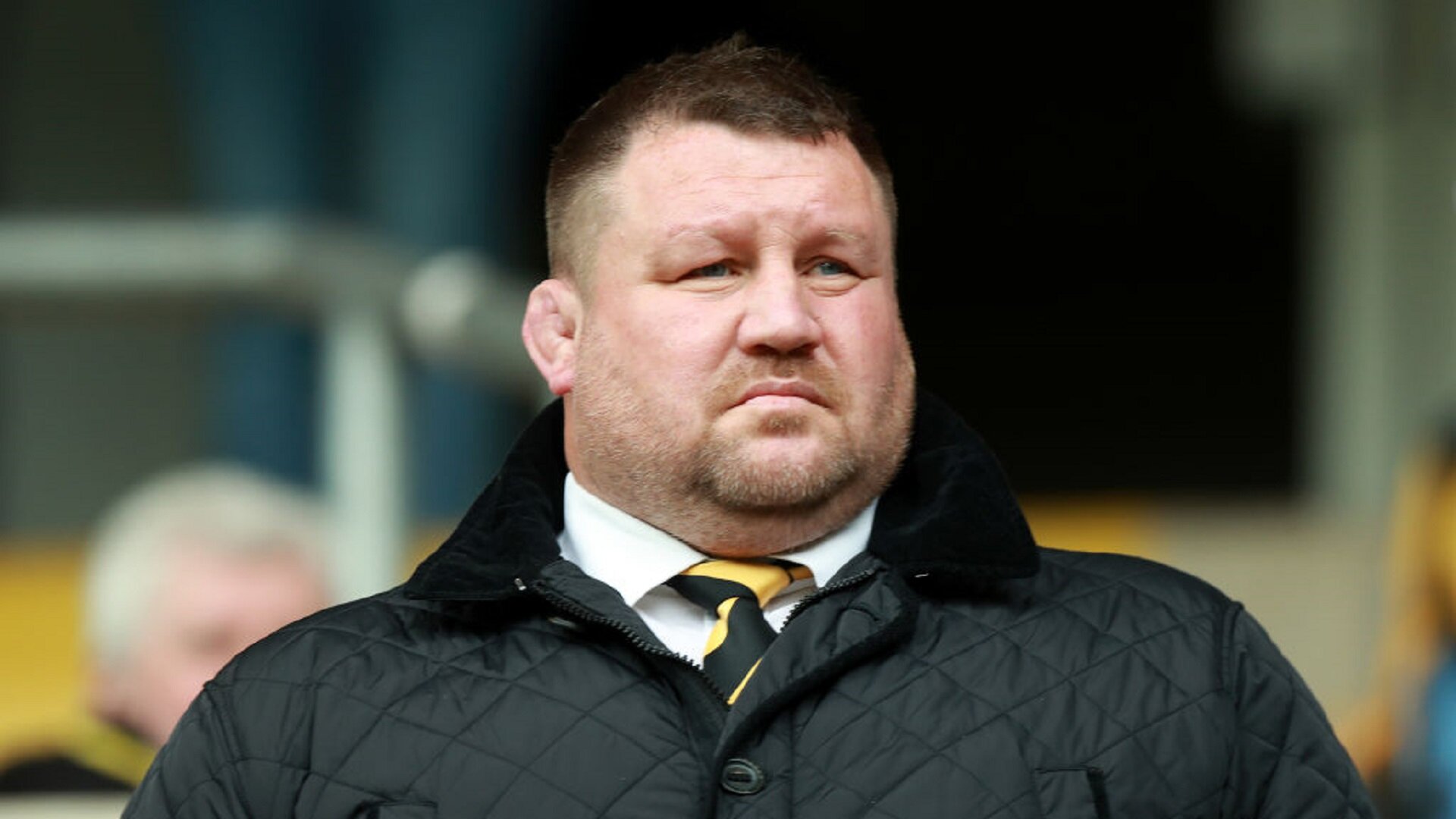 With more clubs filling out their senior academies and some snapping up former junior academy members who have go down the university or lower league pathways, this increase is understandable and not, necessarily, an indication of a paradigm shift. Many of the players that have retired in recent years started their careers at a time when academies were not always the primary route into the professional game and the share of the player pool that amateur club graduates, armed forces members or rugby league converts have, seems to be diminishing.
This 'other' category, which includes the three entrances to the professional game mentioned above, as well as players who have come from countries without club, regional or provincial academies, such as Scotland, Italy, Argentina and the Pacific Islands, still accounts for the largest individual share of players in the competition, though, at 100.
This is down from 104 last season and is particularly prevalent among senior foreign players and senior English players who played their school and university rugby at a time when the academies weren't invested in to the levels they currently are, and when talent identification, generally, didn't start as early as it does now.
For the first time, the Sharks are the leading foreign producer of talent in the Premiership, with 16 players in the competition having progressed through the pathway in Durban, overtaking last year's leaders, Western Province. Western Province's total of 12 in 2018/19 has fallen to seven this season, with Wellington (9) and Blue Bulls (9) both leapfrogging them. Other prominent producers of talent include the Golden Lions, Auckland, Ulster and Leinster, all of whom equal Western Province's mark of seven.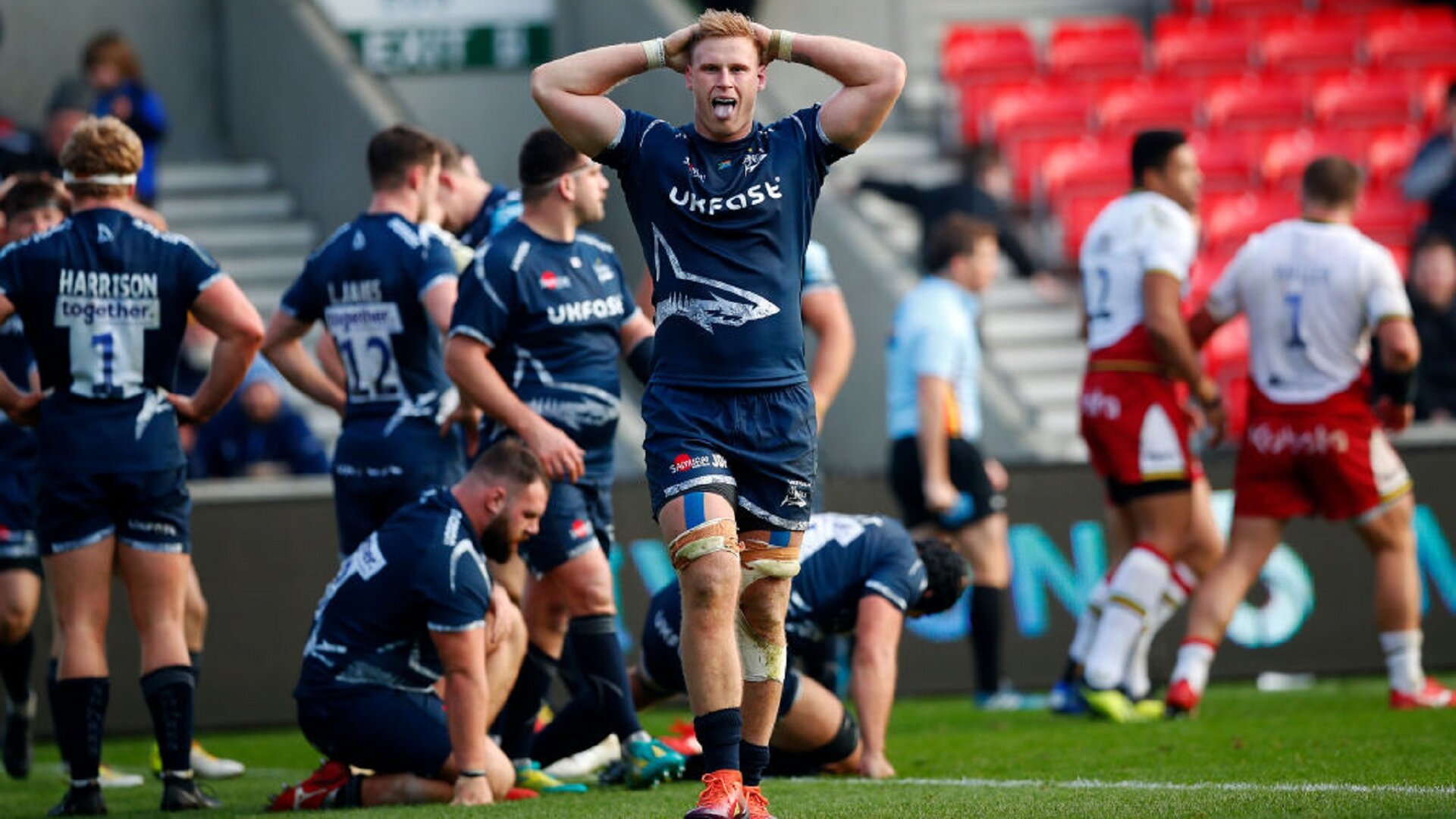 Newcastle Falcons and Yorkshire Carnegie are also populous providers of players, with recently relegated Newcastle seeing 10 of their academy graduates in the competition, whilst financially stricken Yorkshire Carnegie have 14 in England's top tier.
In terms of the current Premiership clubs, Leicester Tigers have the honour of topping the list, with 50 graduates of their academy currently plying their trade in the competition, marking the first time that Saracens have been knocked off of the top spot.
Saracens aren't far behind and sit in second place with 48 graduates at all clubs, whilst Gloucester take third spot with 46 representatives. There is then a small gap before Bath (39), Harlequins (38), Northampton Saints (37), Sale Sharks (36), Exeter Chiefs (34) and London Irish (34) jockey for spots behind them.
Wasps' total of 32 gives them some breathing room ahead of Worcester Warriors (25) and Bristol Bears (21) at the other end of the table.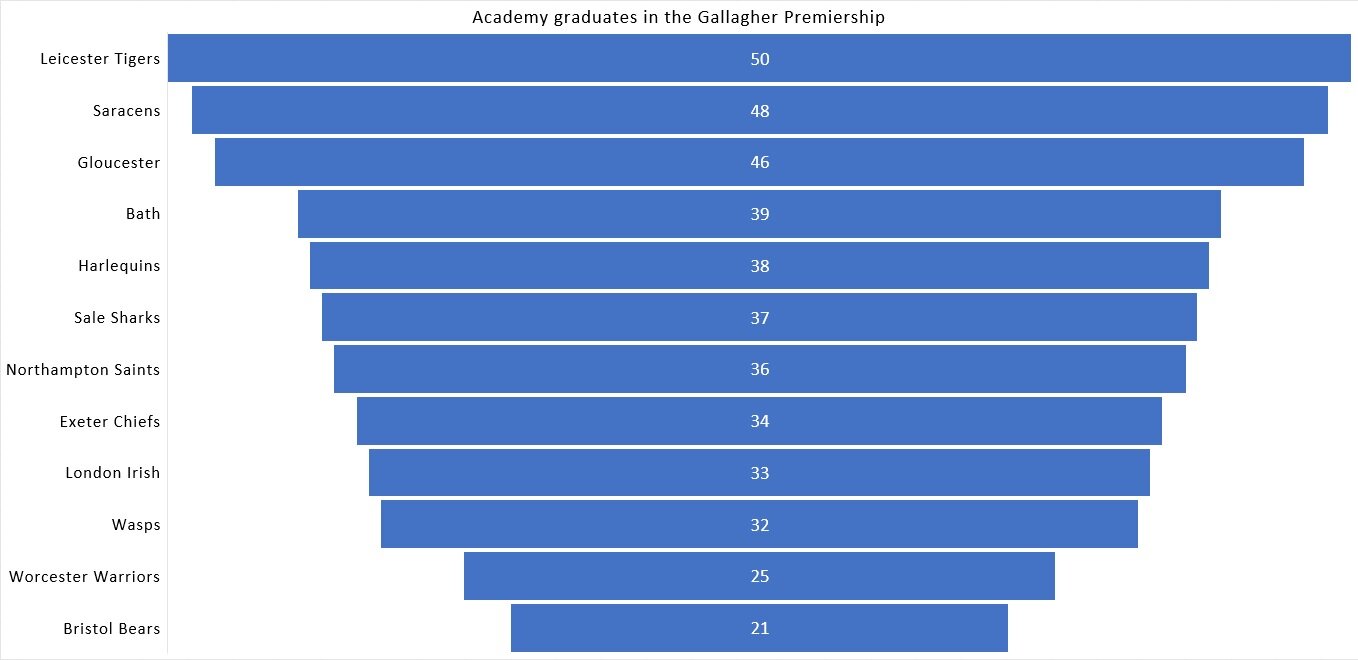 It is important to note that this is only a measure of quantity and not quality, and clubs with a smaller representation of homegrown players could argue that their crop has a more influential impact on the club's fortunes than some who boast more graduates, but in less pivotal roles.
Bearing in mind that and the other variables that come into play, such as senior recruitment, opportunities presented and how well functioning each club's pathway is, here are the individual squad breakdowns for the 2019/20 season. In the case of the players who have represented two different academies, the junior academy where the player spent the most time was counted.
The numbers in brackets represent the change from last season.
| | | | |
| --- | --- | --- | --- |
| Club | Squad size | Academy graduates | % of squad homegrown |
| Bath | 63 (-3) | 30 (+3) | 47.6% (+6.7%) |
| Bristol Bears | 52 (-12) | 13 (-3) | 25% (+0%) |
| Exeter Chiefs | 60 (-6) | 29 (-2) | 48.3% (+1.3%) |
| Gloucester | 60 (+2) | 32 (+6) | 53.3% (+8.5%) |
| Harlequins | 60 (-1) | 30 (-3) | 50% (-4.1%) |
| Leicester Tigers | 62 (+5) | 35 (+7) | 56.5% (+7.4%) |
| London Irish | 51 | 20 | 39.2% |
| Northampton Saints | 56 (+3) | 28 (+3) | 50% (+2.8%) |
| Sale Sharks | 54 (+3) | 30 (+3) | 55.6% (-1.8%) |
| Saracens | 57 (-4) | 33 (-2) | 57.9% (+0.5%) |
| Wasps | 64 (+6) | 20 (+3) | 31.3% (+2%) |
| Worcester Warriors | 57 (-4) | 21 (0) | 36.8% (+2.4%) |
One of the more encouraging takeaways is the increase in percentage of squads that are produced via each club's own pathway. Only Harlequins and Sale showed decreases this season – a result of extensive recruitment from both – and six clubs sit at 50% or higher. Last season, only three clubs reached that same mark.
We have broken down each club's performance with some insight into the story behind the numbers.
Bath
Academy graduates in the Premiership: 39 (4th)
Percentage of squad homegrown: 47.6% (8th)
Numbers are up for Bath from last year and that's a result of a healthy intake from their junior academy this summer and a number of veteran players moving on who had been short-term recruitment over the past few years. Having their link with the University of Bath also allows them to stock up on younger players out of their junior academy and find games for them in a competitive setting.
With the majority of the academy products at the club relatively young and another good class of U18s to come this season, it would not be surprising to see Bath break the 50% mark in 2020/21. A lot will hinge on Bath's fortunes this season and what approach Stuart Hooper will take to squad building.
Bristol Bears
Academy graduates in the Premiership: 21 (12th)
Percentage of squad homegrown: 25% (12th)
A second year for Bristol to sit bottom of both categories, although it is not entirely surprising as they attempt to consolidate their place within the Premiership. Bristol's recruitment area at U18 level is not as populous or littered with currently top-level rugby institutions as some others, so their focus is always going to be aligned with quality, rather than quantity.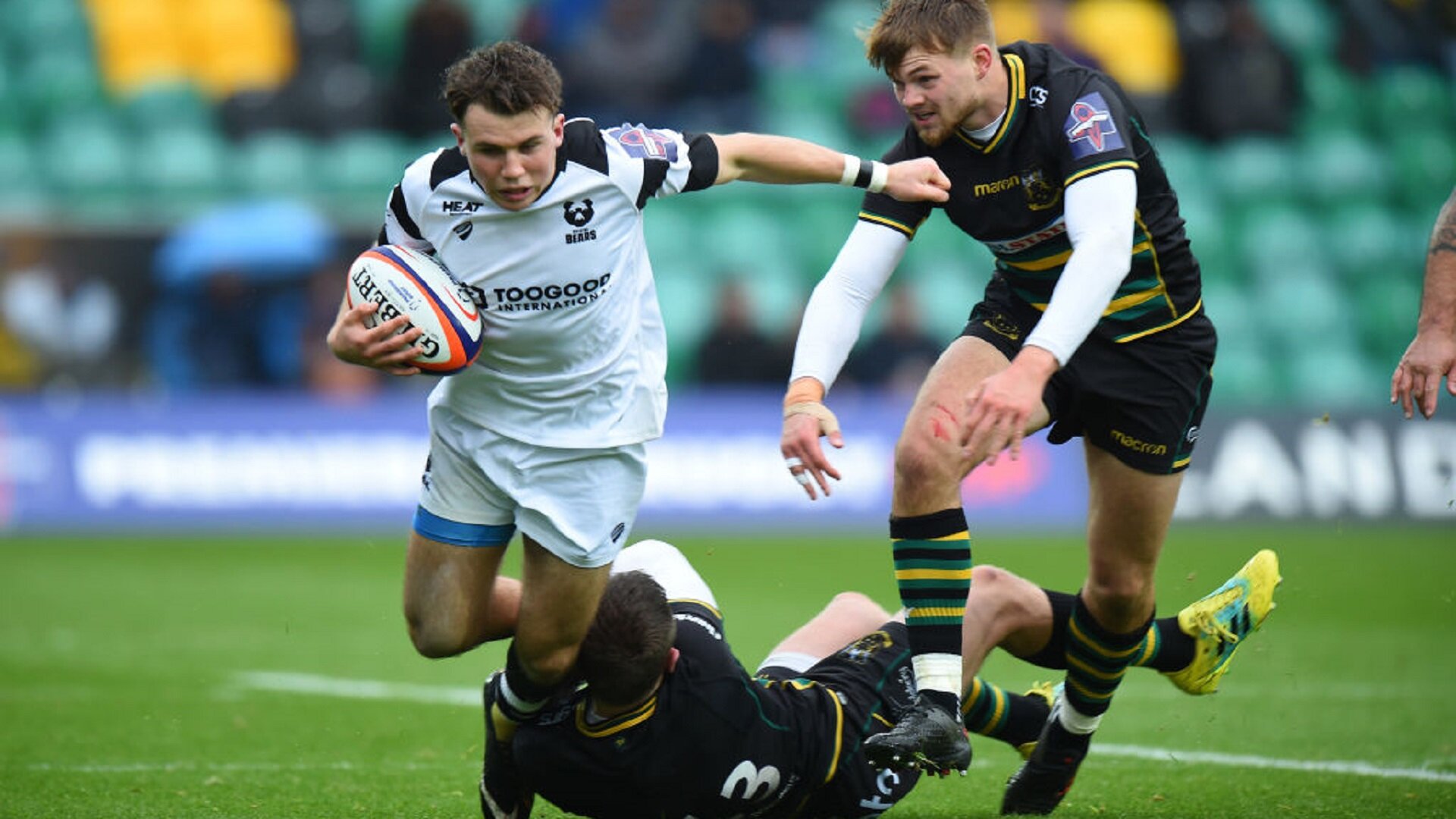 There are a group of players in Bristol's integrated academy who could go on to form the core of their senior squad, as Pat Lam has said he wants to see, although it'll be tough for Bears to compete with some of the larger academies in terms of homegrown squad percentage.
Exeter Chiefs
Academy graduates in the Premiership: 34 (T-8th)
Percentage of squad homegrown: 48.3% (7th)
Whilst the proportion of Exeter's squad to have come through their own pathway has not fallen away, their steady numbers are made to look slightly worse by several of the clubs around them in the table making a noticeable leap. The fact Exeter didn't contract anyone from their U18s last season plays into that.
That said, they had a large intake at the end of the 2017/18 season and most of those players, Richard Capstick and Sam Maunder aside, have yet to feature for regularly for the club. There are plenty of senior contributors to be nurtured from that group.
Gloucester
Academy graduates in the Premiership: 46 (3rd)
Percentage of squad homegrown: 53.3% (4th)
Gloucester's numbers have made the biggest rise this season, both in terms of total graduates in the Premiership and percentage of their squad that has come from that pathway. It was another big intake from their U18s this summer, just as it was in 2018, with both of those sides having made it to the final of the Premiership U18 league.
The club definitely benefits from a very fruitful partnership with Hartpury College, which helps swell these numbers, although it remains to be seen how heavily Johan Ackermann will lean on the youngsters at the club. A lack of international call-ups last season meant Gloucester utilised their senior core quite a lot, but hopefully more opportunities will beckon this season.
Harlequins
Academy graduates in the Premiership: 38 (5th)
Percentage of squad homegrown: 50% (T-5th)
One of just two clubs to see their percentage of homegrown players diminish, this is the first summer that Paul Gustard has been able to put his stamp on the playing squad at the Stoop. A small intake of just four players from the U18s and the departures of players such as Luke Wallace and Charlie Walker has seen Quins fall away slightly in that category.
That said, they still sit at 50%, which is admirable in a league that recruits as heavily from abroad as the Premiership does. The last couple of intakes from Harlequins have definitely leant towards quality over quantity, so fans will be hopeful of seeing a few more players break into the first team, just as Marcus Smith, Gabriel Ibitoye and Cadan Murley have done recently.
Leicester Tigers
Academy graduates in the Premiership: 50 (1st)
Percentage of squad homegrown: 56.5% (2nd)
Finally, a team has wrestled away the accolade of most academy graduates in the competition from Saracens. Having contracted 16 members so far of their U18 title-winning sides from 2018 and 2019, it's no surprise to see Leicester soar up the rankings in both of these categories.
The onus will now turn toward getting these players up to speed in senior rugby and transitioning them into the matchday squad. Given that Tigers have another impressive crop of U18s for the coming season, don't expect them to fall away anytime soon, especially with younger players offering cost-effective depth to complement the big-name recruitment that the club has engaged in recently.
London Irish
Academy graduates in the Premiership: 34 (T-8th)
Percentage of squad homegrown: 39.2% (9th)
Always talked up as one of the most productive academies in the Premiership, these numbers can be a little misleading. The percentage of homegrown players in Irish's squad has certainly been impacted by the products they have lost to Premiership rivals in recent seasons, with a trip down the M4 to Bath proving a popular pathway.
Having been very back oriented in their production over recent seasons, Irish have brought in five forwards from their U18s this summer in addition to Joe Cokanasiga's younger brother, Phil, which should provide some balance to their senior squad in the coming years.
Northampton Saints
Academy graduates in the Premiership: 37 (6th)
Percentage of squad homegrown: 50% (T-5th)
Similar to Bristol, Northampton don't have the most prestigious of regions to recruit from, and as such, it is testament to their talent ID and development work that they punch above their weight here.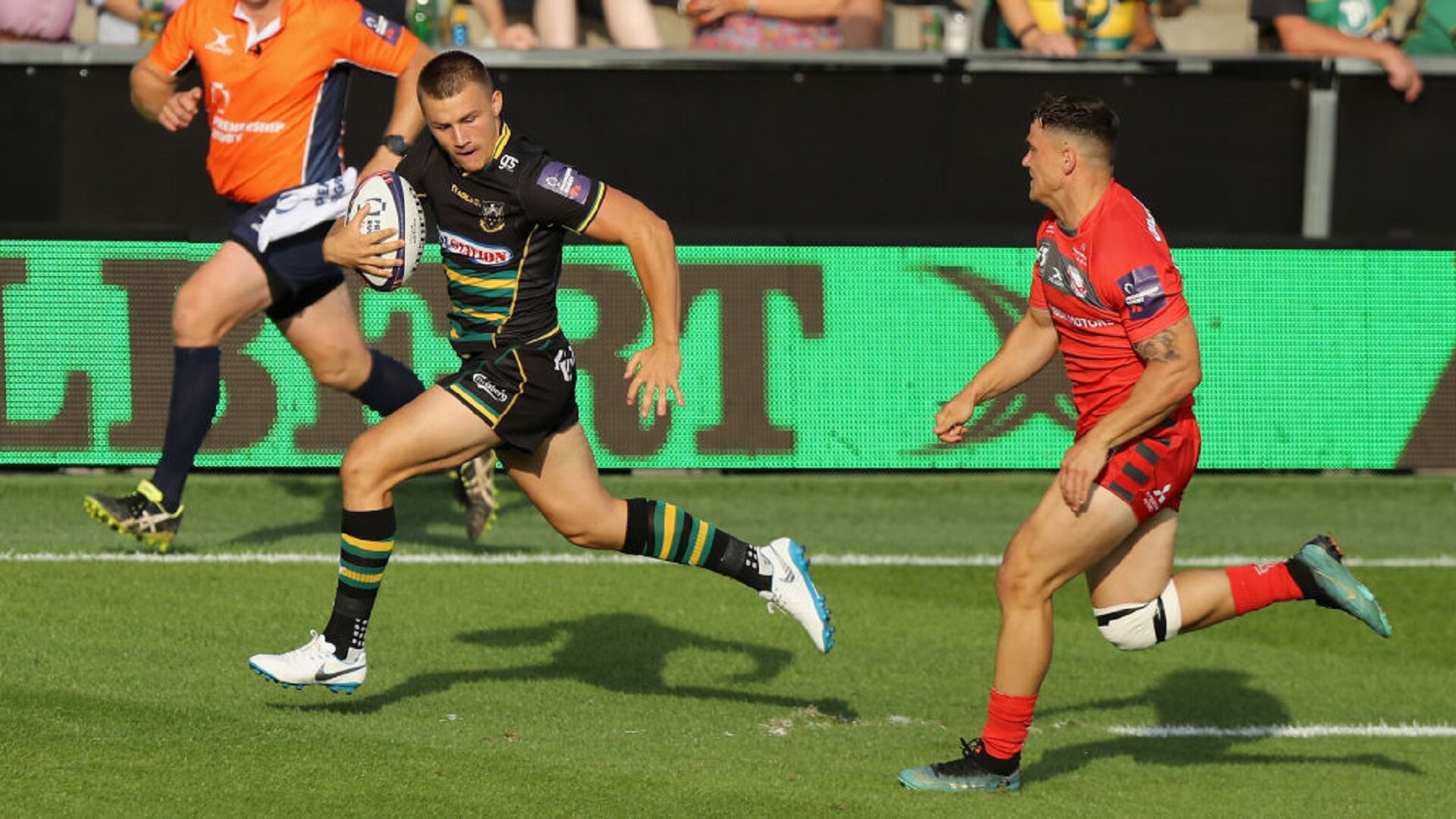 Ollie Sleightholme became an immediate contributor last season and Josh Gillespie could emulate that this time around. Director of Rugby Chris Boyd has shown no hesitation in handing younger players opportunities if they work hard in training and hopefully that continues this season. If it does, Saints could boast an enviable squad in a year or two's time.
Sale Sharks
Academy graduates in the Premiership: 36 (7th)
Percentage of squad homegrown: 55.6% (3rd)
Along with Quins, Sale are the only other side to see their percentage of homegrown players diminish. This isn't due to their academy being any less productive, it's simply a result of their shopping spree in South Africa, with six prominent senior players arriving from the Republic, as well as their mini raid on relegated Newcastle.
Even with their senior recruitment, Sale still boast a very healthy homegrown percentage at the club and with their squad depth a little thin in some areas, this potentially opens up routes to senior action for a number of their promising youngsters.
Saracens
Academy graduates in the Premiership: 48 (2nd)
Percentage of squad homegrown: 57.9% (1st)
Saracens actually had a net loss of two homegrown players this summer, with the likes of Hayden Thompson-Stringer, Billy Walker and Reuben Bird-Tulloch among those departing, although the smaller squad size they have keeps them at the top of that ranking. Having topped both categories for the past two seasons, it'll be interesting to see if pride is dented at all as Leicester pip them to the most graduates in the competition overall.
That said, there's not too much to knock Saracens on here, with their ability to develop and integrate youngsters very impressive given the quality of the senior squad at the club. Players either tend to make it at Saracens or failing that, pick up significant roles at other clubs in the Premiership or Greene King IPA Championship.
Wasps
Academy graduates in the Premiership: 32 (10th)
Percentage of squad homegrown: 31.3% (11th)
Wasps have managed to sneak ahead of Worcester in terms of total graduates in the competition, even if their homegrown squad percentage remains relatively low. A sizeable intake from their U18s this summer has definitely helped, though, as the club had to bid farewell to academy products Elliot Daly, Christian Wade, Will Stuart and Joe Simpson during or at the end of last season.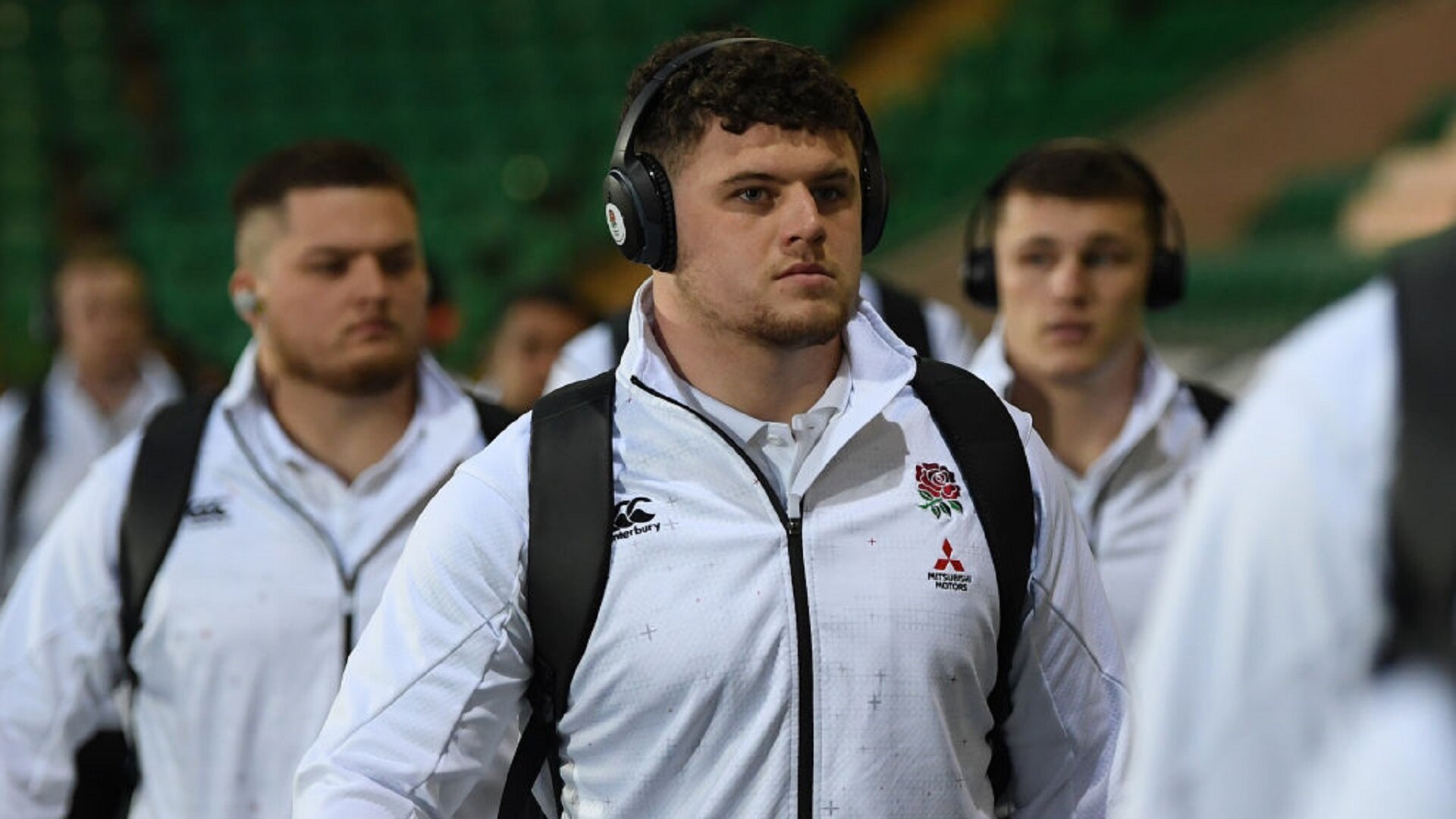 The junior academy has not been the issue for Wasps in recent years, rather the pathway, or lack thereof, to the senior squad. However, Director of Rugby Dai Young has spoken about the opportunities that will be there for the younger players this season following a significant turnover in playing personnel this summer.
Worcester Warriors
Academy graduates in the Premiership: 25 (11th)
Percentage of squad homegrown: 36.8% (10th)
Ted Hill and Ollie Lawrence have caught the eye recently and certainly added quality to the Worcester senior squad, although that doesn't hide what have been pretty small intakes of late. As such, Worcester have seen the number of their graduates in the Premiership diminish.
With the club likely to be in another relegation battle this season, don't expect to see a plethora of opportunities given out if the results aren't coming for Alan Solomon's side, though the likes of Hill and Lawrence should continue to feature prominently.
Watch: RugbyPass' exclusive with Leicester Tigers U18s – 'The Academy' – Part One
RugbyPass+ Membership
Join RugbyPass+ now and be a part of the conversation with all-new commenting!
JOIN NOW