Six Super Rugby takeaways with six weeks to go
With 12 rounds down and six to play, the Super Rugby regular season has officially run two-thirds of its course for 2019, meaning the home straight to the playoffs is well and truly in sight.
There's plenty of rugby still to be played between now and then, with a multitude of teams still in contention for a spot in the post-season.
The nature of this year's edition of the tournament is so competitive that these final six weeks are going to make for compelling viewing, especially with the added pressure of World Cup selection on the line.
With that in mind, here are six key talking points for the next six rounds of action following on from the most recent weekend of Super Rugby.
Aaron Smith is still as good as he's ever been
There have been ever-present murmurings surrounding the supposedly waning form of Aaron Smith both at Super Rugby and test level since his overly-publicised toilet incident in Christchurch three years ago.
Various comments, columns, and opinion pieces continue to circulate about how the 30-year-old has apparently failed to reach the peak form he was in during the World Cup cycle that preceded his tryst.
Those who hold those views are also often believers that Hurricanes star TJ Perenara should be the All Blacks' starting halfback due to his attacking prowess, exemplified by his staggering record of 52 tries in Super Rugby.
Any doubters of Smith should be eating their words after his outstanding performance in Dunedin on Saturday.
The 82-test veteran was immaculate in his side's 31-all draw at Forsyth Barr Stadium, with the velocity and accuracy of his passing a defining factor in his side's impressive opening hour of play.
Smith finished the contest with three try assists, all of which stemmed from wicked passes that were flat, fast and landed exactly where they needed to be in order for the tries to be scored.
His long cut-out ball to assist James Lentjes' try in the 53rd minute was the pick of the bunch, and it's no coincidence that the Highlanders blew their 16-point advantage once Smith left the field near the 60-minute mark.
If the Highlanders are to make a late run to the playoffs over the next six weeks, and if the All Blacks are hopeful of claiming an unprecedented third straight world title in Japan later this year, Smith will be vital in both side's bids for success.
Could Luke Jacobson be the next All Blacks bolter?
If Smith was the best player from the Highlanders in that high-octane Kiwi derby over the weekend, then loose forward Luke Jacobson made a big claim to being the best player on the park in Chiefs colours in that same fixture.
The 22-year-old covered nearly every blade of grass under the roof, finishing the match with an impressive stat sheet consisting of a try, three clean breaks, four defenders beaten, 58 metres gained, two offloads, two turnovers won and 15 tackles from 16 attempts.
His try was a particularly spectacular effort, as he ploughed his way through four tacklers to cash in on an Etene Nanai-Seturo line break, while his ability to win the ball back for his side from the re-start at a crucial time late in the game was just as brilliant as his offloading in the lead-up to the Tyler Ardron try.
The monstrous hit he made on Ben Smith might have put Highlanders and All Blacks fans alike on edge given the awkward way in which Smith hit the deck, but it demonstrated Jacobson's powerful defensive capabilities which accompany his strong ball-carrying game.
Read more: Time for Chiefs coach Cooper to throw caution to the wind
Able to play all across the back row, his imposing outing has enhanced his already-glowing reputation as one of the country's most promising youngsters, with some, including Chiefs head coach Cooper, indicating he may have just played himself into All Blacks contention as the national side continue their quest to find a blindside flanker for the World Cup.
"He's outstanding, isn't he?" Cooper told RugbyPass post-match on Saturday.
"He just typifies the hard work, and obviously his leadership is going to come. He's got a big future as a Chief, and higher up."
Curwin Bosch back where he belongs
It only took 11 weeks, but the Sharks are finally starting youngster Curwin Bosch in the No. 10 jersey, and are reaping the rewards from it.
Just three weeks ago, the Durban-based franchise suffered a lacklustre 21-14 defeat in front of their home crowd against the lowly Reds, but they now find themselves unbeaten on their tour of Australasia, with a win over the Waratahs in Sydney last week accompanying their shock 21-all draw with the Crusaders in Christchurch.
No doubt the influence of 21-year-old Bosch as a first-five had big ramifications on those results, such is his ball-playing talents and superb goal-kicking.
Sure, ill-discipline certainly played a big part in Waratahs' demise, as they had a red and yellow card to deal with, but that didn't mask the talent on show in the form of Bosch, who was simply awesome with ball in hand, as he had been earlier in the season from fullback.
The two-test Springbok added to his credentials a week later at Christchurch Stadium, but this time it was through his astute boot, nailing seven of his nine attempts on goal from often tricky locations to help bring the Crusaders' 25-match winning streak at home in Super Rugby to a standstill.
It was a bold move to shift Bosch into the starting playmaking role by Sharks head coach Robert du Preez, given that it was his son, Robert du Preez Jr, who had to be relegated to the bench to make way for his teammate.
It seems to have paid dividends, though, especially when taking into account Du Preez's error-laden cameo appearance after coming on as Bosch's replacement late in the clash.
Keep an eye out for Bosch as the Sharks take on the Chiefs in Hamilton this weekend in a match that should be cracking affair at Waikato Stadium.
Angus Gardner undeservedly under fire
It was a scrappy bout in Brisbane when the Reds downed the Sunwolves 32-26, as referee Angus Gardner dished out a whopping four yellow cards and two reds to leave the hosts with 14 men and the visitors with 12 at one point late in the match.
Despite the win, Reds coach Brad Thorn and captain Samu Kerevi both expressed their dismay at their own side's inability to stay on Gardner's good side in the post-match press conference, although Thorn attributed none of his side's poor discipline to the Australian referee's performance.
"It's an interesting one, it ended up 12 v 14, how often do you see that?" he said.
"It must be hard, he's a really good man (Gardner) and had an awkward responsibility to send a message [to play by the rules].
"If it keeps happening, where does it get to?"
Thorn's counterpart, Sunwolves head coach Tony Brown didn't see it that way, though, after his side were handed sin bins to Masataka Mikami, Rahboni Warren Vosayaco, Yu Tamura and Semisi Masirewa, with the latter earning himself a red card four minutes after returning from his initial yellow card.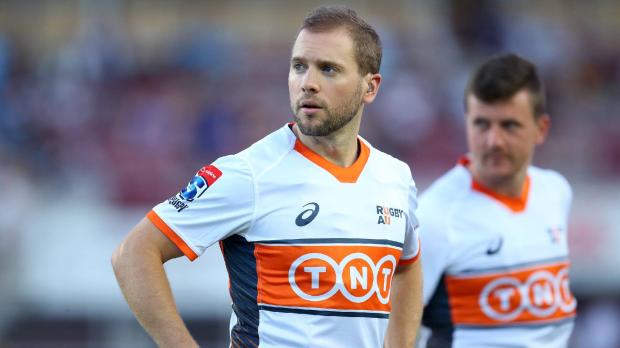 "There's World Cup spots coming up; they're all wanting to do well," Brown said of the pressure on officials.
"It was one of the first times I've seen Angus Gardner under pressure in a game of rugby and he didn't handle it well.
"I think he'll look back at that game and hopefully learn from it and be better, no different from any rugby player."
While Brown has a right to be disgruntled that his side were reduced to just 12 players, he should be taking a leaf out of Thorn's book and take aim at his own side as opposed to the officiating of the referee.
Gardner, the 2018 World Rugby Referee of the Year, is undoubtedly the best official on the planet due to the clarity and thoroughness of his on-field decision-making, and that much was evident in Friday's match at Suncorp Stadium.
Every one of Gardner's calls to send a player from the field was addressed adequately and correctly, so Brown should have no complaint with the officials, and should instead be installing some order within his squad to avoid a repeat of last weekend, which effectively cost them a match they very well could have won.
Speaking of discipline…
If the Blues are to re-establish themselves as serious playoff contenders after their mini mid-season resurgence, they need to be a lot smarter about how they conduct themselves against certain opponents.
They headed to Canberra last week as favourites to overcome an inconsistent Brumbies outfit, a result that would have pushed them back into the top eight.
Instead, they gave away 12 penalties – 10 of which they conceded consecutively – and were rewarded with yellow cards to props Alex Hodgman and Ofa Tu'ungafasi.
Within a handful of minutes after both yellow cards, Brumbies rake Folau Fainga'a crashed over from the back of two rolling mauls after Christian Leali'ifano kicked the ball out of play for lineouts within close range of the opposition tryline.
The hooker bagged a hat-trick after scoring from the back of another rolling maul, making him the unlikely leading try-scorer in Super Rugby thus far this season.
To constantly allow the Brumbies to kick into the corner and gift them an opportunity to utilise their primary attacking weapon time and time again must have been infuriating for head coach Leon MacDonald, especially when his side were forced to defend those mauls with an undermanned forward pack due to the two sin bins.
Although they're languishing in 13th place, the Blues are still only three points shy of eighth spot, but with four Kiwi derbies, another trip to Australia and a clash against the South African-leading Bulls still to play, they have to eradicate the errors that are costing them dearly, and they have to do so quickly.
Will Wallabies wallow like woeful Waratahs without Folau?
Back-to-back defeats without the services of Israel Folau, and the Waratahs are beginning to look like a side that could struggle to finish in a play-offs position.
As it stands, last year's semi-finalists are one of three sides that made the post-season in 2018 that could miss out on re-appearing there this time round, and that doesn't look like changing without their star fullback.
While the Waratahs succumbed to the Bulls in Pretoria a week after they were undone by the Sharks at the new Bankwest Stadium in western Sydney, Folau was stuck in his code of conduct hearing at Rugby Australia headquarters, waiting for a verdict on whether he will remain an employee of theirs after his controversial social media outburst last month.
A difficult assignment against the Lions in Johannesburg awaits the Waratahs this week, before three derbies in the intensely close Australian conference, a tough task against the in-form Jaguares in Sydney, and a daunting trip to Invercargill in the depths of winter to face the Highlanders all follow in consecutive weeks.
That is a challenging schedule against teams who are all in the hunt for a play-offs position, and if their last couple of games are anything to go by, it might be too much of a stretch for the Waratahs to push for a top eight finish with no Folau.
Although they'll be stacked with more depth in quality than the New South Wales club, the Waratahs' situation brings into question whether the Wallabies will endure the same fate later this year.
Daryl Gibson's side have shown that Folau's absence substantially reduces their chances of victory in matches they previously would have been confident of winning.
Whether that's something that Michael Cheika will be concerned about for his own side is unknown, but with the World Cup just four months away, the Wallabies head coach needs to use these last six weeks to find an alternative should Folau fail to win his case.
Watch – George Gregan sits down with RugbyPass:
Comments
Join free and tell us what you really think!
Join Free