Scotland's gloriously ugly Calcutta Cup win must now be backed up
It is hard to know which caused more bluster in Edinburgh this past week: the meteorological chaos of Storm Corrie, or the arrival of Eddie Jones and his one-man verbal maelstrom.
England would be 'going after' Scotland, he said. Could the Scots handle the pressure of being 'red-hot favourites', he pondered. On Saturday night, his question was answered.
Jones likes talking about pressure and expectation when this grand old fixture rolls around. And seldom has such pressure been heaped upon a set of midfield scrums. Seldom have a perpetual slew of set-pieces been so engrossing to so many. With each trampling step of the English cavalry, every twitch of Ben O'Keeffe's right arm, Murrayfield held its breath. The sixteen heaving, exhausted blokes in the trenches dug deep and then dug some more. Oh, there was pressure, alright.
This is what defines the Six Nations: savage competition, microscopically fine margins. Some day soon, it might be what defines this Scotland team. For the tournament has never been more ruthless.
When Stuart Hogg prematurely plucked the Calcutta Cup from its plinth before the Princess Royal had officially presented it to him, it was England's day in microcosm. To Jones, and the players who bossed large swathes of the contest, this must feel like a heist.
England had 54% possession and 62% territory. They spent nearly twice as much time attacking in the home half as Scotland did in theirs. They almost trebled the amount of time Scotland had the ball in the English 22.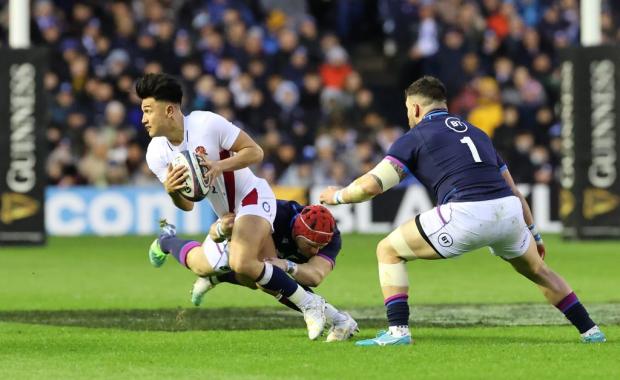 By half-time, three of the Scottish pack were into double figures for tackles. The rest were not far behind. They had made 83 to England's 47 in total. They had spent a grand total of seven seconds in the English 22 and scored seven points. For all their ball, their prime real estate and their impetus, England trailed 10-6.
Too often, Scotland have been cut adrift in these tight affairs, left with a mountain to climb and a big score to chase against teams too wise to be reeled in. In years gone by, they would have buckled.
But there's a belligerence about them these days. Jones promised England would come out swinging and in that opening half they went at them and went at them some more. They didn't just chuck the kitchen sink at Scotland; the microwave, toaster and dining table were thrown in for good measure.
In those moments, Scotland defended terrifically. Steve Tandy has transformed them from a side with the defensive sturdiness of damp tissue paper to a snarling, diligent unit that seems to relish their periods without the ball. Yes, they were made to attempt 140 tackles, but how many did they miss? Six.
Tandy's appointment in 2020 was part of a wider acknowledgement that Scotland's 'fastest-rugby-in-the-world' blueprint needed a heavy infusion of pragmatism. Scotland had the best defence in the championship in his first campaign, and the joint-best in his second. Scottish rugby folk knew little of Tandy's pedigree, but they are now lining up to hurl palms at the Welshman's feet.
To live with the heavyweights, as momentum tilts to and fro, you must roll with the punches. You must stay in the battle. There were moments in Saturday when you wondered if Scotland had it within themselves to pivot from the ropes land a combination of their own. When the English scrum got a nudge on, you winced. When Scotland shipped dull penalties, you felt a grim sense of deja vu descend. When Marcus Smith screamed away to put England five clear, you worried if the Scottish attacking pulse would only grow fainter, their grip on the game looser.
But when their opportunities arose, how Scotland seized them. Some eye-catching stats have emerged from the Murrayfield tumult, but here's one of the most telling: this was Scotland's lowest time in possession in an opposition 22 for 15 championship matches. Only twice in that period have they bettered Saturday's haul of three points per visit. One minute in the English red zone was all they needed to score 17 of their 20 points.
There was Hogg's sharp pass, Darcy Graham's slaloming burst and inside ball to Ben White. The London Irish scrum-half, a typically cute Gregor Townsend selection, will cherish his debut forever. White's support line was clever, his control and maturity in the final throes excellent.
And then there was Finn Russell, directing heavy traffic with the nonchalance of a matador. Russell tends to shape Test matches with his hands rather than his boot, but his glorious array of probing grubbers, cross-field parabolas and steepling up-and-unders hauled England's back-field out of shape. Smith scored more points, but it in the much-heralded duel of the play-makers, it was Russell whose influence burned brighter.
For Luke Cowan-Dickie wasn't left stranded and vulnerable on the left touchline by accident. Russell swung the play viciously from one flank to the other, a pair of magnificently weighted kick-passes that put Duhan van der Merwe steaming away and then stressed Cowan-Dickie in to a wounding volleyball cameo.
Russell was a huge performer out there. Graham, too, scrapped and harried out of possession and beat six defenders with it, as many as the entire England team combined. It was he, a tiny ferret in a land of wolves, who pilfered English ball with the clock red. Matt Fagerson – whose numerical contribution totals 16 tackles and five metres per carry – was colossal. For all Magnus Bradbury's domestic brilliance, the number eight jersey will be Fagerson's again in Cardiff. It was a coming of age for the Glasgow man as an international back-row.
Above all, there was such belief coursing through Scotland. At the endgame, as 60,000 Scottish hearts turned their owners' rib cages into mosh pits, WP Nel shook his head and grinned before burying it in another match-deciding scrum. That – more than the defensive stubbornness, the attacking nous, the canny kicking and the impressive set-piece effort – was most striking. It felt like a towering hurdle to clear.
In some ways Jones was right to question Scottish bottle, for the favourites tag has hobbled them many times in the past. The burden and the pressure and the expectation that comes with their clear status as Scotland's finest group of the millennium. Nobody doubted their ability, but their mettle? That was another matter. Game by game, scalp by scalp, their character grows. England have been seen off home and away, France beaten in Paris for the first time since 1999, the Wallabies defeated again, and Wales downed in Llanelli.
Hoodoo after hoodoo has been obliterated by this team. Not since 1984 have Scotland won back-to-back Calcutta Cup matches. They have three victories from five against Jones and his side, sustained success that was nigh-impossible to envisage when Townsend took over.
It is easy to forget that as recently as 2020, the coach's position looked decidedly shaky. The mortifying pool-stage exit from the World Cup in Japan heaped rancour and criticism upon him. He recognised Scotland's high-octane style – a style he instilled and loved – required surgery. Others in his position may not have been so disposed to change.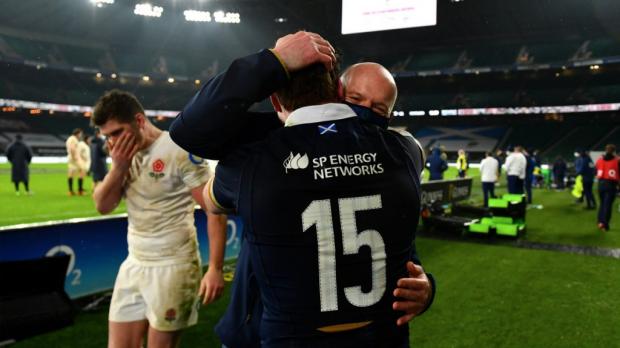 This was a poignant day for Townsend, his 50th game at the helm and 132nd as player or head coach. A 29th victory took his win rate to 58%. Nobody – not Stern Vern Cotter, not the great Sir Ian McGeechan, not even Jim Telfer, the totem of Scottish rugby – has a better record.
Townsend is a perfectionist, though, and he will know his team were far from perfect. There were too many silly errors in possession. Even Russell threw in a customary missed touch from a penalty – purely to keep things interesting, you imagine.
A count of thirteen penalties is several too many, and a good number were shipped in maddening fashion. Zander Fagerson couldn't resist another nibble at a breakdown contest he had already lost. Van der Merwe couldn't help but haul his gargantuan frame off the deck for another rumble when he had already been tackled. Jamie Ritchie had a needless tug at Maro Itoje's arm when he had been beaten to a line-out throw. Poor Grant Gilchrist was bamboozled by Graham on a kick-return and wound up being done for obstruction.
But for all the inaccuracies and all the self-harm, Scotland found a way to win. That is a precious skill, and in the end, it is all that matters. What a lift. What momentum they carry now to Cardiff.
What composure Scotland must bear too, for they have been in this movie before. It was only last year they smote England at Twickenham and led the Welsh handsomely at Murrayfield, when their brains fell out and the match was lost. As sweet as champagne tastes when you're supping it from the Calcutta Cup, it is no use if you cannot back up the glory. The Principality will be packed out and seething after what Ireland visited upon the defending champions in round one. Scotland cannot cede these gains, allow the feelgood to dissipate and another championship to slip away. Consistency is the true mark of greatness.
It had gone 7:30pm, nearly an hour after Hogg hoofed the ball into the North Stand, before the last revellers streamed out of Murrayfield on a wave of euphoria. From the raucous bowl to the cobbles of the Old Town, the booze will flow and the hope blossom anew.
Comments
Join free and tell us what you really think!
Join Free