Ref Watch: Why Lawrence Dallaglio was wrong and Mike Adamson was correct
Twelve months on from the catastrophic refereeing display from Pascal Gauzere which to all intents and purposes determined the outcome of the Six Nations clash between Wales and England, despite Wayne Pivac's post-match claims, there was no repeat performance when the teams met at Twickenham.
All of 2022's round three Six Nations games were handled by referees who (as things stand) seem to be on the fringes of the 12-strong group who will be in the middle at next year's World Cup.
Everything to gain then for Scotland's Mike Adamson and England's Karl Dickson – a pair of fast-tracked former professional players – and Georgia's first refereeing star Nika Amashukeli who takes charge of Italy's trip to Ireland.
There was very little controversy in either of round three's opening games, although Dickson looked significantly more assured in Edinburgh than his Scottish counterpart managed to appear in London where he put in a messy, if not below-par display.
Pivac's Push?
Having viewed this a few times, I am yet to find an angle which conclusively proves or disproves Pivac's claim that Wales turned possession over because of a push on their jumper.
The throw appears to miss its target by some distance, so something clearly went wrong, but neither Adamson nor TMO Brian Macneice saw the need to stop the game so the ref could study a replay.
When a try is scored in these slightly odd circumstances it would be far from unusual for the TMO to take a look at a replay in the background so he can intervene before the conversion if an offence has been missed.
And, as described below, MacNeice had already proved himself more than happy to carry out just such a review when Liam Williams received an after-the-event yellow card in the first half.
Conclusion – MacNeice looked and there is no case to answer, or everyone missed it. Either way, it is hard to believe that Dan Biggar of all people was not making a case in the most forceful of terms if Wales felt severely hard done-by on the pitch.
"We took 14 points last year in a Six Nations game where they allowed a play where the ball wasn't alive and then a blatant knock-on." #GuinnessSixNations https://t.co/tEao5vUF9k

— RugbyPass (@RugbyPass) February 26, 2022
Look the Part
Body language and communication with the players and other members of the officiating team is a really important part of refereeing and for this reason, while he largely got the important calls right, Adamson doesn't inspire much confidence in me.
On more than one occasion the long pause – with no communication or signal to suggest he was waiting for advantage – between an offence happening and his whistle sounding told me that the touch judge or TMO spotted something he missed. While this is the purpose of a wired-up team of four, it happened too often for comfort and suggests Dickson's positioning and ability to read play needs some work.
A good example of this came in the tenth minute when the commentators suggested he had reversed a scrum penalty initially signalled against Wales. My read of this situation was that in reality Adamson misheard the touch judge's call and had to be corrected. Either way it looked terrible.
The calmness and poise with which the likes of Wayne Barnes or Jaco Peyper handle themselves sends a subliminal message that they are comfortable in the red-hot pressure of an international and totally in control. In truth this is sometimes probably not how they feel inside, but giving off this aura helps with their management of players in fractious situations and is something Adamson needs to develop.
Stick to being a No.8 Lawrence
Nigel Owens has joined the commentary team during the opening two rounds of games and by doing so ensured every decision was accurately explained.
However, there was no former World Cup final referee alongside Lawrence Dallaglio during the England v Wales game and as a result he twice got things badly wrong.
Shortly before half-time England attempted a lineout switch which ended with Courtney Lawes being driven by two teammates up the five-metre channel close to the visitors' line. This pod of forwards was tackled by Wyn Jones and Wales won a penalty when Lawes failed to release.
"That's a maul," Dallaglio said and he went on to suggest it was collapsed illegally and that England should have been awarded the penalty. However, tackler Jones was the only Welsh player to make contact with the three England forwards so since he is not a bound-in, on-his-feet participant, only England players were in contact with the ball-carrier and a maul is not formed in law.
Social media has also jumped on Dallaglio's closing-seconds commentary in which his verdict on the replay of Lawes' one-hand knock-on was: "That's a yellow card at any other time in the game so I don't see why it isn't now."
Like most other offences, a deliberate knock-on can be adjudged worthy of more than a penalty depending on the match situation. If it stops a promising attacking move where space and numbers exist, or should it occur in deep defence close to a team's own line, or following a sequence of previous penalties then a yellow card usually follows.
However, 60 metres from England's line with plenty of defenders on their feet and no line-break or overlap likely to result it only resulted in a penalty. Much of the skill of refereeing is interpreting context – for example what constitutes advantage – and contrary to what Big Lol seems to believe there are very few offences which automatically trigger a card.
Perhaps the London Referees Society could send him an invitation to their next beginners' law course…
England must have been decent when Clive Woodward, a frequent Eddie Jones critic, is full of praise. #England #GuinnessSixNations #ENGvWAL https://t.co/qznX9BI9jx

— RugbyPass (@RugbyPass) February 26, 2022
Management of the Scrum
Adamson deserves some praise for his handling of the scrum where his approach sorted out a potentially really problematic area.
After three scrums we had seen five resets, a free kick, two penalties and no clean possession. In commentary Nick Mullins wryly observed "this is what we have all come here to see."
Adamson then warned both front rows and there were no further issues at the set-piece until the arrival of replacements saw the final three scrums of the match end with penalty awards.
Liam Williams Yellow Card
My only query regarding Williams' yellow card involved the process by which MacNeice advised Adamson to take a look at an offence which he missed in real time.
To the letter of the TMO protocol, the man in the van may only get involved in foul play or an incident relating to a try. Since England were very close to the Wales line the second criteria was perhaps met, but either way there was no doubt that Williams' action was cynical and in the red zone so the outcome was entirely merited.
On a point of detail, I thought the officials should have reset the sin bin clock, since immediately after the card was shown Tomos Francis required treatment before leaving the field for a head injury assessment. This meant 84 seconds of Williams' ten minutes on the naughty step expired before play restarted.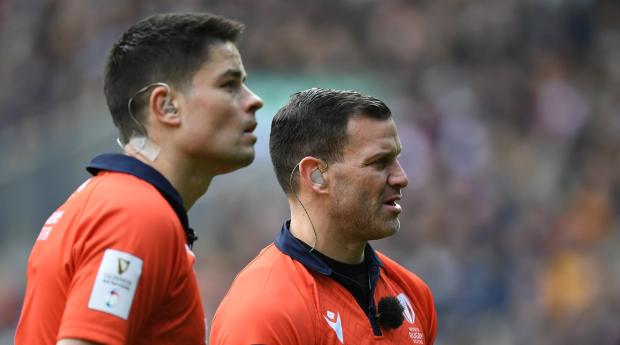 Poacher turned Gamekeeper!
The only mildly controversial moment in France's comfortable six-try win over Scotland came in the build-up to the visitors' bonus-point clinching fourth try early in the second half.
France lock Cameron Woki was clearly on the wrong side but the ball emerged from the breakdown on Scotland's side anyway and with possession seemingly not being slowed and Ali Price unhindered by Woki's presence Dickson opted to play on.
Price clearly had other ideas, however, and attempted to make it appear that Woki had marginally impeded his progress from his position on the ground.
We then had the amusing spectacle of a former Harlequins scrum half loudly berating the current Scotland no.9 for "trying to 'buy' a penalty." At least he didn't get the reply "just like you always did!"
In truth, Woki would usually be penalised in the position he found himself, and had Price got on with the game and tried to use any advantage that Dickson subsequently called, this would probably have been the outcome.
However, his exaggeration clearly irritated Dickson, and with the need to preserve 'rugby values' currently a focus area for referees it is entirely possible that Price's actions cost Scotland a penalty. Worse then followed as the British Lion ran up a blind alley, Scotland were turned over and France created a try with a breakaway down the right touchline.
PLAYER RATINGS: Can anyone stop Les Bleus? Going on this evidence, maybe not.

Paul Smith ??? rates the French players#GuinnessSixNations https://t.co/CbyxOVfAve

— RugbyPass (@RugbyPass) February 26, 2022
Jaminet Yellow Card?
The 26th minute collision between France's Melvyn Jaminet and Scotland's Sam Skinner occurred as the pair contested possession and the Murrayfield crowd howled for a card after replays showed the French full back made some contact with the Exeter lock in the air.
However, having viewed a TMO replay, Dickson determined that while Jaminet "had no chance to catch the ball" the force involved was minimal and therefore worthy of only a penalty.
It seems that slo-mo often makes collisions appear worse than they actually are and suggest more intent exists than is the case. Perhaps the TMO protocol could be adjusted so referees are required to view a real-time replay as well as various other angles and speeds before finalising their decision?
Comments
Join free and tell us what you really think!
Join Free