Moana Pasifika back young star Lincoln McClutchie to rebound after Rebels loss
Moana Pasifika have rallied around young playmaker Lincoln McClutchie following their Super Rugby Pacific defeat to the Melbourne Rebels at AAMI Park on Saturday.
Moana Pasifika finished within four points of picking up just their second win as a franchise since entering the competition this season, falling short in a 26-22 loss against the Rebels.
Speaking to media on Tuesday, veteran first-five Christian Lealiifano described the result as "one that got away" from Moana Pasifika given the tightness of the encounter, which could have easily fallen on either side of the ledger.
"The whole group was pretty disappointed in the result, and then, in our reflection and reviewing it, saw some opportunities that we missed," Lealiifano said.
"Absolutely one that got away. I guess the positive is we're giving ourselves a chance to win these games and compete, so there's plenty of positives there for us. The next level now is getting us the opportunity to win it and win it comfortably."
Both sides had chances aplenty throughout the match, with perhaps the best untaken try-scoring opportunity coming in the final 10 minutes when McClutchie looked destined to score following a counter-attack instigated by Danny Toala and Solomone Kata.
Trailing by nine points, McClutchie was put into acres of space down the left-hand sideline and dove in for a try in the corner, only for the ball to be slapped out of his grasp in a desperate cover tackle by Rebels first-five Carter Gordon.
The anguish on McClutchie's face was immediately clear to see, as was the disappointment he showed when he failed to find touch from a penalty kick in injury time after Rebels second-five Ray Nu'u was sent off for a high tackle on Lealiifano.
Failure to execute either opportunity denied Moana Pasifika the chance to notch their first win on Australian soil, but Lealiifano – who has since been cleared of any damage from Nu'u's tackle – leapt to the defence of McClutchie.
"I wouldn't say 'bombed'. That's a pretty good tackle from the defender," Lealiifano said of Gordon's immense defensive effort.
"I think he's doing pretty well to get in that space. He's got really good speed. I guess the language we use is pretty important, especially for a player's confidence.
"He's an amazing little player, The General. We'd love him to continue to back himself. I love that he's disappointed about it because he knows he's better and we're back in to execute every other time of the week."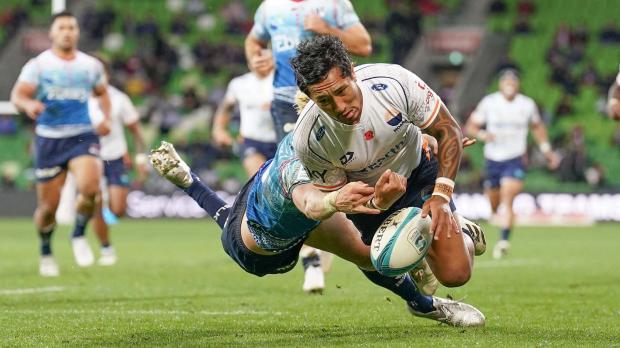 Moana Pasifika assistant coach Filo Tiatia echoed Lealiifano's sentiments, noting that the playing and management group had moved to support McClutchie in the immediate aftermath of the loss.
"He's been pretty awesome around that area, but also the support around him by all the coaches and all the players," Tiatia said.
"No one intentionally likes to get tackled and the ball comes out of your hands when you go over the line, and obviously execution of the kick didn't come off and it was the end of the game.
"He was bitterly disappointed and we're disappointed for him as well because it's just one of those moments that we all learn from.
"The biggest thing was the group got around him straight away, and that's the biggest thing that we'll learn from and move forward."
Moana Pasifika have since returned to Auckland ahead of this weekend's clash against the Waratahs, who are riding high after stunning the competition by scoring a shock win over the Crusaders in Sydney last Saturday.
Lealiifano said this Saturday's clash with the New South Welshmen will be a tall task for his side, but it's one that the former Wallabies pivot – who is nine points shy of becoming the first Pasifika player to score 1000 Super Rugby points – is excited by.
"I think they're a team that's on the up as the season and the competition's been going. They've been really improving, and they're going to be a real challenge for us this week," he said.
"I think their forward pack, quite a physical team, again, and a lot of breakdown presence obviously with the Wallabies skipper there.
"Again, they're playing really well, so, obviously, we're aware of those threats and, for us to play our game on attack, we need to be clinical in those areas.
"It's going to be a really tough challenge, an exciting time, so we hope we can get a lot of fans and people out to our game here at Mt Smart Stadium and get behind the boys."
Comments
Join free and tell us what you really think!
Join Free