'I read social media posts saying stuff like I should never wear a rugby shirt again - it's all bollocks'
Freddie Burns is buzzing. New season, renewed targets, old friends. Ten months ago, Champions Cup opening weekend was woundingly traumatic, the effervescent entertainer having the life sucked out of him by his infamous gaffe of losing the ball over the Toulouse try line while celebrating that he was about to score. 
Now comes confirmation that European opening weekend next term will be a rumbustious Burns family affair at the Rec, a chance to go head-to-head against younger brother Billy. Four years separate the siblings in age, Freddie turning 29 last May compared to Billy blowing out his 25th birthday candles a month later.
Each will be at their devilish best to try and gain an upper hand on November 16. However, away from that 80 minutes when they will play against each other like sworn enemies, the admiration Freddie has for Billy is infectious.   
Kid brother didn't have to follow Freddie's grass-is-greener-outside-Kingsholm philosophy, a 2014 tactic that took him to Leicester for three seasons before hooking up with Bath in 2017. However, Billy's gut instinct told him to do likewise and a maiden season in Belfast has just seen him coming into his own as a more consistently accomplished out-half.
"I really proud of him," said Freddie to RugbyPass about a relationship where they have gone from living in each other's pockets to living in different countries. "I always said there is tipping points in players' careers: to ask to leave Gloucester with a year left in his contract, almost foreseeing what happened with (Danny) Cipriani coming into the squad and then starting.
"He has gone over there (to Ireland) when right now he could be second choice to Cipriani and rightly so by the way Cirpiani played last year, but he could be a very unhappy rugby player now. 
"He saw an opportunity and Ulster offered him that opportunity and he has taken it. He has really blossomed over there into a great, experienced player. They are a great team to be with and I'm really looking forward to playing them this year. 
"The best thing about him being over there is the fact that I can fully support him. When he was at Gloucester you wanted him to do well but you wanted Gloucester to lose, so now he is over there and I can support him. 
? | @BathRugby will start their 2019/20 Heineken @ChampionsCup campaign at home against @UlsterRugby on Saturday 16th November.

— Bath Rugby (@bathrugby) August 23, 2019
"We have drawn each other in Europe and that will be a couple of days on the drink for the Burns family. A great occasion for us to play against each other in the best competition in the world."
There was a time last autumn, though, when the Champions Cup was more like the worst event in the world for Burns. His incredible error against Toulouse was oxygen for the multiple keyboard warriors who love nothing more than ridiculing people when they are down.  
Resilience eventually got him through the ordeal and he has no qualms now relieving the arduous tale, patting himself on the back for being able to have the character to stubbornly bounce back from quite a scarring escapade. 
Five minutes to go…
Chance to win the game…

"Oh he's dropped it!"

A brutal moment for Bath star Freddie Burns ? pic.twitter.com/K7S578Rdwx

— Rugby on BT Sport (@btsportrugby) October 13, 2018
"You can go as deep as you want about it. In life, in rugby, things aren't always going to go the way you want them to and you're going to be dealt some pretty s*** hands. 
"That (error) was probably my own doing but you make a decision, you either be a victim or be a survivor and I decided to be strong, to just crack on and bounce back and I feel like I have done that well. 
"Obviously there is added incentive this year now being back in that competition to right the wrongs, but I have played over 200 top-flight games so I'm not one going to let the split second of a poor decision and a mistake affect me.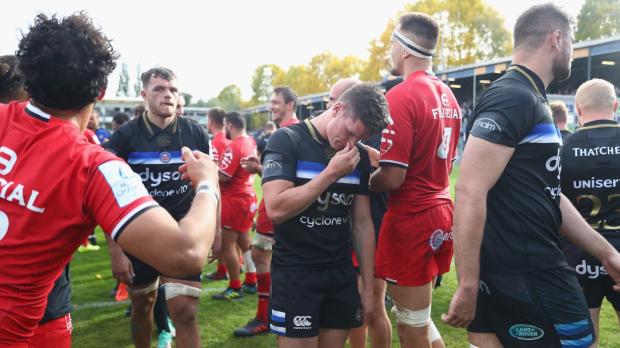 "Does it hang over me a little bit? Of course it does. It was a massive mistake on my part but like I say, you make a decision to front up and get on with it or sort of fade away. I'm happy with how I responded," he said, going on to acknowledge how mental health has fast become a hot topic in rugby. 
"Obviously, the Kearnan Myall article has come out recently and stuff like that. There is massive mental strain on professional athletes in whatever sport, mostly rugby. It tends to take a lot of mental strength for people to take the pitch and bounce back. 
"I guess I said it when I was on Rugby Tonight on BT, I said if the story of me dropping the ball or if the story to come out of it is resilience and mental strength, then I'm all for it. You have just got to stand strong, hopefully show younger kids that it isn't always going to go your way but it isn't the end of the world. 
"You could see that it hurt him…"

"This is probably the time we need to rally around him."

Todd Blackadder offers support for Freddie Burns after his mistake against Toulouse. pic.twitter.com/ZjBGxNTj8C

— Rugby on BT Sport (@btsportrugby) October 13, 2018
"I read social media posts saying stuff like I should never wear a rugby shirt again and all this stuff – it's all bollocks. You are always in control and I have just chosen to take that route," he continued, moving on to grasp the nettle that is a seemingly unaccountable social media.
"I have always said if you're on social media you take the good with the bad. I'm quite active on social media. It's an aspect of society that I enjoy, but you are going to take your fair amount of flak, especially when you make a mistake like that (against Toulouse).
"People should be made more accountable on social media. I know there has been a lot this week with (Marcus) Rashford and (Paul) Pogba, stuff with the (Manchester United) penalty miss and all that kind of thing. I hear there is stuff that these companies can do to make people more accountable, but if you're going to be on social media you take the good with the bad and you just roll with the punches."
In hindsight, he suggests his failure to ground the ball for that European try was symptomatic of how his club agonisingly fell short of what they hoped to achieve last season, their Premiership campaign ending with them finishing sixth on points difference after they wound up level on points with Northampton in fourth and Harlequins in fifth.  
"First and foremost I don't think that we're a million miles away. Last year we ended up sneaking into that Champions Cup place but ended up joint-points for fourth. I see our biggest improvement just being a bit more ruthless and taking more of the opportunities. 
"I feel a lot of people will look at our games last year and say that we lost those games in the last 10 minutes, but I see them as the fact that we didn't take opportunities in the first 70 to seal the game up. We have got to bring in a ruthless edge.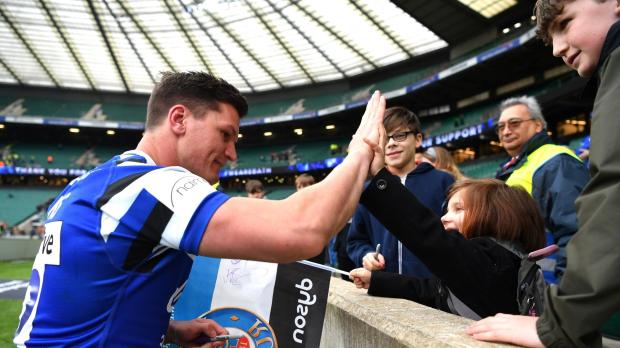 "This squad is on a journey. With Stuart (Hooper) now at the helm it is going to be a continuation, it's not completely fresh start so it is a journey we're all excited to be on. When you look around the squad, and I know every Premiership squad will be saying this, but the players that we have got here, the young lads who will step up while the World Cup players are away, are more than capable, so it's a real exciting time to be a Bath player. 
"It is going to be unbelievably competitive, even more so this year with the start being when the World Cup is on. You're going to see squad depth, strength and the power of peoples' pathway systems and how they put people thorough the academy system and promote. 
"It's going to be another competitive year and I feel like the teams that make the most of these first four lot five weeks will be the ones who will go on and succeed in the season. 
"Bath is a club that deserves to be up there… well actually I will take that back, no one deserves to be anywhere but the supporters should definitely be supporting a club that is up there competing for honours every year and we have probably let them down over the last couple of years. 
"It's time we paid back the faith that they and the city have shown us and really get ourselves up into that top four and compete in Europe as well."
It's almost time…

2?8?.0?8?.1?9? #ItsInOurFabric pic.twitter.com/EWL670qmsa

— Bath Rugby (@bathrugby) August 23, 2019
He hopes the extended pre-season will be their springboard to better things. "We're training hard, training has been enjoyable. There has been a few changes around the club, which so far have gone really well, but also as a player it's a s*** time of year where you have got to train so much without a game. 
"We're getting itchy feet now. Looking forward to the start of the season, but we have still got an opportunity to use this extended pre-season to make big strides and make sure that we hit the ground running coming the start of the Premiership."
WATCH: In the first episode of the RugbyPass Rugby Pads series, Jim Hamilton visits Freddie Burns to have a look around and take a dip in his hot tub
Comments
Join free and tell us what you really think!
Join Free