'He's explosive, dynamic... has X-factor' - the man of few words who could be Wales' next scrumhalf star - Tomos Williams
Let's get a few facts out of the way first when it comes to Tomos Williams. When he next pulls on the red jersey he will become Treorchy's most capped player, overtaking Andrew Bishop, on 17 caps. He represented Wales at basketball at under-16s level.
From a family of gifted sportsmen, the biggest influence on his rugby career, bar none, has been Steve, his dad. He has a cockapoo named Rollo and the two are regularly found pounding the streets of Treorchy.
Like pretty much every rugby player, his spare time is spent going for a coffee with the boys. Another fact you may not know is he is not overly fond of talking about himself. Verbal diarrhoea is not a problem. An economy with words is a gift – certainly with this journalist – that could see him aiming for the Brevity Olympics in 2020.
So, Act One. Could he elaborate on the following to RugbyPass. His comprehensive skillset? "Nothing is perfect in my game, and I don't think it ever will be." His biggest disappointment? "The World Cup semi-final. I don't want the feeling of that loss again."
Okay. How about describing what you try to achieve over 80 minutes? Putting the ball through hands, offloading, box-kicking, you know, what is your point of difference? "I don't think too much. I just play what I see in front of me."
(Continue reading below…)
The RugbyPass Alternative Commentary team on whether Conor Murray is still Ireland's No1 scrum-half 
Does he get nervous before games? "Not really. That only happens if you're not confident in yourself. If you don't believe in yourself, no one will believe in you."
Right, then. What about your bombastic handling skills? "That's my basketball background but it was never a viable option because there is only one winner in Wales and that's rugby. I don't practice anything particularly. It comes naturally, I suppose."
How about opposition scrum-halves, do you admire anyone in the game? "I don't want to talk about other nines. I want to be my own player." And how about leaning on anyone in and around the camp. "Not really. Once you're on the field, it's up to you, no one else."
You catch the drift. He's not one for wasting words, running off at tangents, and filling the air with waffle. Responses are straight, to the point and curt. The problem for Williams is that his performances are meriting more and more words.
Exhibit one: Wales v Australia, Tokyo, 2019. With 76:29 on the clock, Matt Toomua hoofs the ball upfield. One of the smallest players on the pitch, Williams tracks the ball in the night sky, leaps balletically sideways a metre and pads the ball delicately back into play. It looks like it's something he has practiced thousands of times before. He hasn't.
Exhibit two: Wales v Georgia, Toyota, 2019. Williams gathers the ball 40 metres out, points with his right hand towards the touchline as if to tell the Georgian defender where he is going but he steps off his right foot to evade left-wing Giorgi Kveseladze, bobs under full-back Soso Matiashvili like a super middleweight in his pomp, steps inside the burly Levan Chilachava before offloading with one hand into the outstretched palms of George North as two defenders commit. Five defenders taken out in 10 metres. A set play? Not on your nelly.
Exhibit three: Lyon v Cardiff Blues, November 2018. Ellis Jenkins intercepts from 60 metres and sees Williams screaming for the ball on his right. The scrum-half gathers the ball, steps outside, then inside, then out again to leave Lyon's Rudi Wolf considering an early retirement before theatrically diving in the corner. It's a finish any wing would be purring about.
Exhibit four: Cardiff Blues v Pau, December 2019. With Cardiff leading 12-10 and nearly half-an-hour gone, Williams shapes to pass but in the same movement, dinks the ball with the outside of his right boot over the heads of the Pau defence to a waiting Jarrod Evans to skip over for an easy score. Impudent doesn't cover it.
One of the core cultural values in the Cardiff Blues Way is #Family. It's everything to us & that's why we brought Nick's mum over for Christmas.

You can also join our family. There's still a little bit of space at our festive derbies. https://t.co/kGE4nUrtXG./cardiffblues pic.twitter.com/7Aejkl2kcT

— Cardiff Blues (@cardiff_blues) December 20, 2019
We could go on. The rip and strip on Charles Ollivon to save Wales exiting the World Cup in the quarter-finals, the 55-metre disallowed solo try against Zebre which saw him feint, draw and dummy five defenders before diving in the corner. Williams is no run-of-the-mill nine.
Onto Act Two. Someone who is more loquacious on the subject of our erstwhile scrum-half than the man himself is Richie Rees, who works with him day-in, day-out. The former Wales scrum-half is now his backs coach at the Cardiff Blues.
Rees lets out a little chuckle when he discusses our cursory chat. "Tommy's a good guy. He calls a spade a spade."
Rees is well placed to analyse his gifts and unique skillsets he brings to the game? "The majority of things Tommy does is all down to instinct. He's a natural ball player, through his multi-sport background and he doesn't spend hours and hours on the training field religiously practicing his offloading."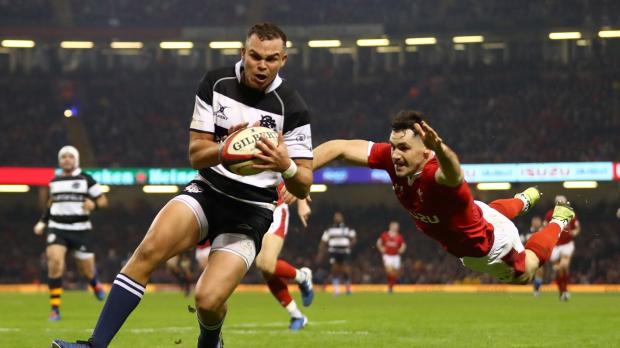 Williams came through the system at Coleg Y Cymoedd and Rees remembers exactly where he was when he first laid eyes upon him. "He was playing up a year for the Wales under-20 and I was doing commentary for the BBC. After I got home, I said to my missus, 'There's this guy coming through who is going to be an exceptional rugby player'. That was Tomos."
A lot of what Williams does is not scripted. Far from it, he plays on his wits, on impulse. "If you saw the try against Pau, where he chipped over the top to Jarrod Evans, that's not something we practiced in the week. That's the off-the-cuff. He does it simply because he has the ability."
With such an instinctive game, Rees says there are drawbacks, but the positives outweigh the negatives. "Naturally errors happen with that sort of skillset. The majority of the time, if it's a 60-40 gamble, you're happy to go with it. There are two types of player. 
"Take Leigh Halfpenny. He's 85 to 90 per cent across the board – he rarely ever makes an error. His standout would be his goal kicking but if you look at Tommy, he has real X-factor. He's explosive, dynamic, gets his hands through the ball. He's got points of difference that other players simply don't have."
Reports have emerged in Wales regarding the futures of Liam Williams and Ross Moriartyhttps://t.co/KxrSzp5sjE

— RugbyPass (@RugbyPass) December 20, 2019
As his career progresses – Williams turns 25 on New Year's Day – Rees says it's important not to coach the ability out of him. "Sometimes he gets frustrated. Say if we have a three-fix strike play, sometimes he'll go on his own but it usually works out. If it's repeated skill error, that is when it becomes an issue but the guy is a box of tricks. He will try every different thing going because he has that innate confidence to do it."
Williams' devil-may-care, gung-ho nature makes coaching him a challenge but Rees wouldn't have it any other way. "You go into the week with general themes. You don't overload them with more than two or three ideas and as long as they are sticking on the same path they are free to express themselves. 
"I did a session this week and we chatted afterwards about a speculative pass he had made. I had just watched it back on the laptop and because he shaped to pass out of the back, and then switched his body angle to pop a short ball out the front, the short runner wasn't expecting it. I can't blame him. For me as a coach, it's just working with him and figuring out how we can make him better."
With 16 caps in little over 18 months at national level, his career progression is being closely monitored in the highest echelons of Welsh rugby. Indeed, Rees has chewed the fat with Stephen Jones about how his development should look in 2020 and beyond. 
Amanda Blanc makes for an interesting PGB appointment in Welsh regional rugbyhttps://t.co/95SrJkFmfG

— RugbyPass (@RugbyPass) December 20, 2019
"I met Stephen last week and we both came to the easy conclusion that he is one of the two best scrum-halves in Wales – there's no doubt about that. The next step is how can we get him to be the starting Welsh No9. 
"I know from personal experience, coming on with half an hour to go, is very different to managing and starting a game. You have to get consistency, and he knows that. I said to Steve, he is a regular starter at the Blues for the last 18 months but he is only going to get that experience with Wales by being put in that position."
With Rhys Webb still ensconced in France indefinitely having turned 31 earlier this month, Williams could be a part of the Welsh set-up for the next seven or eight years and Rees feels there is yet room for growth. "For me, the exciting thing is that being around good players he has a couple of years where he'll only get better."
As for his communication around his contemporaries, Rees says he understands the game intimately. "Whatever persona he gives off, he is straight as an arrow around his delivery in a team environment. For instance, it really helps Jarrod that No 9 can see the same tactical plays. 
Massive congratulations to one of our @tomosgwilliams on his selection. Incredible achievement , and all of us here at Treorchy RFC will be supporting you and the team every step of the way ????? https://t.co/etfSPc7jV5

— Treorchy RFC ? (@TreorchyZebras) September 1, 2019
"Personally I like leaning on him in meetings because he gets a feel for the group. Tomos always gives you a straight answer. Sometimes I'll prep him, so rather than me doing all the talking, he'll fire away to the rest of the backs, no problem."
Where Rees feels Williams' game has come on most is in his basics, something which pleases him. "Over the last year and a half especially, there's been a big improvement from him in the game's fundamentals. His kicking and passing have skyrocketed from say four years ago. That's down to hard work."
The final piece of his make-up is Williams' pugilistic attitude and ability to front up to players. "What sets him apart from other No9s is the edge he brings to his game. He's like Gareth (Davies) in that regard. It helps from a forwards perspective because he doesn't mind driving them around the park, patrolling the fringes and challenging those edge defenders. 
"If you watch how he is utilised by us and Wales defensively, it's because defence coaches are prepared to put him in the front line. He's not the biggest bloke, say 5ft 10 and 13st, but he's fearless. Take last year at the Arms Park, Gareth Davies looked to take a quick tap penalty and Tomos lined him up. The collision between the two was seismic. He's so dynamic that he can get away with it."
"My boy was playing under-11s rugby and we could barely get nine or ten players to come out and play whereas with football they were scratching two sides together." @ShaneWilliams11 talks regional rugby decline with @heagneyl ???https://t.co/opEhls2mH2

— RugbyPass (@RugbyPass) December 1, 2019
Davies isn't the only scrum-half Williams will be going toe-to-toe with in the next few weeks as the Six Nations loom. First up will be Aled Davies in the game against the Ospreys this weekend and it will then be the fast-improving Rhodri Williams on Boxing Day. 
Williams' only focus will be on emerging victorious. The epitome of a player doing his talking on the pitch, this jack-in-the-box No9 will doubtless be befuddling defences, outfoxing journalists and thrilling Welsh crowds for years to come.
There's no doubting Tomos, a star in the making.
WATCH: Follow all the action from the Guinness PRO14 in the RugbyPass Live Match Centre with commentary, stats, news and more, plus live streaming in some places
Comments
Join free and tell us what you really think!
Join Free