Is anyone holding Eddie Jones to account? - Andy Goode
It might seem a bit early in the side's evolution but Eddie Jones and his 'new England' have a make or break fortnight ahead of them.
With their two toughest Six Nations fixtures still to come, England can still win the tournament but they could also finish on the same number of wins as last year when a review was considered necessary.
That debrief of the disastrous 2021 Six Nations campaign felt like a case of the RFU needing to be seen to be doing something and, although it stated that all future debriefs will be informed by "external rugby experts", it does still feel like there isn't really anyone to hold Jones to account.
Conor O'Shea is the RFU's director of performance and the only one high up in the organisation who might have the rugby IQ and gravitas to challenge Eddie but I doubt he has that power or that's his place in the hierarchy.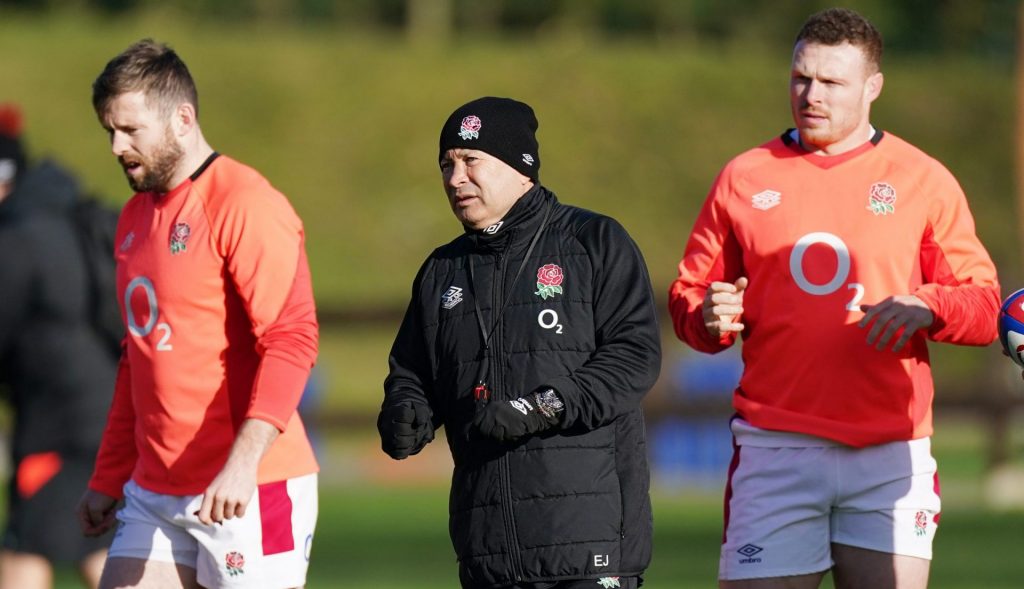 Unless England lose both of their upcoming games by 30 points, I don't think Jones will lose his job and I don't think he should given how close we are to a World Cup and how long he's spent with full control of the setup but we have to see progress against Ireland and France. Heavy defeats at Twickenham and in Paris and you just never know.
One thing to come out of last year's Six Nations debrief was the need to deepen "alignment between England Rugby performance and professional clubs" and Jones is picking on Premiership form more now than ever before. Now the style needs to come too.
The axis of Alex Dombrandt, Harry Randall and Marcus Smith that started against Wales is such an exciting one in attack but England made just two linebreaks and scored just one try, with the legitimacy of that being questioned as well.
Whether they are still settling into the England environment, aren't quite trusted yet by Eddie or aren't being allowed to express themselves remains to be seen and only time will tell but they do appear to be playing with the shackles on at the moment.
It's an age-old problem in sport whether you pick players to fit a system or select a team and fit the system around them. England are selecting players who play a certain way for their clubs and now they need to be empowered to do the same for their country.
There are also a trio of assistant coaches in Martin Gleeson, Anthony Seibold and Richard Cockerill only just getting their feet under the table, and we know there's a high turnover under Jones in that area, but we need to see evidence of the evolution in the game plan.
Aside from the Italy match, England have scored just two tries in this Six Nations and let a 17-10 lead slip against Scotland and allowed Wales to come back from 17-0 down to make it nervy at the death.
The attack is set to face two of the sternest tests in world rugby in the form of Andy Farrell's Ireland and Shaun Edwards' French defence. England should be able to hold their own physically but we need to see a combination of the attacking shape they must be working on and the players being given the freedom to play what's in front of them.
Smith obviously looks very comfortable at Harlequins and slotted in pretty well to the Lions setup in the summer, albeit in just one tour appearance against not top level opposition, so we just need to see that in an England shirt.
Rassie Erasmus did take over as South Africa head coach, in addition to his duties as director of rugby, following the sacking of Allister Coetzee in February 2018 and went on to win the World Cup around 18 months later so there is a precedent.
I don't expect a similar thing to happen at all with Eddie Jones, who is leaving after the 2023 World Cup anyway, but if the performance isn't there and two heavy defeats come, then questions will obviously be asked and something more than last year's debrief may be required.
A second successive fifth place finish and a fourth title under Jones are both still possible outcomes with a couple of rounds to play and England have freshened things up over the course of the past 12 months but it feels like a watershed fortnight is ahead.
Comments
Join free and tell us what you really think!
Join Free