'Getting out of the hotel is pretty much a no-go' - inside the Barbarians camp prior to the 'Hungry 12' fiasco
This wasn't how the weekend was supposed to turn out for Tim Swinson and his batch of Saracens colleagues, their Barbarians match against England getting cancelled, leaving the cash-strapped RFU deprived of some badly needed TV revenue and the reputation of the world's favourite club side dragged through the gutter.
The Baa-Baas' hotel bubble-breaching high jinx could yet even cost England a Six Nations title, Eddie Jones side now having to travel to Rome and run up a large score on Italy next Saturday without having blown off their seven-month pandemic rust in a Quilter Cup match against an invitational team largely drawn from Saracens and Fiji.
There was no inkling of the jaw-dropping cancellation caper that was to unfold when RugbyPass caught up with Saracens lock Swinson over Zoom late on Wednesday afternoon from a noisy Barbarians team room where the clatter of cue balls being struck and howls of laughter provided the backdrop to a 20-minute call that had been delayed due to the second row fine-tuning his match preparations with gym work and a massage.   
The dedication piqued our interest, RugbyPass asking first-up: "What's all this about? You're there in the gym, you're there having a massage, the Barbarians are taking this really seriously. What happened to the nights out and the beers? What's going on?"
A strait-laced response followed. "Coronavirus has really put the kibosh on the nights out and the socialising outside the hotel, outside social distancing," said Swinson. "We're still doing a good job of making it fun but it's just slightly different organisation this year. 
Tim Swinson tells us what it was SUPPOSED to be like ? #Barbarians #England pic.twitter.com/e05C5rUP8T

— RugbyPass (@RugbyPass) October 22, 2020
"It's still a fabulous time. We're here in a privileged position in London being I think one of the few groups of people that can associate with people outside their family and so we're in a bubble at the hotel. We have got a really good team room and we have done games like last night, that sort of stuff, but getting out of the hotel is pretty much a no-go at the moment.  
"There is a good team bond in the sense that half the squad has come from the same club [Saracens], but we have had a few beers in the team room and in the hotel so we're doing the best we can with the limits of coronavirus. We're certainly doing the socialising, it's just maybe not running naked down Park Lane or something."
Something somewhere soon got lost in translation. A dozen Barbarians players reportedly went out that night for an unsanctioned dinner outside the hotel and after an RFU investigation uncovered a second bubble breach, they pulled the plug on the planned match, preferring to take the financial hit rather than risk the health of Jones' England facing an opposition decimated by idiotic naughty step behaviour in the pandemic climate.
The call-off will rankle with Swinson who had been enjoying the time of his rugby life in recent months at Saracens. His career was supposed to be past tense, the 33-year-retiring after he accepted he wouldn't be part of the future which new Glasgow boss Danny Wilson is trying to build at the Warriors. But six days was all that retirement lasted, Saracens getting in touch and enticing the 38-cap Scotland lock to come with them on their novel 2020/21 Championship adventure.
There was no firm indication at that time of signing that the suspended Premiership campaign would definitely be restarted, that the mouthwatering European quarter-final at Leinster would be rescheduled. But when they went ahead, Swinson was there in the Saracens vanguard, proving himself a more than capable replacement for George Kruis who had taken up an offer in Japan.      
"It was six days, a really short retirement," he beamed. "I was ready to move on to the next part of my life. I felt I achieved a lot of what I wanted to achieve as a rugby player and then when Joe (Shaw) and Ian (Peel), coaches at Saracens I have played with in the past, got in touch I was really interested in the experience of going on and being part of a team. I didn't just want to play rugby to get paid or to play rugby to do something with my life. I wanted to be part of an experience, part of a journey, and that is what Saracens are at the moment. 
"They have a great year coming up for a lot of young guys who will get a lot of game time, a lot of learning which doesn't often happen these days in the professional era just because of the importance of winning games in the Premiership. It's going to be a really good opportunity to impart knowledge, help young guys come through and have a bit of fun along the way."
It's not without sacrifice, the forward temporarily leaving his wife and young family behind in Scotland and moving back in with his parents to take up the twelve-month contract. "My wife has been very supportive," said Swinson, whose historical Saracens links were growing up near Bramley Road and playing at the ground before watching them at Vicarage Road. "Whenever I was up for contract the last eight years or so there has always been a discussion with Saracens and for whatever reason, we haven't quite been able to line up and get me down there. It's kind of been that thing that never happened. 
The video that has been circulated on social media is believed to be from one of the two night's out that forced the cancellation of Sunday's fixture. https://t.co/LZIbX8qvqc

— RugbyPass (@RugbyPass) October 24, 2020
"I grew up watching them. My first game of rugby was a curtain-raiser for Saracens so in that sense it was almost a perfect situation where it's your childhood club, you're playing with coaches that you played with before and respect, you're playing with a great team and you have got an experience. My wife thought it was a no-brainer – 'You have got to do it'. It has made life slightly harder but it's certainly not something that she ever stopped me from.
"It's a bit of a change having not really lived at home for 15 years but it's certainly been the best way to do it. It has let me see a lot of my parents which had been a bit difficult living in Newcastle and then Glasgow. They are in the 70s but mum still works pretty much full-time at Luton Dunstable hospital as a doctor and dad is currently doing bits around accountancy history. They are both working hard – they don't quite know how to retire."
A bit like their son's rugby career. Six times Swinson played for Saracens in recent weeks, twice in Europe where they came within Finn Russell's moment of genius of reaching the final, and his Premiership highlight was scoring the late equalising try versus Bath in the club's final appearance in the top-flight until 2021/22 at the earliest. 
"It was a bit of an added bonus," said Swinson, looking back on the high profile Saracens exposure he hadn't anticipated. "When I signed there was a bit of talk the Prem was going to restart but it was looking forward to the Championship season. It has just been great to feel part of this team.
"Saracens as a squad have had a bit of bad press over the last year but the squad togetherness and the way they act as a unit is unbelievable. Looking from the outside and then being involved it certainly feels like everything it is imagined to be. Looking from the outside the coaches and the players support everyone and it's a good group that are moving in the same direction together. It does help that a lot of the players that have been there a long time really bought into what Mark McCall started to create ten years ago and they all happen to be very good rugby players.
The moment Tim Swinson and @Saracens broke Bath hearts ?

Describe your feelings at this point yesterday ?

Catch the #GallagherPrem highlights on @Channel5Sport in 10 MINUTES ? pic.twitter.com/4AAYyMGLqt

— Premiership Rugby (@premrugby) October 5, 2020
"But their friendships, the social interactions together, are what really makes the club something where you genuinely love spending time together away from the pitch and that has been the most enjoyable bit. It has been enjoyable to enjoy the rugby again basically. They accept you for what you are. With the best will in the world, if you compare me to Maro (Itoje) we're two very different styles of player but we play in the same position. There is the acceptance that my strengths are around the set-piece area and the scrummaging, around clearing rucks, and then you look at Maro who is just an exceptional athlete who reads the game so well.
"Rather than always trying to get everyone playing the same way, the team moulded itself to highlight the best out of everyone there and you just feel valued for what you can do rather than constantly put down for not being able to do something else. 
"That really shows through in the team effort that you celebrate everything that you do, whether it's fantastic box kicking from Richard (Wigglesworth) or brilliant kick-chasing from Sean Maitland and Alex Lewington, every little bit just adds up to make a really good performance as a team. It's that small celebration (in a game) which makes people valued that in the end makes you play better."
In recent years, Swinson was to the fore in setting-up Rugby Players Scotland, the union that started coming together in 2016 to fill the void that was the Scots being the only tier one nation without players' representation. It has framed his thinking regarding what to do post-rugby but he's still uncertain about exactly what to do and even when that might be happening now that he back playing.
"I finished a politics degree in 2010 and, as I have realised now, politics degrees are not useful in getting a job. I spent probably five years after that trying to work out what I wanted to do after rugby. I landed on law, mostly with the set-up of the players union. I found fighting for fairness and equality, fighting injustice in a broader sense very appealing and very fulfilling. What drew me to it would be perhaps that feeling of a criminal barrister. As my degree has gone on it has changed and seen different sections of the law. At the moment I would still be very keen to be a barrister.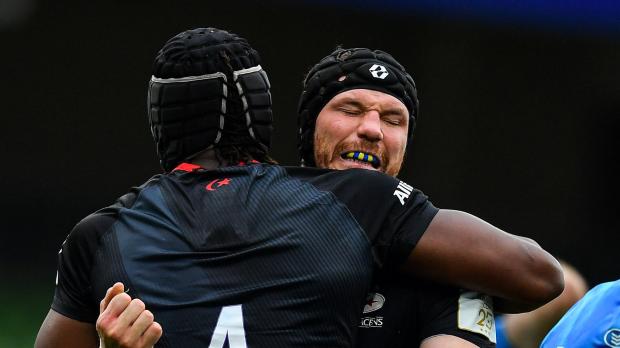 "It's just then making a decision between that and sort of being a management consultant. There are another four years of training and I don't really fancy being a 39-year-old first-time barrister. I have got family and all these responsibilities away from just doing what I want to do, having done that for 15 years.
"What the last eight months really thought me is your plans change quite drastically. I currently am in the envious position of being able to be ready for any opportunity. I would love to play some more, I've really enjoyed this period but there are other considerations to that, family considerations, whether clubs would want me. I'm not really putting too much pressure on it. 
"I really want to enjoy the next twelve months. That's one thing I have been really clear on – this may be the only year, which is absolutely fine by me and if I enjoy it and finish on a high that's great. If I get a chance to also play a bit more that will also be fantastic. But if I say now I will probably retire now at the end of it, it could easily change. It's not as clear cut as yes and no," said Swinson, going on to explaining how his perspective on rugby has altered this year since joining Saracens after first opting to retire. 
"When you're young rugby becomes your life and all you are is a rugby player… and I really spent the last few years trying to get away from being known as the rugby player. Yeah sure, I want to be known for what I do as a rugby player but at the moment I'm really Tim Swinson who plays rugby rather than the rugby player Tim Swinson. 
"I just got to the stage where I didn't need rugby. I wasn't going to be content with going and playing Pro D2 like some people when they retire and earning a paycheque. I wanted to be part of something, that if I was going to play on I wanted to play as someone helping (others) to achieve. That can take on a lot of different roles. 
"Danny Wilson of Glasgow, he and I had a conversation in October (2019) and he was highlighting he was going to move on in a different direction as Scottish rugby was going into a new cycle with younger guys coming through. If I wasn't going to stay at Glasgow where you could help improve the next generation of Scottish players I'd look at moving on to my next chapter which was looking either like law or management consultancy. I was not resigned, I was content with my position. 
"I felt like I had done everything I wanted to do and it was great to have a bit of reflection over lockdown of what I have achieved in the game which sometimes you avoid when you are playing because you go right we have played that game, it's next game, next game. It was quite good from that point of view so I was ready to retire ready to take on another challenge but then when this [Saracens] came up it was too good an opportunity to miss." 
The pity now is that the opportunity won't get its bonus Barbarians appearance.   
Comments
Join free and tell us what you really think!
Join Free