Argentina lost their heads, England need to keep theirs - Andy Goode
Argentina lost their heads against England on Saturday and England will need to keep theirs if they are to achieve their goal and make it to Yokohama on November 2.
It was supposed to be the first of five real Tests against top tier one opponents that England would have to win if they wanted to get their hands on the William Webb Ellis trophy but it didn't turn out like that and I think it's a blessing that they weren't tested as much as expected.
It was still a physical game but won't have taken as much out of them as it could've done and mentally it wasn't as testing either so I think Eddie Jones will have been delighted with the way it unfolded.
It's always going to be an intense and passionate game when Argentina face England because of the historical and political context and the Argentinians are a hugely passionate nation anyway.
However, sometimes that spills over into something negative and I think that's what happened. They spoke about it being a war in the build-up to the game and they also knew that essentially it was a knockout game for them but I think they lost control.
For me, the Pumas got things massively wrong prior to the World Cup by not picking Facundo Isa, Santiago Cordero and maybe a couple of others. They then drop Nicolas Sanchez from the 23 for the England game and go with Benjamin Urdapilleta at fly half and it just seemed like they completely changed tack.
In terms of the game itself, the emotion clearly did spill over and I don't have any sympathy at all for Tomas Lavanini to be honest. The laws and the high tackle framework is there and you have to adjust.
People say it ruined the game but it was a red card every day of the week. There can be no debate about it really. It's all very well having passion and commitment and talking about making it a war but if you lose your head, you aren't going to win the war.
It's not like it's the first time Lavanini has been in trouble with referees either and people in England will get to see that more this season as he heads to Leicester now a bit earlier than he would've liked.
There have now been five red cards at this World Cup and that's more than at any previous World Cup, despite the fact that we're only just over halfway through it. It is having an effect on the tournament but the only people to blame are the players and coaches.
There are ways of tackling aggressively but low and not in a dangerous manner and you only have to look at Sam Underhill or Tom Curry to see evidence of that. Even Owen Farrell seems to have adjusted but there's always a chance that his technique could still be an issue.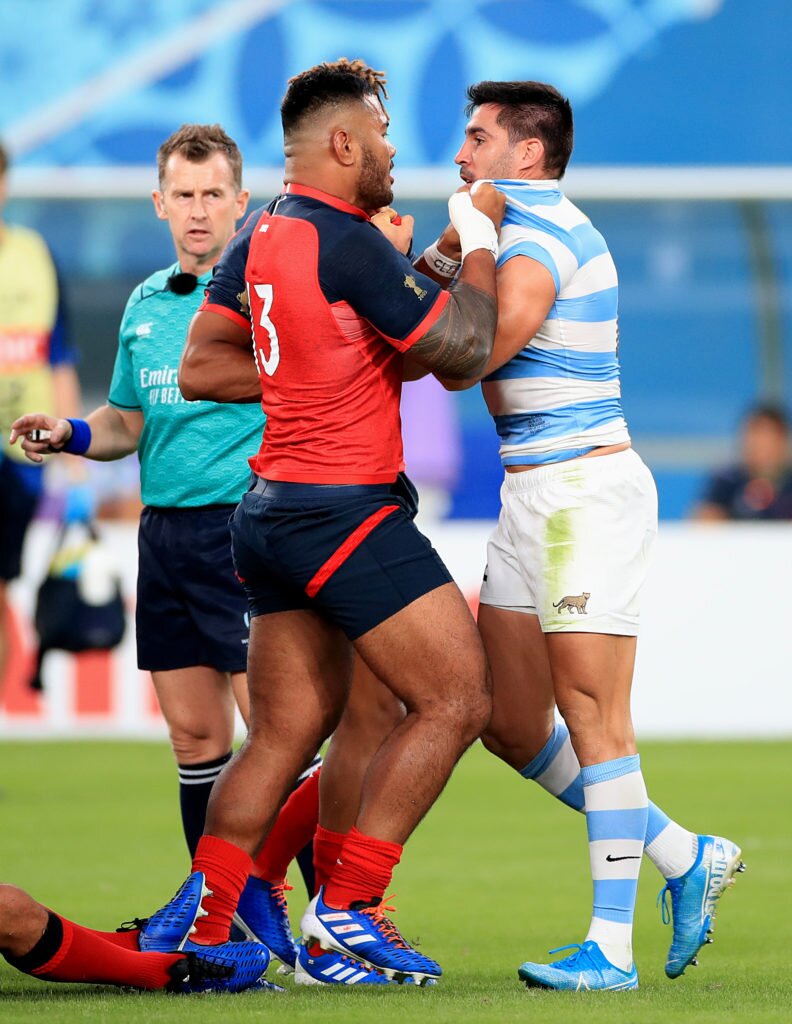 Manu Tuilagi's tackle at the weekend was just a timing issue but I do think Kyle Sinckler was very lucky to get away without being yellow-carded. Both will be pulled up in the review this week, though, and good coaches will be reminding players to keep their head or it could cost their team.
England lost a bit of rhythm in the second half and it is difficult when people expect you to rack up score after score because you're playing against 14 men but they stuck to the clear plan of kicking a lot of possession away and putting Argentina under pressure that way.
Sometimes that can be frowned upon but historically New Zealand kick more than any other international team and people don't think they're boring, so I think Eddie has looked at that and it's something he's trying to implement.
Perhaps that's why he's gone back to using George Ford alongside Owen Farrell so much, as well as the attacking threat he poses. There will always be question marks over whether he can boss a game when England aren't on the front foot until he does it consistently.
But, Fingers crossed his pack continue to be dominant and that doesn't have to raise its head as there's no doubt he's in good form at the moment and it does look like that's Eddie's preferred option even with Henry Slade back now.
Everything is looking good for England but Billy Vunipola's ankle injury is the one concern. I don't expect him to play against France this weekend and it's a good opportunity to see Mark Wilson at number eight but Billy is close to irreplaceable.
If his ankle is ok, though, England are actually in a better position injury-wise than they were at the start of the tournament with Slade, Mako Vunipola and Jack Nowell coming back and the latter looking really sharp. Not many teams can say that.
I think Nowell has to be in the match day 23 for the big games and I'd be starting him. Elliot Daly is surely going to be picked at full back because nobody else has really been given a run there in the past year or so and he had a good game on Saturday.
Two into three on the wing doesn't go and Jonny May does look a shoo-in for one of those spots. I think Eddie might like him on the bench because of his versatility but he has to start in my opinion.
There will still be surprises but England now know who they're going to face if they beat France this weekend. It'll be Australia in a quarter-final, followed by New Zealand in a semi-final and then South Africa, Wales or even Ireland in the final if they get that far.
That's potentially three titanic clashes in the knockout stages, as you'd expect, so any ever so slightly easier ride they got against Argentina has to be a bonus.
Who knows which French side will turn up this weekend, and that won't be the last time you hear that cliché this week, but England will be confident of winning and keeping the momentum going.
They'll want to win because of that but they're through to the quarter-finals anyway and are going to have to beat the best in three straight games to win a World Cup anyway, so the result isn't that important. Game one of five negotiated, onto the next one.
Mailing List
Sign up to our mailing list for a weekly digest from the wide world of rugby.
Sign Up Now