Analysis: The super set that broke down Ireland and delivered Japan's 'Shizuoka Sensation'
After kicking four penalties to stay within touching distance of the favoured Ireland team, Japan delivered a high-energy set of phases to cross in the corner through substitute Kenki Fukuoka. It would give them a lead that they would not relinquish, as the worn-out Ireland side could not muster a counter blow in the sticky heat in Shizuoka.
In the Xth minute, Ireland botch an exit play, handing the Japanese a scrum in ideal attacking position from which to fire their shot. Jamie Joseph makes a crucial substitution before this scrum, injecting reserve halfback Fumi Tanaka into the game to replace Yutaka Nagare. It would prove to be a masterstroke move.
The amount of energy Japan bring to this set is noticeable, with the fresh legs of Tanaka bringing an increased tempo for the side to feed off. Having just marched Ireland back into their 22, Japan is confidently rolling.
They fire two shots straight down the heart of the Irish midfield on back-to-back phases, using two powerful ball carriers to attack the same spot in the Irish wall.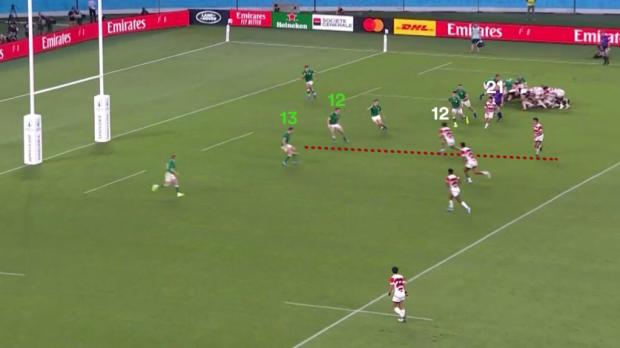 On the first phase, Tanaka throws a generously flat ball to Ryoto Nakamura (12), leading the centre on a Kamikaze-style job of pounding the Irish midfield.
Tanaka has zero pressure from Conor Murray at the base of the scrum, allowing the nifty halfback to pick and go from the base.
It isn't something that Murray usually does but the extra zip of Tanaka allows Japan to beat Ireland to the punch. Tanaka gets a few crucial steps in allowing the ball to be fired a bit wider, so when Nakamura catches it he is already bouncing to the outside of Chris Farrell (12).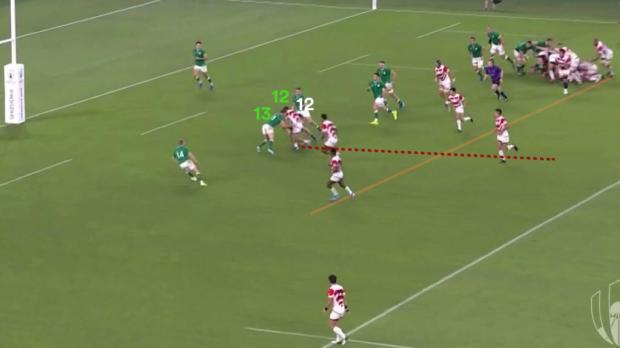 The super flat pass leads Nakamura onto the ball at pace and succeeds in doing two things: taking both midfielders into contact and powering way past the gain line.
This strong first-up puncture is exactly what Japan need. The Irish forwards folding round have even further to go and Ireland has two key defenders on the ground.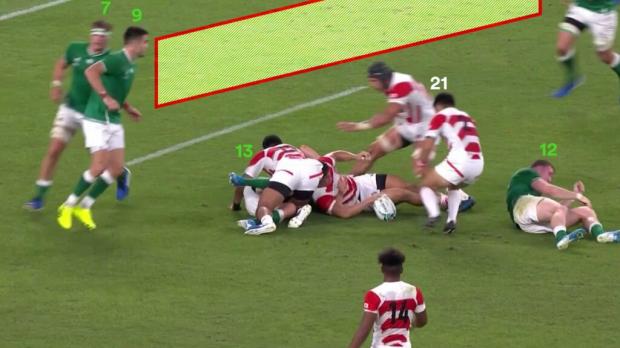 The first Irish defenders around the corner are Josh van der Flier (7) and Conor Murray (9), but there is a disconnect visible between van der Flier and the next man, leaving the ruck channels somewhat exposed.
The quick recycle has almost been completed as Tanaka reaches for the ball to switch play back before Ireland can set the ruck defence.
Japan run a double bluff, with Tanaka first switching play sniping from the ruck before playing Lomano Lemeki back inside for another power carry right down the throat where the last carry was.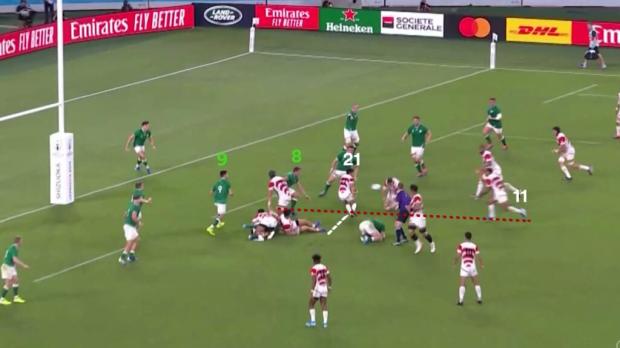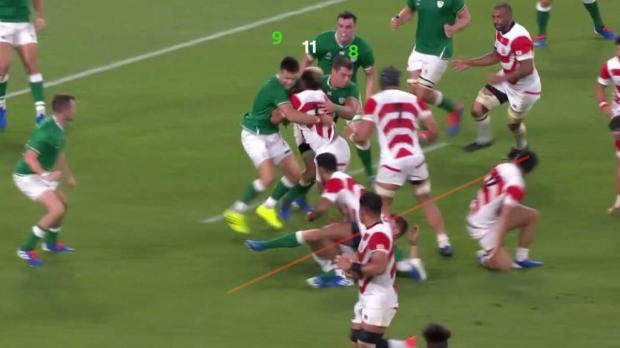 Murray (9) has to fold back over to plug the gap and Ireland doesn't have any time to get off the line.
Lemeki (11) powers into Murray and Stander in another two-man tackle and drives all the way down to within a metre off Ireland's line.
The planned strike move didn't completely break the defensive line but succeeded in bending it backward, with Ireland now camped on their own goal line.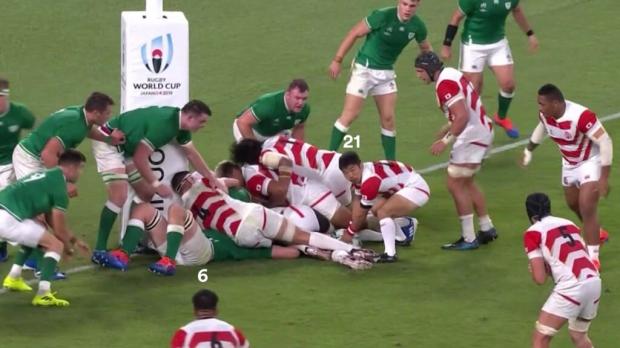 Ireland hasn't fully fanned out effectively following the original scrum so Tanaka brings play left again to test the edge.
He uses workhorse flanker Kazuki Himeno (6) for a carry on the fourth phase.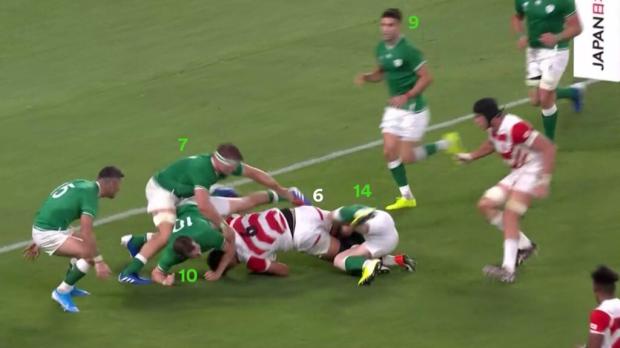 It takes some stopping to bring down Himeno, with Earls (14) chopping low and Carty (10) going high. Van der flier (7) competes for the ball with his side under immense pressure and requiring some slow ball to reset.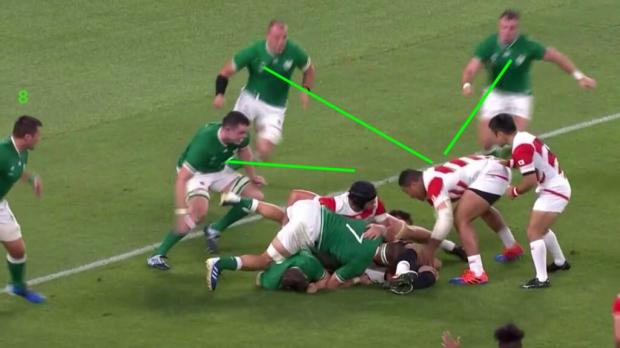 Japan gets another quick recycle and attempts a pick and go with the line imminent. Ireland scramble, but it takes three defenders to stop one man.
Japan have slow ball this time, the recycle takes about 3.5 seconds, but it doesn't matter as Ireland are struggling to number off under the fatigue.
Ireland could match-up man-for-man with each Japanese player here by playing jockey defence but this is extremely difficult to do on your own line. They are clearly exhausted as well and Japan are able to skin them by the slimmest of margins.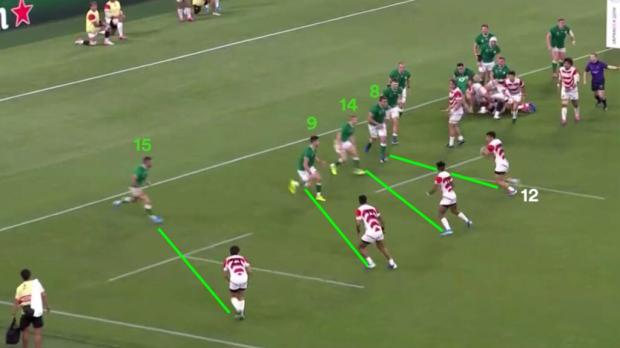 Instead of jockeying-out, they get caught coming forward but without enough juice to shut down the play, leaving Fukuoka open on the flank.
Ryoto Nakamura (12) comes into first receiver to give a crisp cutout pass. The high-angle shot shows Murray and Kearney showing interest in the same man, Matsushima (14).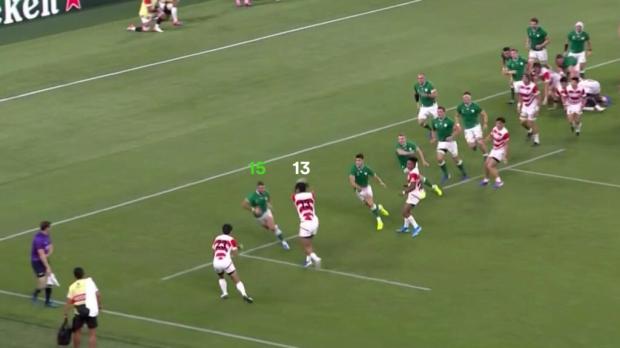 As Timothy Lafaele (13) catches the ball, only Rob Kearney (15) can do anything at this point.
If Japan had done their homework, which Joseph says they had, they would know that in this situation Kearney would only do one thing.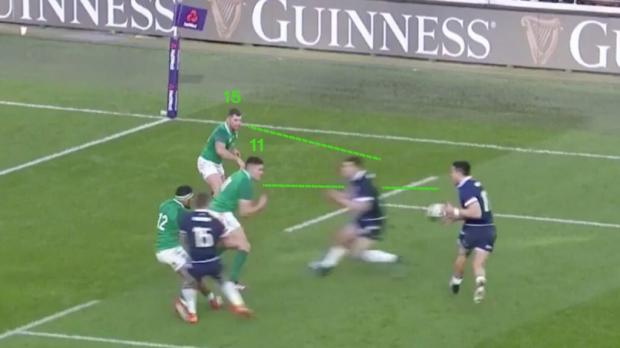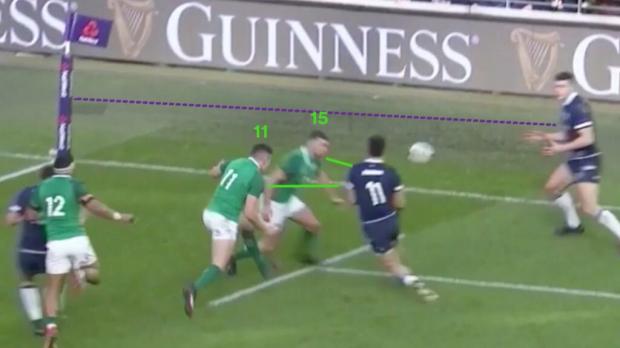 Rob Kearney always goes hard at the ball carrier in an attempt to shut down the play, often leaving his assignment open even when his winger is already covering their man.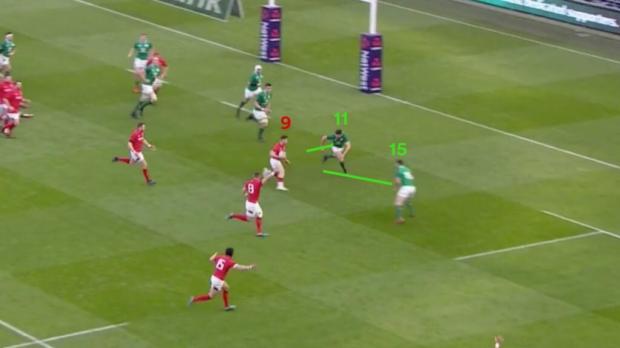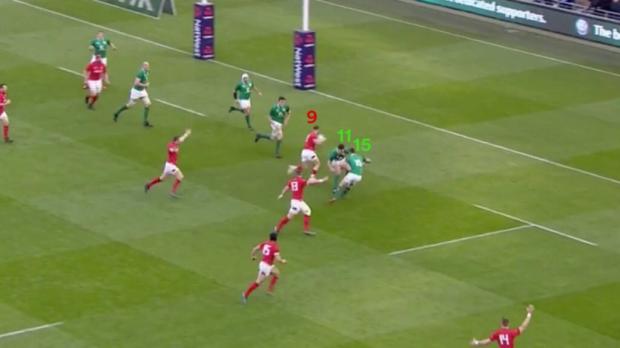 Instead of taking the last man, Kearney tries to prevent the ball from getting there, and this gamble doesn't always come off.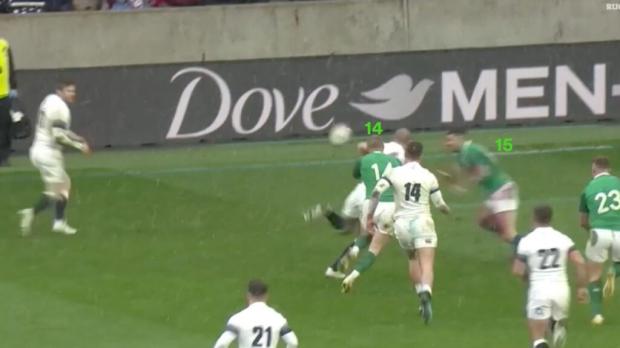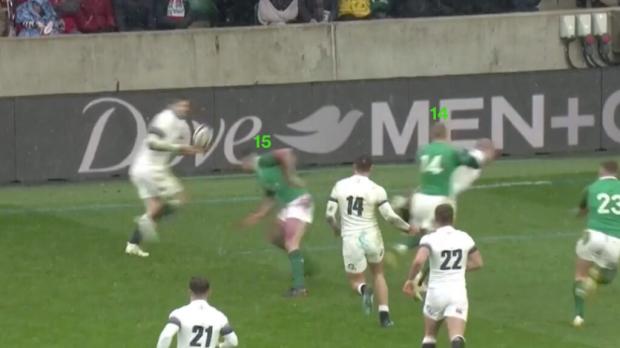 Against Japan, already facing an overlap, Kearney was always going to try and pressure Lafaele's pass instead of perhaps sliding out one more to make a last-ditch tackle.
And this is just one of those unique situations where Japan had the perfect man in position, with Lafaele a gifted ball-handler with silky skills. Had he dummied, the 'Shizuoka Sensation' may never have happened.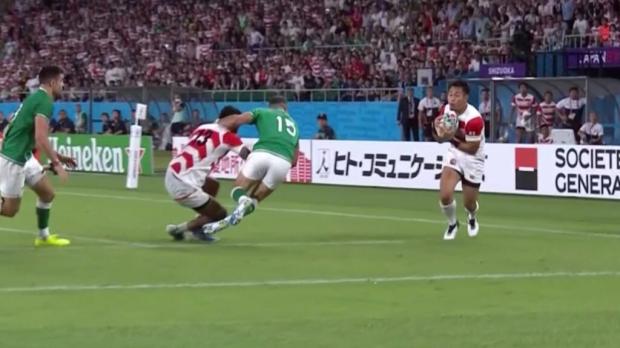 But instead, he uses his soft hands quickly and Fukuoka goes in untouched.
Is Kearney solely to blame for this try? Absolutely not. His blitz style edge defence may, in fact, be licensed by the coaching staff and there were plenty of other errors in the lead-up to this movement to gift Japan this field position.
This was just about the only try-scoring opportunity the Japanese had in the entire game (outside of an early kick chase by Matsushima), and they executed perfectly to take their chance just like in Brighton four years ago after the buzzer against South Africa.
Joe Schmidt's press conference following the loss to Japan:


Comments
Join free and tell us what you really think!
Join Free