Analysis: How Gareth Davies and Finn Russell are deliberately targeting robotic 9s and 10s
The advent of organised modern-day rugby patterns has brought with it a predictable sense of inevitability. With most teams running similar versions of each others' schemes during phase play, it has never been easier to identify a phase in advance.
When that team doesn't execute that phase with well-timed 'lead-running' passing, a high-pressure defence can make a heads-up play.
Australia became the latest victim of Wales' halfback Gareth Davies who had two intercepts in the 29-25 pool stage win, one of which provided seven critical points, and he bombed a third which may have been seven more.
Continue reading below…


Davies' read of the play comes from being able to identify the intended recipient by seeing what the structured set-up is and preying on the inability of the distributor to react differently under pressure.
After a stretch to the sideline, the Wallabies bring play back right with a carry off nine, before setting up to play a second pod off 10 in a traditional 1-3-3-1 pattern.
Halfback Davies, defending in the middle third, identifies the setup and can make an educated guess that Foley's target is the second forward in the pod.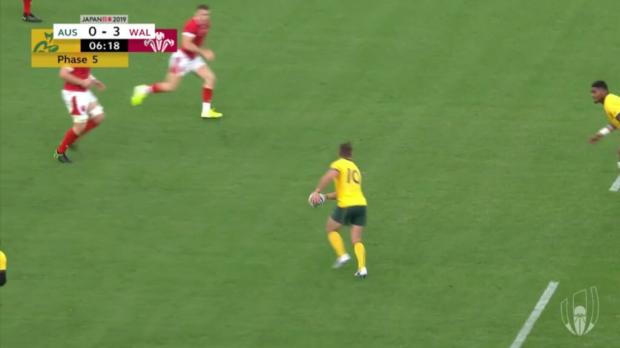 Sprinting off the line, Davies brings line speed that Foley doesn't pick up just going through the motions of his pre-programmed pass.
Foley's footwork is stationary, standing on the same spot waiting for the ball to get to him adding depth to the play. His outside pod is also rather stationary. These are issues that become a theme in all these big interception plays, sitting back and allowing the defence to force the pressure.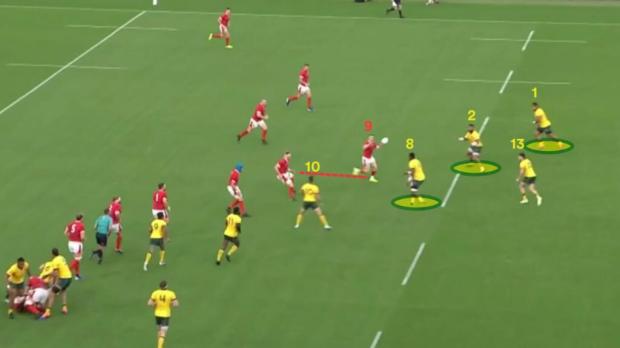 Foley delivers his pass with Davies bearing down at pace. He cuts off the passing lane to the intended target Tolu Latu (2), intercepting the pass. Only back-door receiver James O'Connor (13) prevents this from being more, making a crucial one-on-one tackle.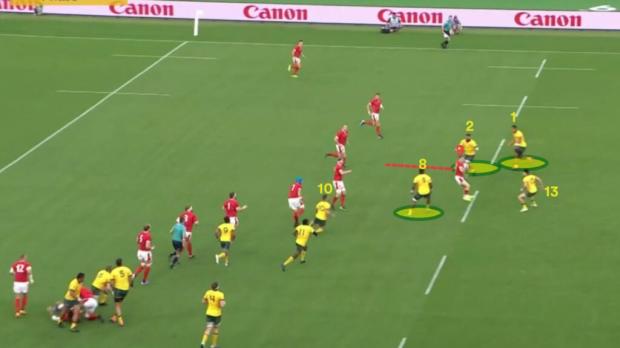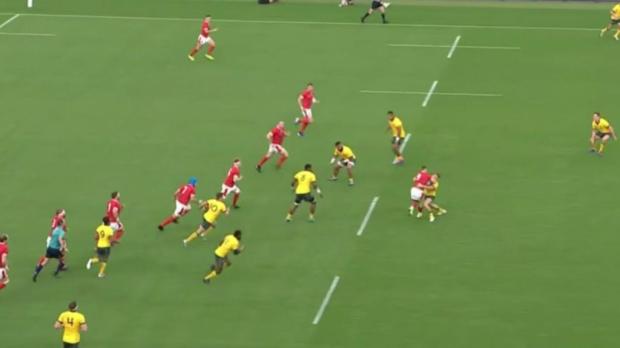 Davies was able to bank on Foley sticking to the script, coming up with a turnover that ultimately led to Wales' first try.
We have seen Davies do this before, against Scotland at home in the opening game of the Six Nations last year.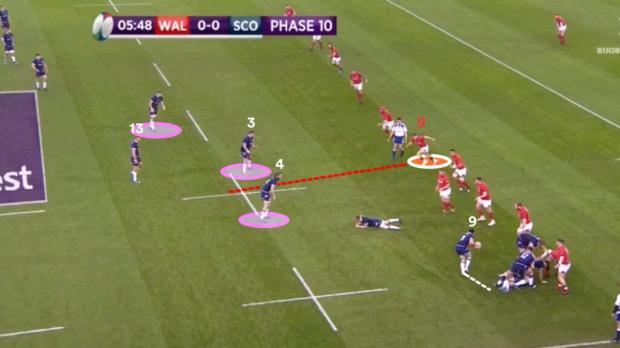 After Scotland go wide, they try to bring play back left to the 15 metre mark with a rather long pass from halfback Ali Price (9) to a pod of three forwards.
The set-up is too wide for Price so he has to taxi off the ruck, giving Davies an extra second to press off the line.
The primary target, prop Jon Welsh (3), is standing flat-footed, as is the back-door receiver Chris Harris (13) and the support runner on the right, Ben Toolis (4).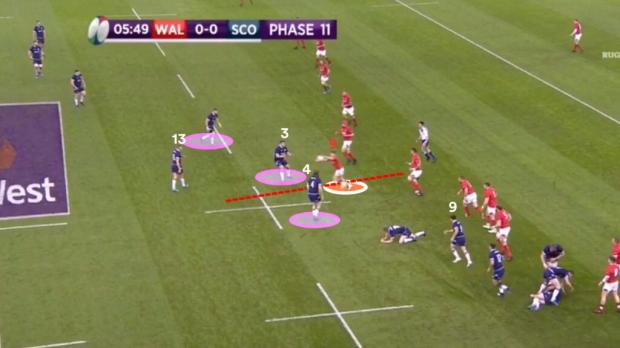 They are not moving and Davies is, as Price had already picked up the ball, allowing the defence to move up.
By the time the ball almost reaches a stationary Welsh, Davies is there to grab it.
There is no chance for Harris to make a tackle like O'Connor and Davies goes 60 metres the other way and scores.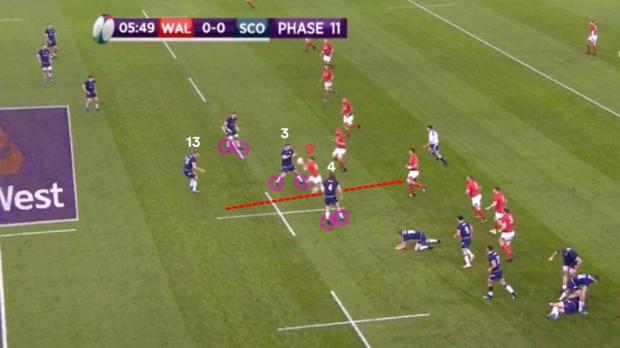 By not timing a run before the halfback has picked up the ball, setting up too wide, and then not even running to meet the ball while it was being delivered, Scotland ship five points.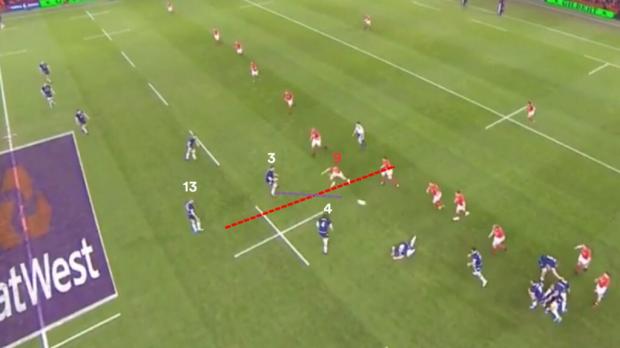 At the very least, moving forward to compete for the ball and try to undercut Davies to potentially cause a knock-on and a stop in play would be a better option than standing like a deer in the headlights.
Scotland's own flyhalf Finn Russell has also picked up on the tendency of playmakers to just go through the motions, and made the same play twice earlier this year which led to two tries for his side.
Ireland have run this same set-up for over two years now, making this an easy play to diagnose.
After a three-man pod off the scrumhalf, if they go the same way, Ireland runs with a two-man pod outside 10 and a midfielder in behind (Bundee Aki above).
They do run a variety of plays out of this formation, but they all use Carbery as a distributor to get the ball wider. So, Russell knows that Carbery has basically pre-determined what he will do.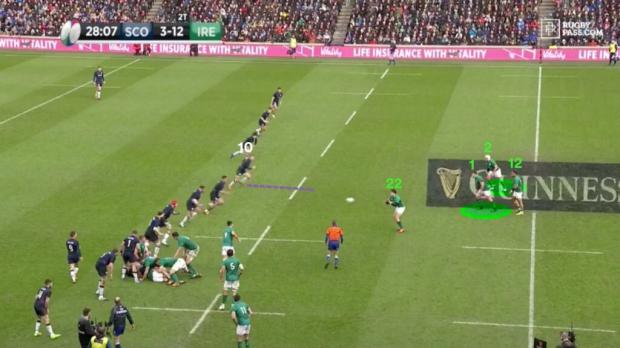 Murray's pass is directed at a stationary Carbery, who like Foley above, is stuck in cement and is only going to swivel to shovel the ball onward.
Carbery almost has the ball and his outside pod hasn't moved either, waiting for a cue to begin their run, which is going to be at a pedestrian pace compared to the speed at which Russell is coming.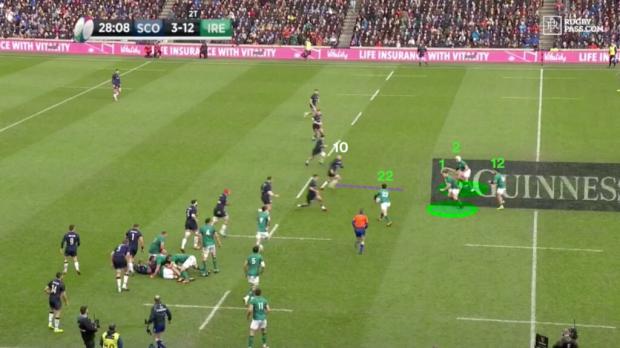 Carbery turns and attempts to hit the second runner, which allows Russell to continue his path up the middle of the two-man pod.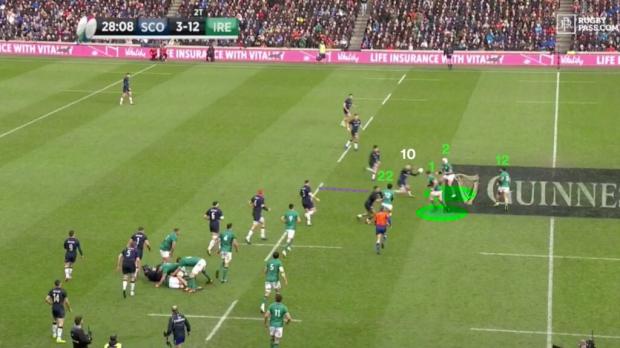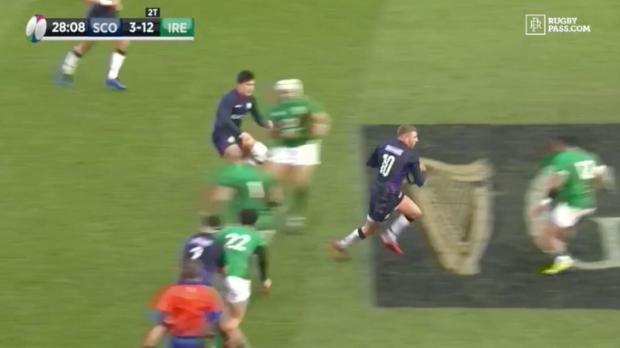 Russell snatches the pass, steps Aki and races downfield before popping a late offload to Sam Johnson for the try.
It's once again a static, predictable play, and no adjustment from Carbery led to this situation.
A couple of weeks later, Russell does the same thing to Owen Farrell at Twickenham, but this time undercuts a pass intended for the first forward in the two-man pod.
Gareth Davies repeats the dosage on Will Genia trying to do exactly what Ali Price did, bringing play back to the 15 from the edge.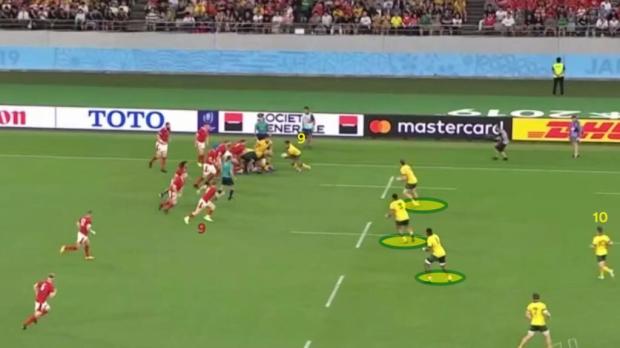 The Wallabies have just re-gathered their own kick-off, but don't effectively transition into attack all that well.
The forwards are late to form the pod, coming together after Genia has picked up the ball. Davies may have jumped the gun a little bit, but for Australia everyone is static waiting for a long pass to be delivered, floating through the air like a sitting duck.
Bernard Foley (10) is nowhere near his position behind the pod, which becomes a problem after Davies picks off the pass.
The rise of these targeted intercepts is a result of the widespread adoption of the same patterns and decision-makers who aren't able to adjust when they don't have their pods set-up correctly or able to feel the pressure coming and bail.
All of All Blacks' key drivers showed good decision-making against similar pressure in Wellington against the Springboks.
The predatory scrumhalf Faf de Klerk often defends on the wing following lineouts and can station out there for longer periods. He is known to take risks and was looking all night for an intercept but was unable to get one due to late decision-making.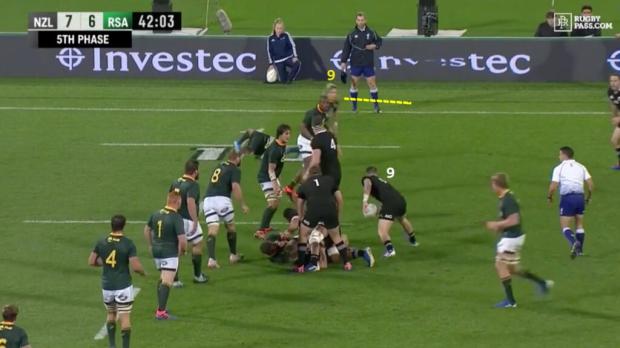 TJ Perenara (9) is halfway through his passing motion with De Klerk shooting up on the outside.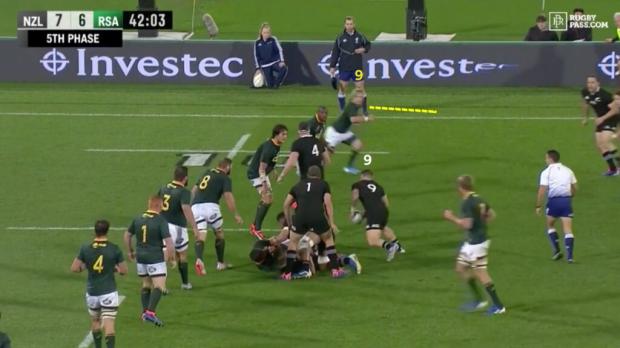 For whatever reason, he pulls down the pass and runs into the ruck defence preventing a would-be intercept or hospital pass to Beauden Barrett.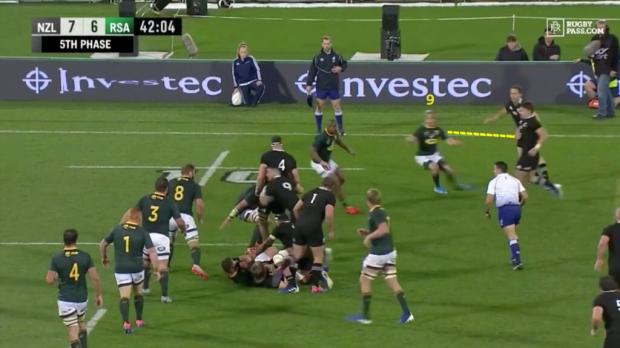 Richie Mo'unga (10) shows even more remarkable decision-making as this time De Klerk (9) comes from way back deep trying to jump the pass.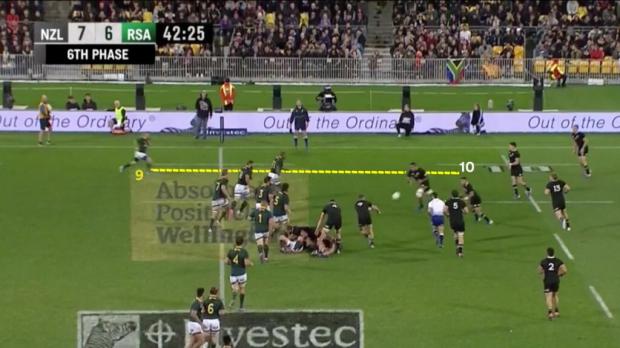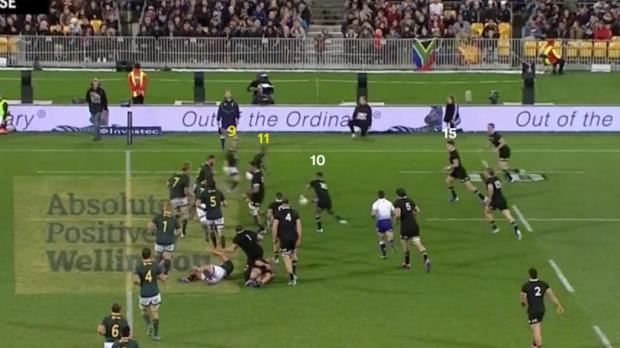 Mo'unga shapes to pass but decides at the very last second to pull it down and take the contact. Perhaps he sensed De Klerk flying through from his peripheral vision and adjusted accordingly, or maybe he just felt something wasn't right.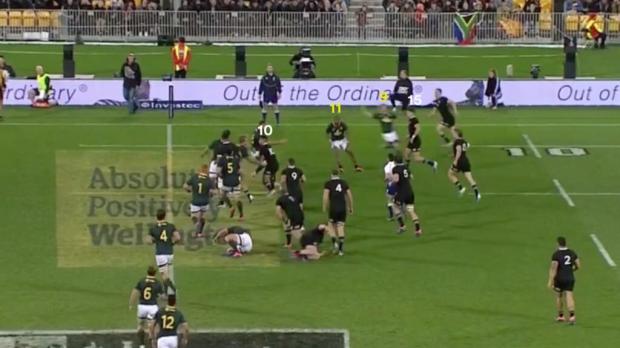 De Klerk is seen flying through the air with his arms up where a long pass from Mo'unga would have sailed.
With the All Blacks using their new 'flush' system where the ball always goes out the back to first receiving option, the Springboks were bringing the heat up the middle all night where the ball usually ends up for a carry.
Barrett at first reciever senses the danger of Pieter-Steph Du Toit, and pulls down a pass intended for the middle of the central three-man pod and instead carries himself.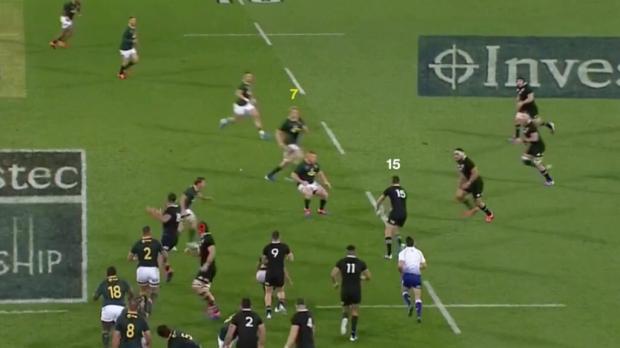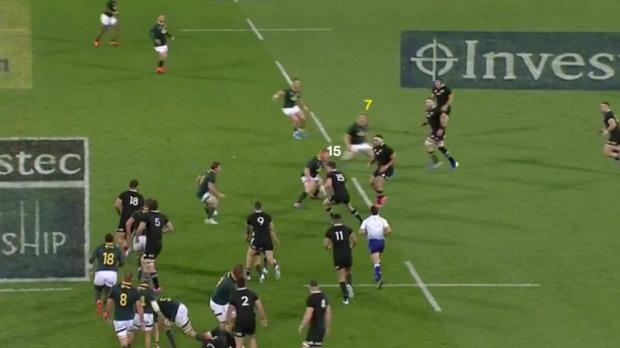 The heads-up plays of Russell and Davies show that the best-laid plans can fail and that structured rugby can be reduced to embarrassing plays if you don't play what's in front of you.
Systems will only go as far as the ability of the decision-makers put in it and can be undone by instinctual players taking risks in defence. Conversely, avoiding disaster plays like this can be done if you have a decision-maker who knows when to bail on the scripted play in favour of something else.
Gareth Davies and Finn Russell are the first players to consistently expose the predictive nature of modern rugby patterns on a regular basis at the highest level, with Davies' ball-hawking skills proving to be a big difference against Australia and it could continue to be at this Rugby World Cup.
Wales post-match press conference after Australia win:

Comments
Join free and tell us what you really think!
Join Free