Analysis: How England exploited the systemic risk in Ireland's defence… again
Ireland's long-standing defensive system worked in large part because of former fullback Rob Kearney's special ability to cover the backfield on his own.
At times, the Irish backfield will have three players, sometimes just two players and, more often than not only one – the fullback.
With Rob Kearney replaced by the younger, more agile, excitement-machine Jordan Larmour, Ireland haven't changed the system.
This in itself poses risks for Ireland as Larmour is still building experience reading the game speed at the international level and making decisions ahead of time of where he needs to be.
England's kick-powered game was brought back at Twickenham with roaring success, using some of the smartly targeted attacking kicks that they have profited from in the past to exploit this weakness in Ireland's defence.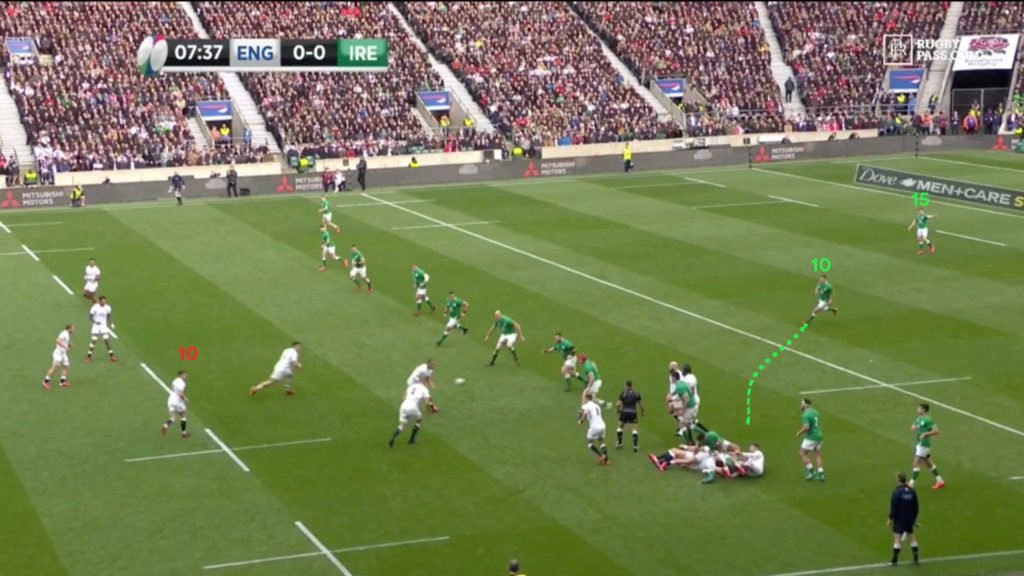 Following a Conor Murray box kick that failed to find touch, England work play back infield. Johnny Sexton (10) is seen dropping down into the front line towards the edge.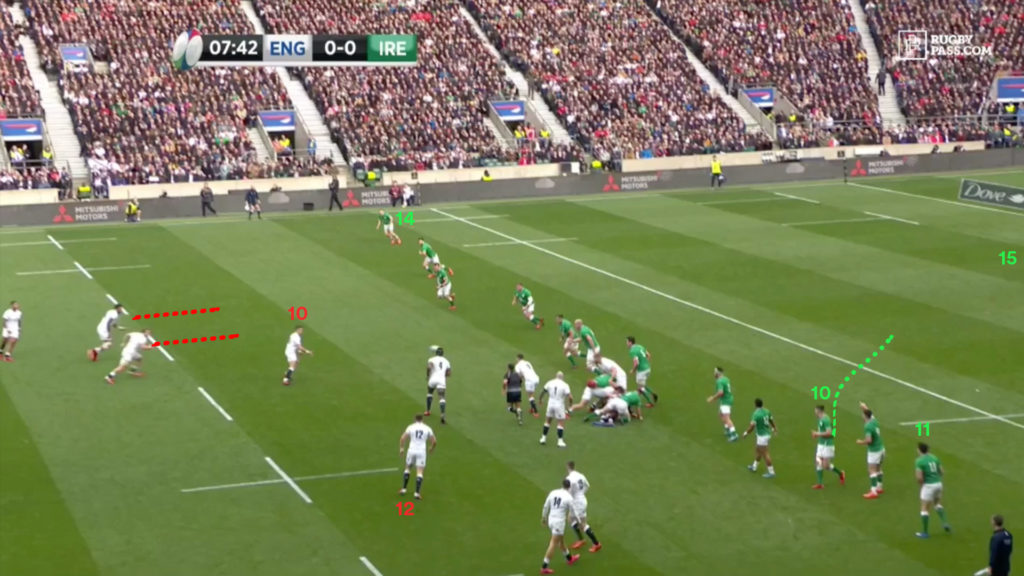 As England run their next phase through George Ford (10) with two options outside of him, Ireland has 14-men in the front line with only Jordan Larmour in the backfield (out of the picture).
After a strong carry from Courtney Lawes, England have a midfield ruck on the edge of Ireland's 22.
From the high-view, we can see how vulnerable Larmour (15) is, left all alone to cover the full width of the field. In anticipation of England going the same way again, he has pushed further to his right.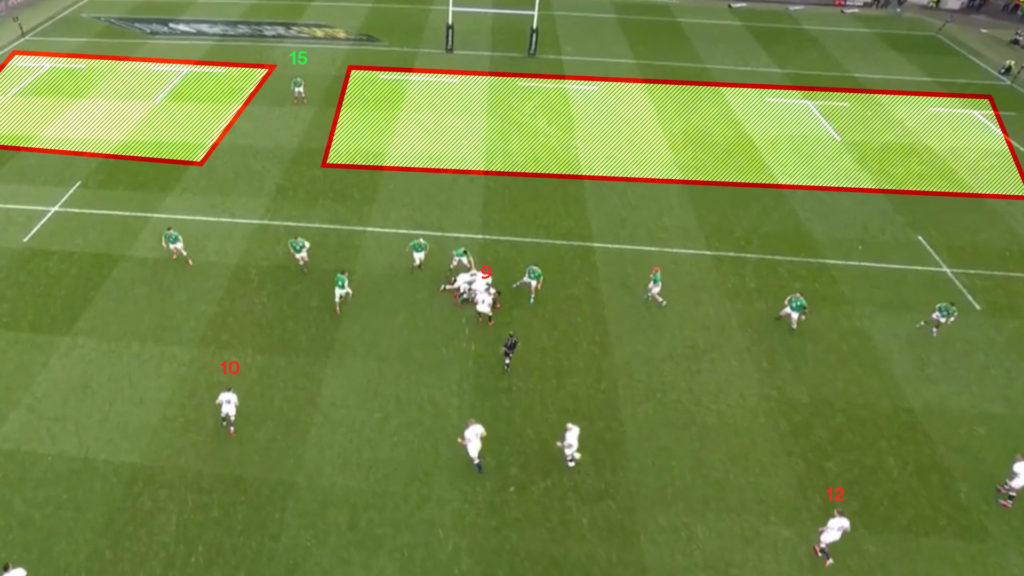 England's whole game is predicated on territorial advancement and it will only be a few phases, even in this zone of the field, before a kick is threaded through.
In this zone, it is often a low hard grubber kick towards the sideline to force the opposition into an exit play which, in turn, often gives England a great attacking lineout to launch from.
Larmour and Ireland should be increasingly expecting a kick as phases go by without one.
England called a planned pet-play that they use quite often, an attacking kick from the base of the ruck by Ben Youngs to find this space in the backfield and create pressure.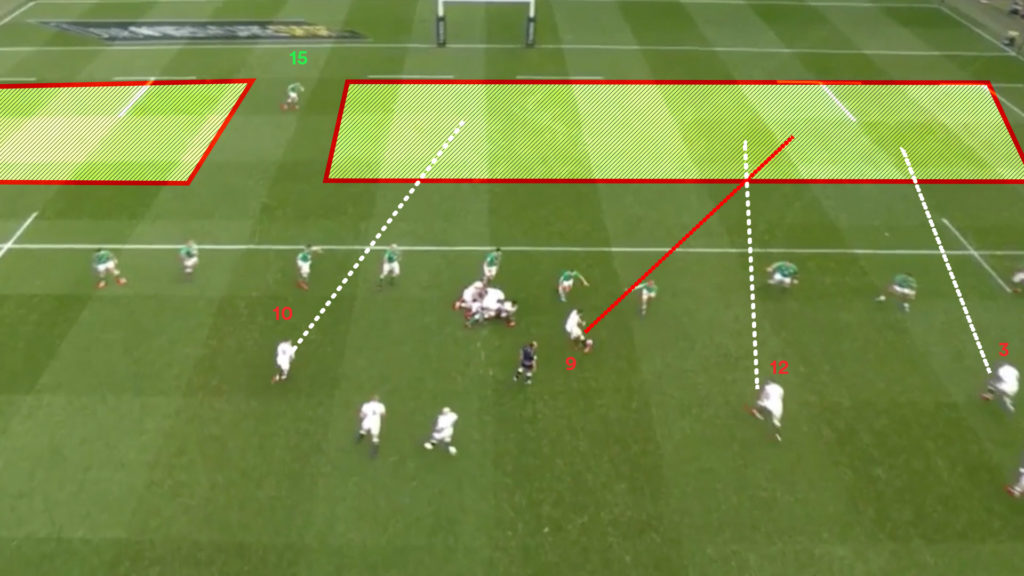 A kick from Youngs allows the kick-chasers to wind-up as the offside line is completely flat off the halfback. Youngs often uses this in combination with Owen Farrell.
England have George Ford (10), Farrell (12) and Kyle Sinckler as the 'flush squad' chasing the kick down.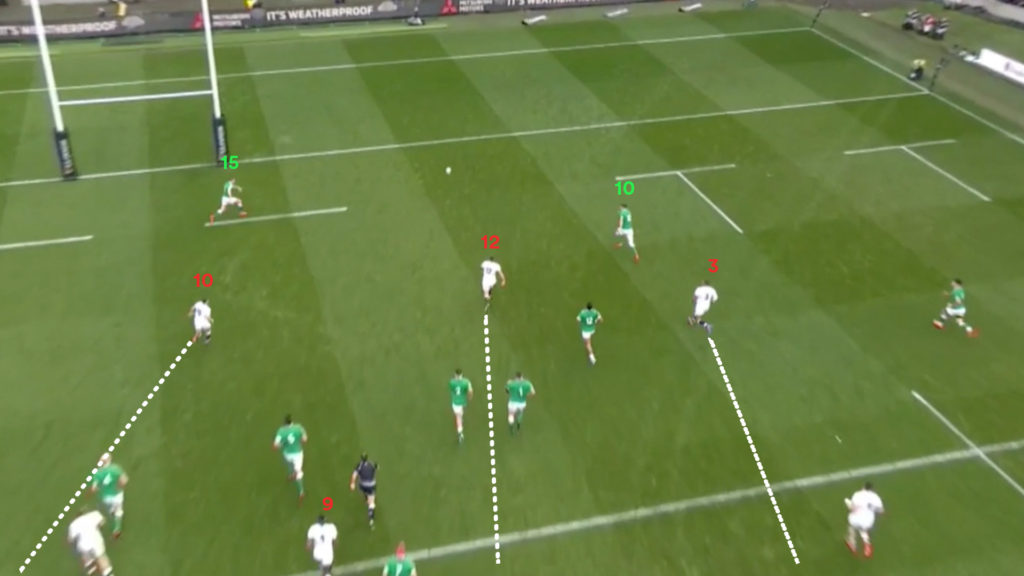 Sexton (10) scrambled back to help cover the kick that Larmour could not get to, while England's kick-chase unit breath down behind them.
A wicked bounce on the goal line caused Sexton to fumble the ball and gift Ford, and England, seven points.
The mistake is the primary factor in the score, but the exploitation of the space and subsequent pressure played an important secondary role.
If Sexton was in the backfield from the start as part of a two-back system, the situation is totally different.
It would be a regulation clean up with two players covering half of the field, each with plenty of time on their hands, reducing the execution pressure. The kick likely goes directly to him and he can bang it into touch. Turning and chasing adds more execution risk and extra time, which Ireland often depends on.
Going back to last year's fixture in Dublin, the exact same situation happened to Jacob Stockdale covering for the isolated fullback Robbie Henshaw.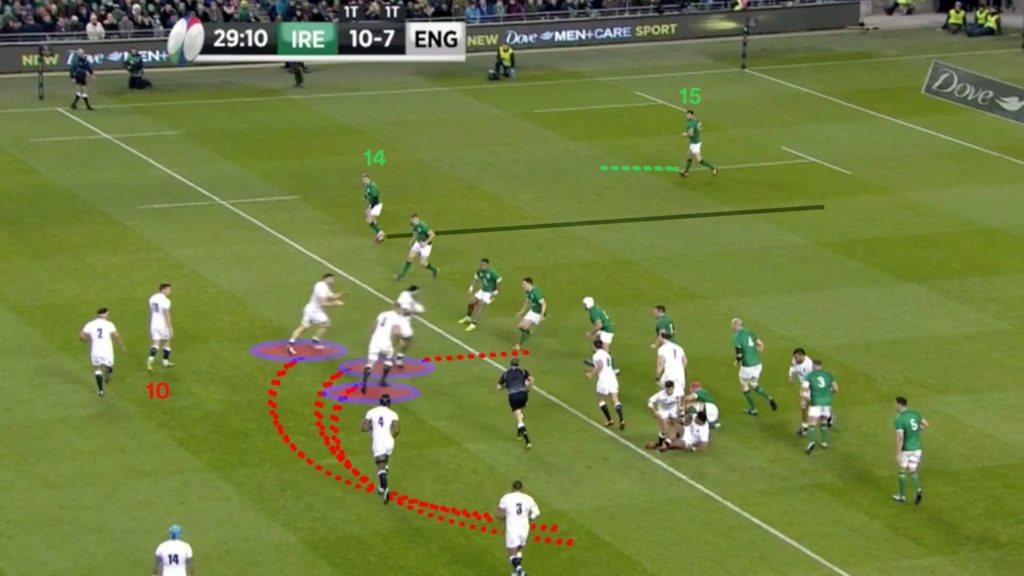 Henshaw (15) is isolated on the far side following an attacking lineout before England run a familiar switch play back towards the right hand side.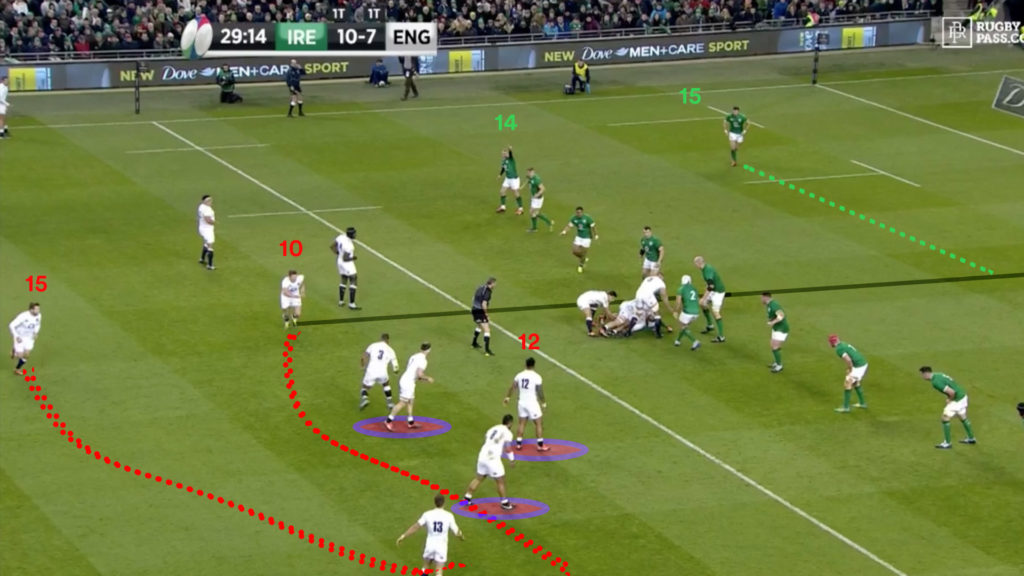 Elliot Daly and Owen Farrell, the key recievers used on the play, already have a massive head start on Henshaw.
As the play unfolds, Daly threads the grubber kick in behind with no-one available in the backfield to cover it, which leads to the Jacob Stockdale in-goal blunder – a carbon copy of Sexton's at Twickenham – trying to turn and cover a kick while having a blind eye to the chasers in pursuit.
Fullback Henshaw is nowhere near the ball when Daly jumps on the spilled ball, having been isolated so far away on the opposite side.
England scored over 30 points in every Six Nations clash in 2019 except against Wales – the only team that runs a two-back defensive system.
Wales choked England's kicking game, offering no space for kicks to find the grass, which then failed to generate tries for them. Even when hanging on by a thread with the backfield compromised, they came through.
With Wales scrambling after a Slade charge down and regather, Youngs and Farrell call the same pet-play kick, the halfback dink end-over-end over the top into the 22.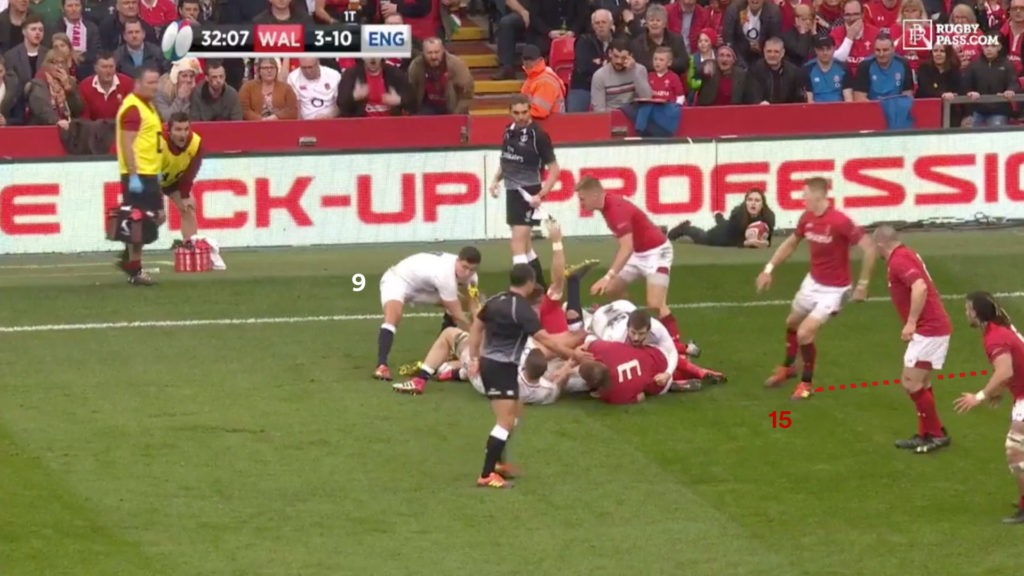 Wales' fullback Liam Williams senses almost immediately that his side's backfield coverage is compromised and bails on the front line to make sure this play can't happen.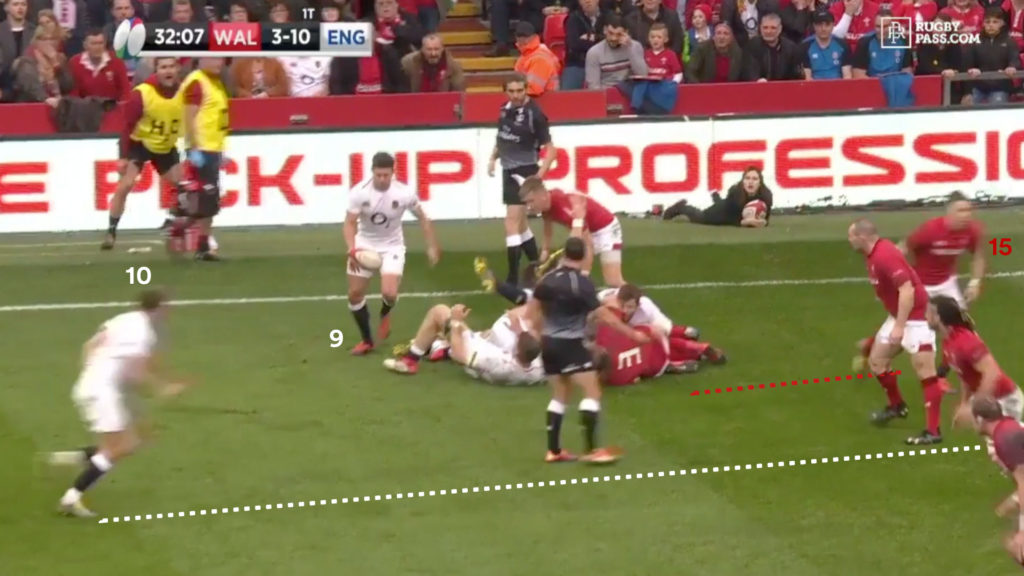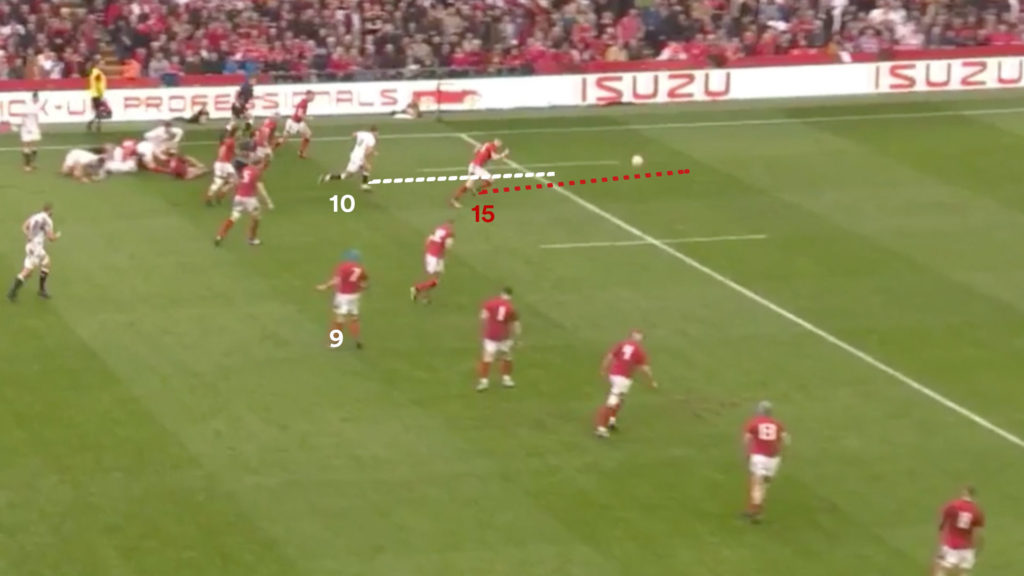 He gets a headstart on Farrell and manages to collect the loose ball in what would otherwise have been a race won by the England flyhalf.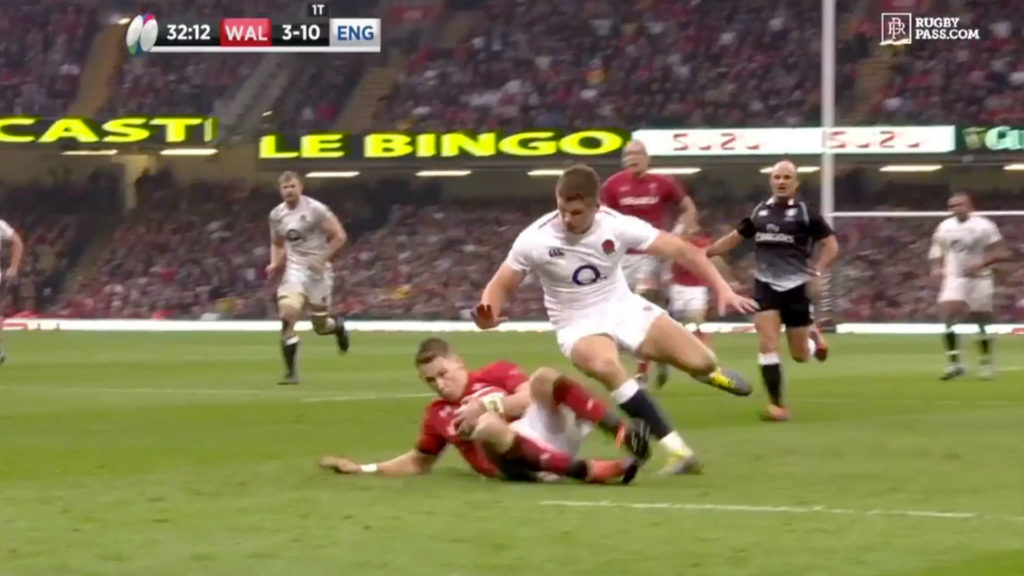 This was a far worse situation than what Ireland had to deal with, but the anticipation of Liam Williams foiled the play.
Last year, France had no answer to England's attacking kicks and this same play paid off on the stroke of halftime when Chris Ashton re-gathered Youngs' kick and was tackled a metre short. On the next phase, Henry Slade dances over out wide.
This designed halfback kick has been a known tactic of England's for years that Ireland should have been aware was a possibility.
Because Ireland uses just one defender in the backfield, when they are in goal-line situations there is no one in behind to clean up kicks. The fullback has to take the last man out on the edge so he doesn't patrol the in-goal.
England exploited this on their second try, which was exasperated by the fact that Ireland's defensive system has no halfback sweeper. Halfback Conor Murray nearly always defends two-in from the edge in the front line.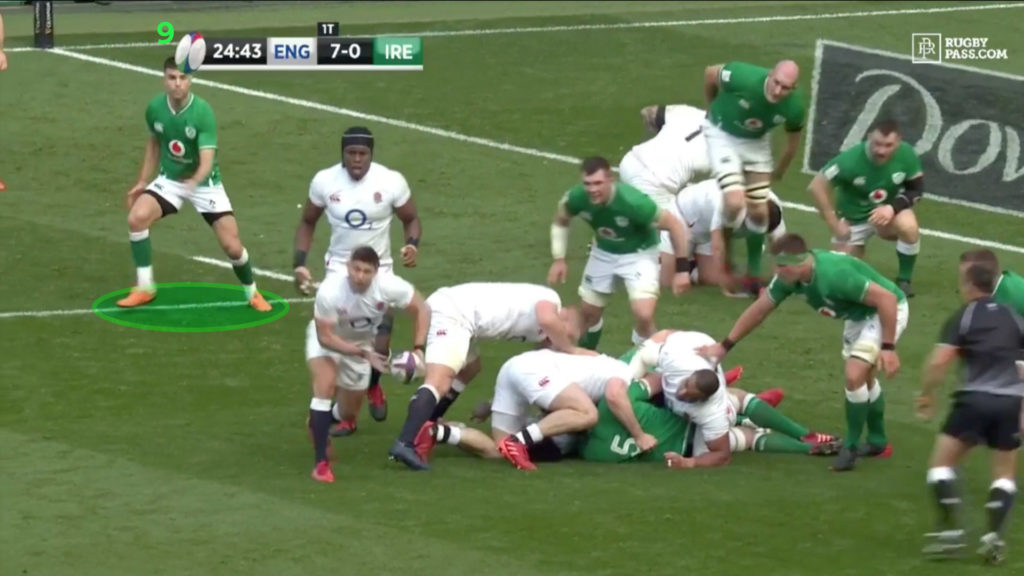 As the chip kick from Ford sails over the backline, we can see the in-goal is completely empty with Larmour (15) stationed out wide to mark Jonny May.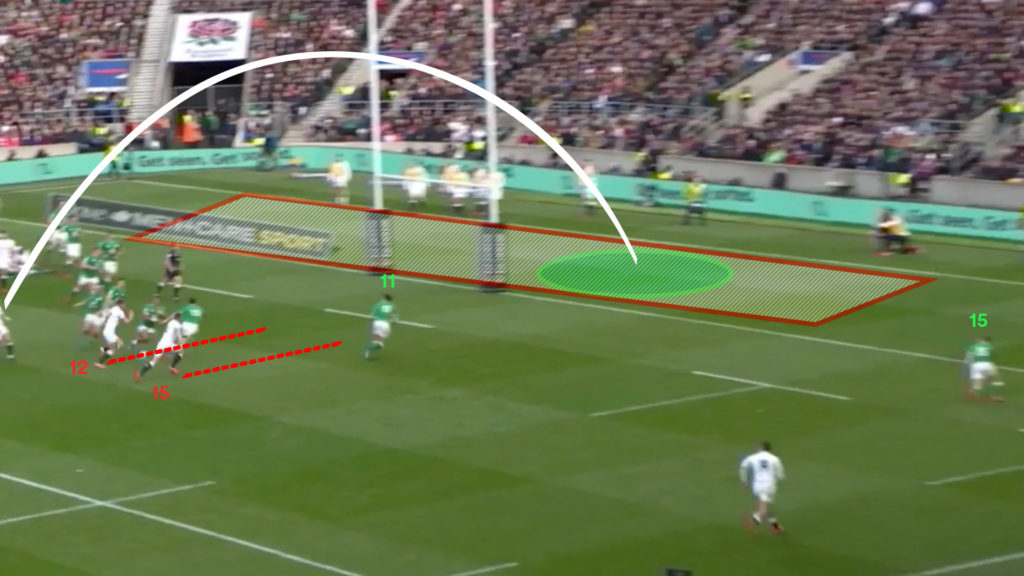 Without a halfback sweeper, there is no second line of defence in goal-line situations for Ireland increasing the opposition chances of scoring from kicks in behind.
A crucial detail in the ultimate conclusion of this play is how Ireland's midfield react to the kick.
Bundee Aki (12) turns to the outside, locating the line his assignment Farrell is running. He attempts to shield him and perhaps overdoes it, venturing into blocking territory.
Robbie Henshaw (13) turns inside to chase, also obstructing Farrell's path but leaving Elliot Daly (15) completely free to run.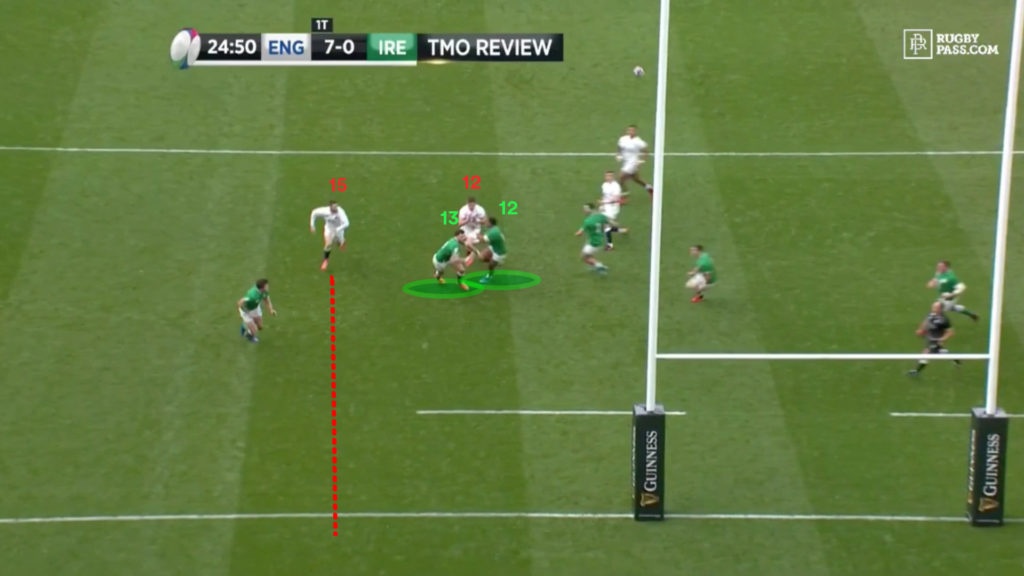 This becomes vitally important as even a half-second delay on Daly's run may have prevented him from grounding the ball inside the dead-ball line.
Legal shielding by Henshaw could force Daly to go around him, taking away time to get to the ball. A more experienced centre would not let his man get a free run so easily.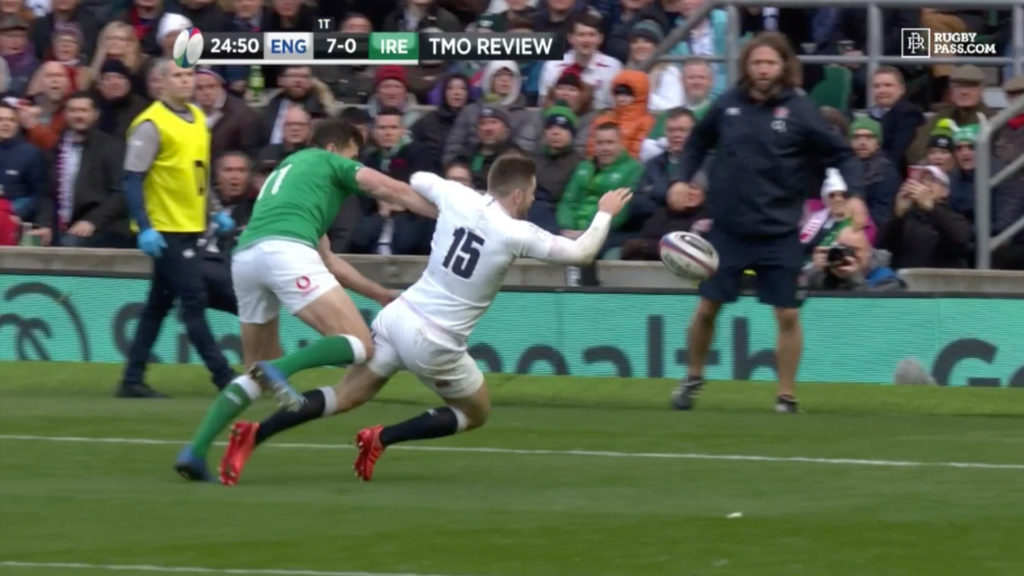 Of course, Stockdale should have made an attempt on the ball in the air to mark it instead of letting it bounce and leaving it up to fate.
Again, it is a mistake that leads to the try, but it was weaknesses in the defensive system were targeted and paid dividends for England.
This early two-try lead of 14-0 inside the first half an hour was insurmountable for Ireland, but they won the second half 12-7, showing just how critical those two avoidable plays were.
England have to be applauded for the execution of their plan, which changed the complexion of the game and forced Ireland to chase from behind against a ferocious and powerful defensive unit.
Ireland's defensive system has to consider changing for the circumstances. It's two years in a row now that the same opponent has won basically through kick coverage errors.
It is worth noting that with a two-back system, using the 10 and 15 in the backfield at all times, and proper shielding of the chasers by the wingers, you can make execution errors handling kicks without it costing tries. There is more time to clean up mistakes before chasers arrive and the ball rarely finds grass as each half of the field is well covered.
Only time will tell if Ireland explores other options, while England will find it much harder to score in this fashion against Wales, as they found last year in Cardiff. They will also need to change their attacking approach as what worked against Ireland will be less likely to work against Wales.
The Rugby Pod discuss the latest round of the Six Nations:
RugbyPass+ Membership
Join RugbyPass+ now and be a part of the conversation with all-new commenting!
JOIN NOW