'You ask any of those other 7 centres if I was gifted a spot in the that squad'
Trending on RugbyPass
More News

Sam Burgess has said that his 'face didn't fit' in rugby union and it resulted in him being scapegoated for England's disastrous 2015 Rugby World Cup pool exit.
Burgess also believes his shipping the blame for the loss was part of a wider press agenda that wanted to see his time in the fifteen man code end in failure.
The 33-year-old has recalled how he made the decision to play rugby union after being hounded by the Australian press after a high shot on Kangeroos star Sam Thaiday in October, 2013. The Dewsbury native first promised Hollywood A lister and South Sydney Rabbitohs boss Russell Crowe that he would win him a NRL Premiership before going to England and switching to union.
"I got approached by a couple of people and came back and said I'm going to play rugby union," Burgess told the James Graham's The Bye Round podcast. "I had already said in my head that I'd signed to play rugby union but give me one more year. Russell [Crowe] said are you mad? I said no, I'm going at the end of the year. I'll finish this year though and I'm going to win the [NRL] Premiership.
"He said you're mad, you can't promise me that. I said I promise you I'm going to win."
Burgess delivered Crowe his fairytale ending, with the Rabbitohs going on to win the 2014 NRL Premiership.
"I was 23 or something and looking back, it was a really irrational way to act. I always say I don't regret too much in my career. I experienced a lot of cool things in that 12 to 16 months [in rugby union]. Did it slow me down a tiny bit? It might have done. But also it stopped me doing something that I would have done later in my career anyway.
"I'd first moved over, I'd never player rugby union in my life. Not even a game. I'd signed on the biggest contract in the Premiership, which I never really cared about. Everyone else seemed to care about it.
"Money to me wasn't a thing. Never was, never has been. Money is part of being successful.
"I didn't care because I understood the bigger picture. Going to rugby union, they want that. I don't think they had a salary cap, well, I didn't feel like they had a salary cap. They paid me a lot of money to do not a lot."
Bath appeared to be surprised when Burgess turned up with out any understanding of rugby union's laws.
"When I landed my face was like a dropped pie. I was like 'Who's going to teach me how to play?'And they were 'You don't know how to play?' I was like 'I don't know the rules'.
"I was like 'Let's get started' and they were 'Well, you can't really do much'. So my face was like a dropped pie."
Burgess was then put on a fast track learning curve – both on and off the pitch – to accelerate him into contention ahead of the 2015 Rugby World Cup.
"I was put back six or eight weeks. I'm on the back foot here. Kyle Eastmond was playing at Bath. We played as kids. I came through junior rugby league system with him. He was great for me.
"I had a South African guy named Francois Louw, played 50 caps for the Springboks. Amazing guy. One of the great people at the club who were willing to help me.
"When it came to me playing my first game, I didn't have a clue what I was doing. Fast forward 10 games in, I'm playing Monday night for the reserve grade, playing 60 minutes at flanker. Saturday first grade on the bench at inside/outside centre. No one sees all that stuff.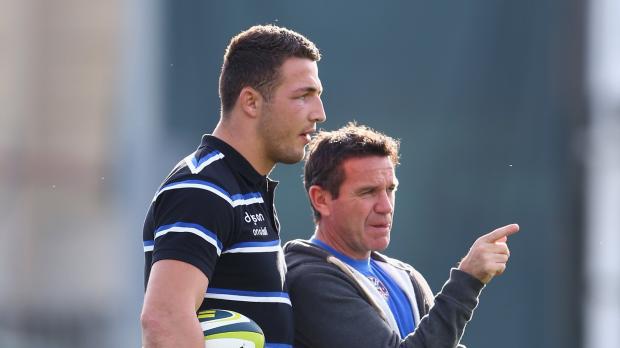 "Then I go and study. I studied the game inside out. I got my own psychologist who would do visual hypnosis. Don Macpherson, he'd worked with F1 drivers. He talks them through the tracks, and it like they practice for 10,000 hours. I used to chat with the guy weekly and we'd go over the game and where I could improve on to accelerate my learning.
"By game 12 to 15 I'm playing flanker for Bath. We're going well, we're beating everyone. We're top of the league. We make the Premiership finals against Saracens, and we lose by about ten points to Saracens who are carrying Maro Itoje, the Vunipola brothers and Owen Farrell. They're like the gun team and we lost by like six or ten points in the Prem Final.
"I'm thinking it's not a bad start."
"I get picked up in the 54-man England training squad as a centre and I go alright, I have to go back to the start again as a centre. Now that's what they want, they don't want me as a flanker."
Once in England camp Burgess backed himself to make the World Cup squad and he ultimately won over then England head coach Stuart Lancaster.
"I go into this training camp – a three month training camp. I figure out there are eight centres in the 54-man squad and they're only taking four. I was like 'Let's go. I guarantee I will be in that four."
"My training, preparation, competitiveness, there's no way I don't make that team. One of those was Kyle. Kyle missed out. There was all these other centres. At the end of the day I was there to get in that team.
"You can't hide in those camps. It's funny people say you went over there and you gifted a spot in the squad. You ask any of those other seven centres if I was gifted a spot in the that squad.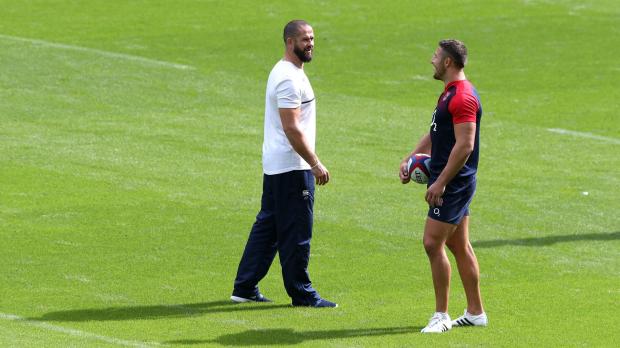 "There's no way they'll say I was gifted a spot. Because I had to compete with them for three months.
"I'm a competitve guy. I'm making that squad.
"So then I made the squad and then the games came around and we beat Fiji the first game. I was on the bench. I came on with about 20 to go and added a bit of something to the team. A few runs, a couple of offloads.
"We play Wales the next week and he starts me at inside centre. They have Jamie Roberts who's some big guy, but he's just like a normal NRL player. He's supposed to be this big fierce runner, but he wasn't interested in contact. I think I hit him a couple of times in the game, I don't remember him so much.
"We played the game I didn't do a great deal. It was just a normal game of footie. We were leading by 10 and they took me off with 20 minutes to go.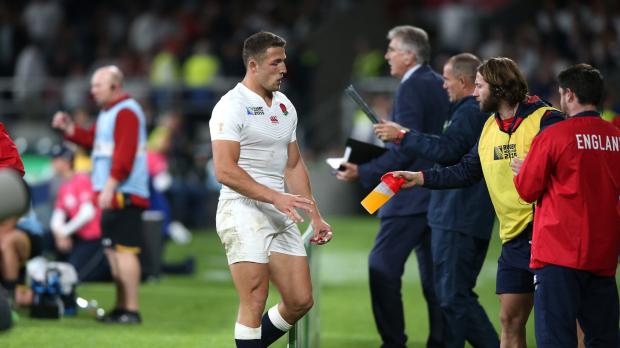 "They bring George Ford on and Jamie Roberts starts running over him and we lose by three. And that was it.
"So much goes into that. At the end of the day my face didn't fit.
"Of course I made a few errors in the game but we were leading by 10. I'm sure there were players who played the game their whole lives and made errors in the game.
"It's one of those things, the press had an agenda or other people had huge agendas.
"I did figure out that the politics in English rugby union was huge, from inside out. Players didn't want to see someone else succeed.
"Some of the old players that had succeeded didn't want to see a new team succeed. I found it all kind of strange, because as a patriotic Englishman, I think if you're English you're English.
"If you support England, you support England, that's the way it is. In English rugby league we just all get behind everyone. It's like 'let's fail together, succeed together, whatever, but we're together,' but in union I didn't quite feel that. So after that World Cup campaign I couldn't work for those guys anymore."
"So I ended up coming back… with a load of money in my back pocket."
Comments
Join free and tell us what you really think!
Join Free