Back

By Garry Doyle
Can Farrell turn doubters into believers?
Here is the problem Andy Farrell faces this month. It isn't about beating Japan or New Zealand or Argentina, it is about winning the hearts and minds of the Irish public, convincing them that his way, this belief in evolution over revolution, is the right way. From the moment he replaced Joe Schmidt as Ireland head coach in 2019, Farrell has stared down the face of a dilemma. Should I build momentum or a squad? Think short term or long?
If you are an outsider looking in at all this, you're more than likely a little bemused that a coach with a record of 11 wins from 16 games, including a superb victory over England in last year's Six Nations, is under any kind of scrutiny at all. You look at history's record sheet, and you must be thinking how a country with more wooden spoons than any other team in Six Nations history are suddenly so sniffy about anything?
Well, it's a long story and it starts this time 19 years ago. Until then, Ireland were emerging from a rut yet were still not held in high regard south of the equator. They hadn't won a Triple Crown since 1985, a Grand Slam since 1948, a game against Australia since 1979, one against South Africa since 1965, one against New Zealand since forever.
November leads to hype. There was giddy talk about Ireland being dark horses at the 2007 World Cup. They didn't even get out of their pool.
But November's road has been paved with agreeable results. November 2002: Ireland got one over Eddie Jones' Australia, the first time the Wallabies had lost to them in 33 years. November 2004: Jake White's South Africa come a cropper at Lansdowne Road. November 2006: first it's the Springboks, then Australia, the first time Ireland notched up back-to-back conquests against separate southern-hemisphere giants.
November leads to hype. There was giddy talk about Ireland being dark horses at the 2007 World Cup. They didn't even get out of their pool.
A new decade, a new coach, a new November. Chicago, 2016. Soldier Field, Ireland versus the All Blacks. A couple of days earlier, the city's baseball team, the Chicago Cubs, had won their first World Series in 108 years. In 111 years trying, Ireland had never defeated New Zealand. That November they did. The next November they put up a record score, 38-3, against the Springboks. The November after that, they beat New Zealand again, the only time they've scalped the All Blacks on home soil.
It leads to even greater hype ahead of 2019. "They're the world's No1 team now," said Steve Hansen after Ireland's win at Lansdowne Road. But in Japan, they weren't even the No1 team in their pool, losing to the hosts. Eventually they exited that World Cup at the quarter-final stage, arriving home in humiliation.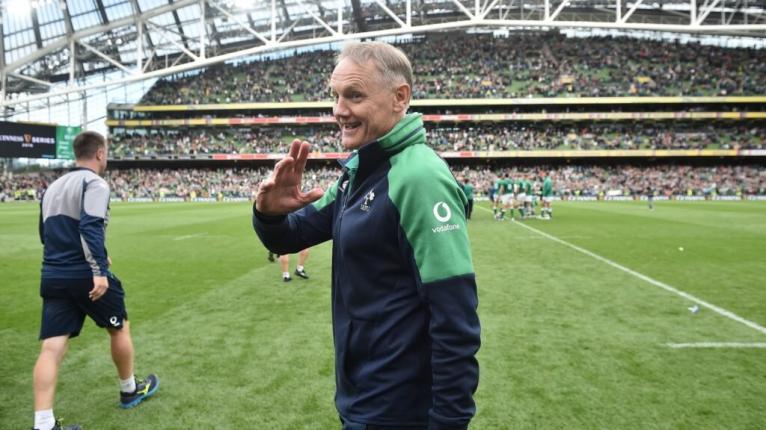 So no one in Ireland really cares about November anymore, unless the side get hammered. If Farrell's team win all three games this month (highly unlikely) the only thing they'll win is respect. But if they were to lose all three Tests (again unlikely but certainly within the realms of possibility) then the coach will get it in the neck. Again, if this seems ridiculous to outsiders, then perhaps it is. But it's reality.
Check out these headlines prior to Ireland's victory over England in March. "Farrell's Ireland in desperate need of clearer identity" (The Times). "If they fail to address their defensive frailties Ireland could find themselves sinking towards the bottom end of the table fairly quickly" (Donal Lenihan, Irish Examiner). "Only beating England will save Farrell era from failing before it starts" (Irish Independent).
That was only seven months and three matches ago.
Part of Farrell's problem is he is not Schmidt. After poor World Cup showings in 2015 and 2019, the New Zealander walked on to Ireland's most popular chat show, 'The Late, Late Show', to a standing ovation from the audience. That's what charisma buys you. Three Six Nations titles, a couple of All Black scalps and a Grand Slam didn't do Schmidt any harm either.
Farrell, in contrast, hasn't banked that kind of credit. In two seasons with Ireland, he has twice finished third in the Six Nations. No one commissions a statue for a man who finishes third.
As Schmidt's defence coach, Farrell had noted how the fizz had gone out of the team's pop in his predecessor's final year. They needed to be liberated from the robotic, system-obsessed strategy.
Yet, even if it is an unpopular thing to say, he has done plenty right. The England win stemmed largely from his personality and ability to read a room. If you recall, in the build-up to that game, England prop Ellis Genge made a comment about how cabin fever had kicked in as Jones' squad felt imprisoned within their bio-secure bubble.
"I'd be lying if I said it has been easy to be in the same place, every day, for such a long period of time," said Genge. "Will Stuart said something the other day… he said he can't remember life before the Lensbury (the team's base). I think it has taken its toll on people psychologically. It's not easy being around people who you don't always necessarily want to be around for this amount of time."
In contrast, team Ireland was a happy camp. As Schmidt's defence coach, Farrell had noted how the fizz had gone out of the team's pop in his predecessor's final year. They needed to be liberated from the robotic, system-obsessed strategy, which had served its purpose so successfully for five of Schmidt's six years but not so in his final one.
Players have spoken positively of a more relaxed environment under Farrell. The only problem was that this – until March 20 – was not backed up by results. Performances, however, were better than people were prepared to admit. They played three-quarters of this year's game against Wales with 14 men and nearly pulled off a win; they were defiant and spirited in defeat by France; they beat Scotland, which these days is a victory of value; then they outplayed England.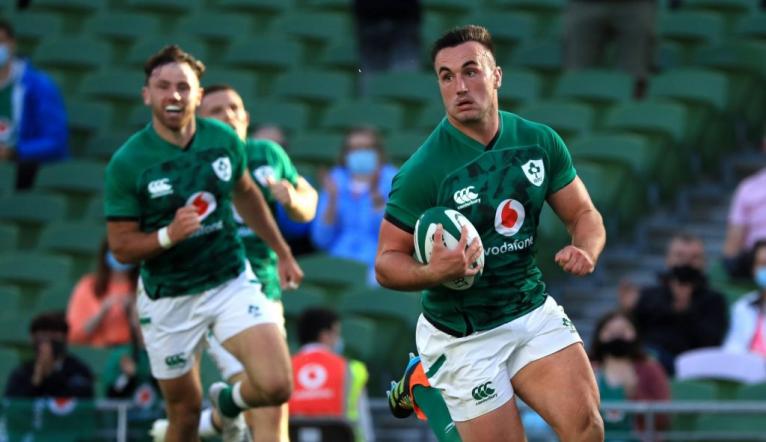 Along the way, two things were functioning well, their lineout and scrum, but two other issues were problematic, their defence and attack. Just about everything clicked in the 32-18 win over England.
Yet that's just one win. He needs more. He talked last week about consistency, consistency in performance in particular. The feeling remains that his 'heads up rugby' philosophy leads to inconsistency, whereas Schmidt's conservative, learning-by-rote game plan, guaranteed Ireland plenty of possession, plenty of points.
But there's another school of thought, namely that Farrell is being braver than any other coach in Ireland's history, choosing to build a squad for France 2023 rather than to get bogged down by the immediate glow that comes from a victory today or tomorrow.
On his encouragement, 25-year-old Andrew Porter has switched from tighthead back to loosehead, his original position. Bear in mind that his rivals for that No1 jersey, Cian Healy and Dave Kilcoyne, are aged 34 and 32 respectively. What's more, Farrell has two 23-year-olds, Rónan Kelleher and Dan Sheehan, in his panel. How many other coaches have two hookers as young as that?
There have been selection success stories – Tadhg Beirne, Jack Conan and Hugo Keenan – and a couple of disasters, James Lowe and Billy Burns. Yet he's sticking by his guns. A call has gone out for Jack Carty, the 29-year-old Connacht fly-half, to be included for this month's series of games; Farrell instead has opted for the out-of-form Joey Carbery and the unproven but clearly talented Harry Byrne.
There's a similar story at scrum-half. Craig Casey, 22, is included on the promise of what he might become rather than what he is now. In other words, Farrell has one eye on Japan, New Zealand and Argentina, and another on 2023, because he knows the World Cup defines a team's legacy, not a November series of glorified friendlies.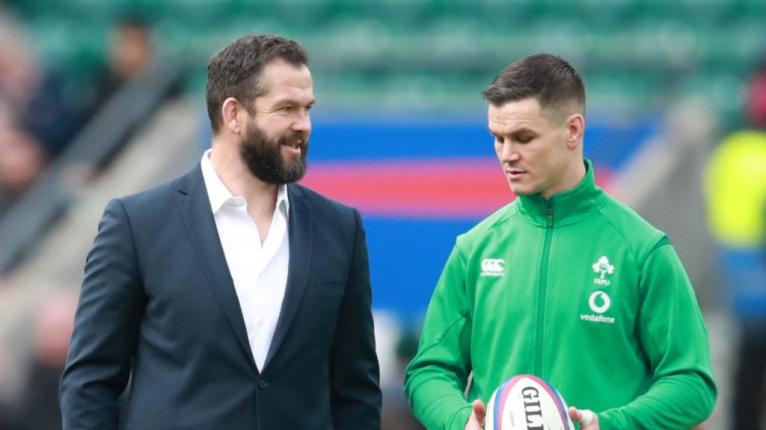 "We've never done this before," said Johnny Sexton last week, in reference to this forward thinking to a tournament that is two years away. Now bear in mind Sexton's status. He is team captain. He is also 36. The last time any country was as obsessed about the age of someone at No10 was when Churchill returned to Downing Street for his second stint as Prime Minister.
Farrell's standing by his captain, though, just as he's standing by his principles. He clearly believes Sexton will still be the man to lead the team in two years even if the number of grey hairs will have multiplied on his head by then. He's also prepared to give Carbery the chance to reclaim the form he showed prior to his injury in 2019; he's prepared to have a look at Ciaran Frawley, an uncapped inside-centre, who offers Ireland a second playmaker option. This really is new territory because there were years when Ireland barely even had a first playmaker option.
And yet despite so much clear thinking, he's still staring at a conundrum. They want to build for France, 2023, but this might not be the time to do it because the squad he has named for this November series averages just 2.5 games this season. In other words, they're undercooked. You can't face New Zealand undercooked. He has to pick a fully-loaded side to play Japan this week or else he could be embarrassed the week after when an untested team face the might of the All Blacks.
That limits the opportunities for players like Frawley, Sheehan and Casey and also leaves the coach and the team at a crossroads. They've had one great win under his stewardship. They need another one to silence their critics.