World Rugby have to issue statement on Farrell tackle – Andy Goode
One incident dominated the headlines on the opening weekend of autumn internationals and the ongoing debate surrounding Owen Farrell's tackle on Andre Esterhuizen means World Rugby have to issue some clarification on the matter.
There's been a lot of confused debate around it but it's not a high tackle, he's made no contact with the head and there's no way it's a red card offence. As a result, he can't be cited for it.
It is a penalty, though, and I think it should have been a yellow card for no arms in the tackle as well. I'm sure a penalty would've been awarded if it was in any other minute of the game but the clock was in the red and that does complicate matters, even though it shouldn't.
Referees don't want to make decisions that have a direct impact on the result of the match, especially in the final play of the game, and we can empathise with that but sometimes they have to and I think unfortunately the wrong call was made on this occasion.
It feels bad saying it but I think if it was a Pacific Islander making that same tackle, he would've been punished for it. Likewise, if the game was at Ellis Park and the exact same incident had occurred, there might have been a different outcome.
I think if England fans are honest, if Damien de Allende had put a hit like that on Elliot Daly, we'd be saying it was a penalty every day of the week. I'm delighted it wasn't given and England have won the game but I think the wrong decision was made.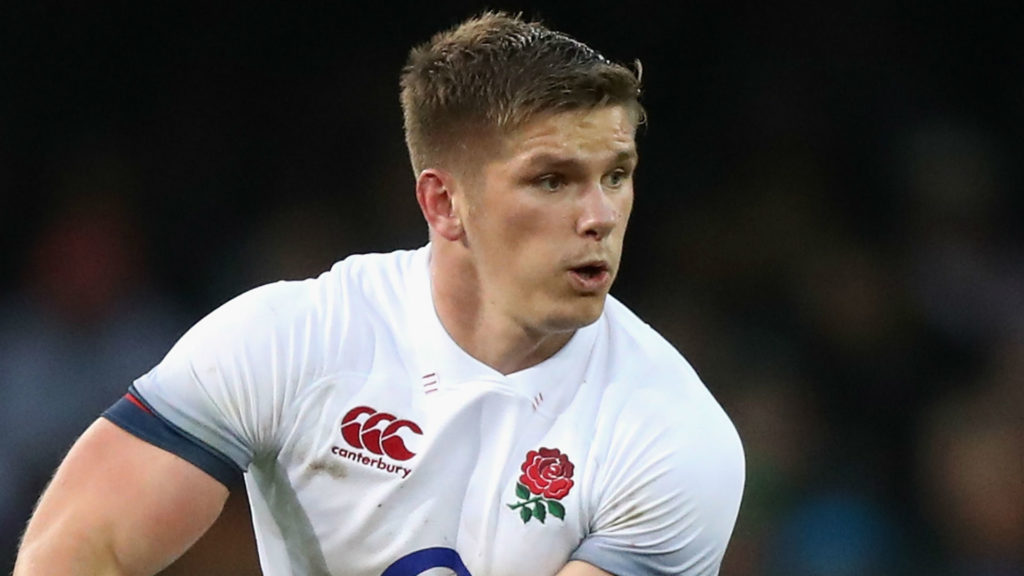 Farrell makes contact with the right shoulder and there is absolutely no attempt to grasp with that arm. There was enough of an attempt to wrap with the left arm but that isn't the shoulder that's making contact, so that is an important detail.
His right arm is tensed and is by his side and he's swinging his shoulder into the tackle. Had the right arm been up and more horizontal, ready to wrap around the ball carrier, it might have been ok but to me it's a no arms tackle and a swinging shoulder and it should've been a penalty for sure and nowadays a yellow card to boot.
Continue reading below…
Watch: Eddie Jones defend Farrell after Springboks match

It has created so much debate around the game and, because of where we're at with regard to the tackle, lowering the height of it and changing perceptions as well, I think World Rugby have got to come out and make a statement on this tackle.
It isn't just about this incident but it's about the route that the sport's global governing body wants to go down moving forwards. They are trying to change certain aspects of the tackle and this example should be used to give people some guidance because of its high-profile nature.
People have asked me how they coach kids to tackle lower if they're watching Owen Farrell use a technique like that and they've got a good point.
The trial requiring players to tackle below the 'nipple line' has already been brought in for certain competitions and they seem to be trying to stop players aiming at the chest area, so it'd be a perfect time for them to offer some clarification on the issue.
In no way would we be hanging Angus Gardner out to dry by issuing a statement clarifying the situation and I think we all understand how difficult it is to be a referee and players make mistakes all the time, so we're certainly not expecting referees to get it right every single time.
But, Rassie Erasmus suggested after the game that if that was a legal challenge, maybe we should all be doing it and I think that's exactly what World Rugby don't want.
They can't issue a statement about every controversial incident in every game but this one has caught the attention so much that I think they have to say something. The referees are meeting in Cardiff this week and it's vital for everyone's understanding of the game now that we hear their verdict.
You may also like: Wallabies Adam Ashley-Cooper and Kurtley Beale look ahead to Wales

Mailing List
Sign up to our mailing list for a weekly digest from the wide world of rugby.
Sign Up Now