'When your knee goes at England camp, that's just the game'
Beno Obano can't wait. The Bath prop is nearly mended from the ACL ruptured last October and a return to action is on the horizon before the Gallagher Premiership season is over. But it's not just the prospect of an appetising comeback that has the England front-rower salivating while chatting to RugbyPass over a Zoom call from his sofa with some NBA on in the background.
He was just back from Ireland when he connected, the Santry Sports Clinic having given his healed knee the once over to ensure all is in readiness for him to get back into the thick of it at his club. But what also has his eyes sparkling is his riveting new documentary series on one of Bath's top-flight rivals. Prep To Win: Harlequins is a behind-the-curtain look into the reigning champions during their rigorous 2021/22 pre-season, showcasing the blood, sweat and tears that went into them being the No1 club side in England.
Obano edited hours and hours of footage and the end product, three episodes that are each 40 minutes long, will now launch on Amazon Prime on April 28. He is delighted with how it all turned out. He wasn't there in person to film and direct the training shots – that would have been a conflict of interest given he is a pro player himself at another Premiership club.
However, he was present for the exhaustive round of interviews with numerous Harlequins personnel and distilling all the footage down into the 120-minute series was quite the feat. "It's been a long old process," admitted the documentary maker with a wry smile. "I have respect for anybody that works in TV now. The interviews alone, we had 14 which were at least a minimum an hour, some two hours.
"That was a lot of footage from the interviews and then the training days there was a lot more. There was probably over six to eight weeks of training footage, so there was a lot we had to cut. But it's like with any creative industry, to have something in your head and then turn it into something real, that has been an amazing process. To think about something and then actually manufacture what you are thinking about in the way that you thought for people to consume it, that process is just quite cathartic and quite fulfilling."
Prep to Win : Harlequins
the people, the job, the goal

28.04.22

Prep to Win explores the various demands of a sport, the people involved and their goals for the season.

This particular segment addresses an occupational hazard, concussion. @primevideosport @davidflatman pic.twitter.com/5vDWtMaEoS

— Beno Obano (Sinny) (@ObanoB) April 21, 2022
Being injured over the winter ironically speeded up the production. "The part where you have to do all the production stuff and the contracts and the legalities of everything, not playing rugby made a large difference. It was always in my head, I was like, 'Benz, if you get hurt, you have to make the most of this time. We can't move forward on the pitch so this time, let's just make the most of this possibility'."
So why focus on Harlequins and what directorial style did Obano adopt in recording and editing the vast footage mined from the club's Guildford training centre, at The Stoop and elsewhere. "Basically, we spoke to a few clubs but Harlequins were probably the team that made the most sense.
"We got a few noes, a few maybes but Harlequins, it was easy for them, they were champions as well you have to bear in mind. It was easy for them to say yes and show off that they are champions. The whole process with them was just a lot easier, a lot smoother and it just made the most sense.
"Fortunately I have a connection in rugby to do a documentary and that is basically where the idea came from. Someone said rugby is like a gladiatorial sport and I agree. It is the only sport where you have to do everything and one person's role in the team is so crucial. Like a prop, for example, if you have a bad tighthead prop your scrum is going to struggle and that affects everything else, so it is so important for everybody in their particular roles to get it right. That is basically where the idea started from.
"It's a mix of Hard Knocks, Last Chance U and All Or Nothing, all combined into one. That is the style because it is shot over pre-season, so that is why it is like Hark Knocks and Last Chance U. Last Chance U really delves into the stories of the athletes and that is what we do here. And the slight difference between this and every other series is we actually discuss the job, so we get people to learn more about the sport and the intricacies from an athlete's perspective.
"It just gives a broader perspective of what are the demands of what you see. A lot of people just see the 80 minutes played on the weekend but there is so much that goes in to these people and if you have a deeper connection with these people on screen you have a deeper connection for the sport.
"I don't know if it is going to change the world or change the way rugby is, I can't say that but what I can say is that it will give a deep connection to the people on screen and when you have that it means you are more likely to watch. People go and see their family play sport at amateur level and they are not watching because the sport or the spectacle is going to be amazing, they are watching because they have a connection for the people there. So if we are able to tap into that and bring people closer to what they already watch on screen, then the documentary can have an effect."
So what insights were gleaned? "I have been with England and Bath and there is nothing brand new. It's just doing the things that everybody knows that you have to do, to do them well and how you do them well, but the actual fundamental elements don't change. That is probably quite a big thing that I took from it rugby-wise," outlined Obano before going on to reference Marcus Smith.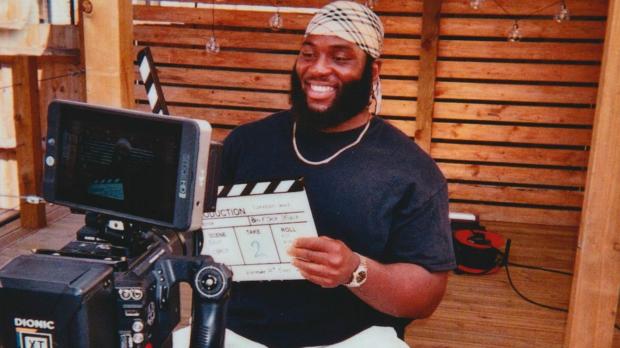 "He has a big part in episode two where we go back to his family home and we get to see him at home, we meet his family and his brothers and all that stuff. The big thing that people who have seen it took from Marcus was his relationship with Jonny Wilkinson, that there is a relationship with Jonny Wilkinson. A lot of people hold Jonny Wilkinson in high esteem, so just that relationship and what Marcus has learned from Jonny, rugby-wise that was the biggest thing."
Prep To Win: Harlequins isn't Obano's first major production. It was November 2020 when Everybody's Game premiered, an exploration of race, class and diversity in English rugby through the eyes of Obano himself, Maro Itoje, Anthony Watson, Ellis Genge and Biyi Alo. He is proud of its legacy 17 months on from its Amazon Prime release.
"I haven't actually watched it back that often because I like to park stuff. I like to do it, park it and move on but in Everybody's Game, something really amazing came from it. I got a lot of messages. I never received so many messages in my life about how much they enjoyed it and what it has done for them and their family. But there was one big thing that it did.
"Essentially what I spoke about is the fact that private schools have the facilities and the opportunities to allow people who wouldn't play rugby to play rugby, maybe not become rugby players but have the benefits of going to such a great school. There was one school that got in touch and they have now funded a scholarship for two people to go to a big public school every year now.
"So we just find a boy and they will pay for him to go there and pay for everything in upper sixth and lower sixth. That was the most amazing thing that came from Everybody's Game. That is massive and it changed people's lives. That is the thing I am most proud of. We work with the school to do that and if there are other schools that can do that, that would be brilliant."
View this post on Instagram
It was at school in London that Obano started playing rugby. "They sort of forced me to play at the age of 12, the headmaster of my school," he explained, but any initial reticence on his part quickly disappeared. "It's quite weird. I always found rugby, for want of a better word, easy. It was never a stressful time for me.
"I was okay at rugby so I knew I had that. I knew I could play, so it was never stressful for me in the respect of, 'Oh my God, I'm not going to make it'. I never really saw it as a career, so it didn't have all that outside external pressure. It was just, 'Benz, you enjoy playing rugby so just go and play it and see what happens'.
"I didn't have the external pressure. It's quite weird because I don't know what my life would be like, it would be considerably different without rugby but at the time I didn't feel that external pressure. That was probably naivety of youth I guess.
"Around 19 there was a definitive change in my mindset. The definitive change was the fact that if you are going to do this Beno, you have to focus. So at that moment, at 19, it was like, 'Well, we are going to do this now [pro rugby], therefore we have to do everything that it takes to do this'. That was the point it changed for me and then everything else came on the back of that.
"I'm a power athlete, my part of the game is I can hit people hard and I can carry hard but at the beginning when you enter into the professional era, it's not that you are able to do all those things but how many times can you do it to be effective? That is what we had to work on, to make sure I could do it multiple times to be effective."
?? @ObanoB becomes the latest player to commit to the Blue, Black and White!

Can't wait to have you back out on the field, Beno ?

— Bath Rugby (@BathRugby) April 6, 2022
Now 27 and with a contract extension freshly-inked at Bath, whom he joined in 2014 after being at the Wasps academy, Obano is approaching his prime as a player. He has had his share of serious injuries and has had to be patient. For instance, in his eight seasons as a pro, there have been just three campaigns where he has reached double figures for Premiership appearances.
Then there is England. He was capped three times off the bench in 2021, but a considerable apprenticeship was served before those selections by Eddie Jones. "With some people, it's as if I entered the England squad last year and I'm, 'No, I have been there for a very long time.
"It was a relief really and truly, that was the overriding feeling, that I really wanted to get it [a Test debut] out of the way because I really want in this coming year and in the future to have a good England career. It was like, 'Can we just get this whole moment out of the way so I can really focus on trying to cement a place in the squad and really push on and actually do stuff on the pitch that is important?' That is how I felt.
"I'm at peace with everything but am I happy with everything? Probably not. Like, I wish the previous years we could have won more (at Bath), I could have played more for England and stuff like that but those are things that happen in your career. Like when your knee goes at England camp, that is just the game, that is what we sign up for.
"I'm at peace with that and I'm content with it but am I super happy? No, but there are still a few years to achieve and achieve some good stuff. If these next few years go extremely well the way you look back on the whole thing completely changes."
View this post on Instagram
Obano appreciates the good things in life, getting home regularly to his folks in East Dulwich, sleeping well and enjoying a good party. "When you get injured you through this metaphysical way of thinking. You are, 'What are you here for, what are you doing, why do you do all of this?' Because you're in such a state of grief you're like, 'What is this all for?' I think everything is for to have a good time, to enjoy yourself… so that part I place quite a bit of value on."
So too his relationship with first cousin Maro, his Saracens rival and England squad colleague. Their fathers are brothers and Obano is older than Itoje by just three days. They spent much time together growing up and nothing pleases him more in rugby than to see his great pal thrive.
"I don't know if I can make this comparison but I am going to anyway. When LeBron James came into the NBA he was 18 and he was on the cover of Sports Illustrated and they said that this is the new guy and he has gone on to achieve more than what people expected him to achieve – and they expected him to achieve everything.
"I feel that is similar with Maro. Maro came through and there was a bit of hype around him and he has still gone on to achieve so much more. It is just so lovely to see and it just makes me happy. It's just such a weird feeling. When he got picked for the Lions I was so happy. When people close to you do well, it's honestly the most beautiful feeling."
Comments
Join free and tell us what you really think!
Join Free